In the fast and competitive modern world, it's critical for any business to ensure that its data is accurate, up-to-date, and complete. So, how and why does data import into Salesforce solve this business request by providing a set of current operational data and, as a result — helping in correct and informed data management?
Let's discover Salesforce's Data Import Wizard and Data Loader, go through the features and compare their benefits and limitations to help you to select your one.
Table of Contents
Understanding Salesforce's Data Import Wizard
Salesforce Data Import Wizard is a versatile, step-by-step, easy-to-use data import tool that doesn't require any extra work to set it up, which is its first plus in the time and cost savings. The solution supports data import from CSV files, spreadsheets, etc., and handles up to 50 000 records simultaneously, which is a good choice for small and medium business segments. It's a pretty good idea to select it for importing the Account and Contacts data.
The Data Import Wizard allows data import to solutions, leads, campaign members, personal accounts (if they exist), or any unique Salesforce environment's custom objects.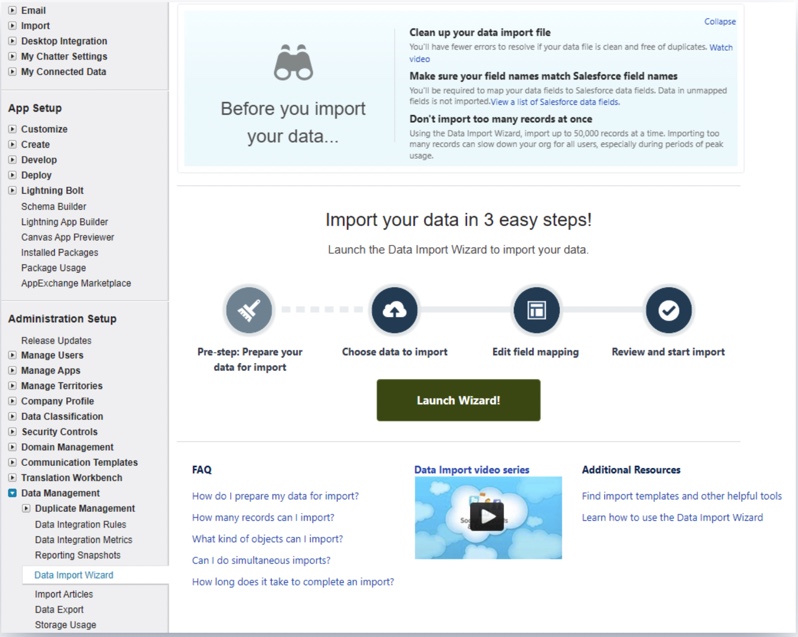 Data Import Wizard key features and services
The file types for import selection: here, you can import several data file types like CSV, XLS, XML file format, etc.
Privileges for non-technical users: the data import doesn't require some extra technical knowledge. The process is just step-by-step and easy to use.
Time-saving ability: using Data Import Wizard, you save time while importing leads, contacts, accounts, and other common data types with pre-built templates.
Ability to validate data: it's an excellent tool to check if the data is valid for Salesforce data requirements.
The data mapping option: before you import data to Salesforce, you can map the data fields to ensure the correct data fields mapping.
Data Import Wizard limitations
The records number at a time limit: if you need more than 50 000 records to be imported to Salesforce simultaneously, it might be a blocker.
The customization options limit: if you need to map fields from your source file to custom fields in Salesforce, it's a blocker also.
The automation limit: unfortunately, the Wizard is not the solution for data import automation. You may still use it for regular data import, but you have to set up a custom tool using Salesforce APIs or third-party integration for automation.
Errors handling limit: the case depends on the error count during the import process. But be ready to fix them manually, which is inconvenient.
Understanding Salesforce's Data Loader
The Salesforce Data Loader is an on-premise tool for bulk data performance like importing, exporting, and deleting data in Salesforce. While downloading, you can operate with various data here, including large data volumes. It can extract, read, and load data from CSV during import, DB connect, or data import. The business area for using it is the extensive datasets management like marketing and sales.
Please, view the picture below with the options available.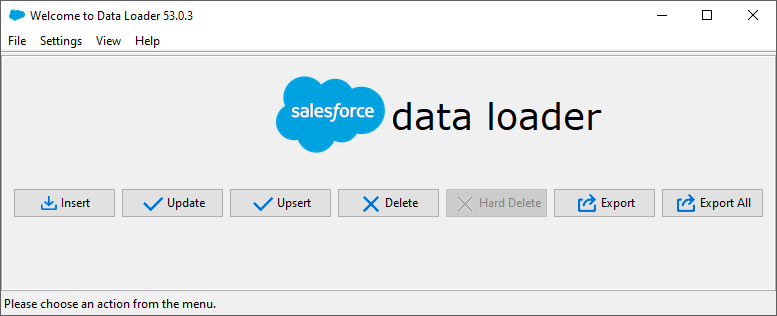 Data Loader key features and services
The multiple object types and relationships support, including the custom one: it's practical and even perfect for the ones managing complex Salesforce databases with multiple objects and relationships.
Scheduled tasks and data loading automation: you can set the regular data imports and exports up without the human impact.
The data integrity and success and error logs verification: you can export/import data, check it for errors, and correct the ones you need.
Ability to support large data files: up to 5 million records.
The solution's usability options: the interactive interface or command line one (accessible for Windows only), are available here depending on your needs. You may set the Data Loader up with the command line for automation processing.
Data Loader limitations
Data Loader is limited for metadata usage. Go here for more info.
Another bottleneck of Salesforce Data Loader is 50mb for the file size and API request limitation with the SOAP API.
Data upload packages can consist of a single CSV or HML file, with not much of a 10 MB size.
Salesforce Data Import Wizard vs. Data Loader
Of course, you can use both Data Import Wizard and Data Loader to import and process data to solve your business pains, but each tool has its own features and capabilities. Let's review the pluses and minuses.
| Capabilities | Data Import Wizard | Data Loader |
| --- | --- | --- |
| Admin аccess | Yes | Yes |
| User аccess | Yes | No |
| Data export | No | Yes |
| Data loads schedule | No | Yes |
| Data deletion | No | Yes |
| Records support | Up to 50 000 | Up to 5 000 000 |
| Deduplication | Yes | |
| Import/update custom object | Yes | Yes |
| Import/update Accounts | Yes | Yes |
| Import/update Contacts | Yes | Yes |
| Import/update Leads | Yes | Yes |
| Import/update Personal Accs | Yes | Yes |
| Import/update Campaign Members | Yes | Yes |
| Import/update Opportunities | No | Yes |
| Import/update Cases | No | Yes |
| Import/update/ Solutions | Yes | Yes |
| Toggle Workflow Rules off | Yes | No |
| Validation Rules fire | Yes | Yes |
The reasons for the choice
You may use Data Import Wizard if
You don't need to automate the process of data import.
50 000 records to load is enough for your working processes.
The Wizard supports the objects you have to import.
You may use Data Loader if
Your business processes require custom object support.
If 50 000 records — it's a bit scanty. Data Loader supports up to 5 million records.
You need regular scheduling of large data amounts, e.g., nightly imports, etc.
New Approach to Salesforce Data Management with Skyvia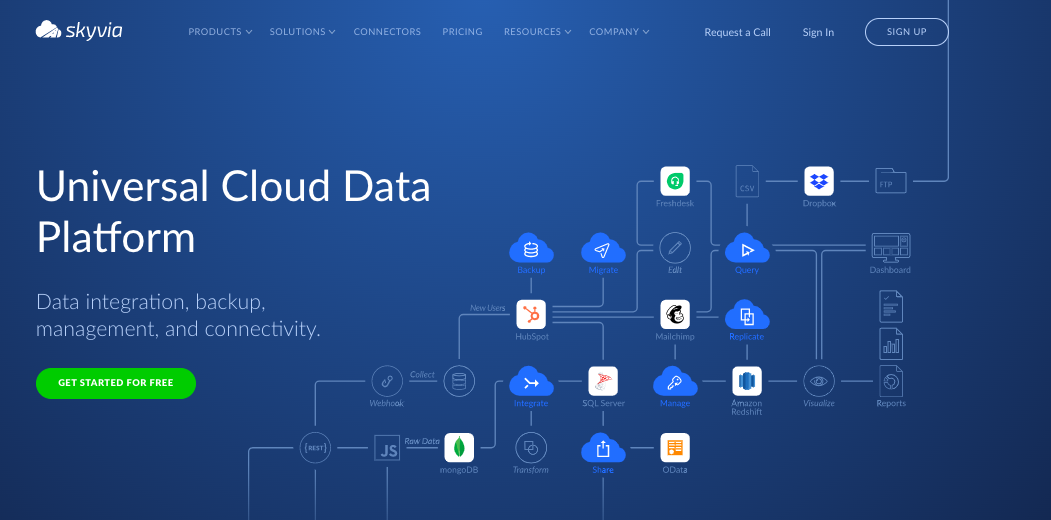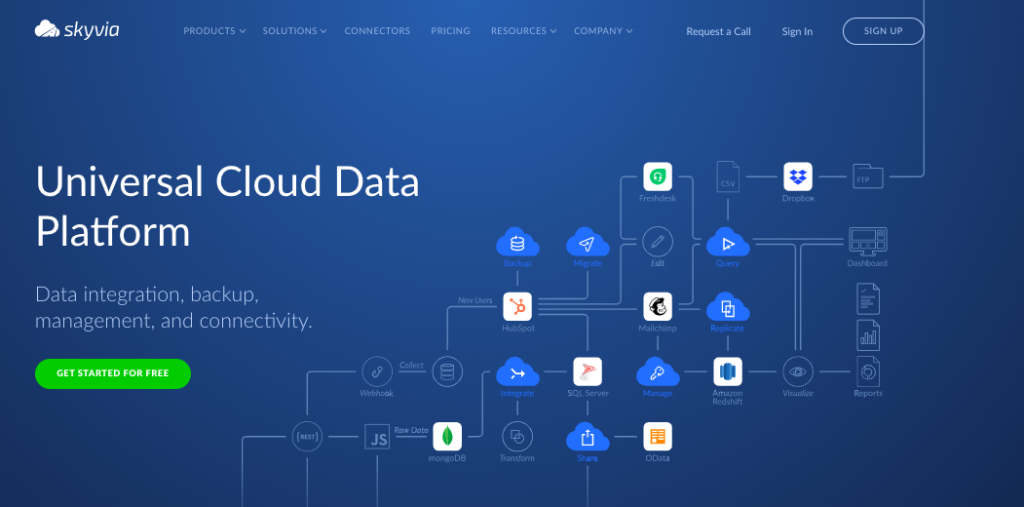 Skyvia Salesforce Data Loader is probably the perfect-in-class Salesforce data loading solution for now. It lets you connect to your Salesforce org. and perform a complete set of actions, e.g.:
It's also part of the greater functionality of the Skyvia product, making it much more than just a Salesforce data loader. It's part of a data integration scenario — Skyvia Import — that supports 160+ connectors, the following features, and a bit more:
ETL, ELT, and reverse ETL.
Automation of data integration according to your custom business logic.
Data replication with perfect mapping.
Bi-directional data sync between multiple apps.
CSV data export, saving to storage, and uploading to FTP scenarios.
Error checking.
The secure connection with Azure cloud features.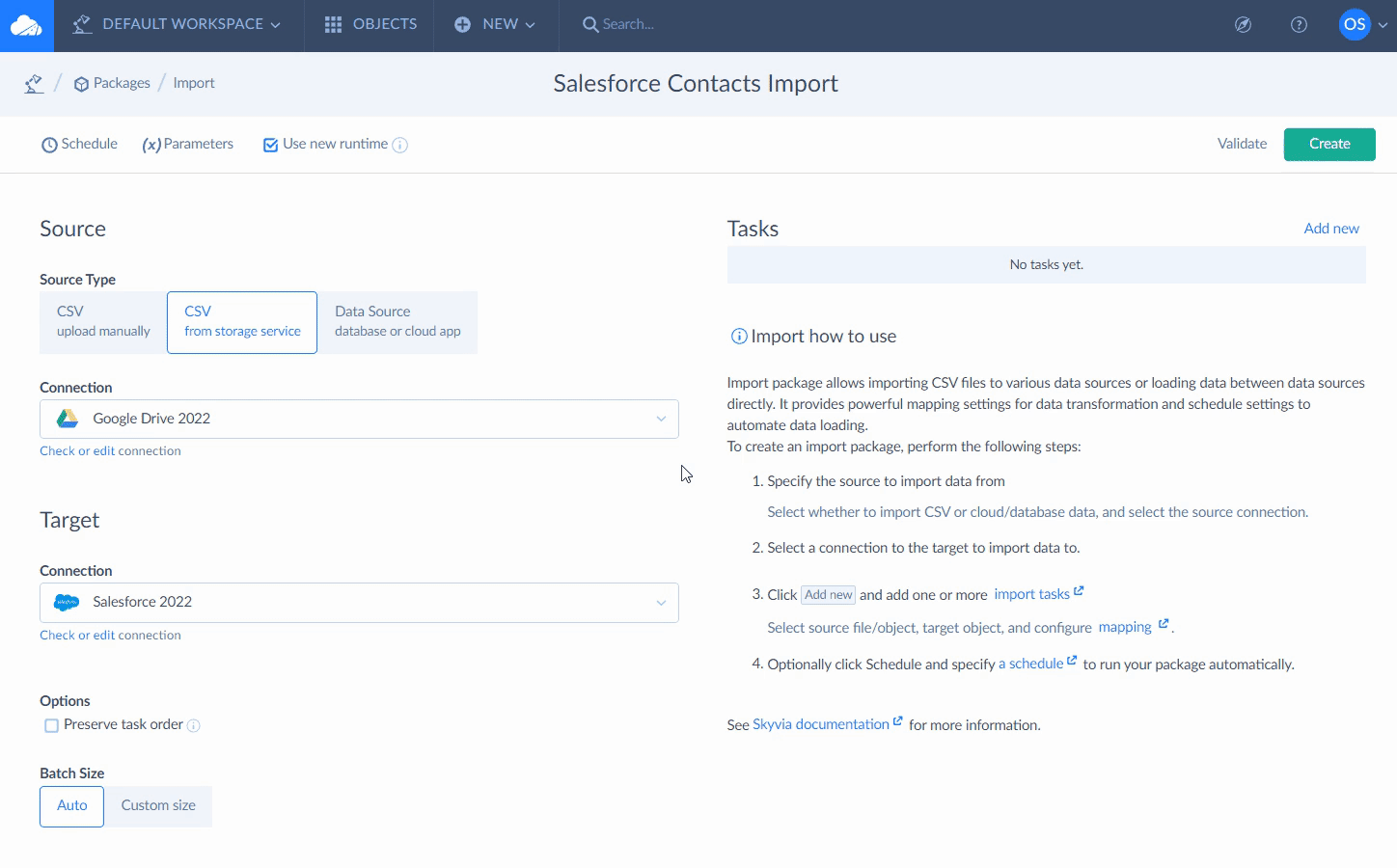 Advantages of using Skyvia for Salesforce data management
It's cloud-based, easy to use, and allows you to import data into Salesforce just in four steps.
Using Skyvia Import, you can connect Salesforce and other cloud applications or databases and quickly transfer data into your Salesforce environment. This is helpful when migrating from another system to Salesforce or if you need to constantly import new data into Salesforce, like new contacts from a POS system. Skyvia Import performs fast and simple Salesforce to Salesforce data migration and synchronization. It supports a set of data sources like other CRMs, databases, cloud services, and files format, e.g., Excel, CSV, and much more functionality.
Skyvia offers automated and scheduled data import. It supports DMLs (with UPSERT), data relations, and splitting. That's very important for companies starving for regular updates of their Salesforce data.
Skyvia offers strong filtering settings for data export. Here you also can export the results of some custom SQL queries.
Other Skyvia Data Loader advantages are robust data mapping and transformation features and detailed logging and error reporting.
Skyvia Salesforce Data Loader vs. Salesforce Data Loader
| Parameters | Skyvia Salesforce Data Loader | Salesforce Data Loader |
| --- | --- | --- |
| Pricing | Free plan and paid plans suitable for any business | Free |
| Cloud or Desktop | Cloud | Desktop |
| Number of records | Unlimited | Up to 5 million |
| Support for scheduled tasks | Yes | Yes |
| Support for all DMLs (including UPSERT) | Yes | Yes |
| Support for all Salesforce editions | Yes (Skyvia supports all Salesforce Orgs, including Professional and Essentials, with no need for additional payments for Salesforce API). | Yes |
| Advanced mapping features | Yes (Skyvia supports not only column-to-column mapping but also lookups, constants, and expressions). | No |
| Connectivity to File Storages | Yes | No |
| Support for related objects and attachments | Yes | Yes |
| Number of Salesforce connections | Unlimited | Limited |
| Email Notifications | Yes | No |
| Salesforce to Salesforce integration | Yes | No |
| Additional support for 100+ data sources | Yes (Skyvia supports all major cloud apps and databases.). | No |
| Support for other data integration scenarios | Yes (Skyvia supports multiple data integration scenarios, including ETL, ELT, Reverse ETL, workflow automation, data sync, etc.) | No |
Conclusion
Easy-to-use, robust, cost-effective — it's about Skyvia Data Loader if to describe this tool in a few words. Both Skyvia and Salesforce data importing tools are pretty good for businesses of any size. But even despite the ability to use the Salesforce solution for free, Skyvia is still rather cost-effective and a bit more than just a simple Data Loader considering the functionality.
Try Skyvia in action right now — get started for free.