In the modern analytics world, any business requires integration tools to be successful. What are data integration tools, why are they necessary for your business vitality, and what are the alternatives for one of the most popular Matillion services?
If you have met with the data extracting, transforming, and loading automation processes and use them already, you know how it can help you to:
Save time and resources.
Reduce the risk of manual data integration errors.
Improve decision-making with real-time data insights.
If yes, you're the happy one working with such tools; your business is efficient and productive, and your data is accurate and sounds qualified, so you can make decisions knowing what's happening.
If your answer is "Ahh, not sure," let's see how it works to help your business and what tools you need. There's a community of tools to solve your business pains, but let's start with Matillion as the one popular solution and compare it with some alternative ones.
Matillion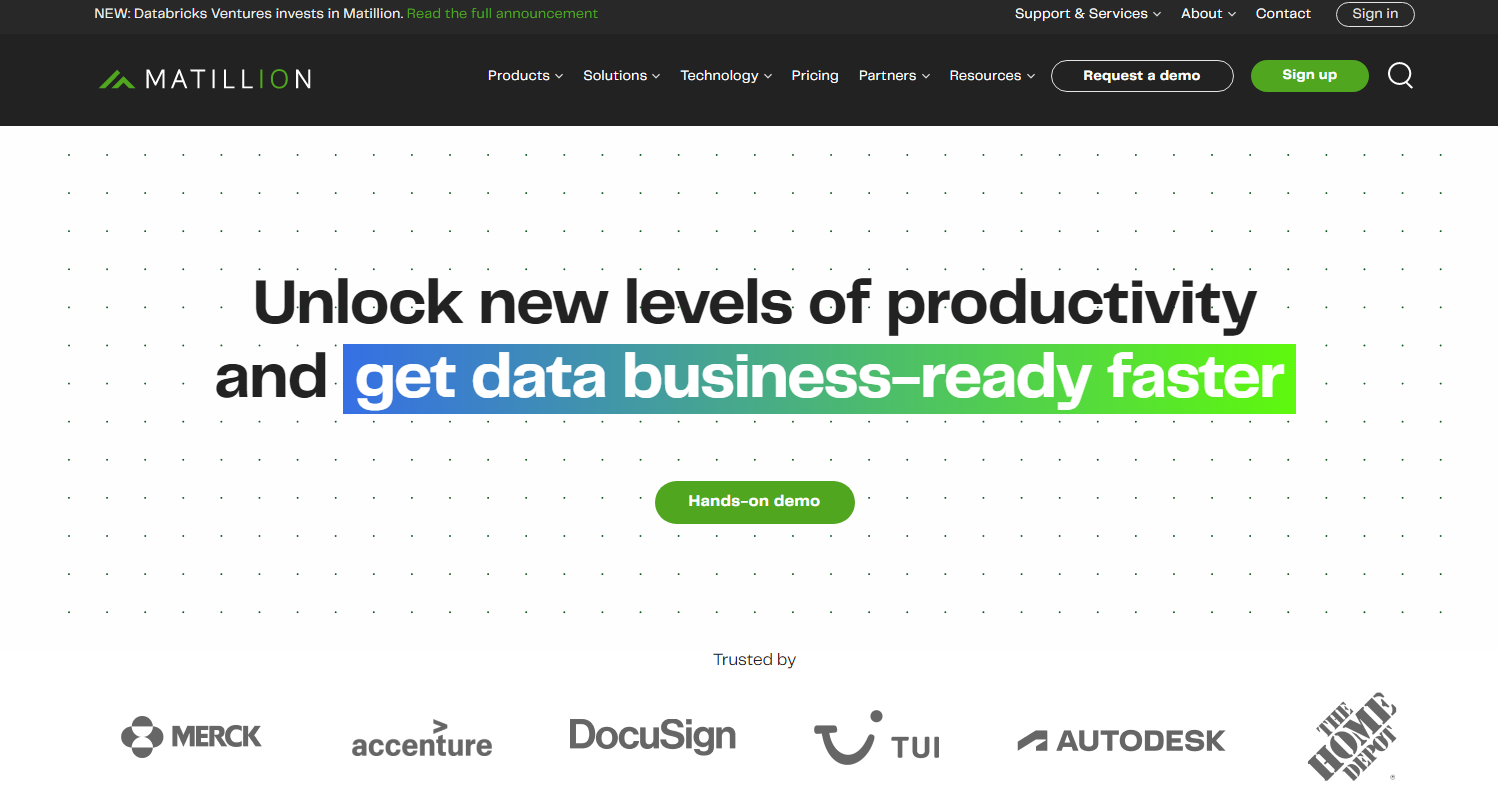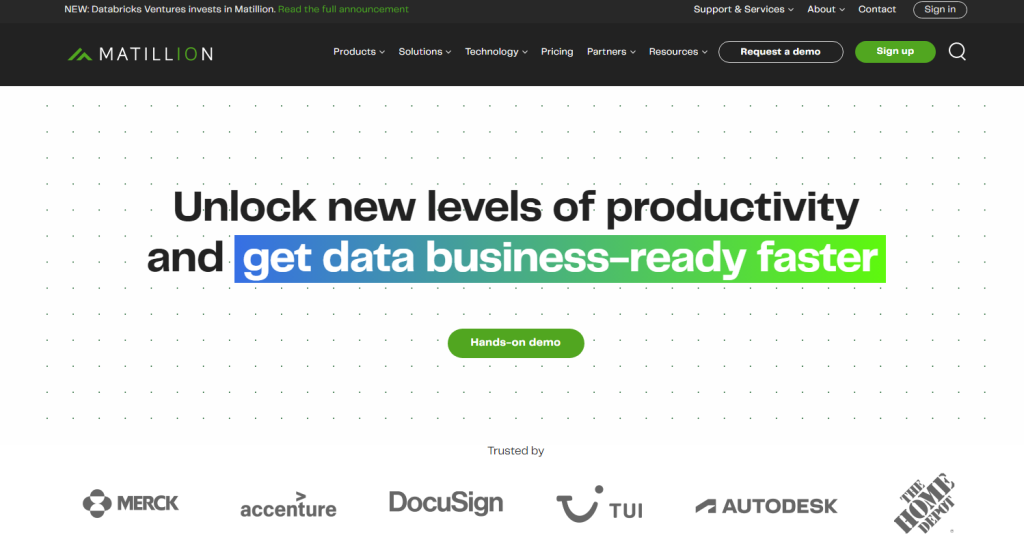 Let's see what's Matillion, why it's good enough, and its common use:
The platform is a cloud-based ETL solution focused on easy data extraction, transformation, and BI. It gives 140+ connectors and a regular Connectivity framework allowing clients to create custom connectors for any relaxation API supply device. Matillion ETL data are hosted in AWS, GCP, or Azure platforms. The intuitive UI doesn't need the extra costs for user training. Here you can work in real-time and integrate data into Git. The virtual machine approach offers complete control of data because it always is in your environment.
Use cases:
Cloud data warehousing (for Amazon Redshift, Snowflake, Google BigQuery, and Azure Synapse).
Data integration and transformation.
Data analysis and BI.
What the users may not like? (Possible drawbacks):
Java space errors due to hard limits on EC2 instances.
The software looks like being in development to make people bored.
Still not yours? Ok, let's dive deeper. Keep your breath. Even in the same industry, the businesses' needs are still different. It may be company size, budget, or the number of team members with the necessary skills, so let's review some more options that cover your business' calls:
Skyvia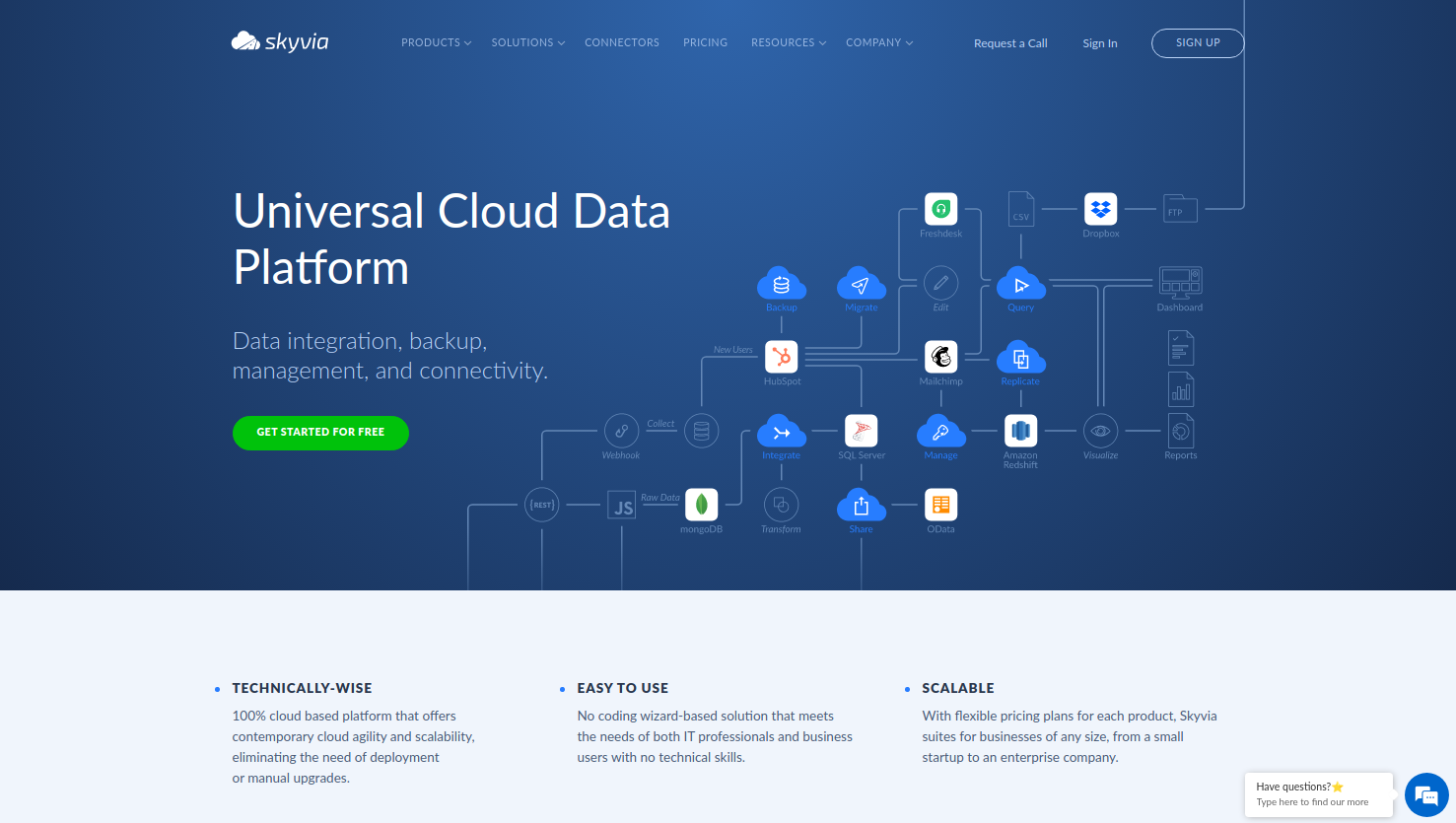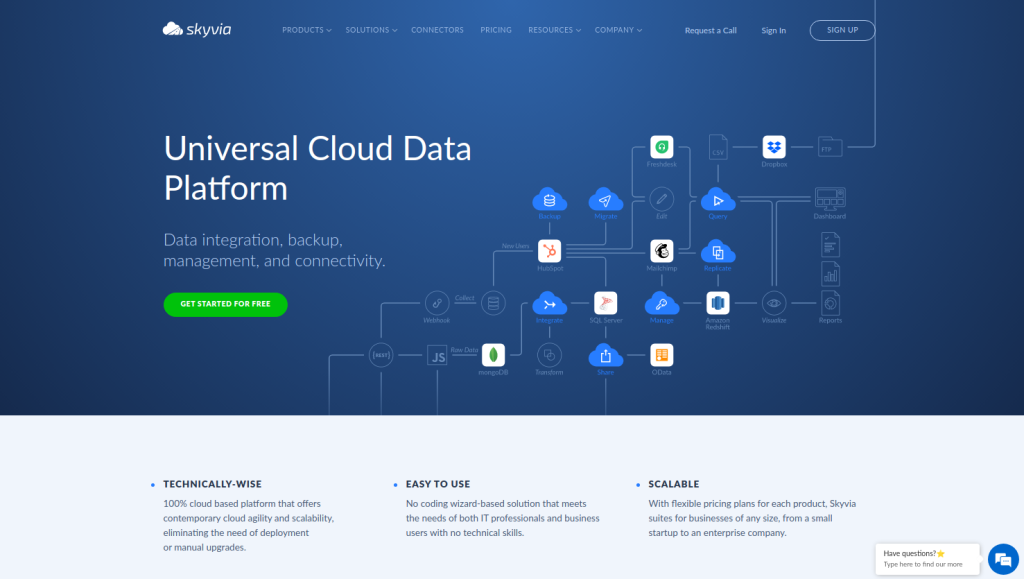 Skyvia also is a cloud-based ETL solution supporting data integration, migration, and backup. Its Gartner rate is slightly higher (4,8) than Matillion's (4,4). Both platforms solve the data warehousing case, but Skyvia is no-code and more cost-effective.
| Skyvia | Matillion |
| --- | --- |
| Volume & feature-based pricing models. | Subscription-based model (more expensive for the short time period users). |
| Freemium model is available for small businesses and users with a limited budget. | Free trial is available. |
Regarding the use cases, Matillion fits some specific scenarios, but Skyvia's solution is more flexible.
Why is it good enough? (Benefits):
No-coding platform for both ETL & ELT.
User-friendly UI.
Support of 160 + sources.
Cloud-to-cloud workflow automation and data management with SQL and CSV export & import capabilities.
More flexible and cost-effective pricing.
No need for additional software and hardware to get started.
More freedom for users with SFDC data tasks.
Use cases:
Skyvia is a competitive player for integration data in the financial, accounting, and e-commerce areas. It lets companies streamline operations and boost productivity by integrating their platforms with various hybrid ecosystems, like CRM, accounting, etc.
Skyvia's data synchronization features help to reduce errors while automating your daily routine.
The ability to connect the data from different sources like email, social media, and the web to the CRM is another essential advantage of this system.
What the users may not like? (Possible drawbacks):
Just 160 + connectors supported.
The Freemium pricing plan may limit your needs.
Fivetran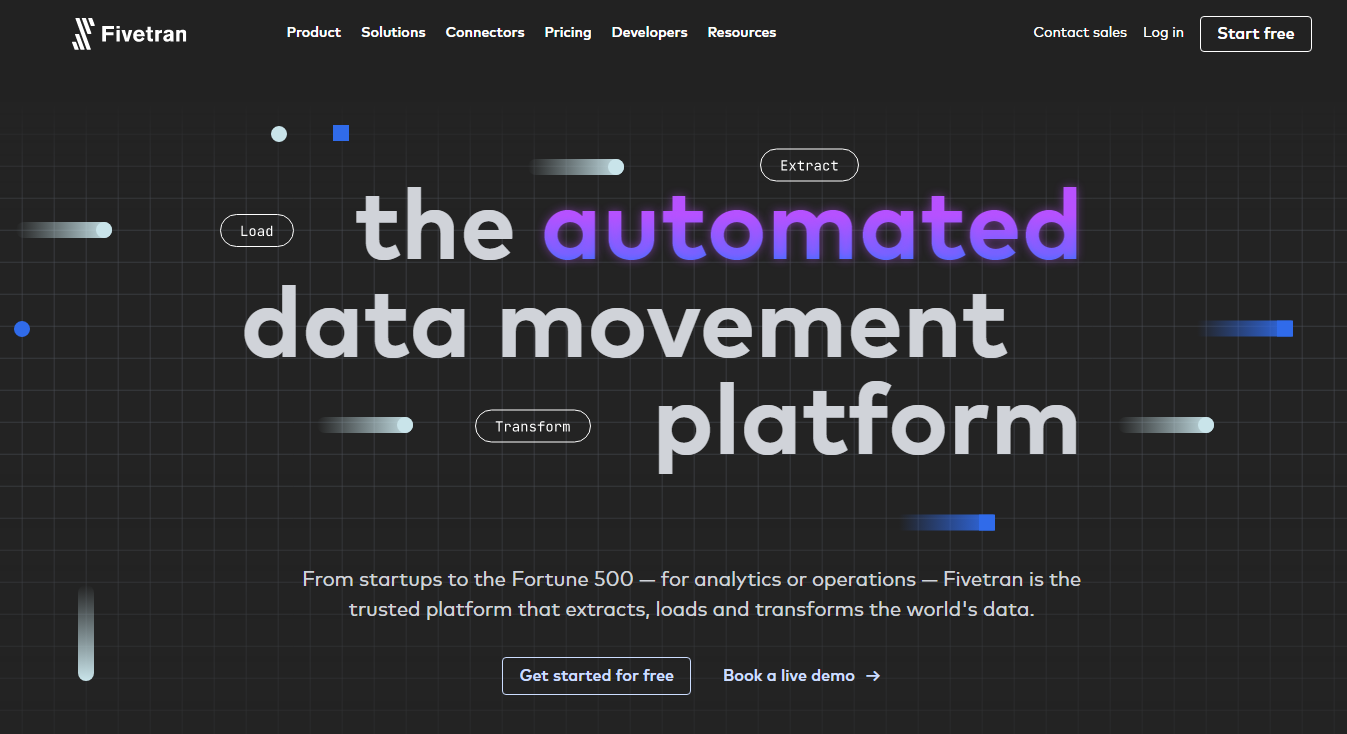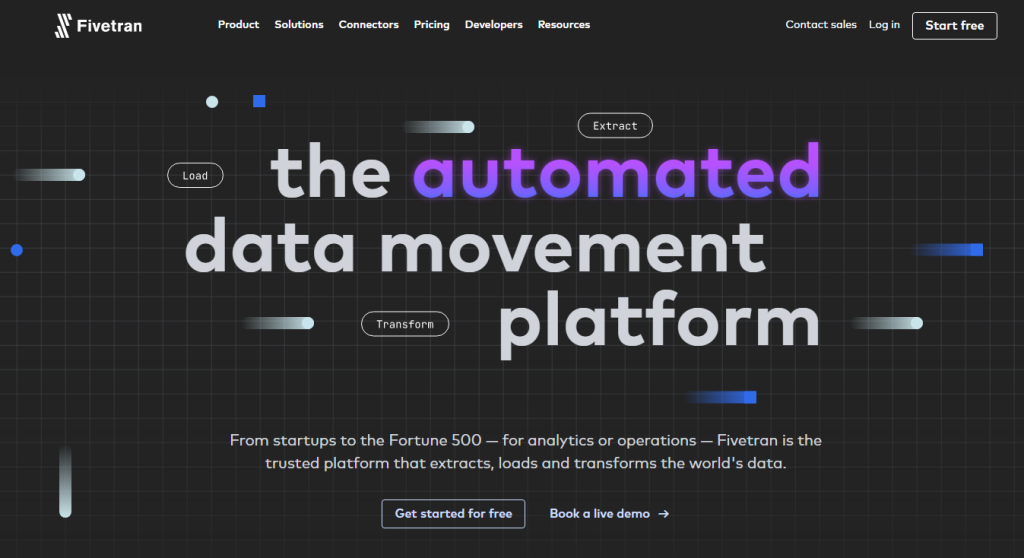 Similarly to Matillion and Skyvia, Fivetran is an ETL solution extracting data from databases, events, applications, files, etc. It automates the data pipeline creation, which saves time and resources and allows focus on data analysis. This platform facilitates more coordinated decision-making inside your company by integrating data from multiple sources into a single location.
Why is it good enough? (Benefits):
Easy data integration from 160+ various sources and simple map creation facilitates your data management.
The data pipeline automation decreases manual coding and saves time and costs.
With its special mapping solution, Fivetran allows adding connections to data anytime.
Use cases:
Real-time data warehousing & analysis.
BI & reporting.
Data integration & replication.
What the users may not like? (Possible drawbacks):
Data synchronization time may be an issue for the data refresh while working in real-time.
The data management capabilities aren't so vast and varied if compared with other apps.
In other words, Fivetran is flexible enough to be successfully used in healthcare, finance, retail, or any area, working with sensitive data. Real-time data access improves the analysis abilities of any business.
Stitch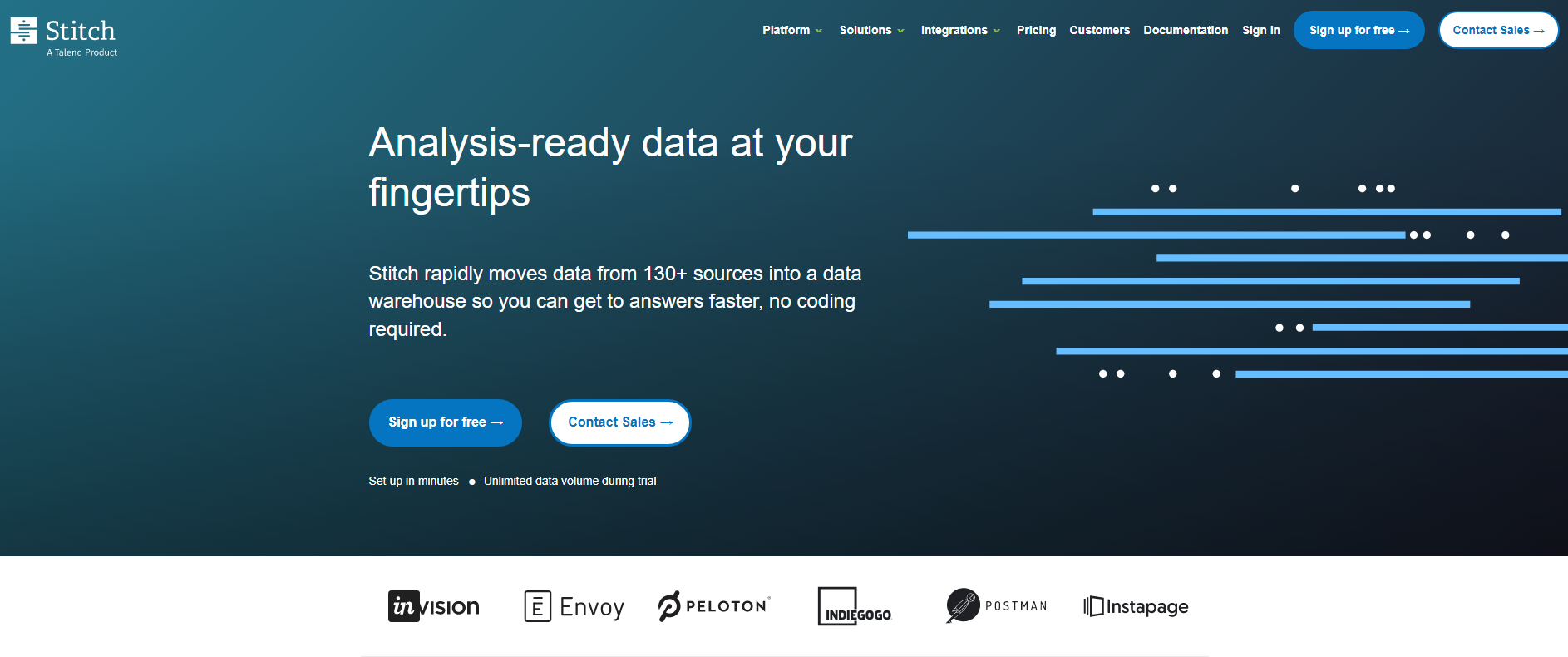 Stitch is pretty close to the previously described solutions. It's cloud-based, no-code, and can support 130+ connectors — a bit less than other systems offer. The pricing is volume-based with free 2 weeks trial, but it doesn't support any free version, compared to Skyvia.
The data transformation here is cut, so you can only transform your data to be compatible with the destination. No extra features are available.
Why is it good enough? (Benefits):
In real-time, the system quickly replicates data from 130+ databases and SaaS platforms to cloud data warehouses, helping to centralize it and prepare for analytics.
The UI is friendly for non-technical users.
Use cases:
Data warehousing & analytics (Google Ads, Facebook, Salesforce, etc.).
The big data ingestion.
Transformation of digital info into valuable BI.
The improvement of data upload to the destination.
What the users may not like? (Possible drawbacks):
It's non-suitable for the custom coding requirements for some complex data integration jobs.
The solution can't cover the large-scale data integration businesses' pains because of the lack of options available.
Despite the drawbacks, you can use Stritchdata in e-commerce, retail, healthcare, finance, and banking. As usual, everything depends on what you need right now.
Dell Boomi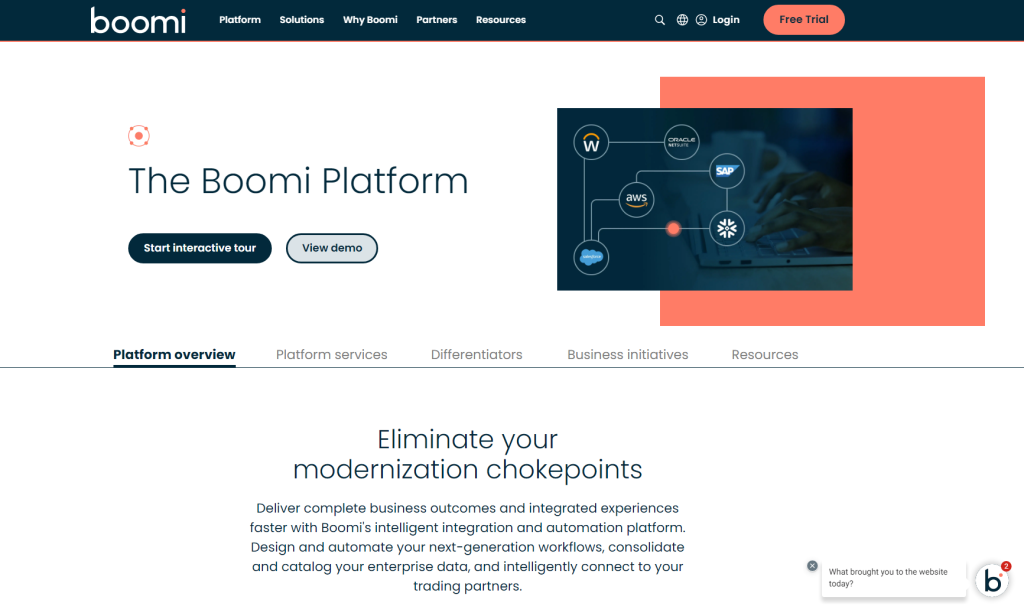 Boomi is a cloud-native, low-code real-time intelligent platform that supports cloud-to-cloud, SaaS-to-SaaS, cloud-to-on-premises, on-premises-to-on-premises, and B2B data integration types. Its data exchangeability is just 90+ sources, and pricing depends on the number of connectors included. As a plus, they have the 30-day free trial version.
Why is it good enough? (Benefits):
Errors with human impact are minimized because of automated data processing.
Data silos reduce while integrating various apps.
The system's flexibility and scalability allow it to support the set of integration patterns.
The robust data processing security level (in the cloud or on-premise).
Use cases:
The business workflow automation with pre-built connectors for common apps like NetSuite, Shopify, and so on.
Data management & governance with Boomi's MDM solution.
Document flow automation and optimization of business processes.
What the users may not like? (Possible drawbacks):
The solution is complicated enough, especially for non-technical users, which may need extra time and costs for training.
The customization and flexibility terms limitations. So the cost of the platform usage may increase while its flexibility and customization abilities will go down.
Jitterbit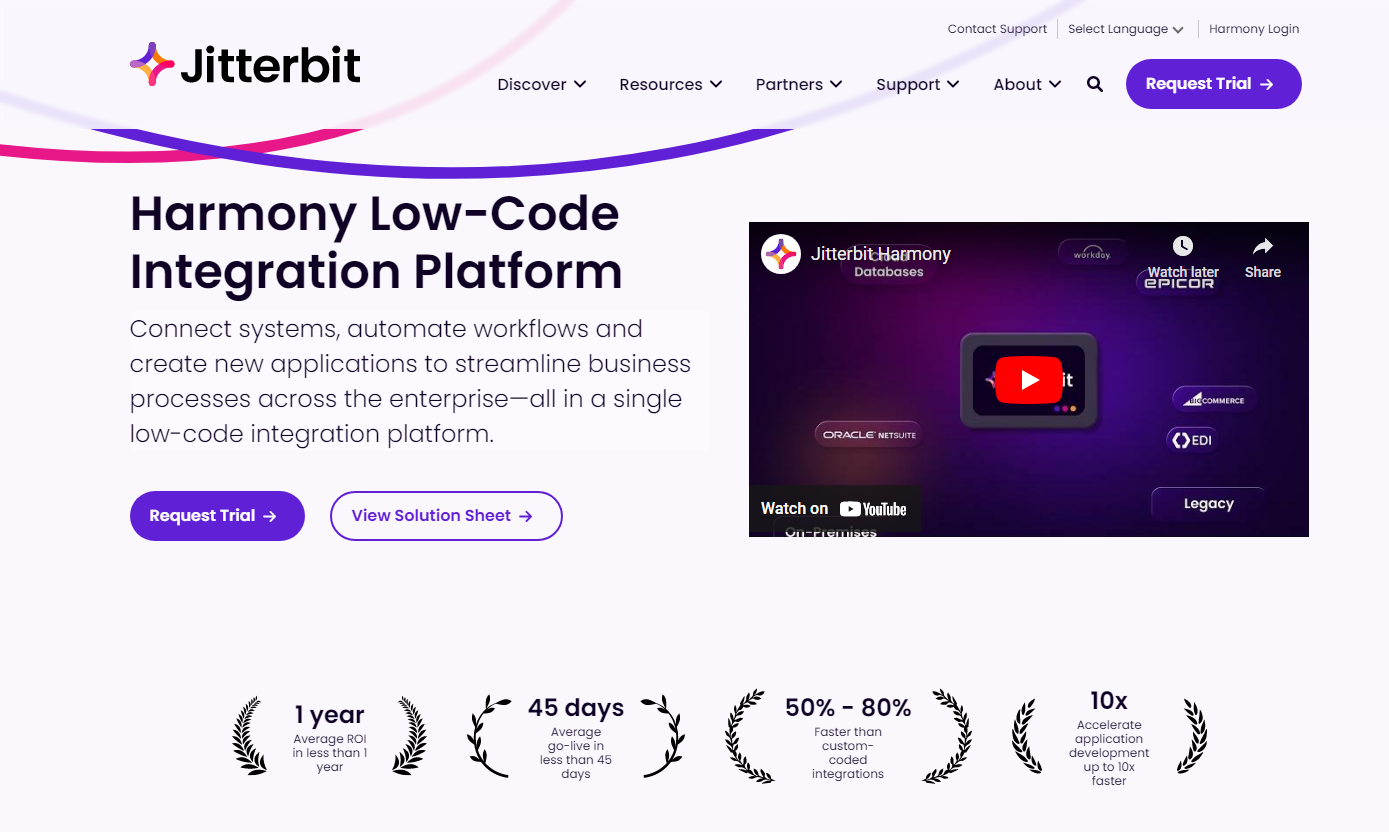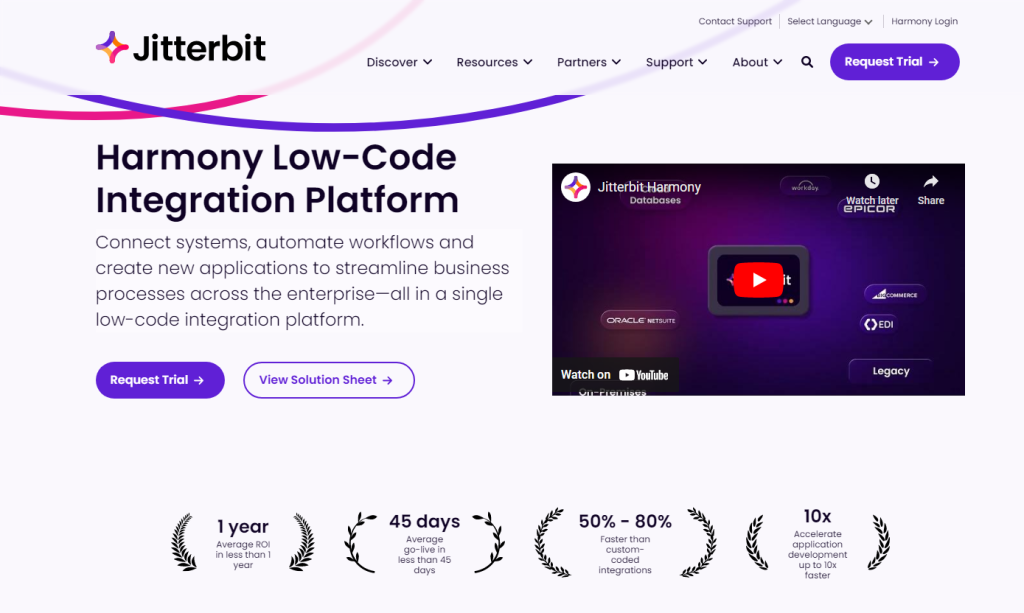 Jitterbit is an iPaaS low-code, cloud-based service for workflow automation, not depending on the business' size. It provides effortless data management from the cloud, on-premises, and legacy applications with a single platform and easily scales it. The solution supports about 120+ connectors, and the price depends on the many you need.
Why is it good enough? (Benefits):
The service's flexibility & customizability allows design workflow according to particular business needs.
The user-friendly UI saves costs and time.
Merging and utilizing data from multiple sources also saves time and improves decision-making.
Automated data synchronization and real-time updates decrease the human impact and risk of errors thus.
Use cases:
The integration of Salesforce with popular third-party applications. For instance, ERP systems like NetSuite, Oracle, SAP, and Infor.
SaaS, on-premises, and cloud apps quick integration.
Cloud data migration.
API integration with third-party apps.
What the users may not like? (Possible drawbacks):
The platform may not fit small businesses with a limited budget because of its high price.
The solution's setup and configuration may be challenging and need significant technical expertise.
Celigo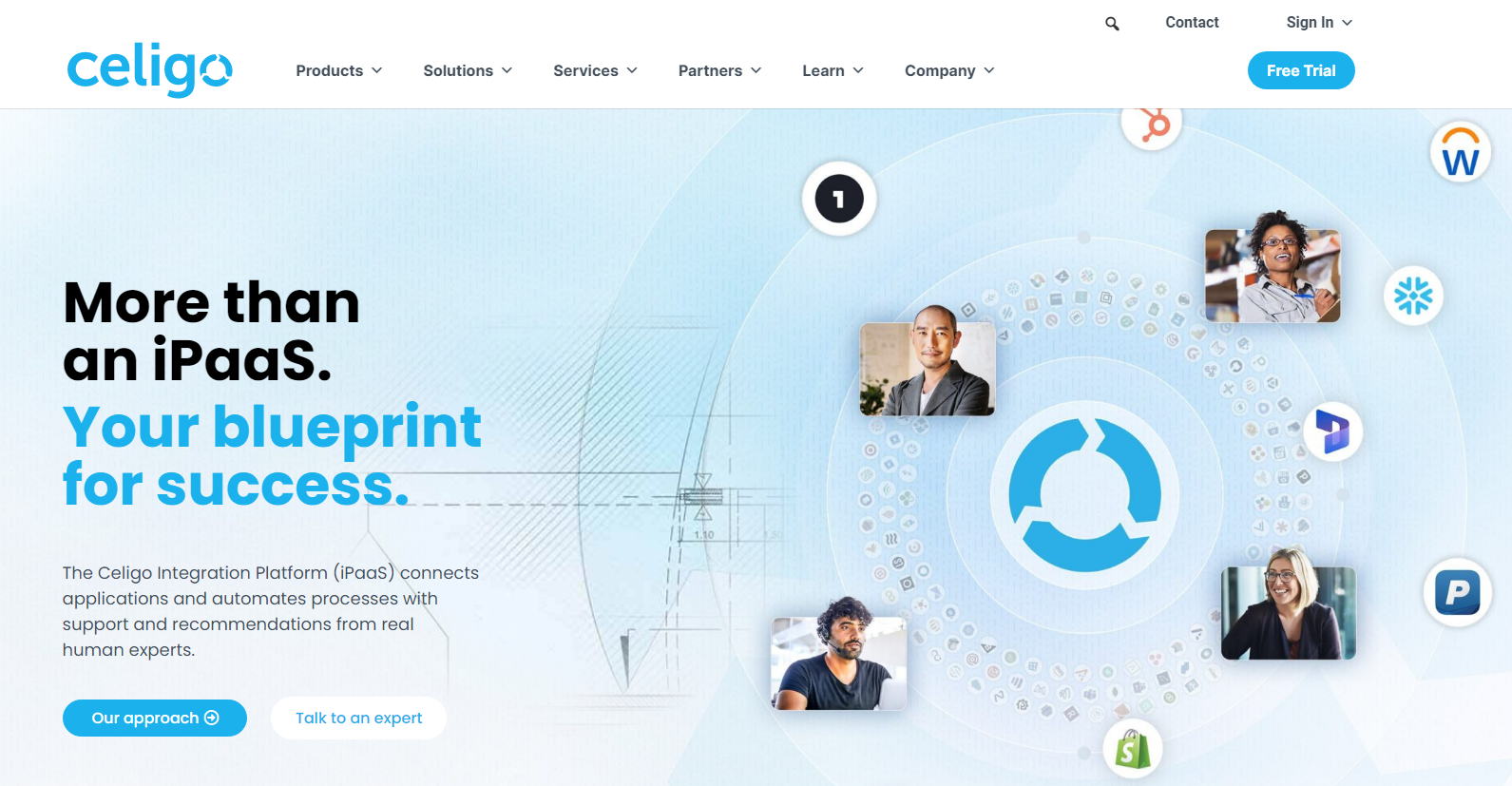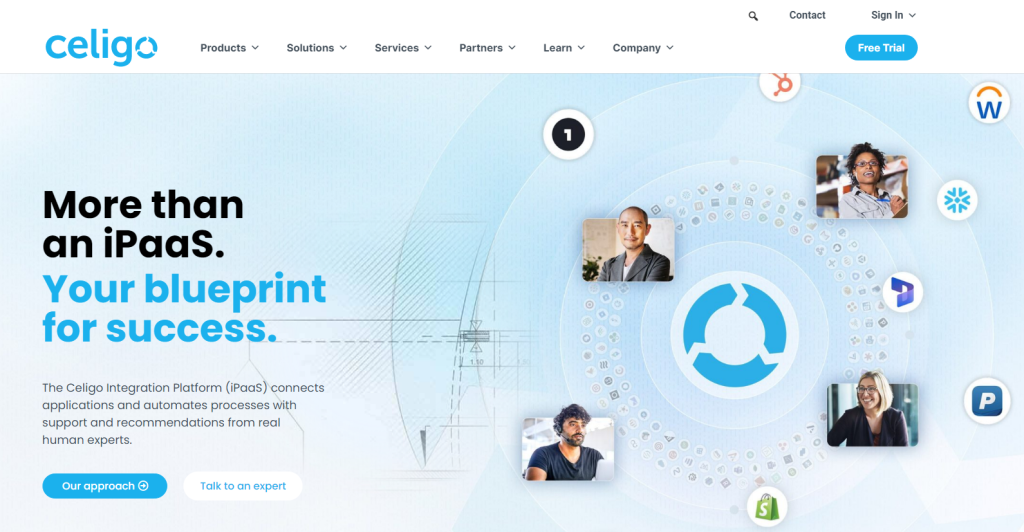 Celigo is iPaaS, a low-code data integration service that directly supports the users' apps' connection to NetSuite for accurate data syncing and automation in the real-time mood. A few leading solutions, like A Smart Connector, iPaaS platform complete access, integration wizards, and templates, are offered here to quickly connect apps, sync data, and automate your business processes. The solution supports 200+ sources, and its pricing model includes unlimited flows free for 30 days.
Why is it good enough? (Benefits):
The business process optimization while measuring key performance metrics and gaining insights into your business operations to scale while keeping costs as low as possible.
The data accuracy and integrity improvement: the data integration is automated, so manual data entry is unnecessary.
Real-time monitoring and alerts to enhance your operations visibility to be more informed in decision-making.
Use cases:
E-commerce platforms integration with ERP systems.
Data entry and management processes automation: everyday use case with prebuilt flows, settings, and configurations.
HR business process automation.
Front-end and back-end business (the real human experts' support and recommendations).
What the users may not like? (Possible drawbacks):
The challenging setup and integration.
The EDI workflow complexity for supply chain automation may not be cost-effective.
The limited customization options for unique decentralized systems and use cases.
The high cost of implementation and maintenance compared to similar solutions described above.
MuleSoft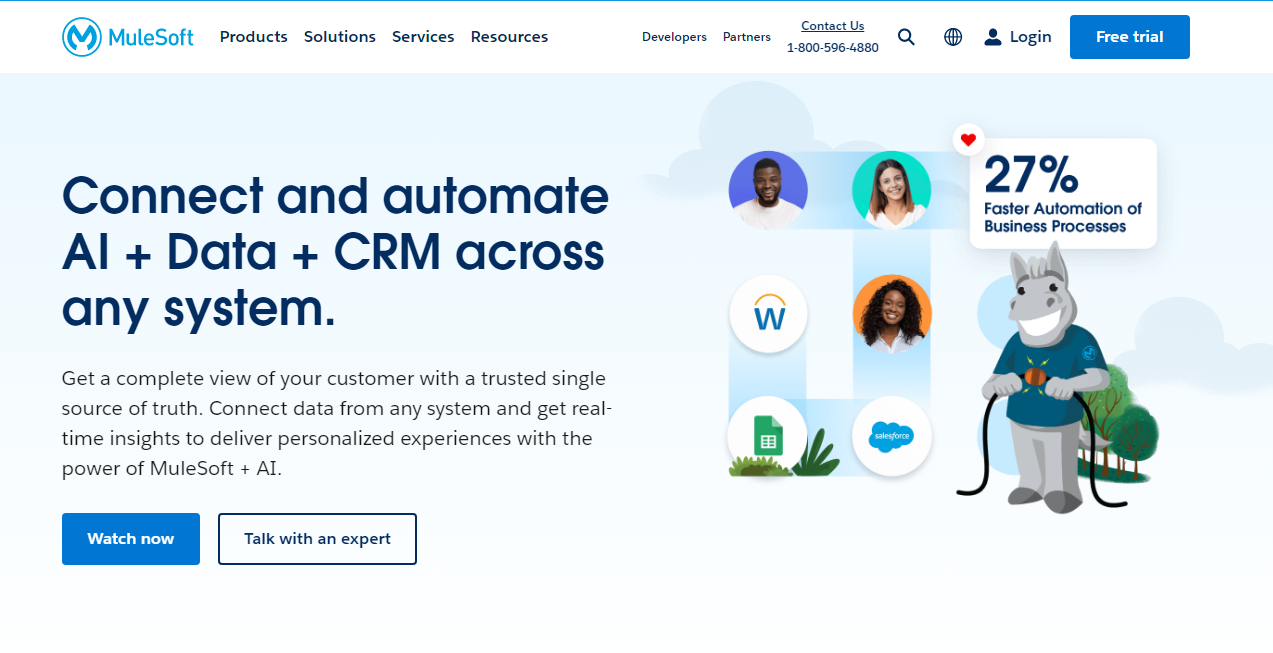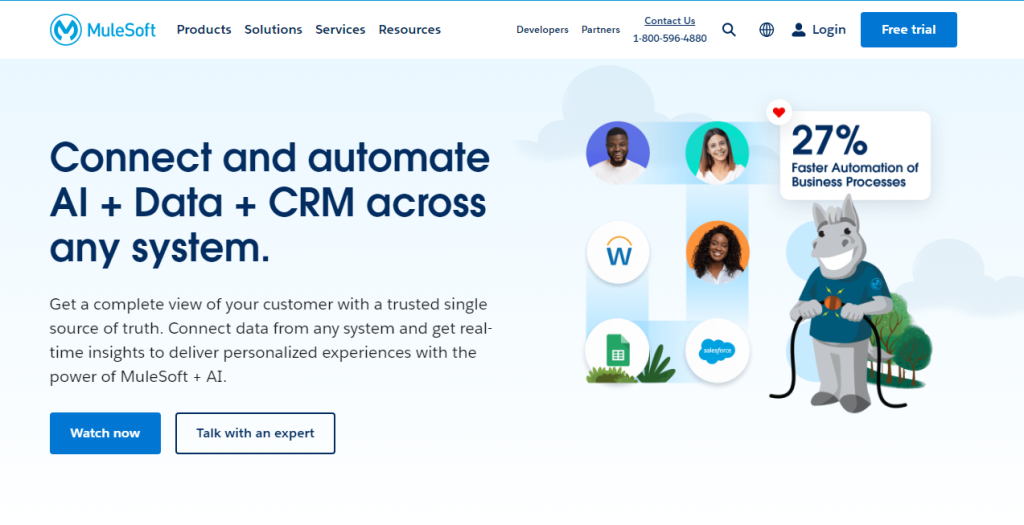 MuleSoft is an API control and integration platform that connects apps, records, and devices throughout on-premise and cloud computing areas. It's the perfect tool for communication among people, strategies, systems, and technology, allowing corporations to merge across the enterprise and work successfully. The solution supports 200+ sources; its pricing range depends on the data volume and features you'd like to use.
Why is it good enough? (Benefits):
Quick launch of new projects.
The possibility of reducing maintenance and operational costs.
Scalability and flexibility enhancement with iPaaS and CloudHub infrastructure management.
The strong ability to connect and share the data to create a complete customer view.
Use cases:
The legacy systems integration into the real world.
Business processes and workflow automation.
Data exchange and communication between the systems zoo.
What the users may not like? (Possible drawbacks):
The platform's complexity and technical expertise requirements. So, if your business doesn't have the IT team to do it – it's not your solution.
The high cost of implementation and maintenance is a blocker for small companies with limited budgets.
Talend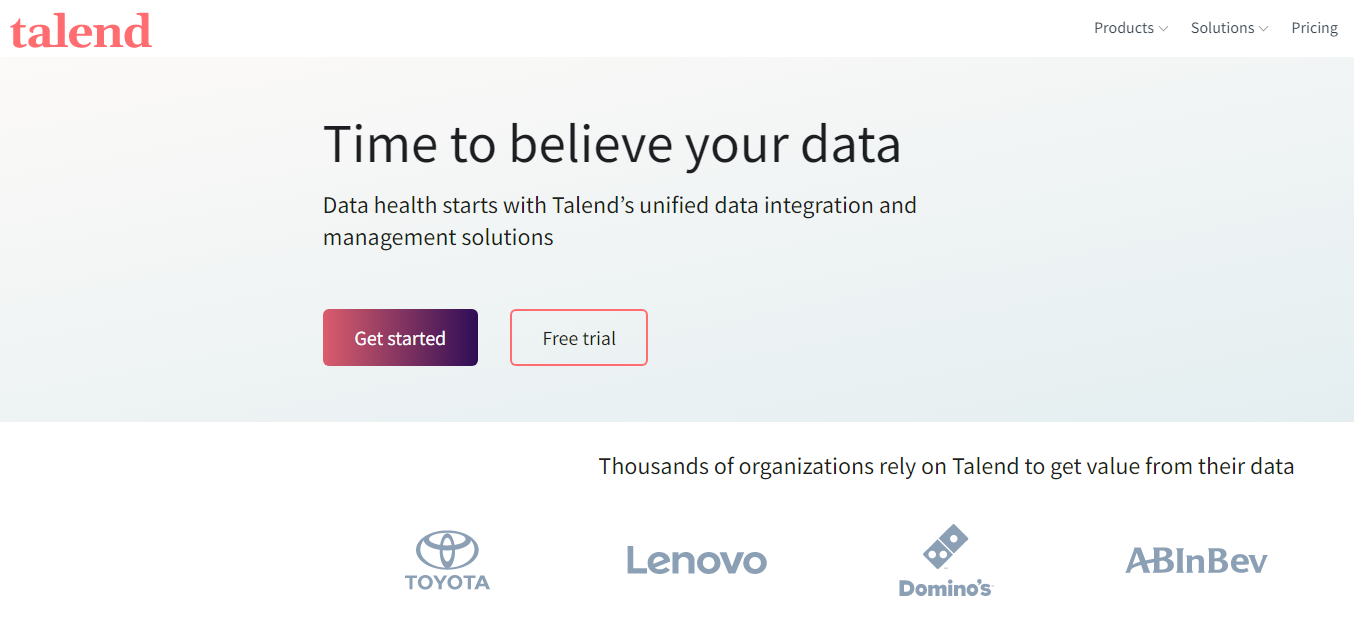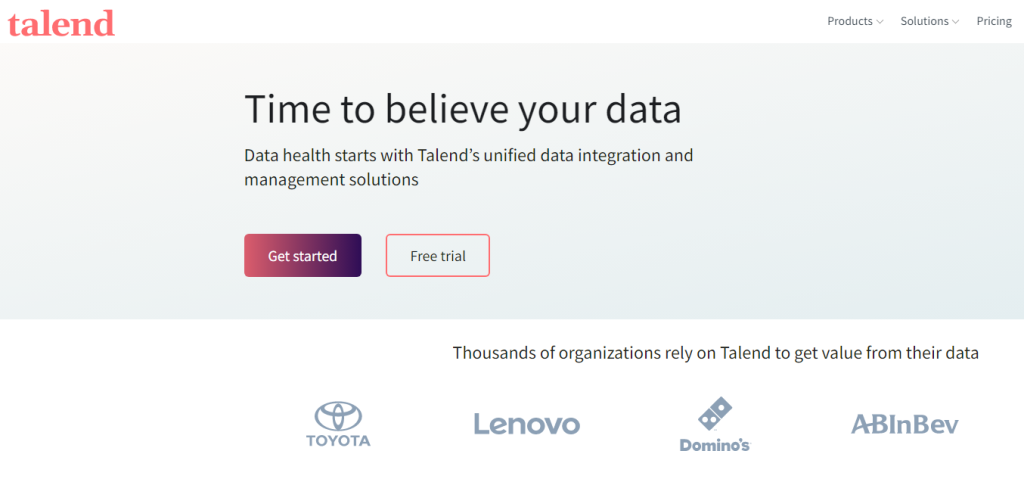 Talend is a low-code, cloud-based, on-premise integration system combining data integration, data quality, data governance, working with virtual info supply, and supporting the entire records lifecycle. It provides some open-course abilities, or you can use the 'adult' set like Talend Data Fabric features. The connectors' offer ability here is pretty fine (1,000), and the pricing model depends on your subscription.
Why is it good enough? (Benefits):
Efficient teamwork to save time for data integration completion and productivity improvement with Data Fabric.
The data quality and accuracy improvement with an end-to-end data management platform.
The data quality control for cost-saving, speed, and performance improvement.
Use cases:
Data integration and migration.
Cloud data warehousing.
Big data processing and analysis.
What the users may not like? (Possible drawbacks):
The software complexity can increase the time and costs spent on staff learning.
Limited connectivity to some data sources.
Large data volumes issues.
Hevo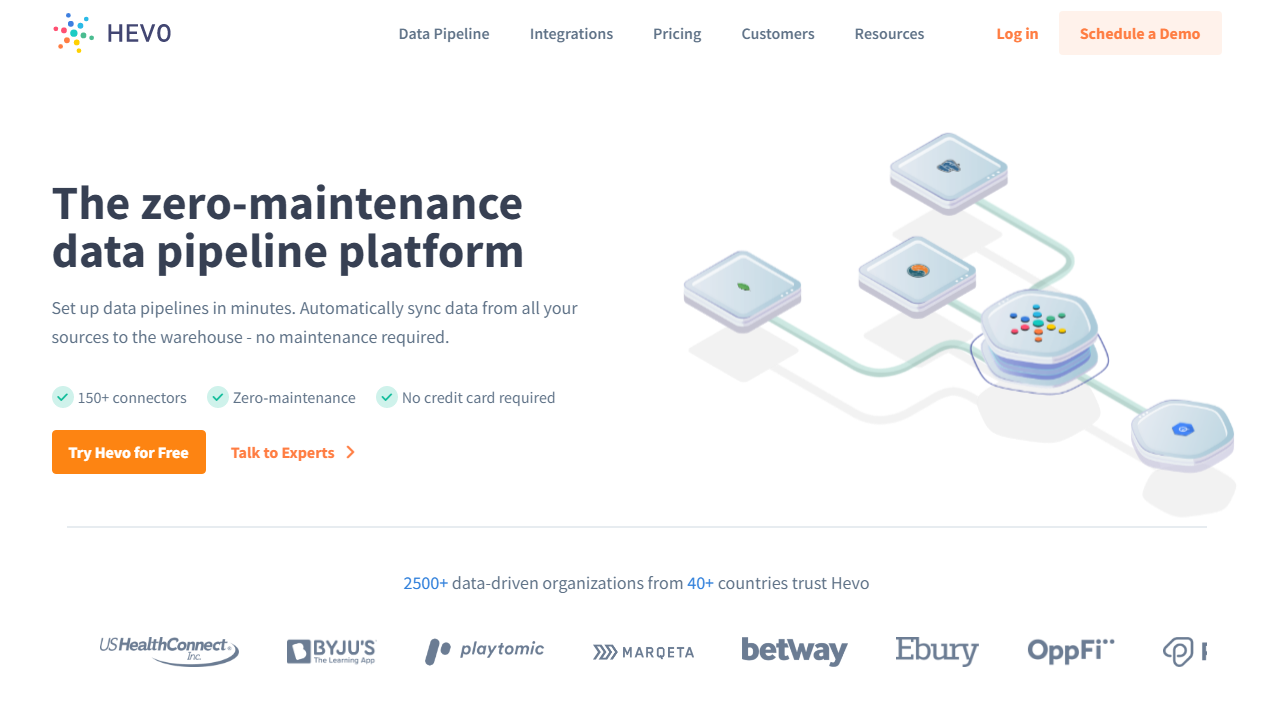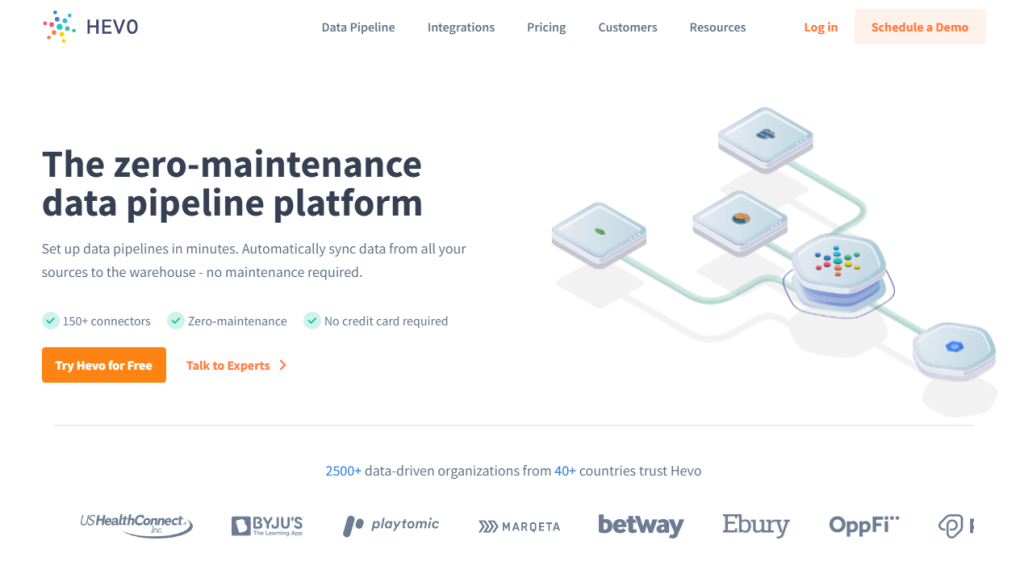 Hevo is a no-code data integration tool with 150+ sources supported. Depending on the product, it offers ETL, ELT, and reverse ETL functionality. It's a perfect solution for those who need to pull data from all their sources to the warehouse and run transformations for analytics. The pricing is event-based, including the free version.
Why is it good enough? (Benefits):
Integration with databases, SaaS systems, cloud storage, SDKs, and streaming services for further connection with Google BigQuery and other analytic tools.
Speed up the data analysis to run in a few minutes because of automated data flow.
Use cases:
Optimization of ETL processes for BI.
Real-time data warehousing for analytics.
Cloud data operations.
What the users may not like? (Possible drawbacks):
The disability of:

Extensive data volumes management.
Support real-time or streaming data.

Complex data mapping process.
The high pricing model for the limited budgets compared to the competitors.
Informatica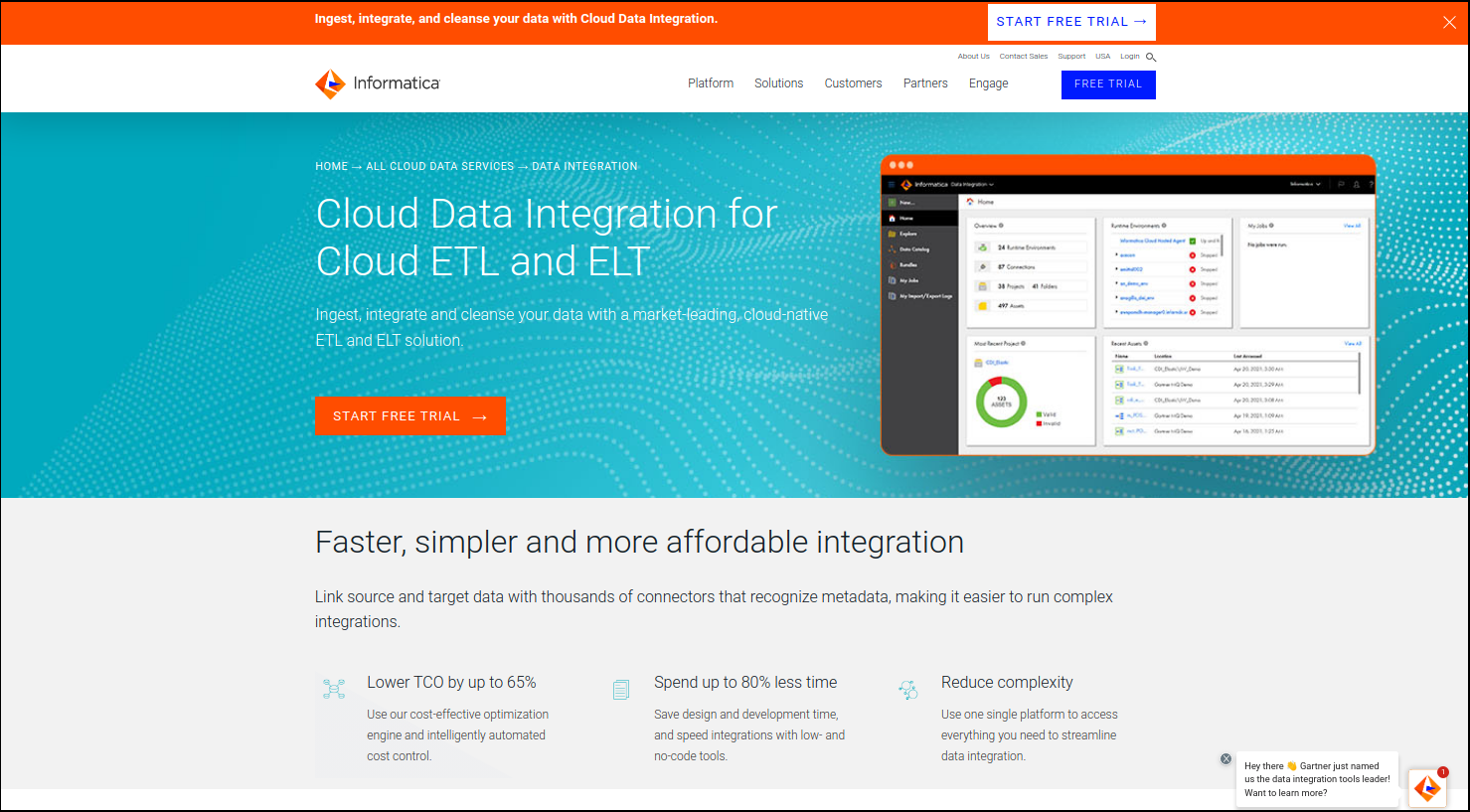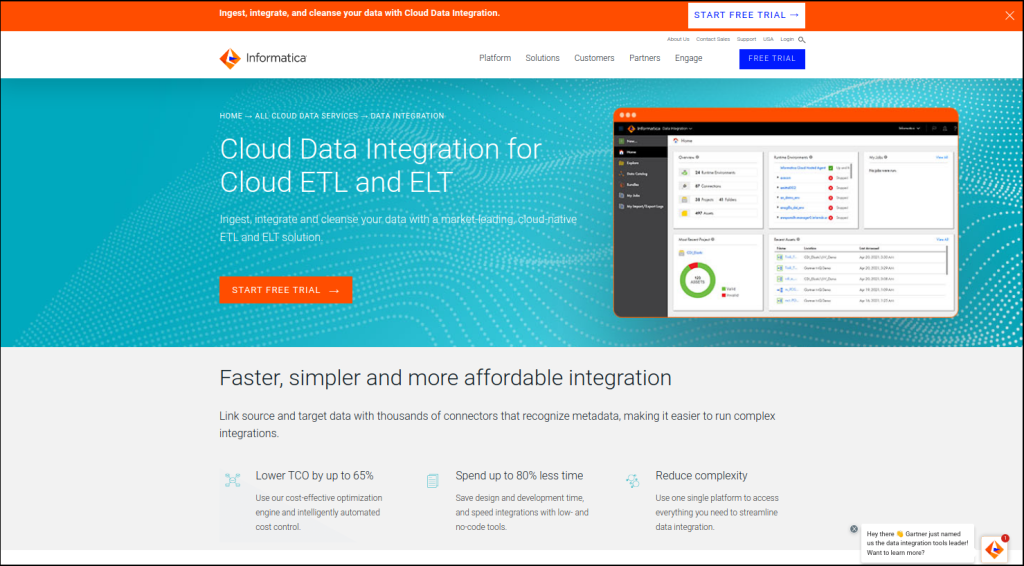 Informatica is an iPaaS service for ETL, ELT, cloud, and on-premise usage. It allows connecting and fetching data from different heterogeneous assets and loading it into a target system. The 180+ connectors are available here, and the price is flexible depending on your business needs.
Why is it good enough? (Benefits):
You can integrate data from cloud-based and on-premises sources and synchronize it across different applications.
You can manage your data quality dimensions.
You can result in your decision-making based on data-driven insights.
Use cases:
Data warehousing and BI.
Cloud data integration.
MDM.
What the users may not like? (Possible drawbacks):
The cost estimation difficulty.
The platform complexity for users.
Limited customization options.
The win-win choice
All the platforms are pretty good according to their possibilities and pricing. Of course, it depends on each company's needs because requests differ even in the same industry. We recommend trying the one where the features menu and the pricing model formula are win-win: Skyvia. The set of functionality here is more than enough to solve various business pains, and the pricing varies from Freemium to Enterprise packages, which is a comfortable and flexible solution for any business.
Ready to start? Try the Freemium version.