The growing need for data integration tools comes with the exponential boost of the data applied by companies within every industry. Why so? These massive volumes of data create both possibilities to thrive and problems to solve.
On average, businesses use 110 different services since each tool is better for a specific business task. Unfortunately, due to this, getting a unified view of business data becomes an enormous challenge. Though many services offer data integration, they all have features suitable only for a particular business. As a result, choosing the right tool becomes a mission impossible.
In this article, we've gathered the top data integration software vendors and specified for which cases they are most suitable. We've also included explanations of the data integration definition and what data integration tool is for those of you who are at the very beginning of the integration challenges.
Table of contents
Data Integration Meaning
Data integration stands for aggregating all data (regardless of structure, type, and format) within disparate sources into a single, unified view. Simply put, the meaning of data integration is in transforming small, miscellaneous segments into one consistent system.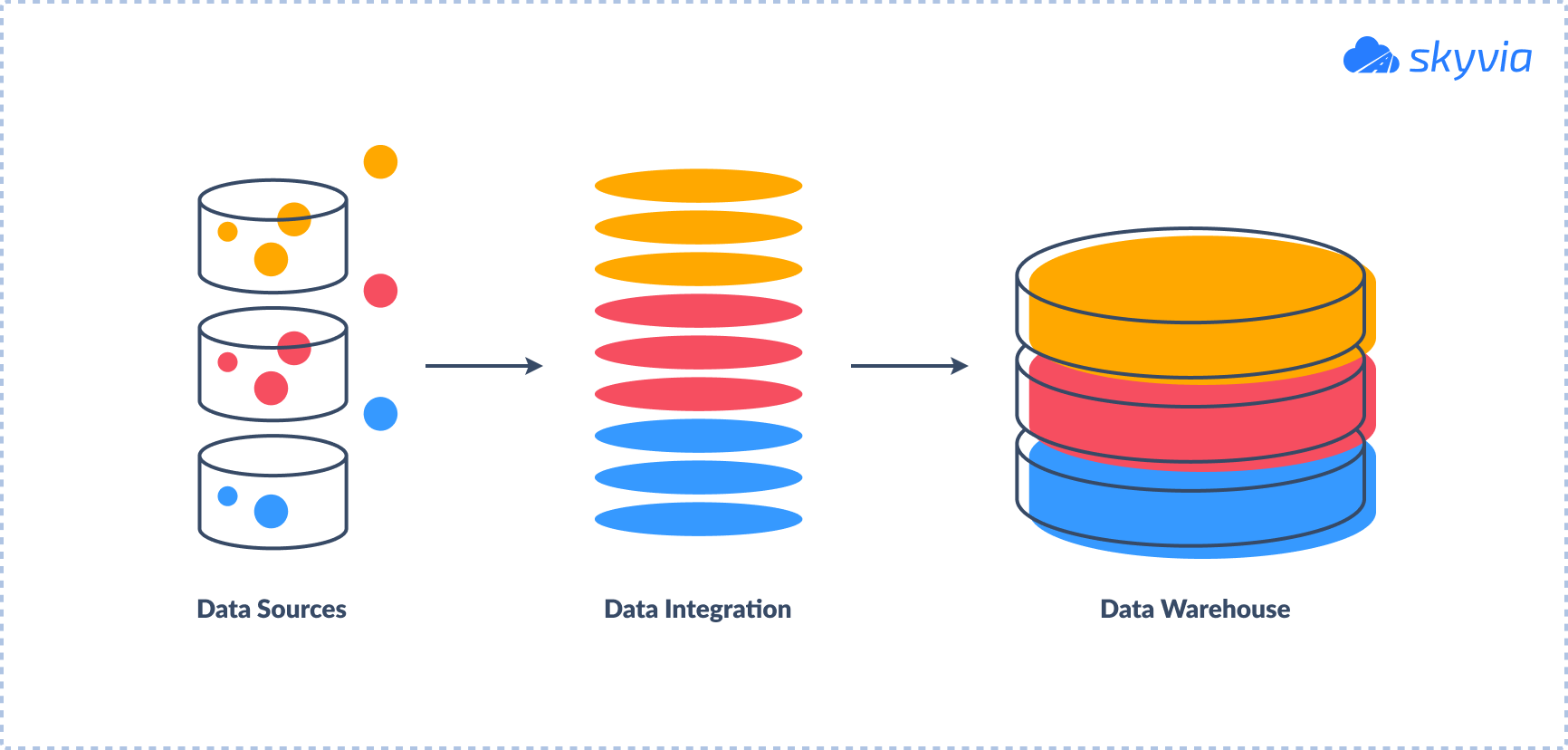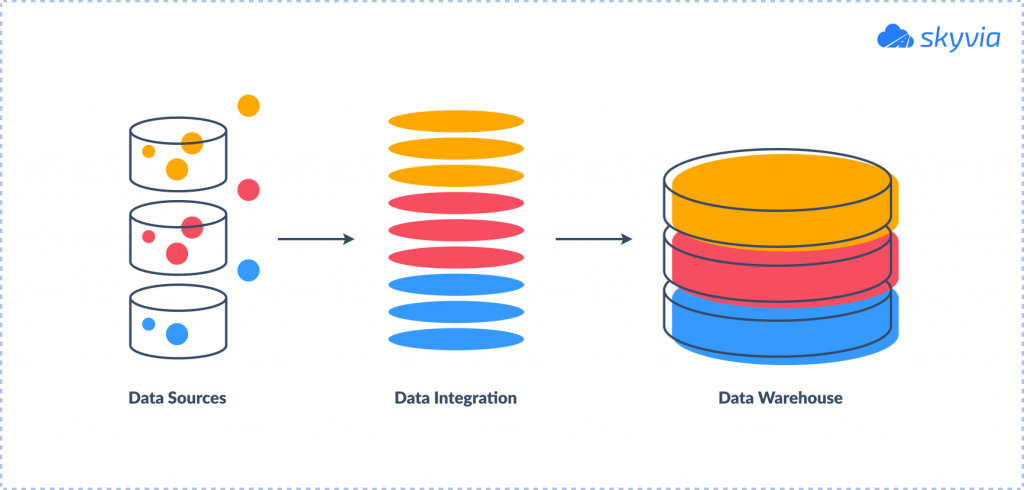 As businesses keep operating within various systems, producing huge amounts of data, the need for integrated data is undeniable. By merging and standardizing, different teams across the organization(s) receive a 360-degree customer view and produce actionable insights in a fast manner, becoming data-driven, not only in words. Note: You can find more information about data integration, its meaning, main types, and examples in our detailed article.
What are Data Integration Tools?
The data integration tools definition appears to be a logical continuation of the previous one. These tools perform data extraction, transforming, and transferring processes, including mapping, cleansing, etc.
Integration solutions provide businesses with a single source of truth, delivering quality data to all teams at once. Obviously, creating such a defined pathway can become very technical and tricky; however, the advantages of implementing data integration tools are substantial:
Elimination of data silos as they usually become a barrier to digital transformation
Deriving value from data along with getting insights fast in action.
Scaling business by applying analytics based on quality data.
Main Types of Data Integration Software
Since there are no two identical businesses (even operating in the same industry), data integration tools for big companies vary in their functions. There are many tools to solve different business needs, each with its specifics. Below, we show how these tools can be grouped by certain types.
On-premise integration software
As the term suggests, these tools don't work from external servers installed in a local (on-premise) network. The goal of using such services is for the data not to leave the company's infrastructure, usually according to specific security policies. However, this approach makes the internal IT department configure, support, and maintain the operation of such software. As a result, on-premise integration tools require a lot of resources and time to support their smooth operation.
Cloud-based data integration tools
Unlike on-premise software, cloud-based data integration tools operate from external servers outside the organization's network. Their primary function is to integrate data from separate sources into cloud-based storage. It's more convenient for businesses and way more cost-effective than having to install and maintain their own IT systems. It provides organizations with modern cloud agility, eliminating the need for deployment or manual upgrades, and delivers global access to data anytime for any department.
Open-source data integration tools
A distinctive feature of this type is open-source integration, which allows any company to change the software to suit its requirements. On the one hand, it's great for a business that doesn't want to buy a pig in a poke. However, on the other hand, you should consider both the costs of changing and supporting the product and the high expertise required from company employees.
Proprietary software
The proprietary software is the most expensive on the market, as it's designed to meet specific business requirements that aren't everyday use cases. The main clients of such tools are large enterprises with vast amounts of data, extensive data sources, and complex ecosystems requiring non-standard approaches.
How to choose data integration tools?
The wider the choice, the better, right? However, it can quickly become a disaster as it's pretty challenging to make the right choice. In real-world situations, integration problems are usually complex and unique. Your tool should meet requirements depending on the business size (whether it's an SMB or enterprise), considering the difficulty of business processes, the technical knowledge required for the users to apply the tool/service, and so on. Assessing all possible scenarios is a tough spot, so we've put together a short checklist of factors to keep in mind to help you prioritize your requirements for the data integration toolkit.
Business use cases. Initially, the chosen integration tool should be able to meet the functional needs of a business at its current stage. The use cases required for SMBs and Enterprise level companies are different, as are the complexity of implementation and costs of the data integration solutions.
Security. The tool must have sufficient data protection (security certificates, etc.). Thus, the customer data won't be compromised.
Scalability. Companies and their business goals are constantly changing, as well as the software employees apply (new tools in, outdated ones out). Accordingly, the integration tool you choose must be flexible enough to cope with changes in quantity and application of customer data and data sources.
TOP 10 Best Data Integration Tools
Note: The list of data integration tools is based on G2 Crowd and Gartner ratings.
Skyvia
Skyvia Data Integration is a cloud-based, complete ETL, ELT, and reverse ETL solution designed to consolidate data from all of your services and applications (local and on-premise), making sure it's always accurate and up to date. It's easy to use, integrates seamlessly with many business apps, and scales up to meet any load. It also requires no maintenance costs or software updates as it's browser-based.
Skyvia also offers more powerful Data Flow and Control Flow tools that allow for building complex data pipelines with many sources and managing them. By applying various integration scenarios, any business can get fully automated and trouble-free data processes.
Details:
Key features:
Business size — from small to large businesses: simple scenarios for SMBs and complex ones for enterprises.
Deployment — installation isn't needed, as it's cloud-based and browser-based.
Technical knowledge required — provides a no-code wizard with a user-friendly interface, meaning that business users can configure data flows visually without extensive training.
Alert notifications & error detection — enables failure alerts and detailed error logs.
Template availability — offers various scenarios with pre-made connectors for cloud-based, on-premise, or hybrid ecosystems.
Price — offers a free trial and five different pricing plans, starting from $15 per month.
SnapLogic

The Intelligent Integration platform by SnapLogic is a visual ETL and ELT tool that allows self-service integration for its clients. SnapLogic supports hybrid integrations and works with cloud-based and on-premise data sources. The service delivers an intuitive user experience with the help of Iris AI integration assistant for easy integrations and data management.
Details:
Key features:
Business size — offers integrations for enterprise-level organizations.
Deployment — the service is HTML5-based and delivered as a multi-tenant cloud service.
Technical knowledge required — delivers an easy-to-use interface and offers low-code or even no-code environments.
Alert notifications & error detection — identifies data errors throughout integration workflow and provides log reports.
Template availability — supplies 600+ pre-built data connectors.
Price — offers a free trial; for more pricing information, you need to contact a manager.
TIBCO Cloud Integration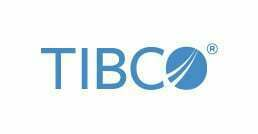 The cloud integration platform by TIBCO is an enterprise solution that is a part of the large ecosystem. It's also been named a Leader in Enterprise iPaaS by the Gartner 2021 report. The service provides plenty of features and additional tools within one product suite. TIBCO integration software secures data by applying an embedded or optional on-premise API gateway and offers role-based permissions and access for better data management.
Details:
Key features:
Business size — works with small, midsize businesses and large organizations.
Deployment — is a cloud-based service with a web-based interface.
Technical knowledge required — allows the no-code guided experience for connecting hybrid environments: on-premise and cloud-based data sources.
Alert notifications & error detection — supplies a built-in error detection mechanism.
Template availability — delivers pre-built integration solutions to over 100 IaaS and PaaS environments.
Price — offers four plans: 30-day free trial, Basic (from $400), Premium, and Hybrid.
Celigo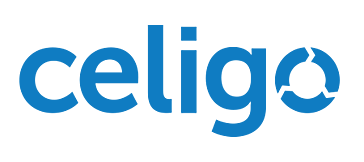 The Celigo Integration Platform works as flexible, cloud-based software, a common iPaaS. The service supports multiple connections (SaaS, B2B, apps, etc.), allowing business users to create integration data flows. It also grants data access to authorized users only, ensuring role-based control over product functions.
Details:
Key features:
Business size — works with enterprise businesses.
Deployment — is a cloud-based software.
Technical knowledge required — provides a guided software interface within a low-code Developer Workspace.
Alert notifications & error detection — uses machine learning capabilities for error detection and data management within integration processes.
Template availability — offers pre-made templates of the most popular cloud connections.
Price — offers a free trial; its Basic plan starts from $600.
SQL Server Integration Services (SSIS)

SSIS is an integration solution and a part of the Microsoft SQL Server. This tool is one of the oldest in the market, offering multiple functionalities for miscellaneous data workflows. It supports native data connection with Microsoft's Azure, delivers plenty of recovery options for users, and presents access management and permission control to secure customer data. The latest version of SQL Server 2022 has already been introduced for the public preview. Due to its difficulty in use, pricing policy, and enterprise-oriented features, it may not be a good choice for small and medium companies.
Details:
Key features:
Business size — works with enterprise-level organizations.
Deployment — is an on-premise SQL server that can be deployed only through Azure Cloud Environment or the SQL server with Windows authentication.
Technical knowledge required — enables a low learning curve and lots of documentation support for users.
Alert notifications & error detection — uses a Send Mail task to notify an administrator of the failure.
Template availability — built-in connection managers installed while setting up Integration Services.
Price — has four pricing editions, from a three-month subscription of $599 to $3,390.
Informatica
Informatica offers its clients the whole product suite containing expanded functionality of the miscellaneous data-related processes like migration, cleansing, validation, management, etc. There are such tools as Intelligent Data Management Cloud (IDMC), Cloud Data Integration for Cloud ETL and ELT, etc. Altogether these solutions secured a Leader place in the Enterprise iPaaS category by Gartner 2021 report.
Details:
Key features:
Business size — suits medium-sized and large corporations.
Deployment — is a cloud-based solution.
Technical knowledge required — delivers a drag-and-drop AI-powered interface, making it easy for the users to use and maintain the organizational data.
Alert notifications & error detection — enables sending alert messages or emails in case of any failures.
Template availability — supports more than 300 pre-made integrations.
Price — there's a free trial and pre-paid subscription starting from $2000 per month.
Talend
Talend Open Studio is an open-source integration software offering customers data preparation, integration, management, etc. Like many integration solutions, it works with both on-premise and cloud-based systems. Talend platform also appeared in Gartner Magic Quadrant 2021 as a Leader in the Data Integration category. It requires minimal installation requirements and illustrates product features with the Talend resource center that includes tutorials, webinars, and the podcast Truth Be Known.
Details:
Key features:
Business size — is suitable for any size business: from small to large.
Deployment — is a cloud-based solution with web-based interfaces.
Technical knowledge required — the user interface isn't friendly for a non-technical audience.
Alert notifications & error detection — has email notifications when certain types of events occur in the applications.
Template availability — comes with several out-of-the-box connectors.
Price — offers a free trial and four pricing plans, but for more detailed information, you have to contact sales representatives.
Boomi

One of the leaders within the Enterprise iPaaS category, according to Gartner, Boomi is an iPaaS solution that offers typical features of a data integration platform, efficiently handling hybrid environments. It allows managing data (cloud-based or on-premise) in a single unified place and offers free on-demand training, certification, and many additional resources (knowledge base, tutorials, etc.).
Details:
Key features:
Business size — suits the needs of businesses of all sizes.
Deployment — is a cloud-native platform.
Technical knowledge required — is low-code and provides a visual, drag-and-drop interface.
Alert notifications & error detection — includes email alerts for different events.
Template availability — delivers templates, process libraries, and pre-configured patterns for miscellaneous application integrations.
Price — the first 90 days are free, and after that, the pricing depends on what you use.
Jitterbit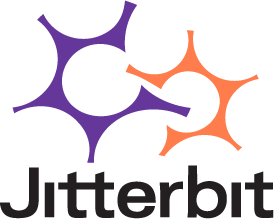 The API-based platform supports integrating data sourcing between on-premise, cloud-based, and SaaS services and offers custom integrations on-demand along with speech recognition and real-time language translation due to AI features. Jitterbit makes data transformation easier for business users by providing an automapping function along with presenting separate virtual environments to test integration steps with no altering of the other data processes. It also produces many additional resources for its clients like webinars, solution sheets, and even the Digital Transformation Pioneers podcast.
Details:
Key features:
Business size — works with any size business, especially with enterprises.
Deployment — is a cloud-based service.
Technical knowledge required — provides low-code integration and visual interface.
Alert notifications & error detection — enables email notifications for success or failure of an operation or on the calling of a script.
Template availability — applies various pre-built templates.
Price — offers a trial period and three pricing plans Standard, Professional, and Enterprise. However, it requires an annual contract for any plan.
MuleSoft Anypoint Platform

Anypoint Platform is a flexible integration system that unravels business data connection and transformation needs. It's been named a Leader among Enterprise iPaaS and full-lifecycle API management according to Gartner's report in 2021. This hybrid solution works with cloud and on-premise systems, connecting them into a unified view by applying REST APIs. It uses its functional language, Data Weave, offers IoT devices integration and template-based workflow. The platform delivers real-time and batch data integration and fully managed infrastructure. It also protects sensitive customer data, establishing compliance with ISO 27001, SOC 2, PCI DSS, and GDPR.
Details:
Key features:
Business size — suits enterprise-level companies.
Deployment — as an ESB, it handles on-premises integration, and its CloudHub handles cloud-based integration.
Technical knowledge required — enables its clients with quick start guides, tutorials, certification, training, and webinars.
Alert notifications & error detection — delivers alert notifications and send emails based on the application's notifications.
Template availability — uses pre-built APIs, connectors, templates, accelerators, and other integration assets.
Price — offers a free trial and three pricing plans Gold, Platinum, and Titanium.
How Skyvia Can Solve Your Data Integration Needs?
As we mentioned above, there are three crucial points to consider while choosing the perfect one for your business. Skyvia Data Integration suits each one of them as it's a flexible tool offering solutions for both simple and complex use cases. Each scenario offers visual design and requires no coding knowledge.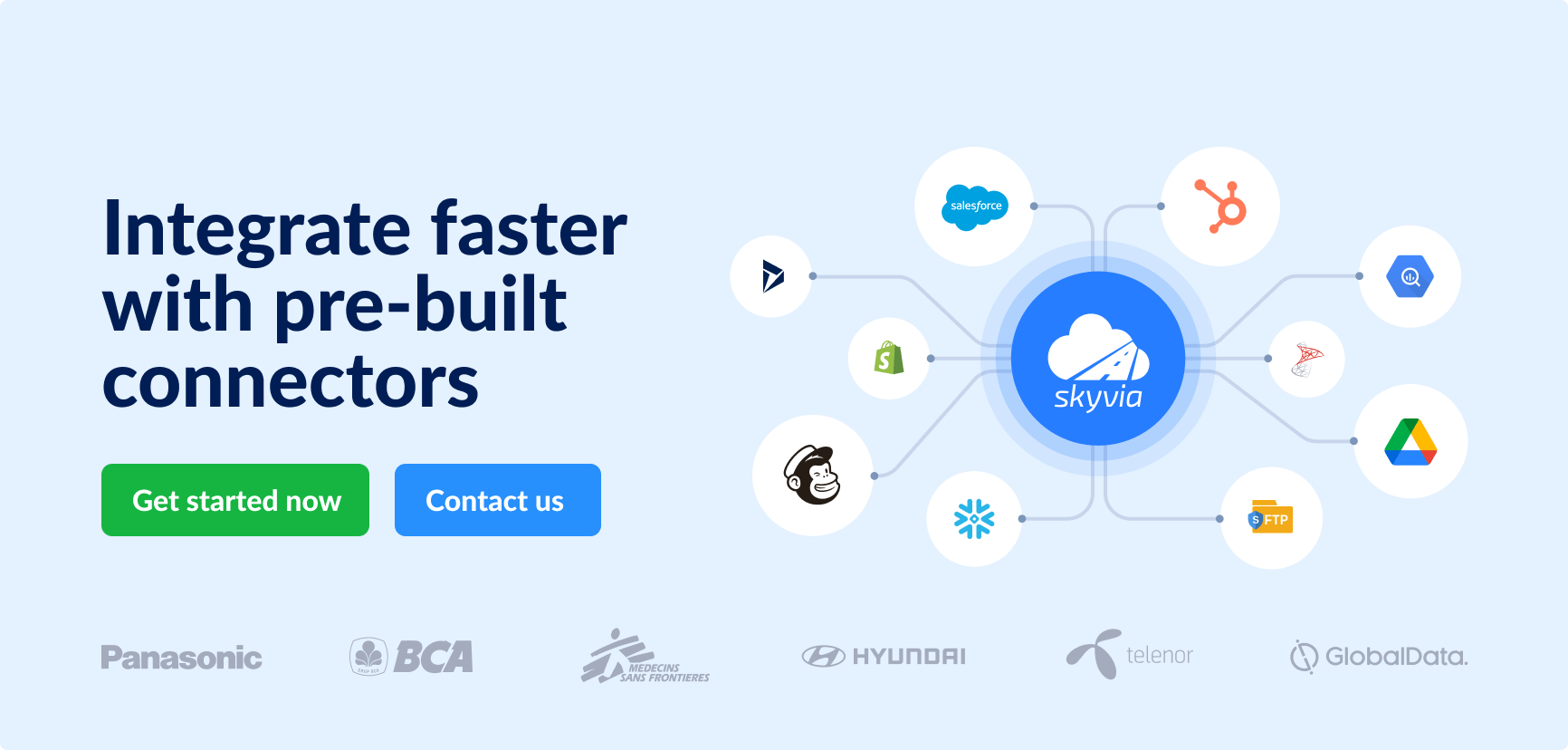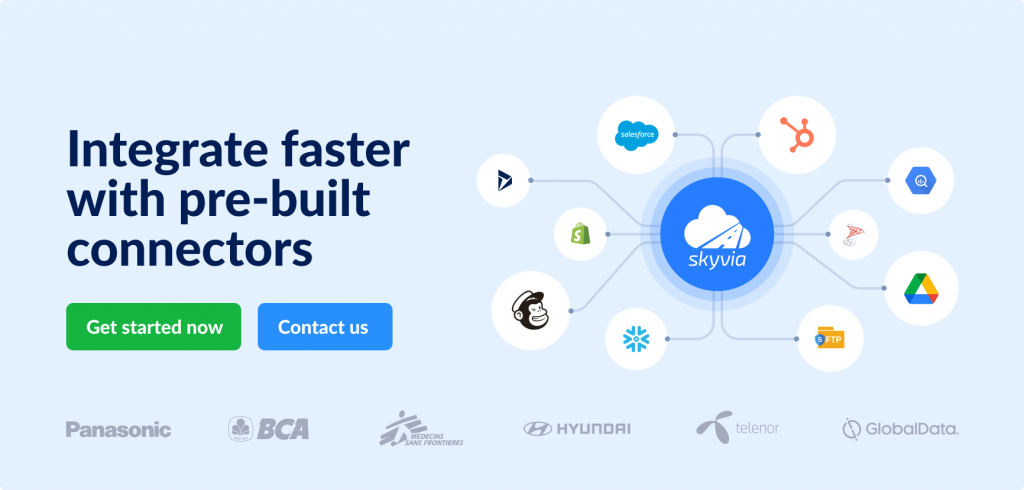 Business use cases
By applying the Skyvia platform with its vast capabilities, customers receive a powerful tool that covers all their data-related needs from a single code-free interface: ETL, ELT, Reverse ETL, bidirectional data sync, workflow automation, etc. Simply put, data kept in disparate sources can be synchronized automatically with no coding. And with the versatile prices, every company can find a suitable plan for its needs and budget.
Security
Since data security is of utmost importance, Skyvia uses industry-leading security technologies to keep customers' data safe. Among security practices adopted by Skyvia is Microsoft Azure cloud, one of the most secure platforms for enterprise use, with its west US data centers.
Moreover, Skyvia complies with the European Union's Global Data Protection Regulation (GDPR) and HIPAA requirements for Protected Health Information (PHI) and is PCI DSS compliant.
Scalability
No matter the size, your company could benefit from Skyvia products in many different scenarios: managing, analyzing, and making sense of your business data using Skyvia products.
It's also important to choose software that is flexible enough to accommodate the increasing amount of data. With powerful data pipeline designers like Data Flow and Control Flow by Skyvia, you can create custom integration logic and configure advanced integration scenarios involving different integration packages.
Key takeaways
Data integration tools are a must-have for any data-driven company, as making decisions without considering all the data is a precarious path. However, making the right choice can be pretty challenging — there are too many different tools on the market.
Now, with a list of the most rated and popular integration solutions, you can start choosing by watching demos, trying out the services, etc. We recommend starting with a free Skyvia account, as there are many useful functions and no hidden costs.