Companies are constantly looking for ways to optimize costs, improve efficiency, and enhance processes. Businesses can make decisions about global changes to achieve company targets. One such drastic decision for online stores can be changing the e-commerce platform.
Migrating an online store from one platform to another creates many business challenges. The first one is what platform to choose from a great variety of solutions. Various platforms and services have different structures and offer diverse features. Another huge challenge is to conduct a smooth and seamless migration.
In this article, we'll tell you about possible ways to perform a comfortable migration of your online store from Magento to Shopify.
Table of Contents
Understanding Magento and Shopify
What is Magento?
Magento is a global e-commerce platform that allows merchants to build and customize online stores. It provides a comprehensive set of services for digital commerce, including marketing, SEO, product management, and other tools. Various Magento features make it possible to solve almost any e-commerce task or challenge. Magento supports multiple payment gateways, currencies, and even languages. You can use diverse extensions from the Magento marketplace or integrate your store with third-party apps.
What is Shopify?
Shopify is a cloud-based e-commerce platform that allows companies to lead their businesses online. With Shopify, companies can sell their products in multiple places, from brick-and-mortar locations to web or mobile shops and across various channels, from social media to online marketplaces. Shopify is easy to use and user-friendly, which makes it available for users of any technical skill level.
Comparing Magento and Shopify in eCommerce
Criteria
Shopify
Magento
Pricing
$24 to $299 per month (paid annually).
A trial is available.
Pricing depends on the available features, company size, infrastructure, security, and other parameters. Contact Adobe directly to calculate custom prices for your business.
Free plan and trial are available.
Ease of use
Easy-to-use, beginner-friendly visual editor.
You need web development skills to customize your store.
Templates and Design
12 free and 138 paid ready-made themes with prices from $170 to $380 per theme.
All themes are adapted for mobile or tablet devices.
The approximate cost for a ready-made theme is $100. Custom themes can cost up to $25,000 per theme.
Transaction Fee
Free for Shopify payments.
0.5% to 2% for external gateway.
Contact Adobe Commerce directly for information.
Marketing Features
Multilingual sites support. Email campaigns via third-party app integration.
Marketing activities are performed using marketplace extensions. Coding skills are required.
Integrations
3,200 apps at the Shopify App Store.
3,600 native integrations available via Adobe Commerce Marketplace.
Customer Support
24/7 support for all plans.
Email or help desk, chat, frequently asked questions (FAQs) or forums, and a knowledge base.
Benefits of using Shopify
Although Magento is flexible, scalable, and offers excellent opportunities for leading business online, it is relatively expensive and quite complicated. It would help if you were tech-savvy to leverage all Magento customization capabilities.
If you are looking for a solution that provides maximum capabilities for a minimal cost and is easy to use, consider using Shopify.
It takes away all the complexity into a vast set of pre-built features.
Shopify is one of the easiest ways to launch your business out of the box. Together with that, it leaves room for growth and customization.
Shopify has thousands of partner third-party apps, opening unlimited integration and customization opportunities.
If you finally decide to migrate your online store from Magento to Shopify, you have two options: direct manual migration or automated migration using Skyvia.
Method 1: Direct Migration from Magento to Shopify
Overview of the Direct Migration Method
Direct migration is a manual or half-automated data transfer process from one platform to another. This method is a good choice when you want to manage and control the process entirely.

You should plan all the steps and prepare carefully before you start. Register in Shopify and perform the initial setup of your online store before you begin the migration.
Step-by-Step Guide to Migrating from Magento to Shopify
STEP 1 Backup your Magento Store
We strongly recommend backing up all your data in Magento for additional data safety.
For this, perform the following actions:
Log in to your Magento admin panel and click SYSTEM -> Backups.
Select the Backup type, enter the backup name, and enable the maintenance mode if needed.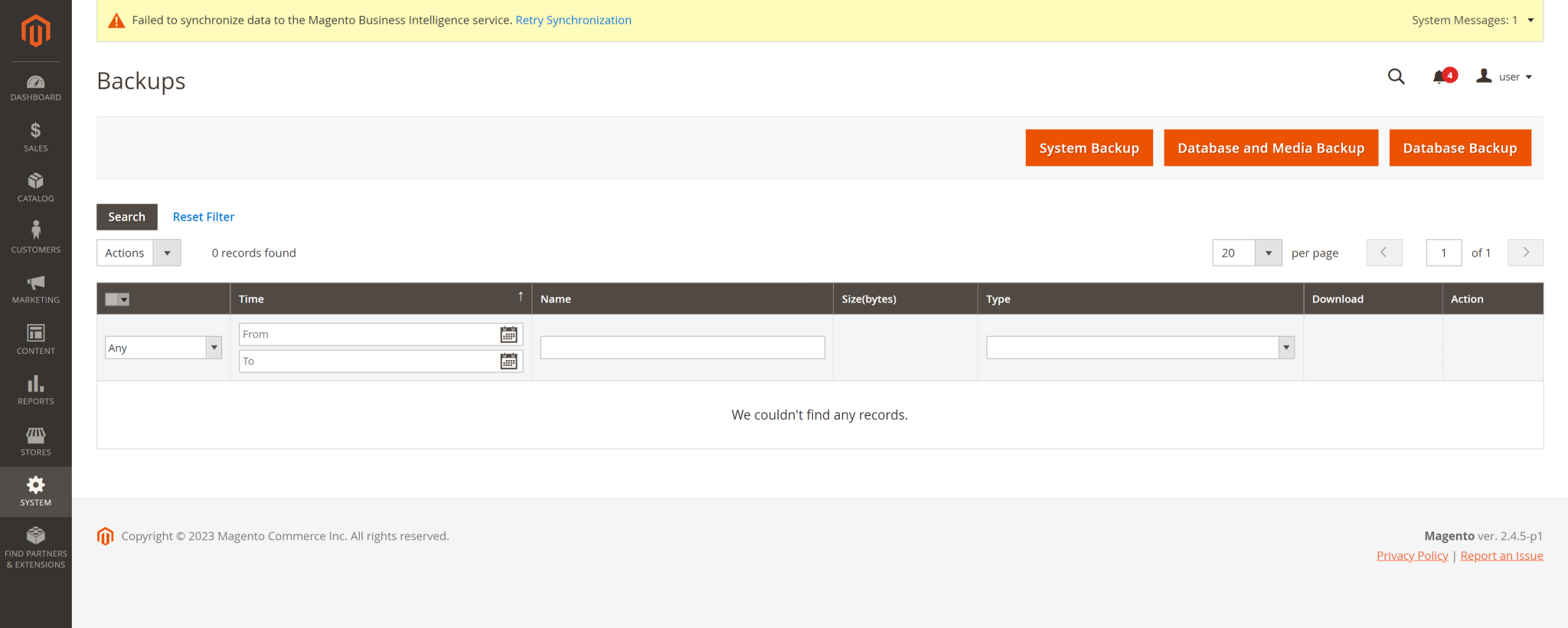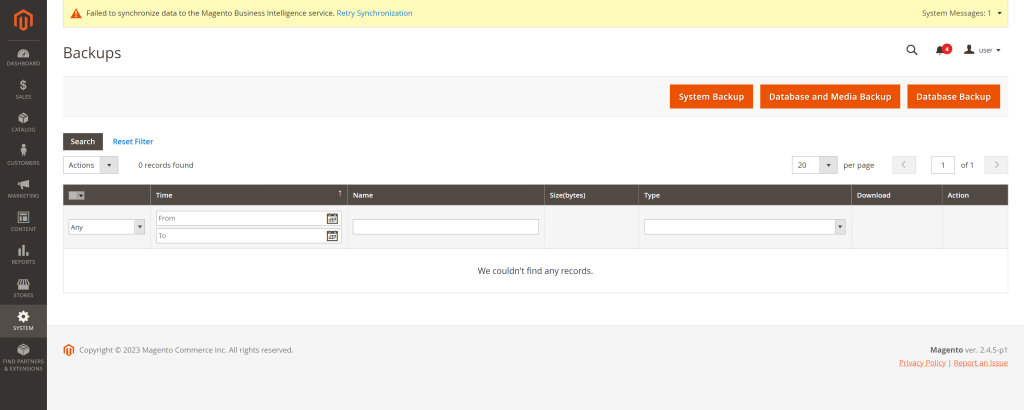 System Backup saves the entire system, including your source code and the database.
Database and Media Backup saves the content of the database and media folder. Store themes are absent in this backup.
Database Backup saves the store's database only.
STEP 2 Export Magento Data
Magento allows exporting the following entities:
Advanced Pricing, Products, Customer Finances, Customers Main File, Customer Addresses, and Stock Sources. You can export a single entity at once. Every entity is exported to a separate file.
To export your Magento data, do the following:
Go to the Magento admin panel and click SYSTEM -> Export.
Select the Entity Type, Export File Format, and enable the Fields Enclosure option if needed.


Set Entity attributes if needed. You can exclude fields or filter the set of data for export. Click Continue to launch the data export. The export operation runs in the background. The file will appear as soon as the operation is completed.
Download the ready CSV file.
STEP 3 Import Data to Shopify
Shopify supports several ways for data import. You can manually import data to Shopify from CSV files using one of the available migrating apps on the Shopify marketplace or via API.
The choice of the method depends on the amount of data and developer resources.
CSV Import
You can import only customers and product lists from CSV files. Before you start, ensure the CSV file valid for import to Shopify. CSV file must have the specific column headers valid for Shopify. If the imported file has invalid or missing headers, it returns an error.
Below, you can check out how to import customers from Magento to Shopify. 
Log in to your store admin and click Customers.
Click the Import button on the right.
Click Add file, and select the customer CSV file.
Enable the additional options and add tags if needed.
Click Import customers.
To import products, log in to your store admin panel and click Products. The further process of importing products is almost the same as for customers. 
Shopify Migration Apps
As an alternative to relatively limited CSV Import, Shopify offers a variety of migration apps. Unlike CSV Import, the migration apps allow migrating historical orders, Gift cards, certificates, store credits, and others.
Migration apps vary by the supported features, capabilities, and price. There are several completely free apps in the Shopify marketplace. It's up to you what app to choose for your migration.
Shopify API
This method provides the best opportunities for migration between e-commerce platforms. It allows importing any data available via API.
However, it requires strong developers' resources or the involvement of specific third-party tools.
Method 2: Magento to Shopify Migration using Skyvia
Another way of migrating Magento data to Shopify is to use Skyvia, a powerful no-code data platform. Skyvia removes the pain and trouble of connecting platforms of different data structures. Skyvia offers diverse products for various data-related tasks: Data Integration, Backup, Query, Connect, and Automation.
You can use Skyvia Data Integration tools to perform Magento Shopify data migration.
Benefits of Using Skyvia for Migration
Skyvia works via API, giving wider migration opportunities than the manual method. You don't need to involve developers to use this method. Skyvia is a no-code solution. With its user-friendly visual integration editor, you can easily set up the direct migration of your Magento objects to Shopify out of the box.
Switching e-commerce platforms? Don't let migration challenges hold you back. Skyvia's expertise ensures a painless migration process, saving you time and effort.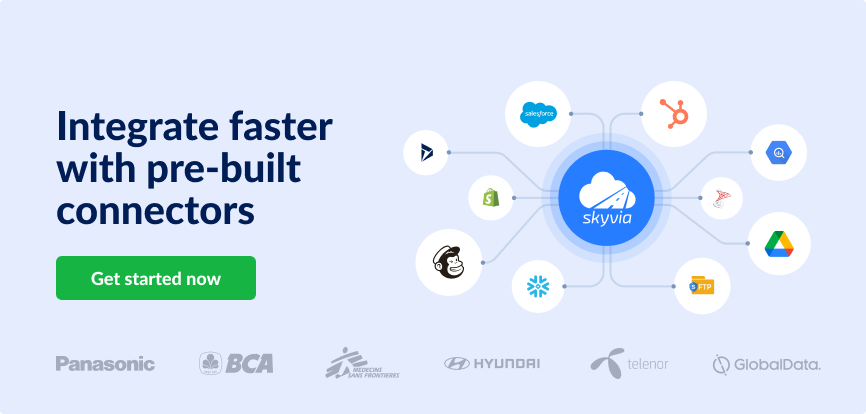 Step-by-Step Guide to Migrating from Magento to Shopify with Skyvia
Before you start the migration with Skyvia, register in Shopify and perform the initial setup of your online store. You also need an active Skyvia account.
STEP 1 Create the Integration
For successful Magento to Shopify Migration, you must connect to Magento and Shopify.
There are two ways of creating connections in Skyvia. You can do it in advance from the main menu or directly from the drop-down menu in the Integration Editor.
To start migrating your Magento store to Shopify with Skyvia, do the following:
Click +NEW -> Import.
Select the Data Source Source Type.
Select the existing Magento connection or create a new one.
Select the Target. Select the existing Shopify connection or create a new one.
Enable other Import settings if needed.
Click Add new on the right to create an Integration Task.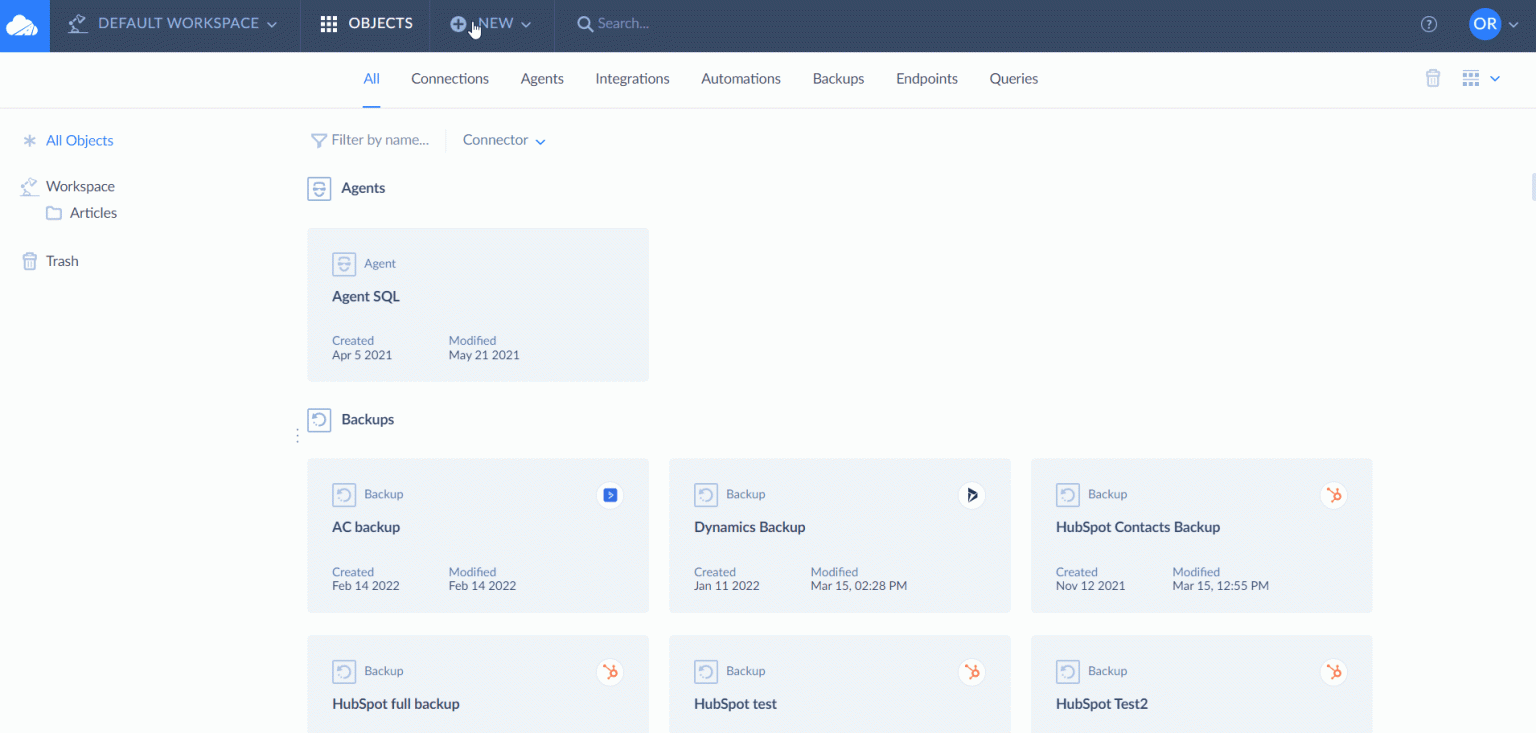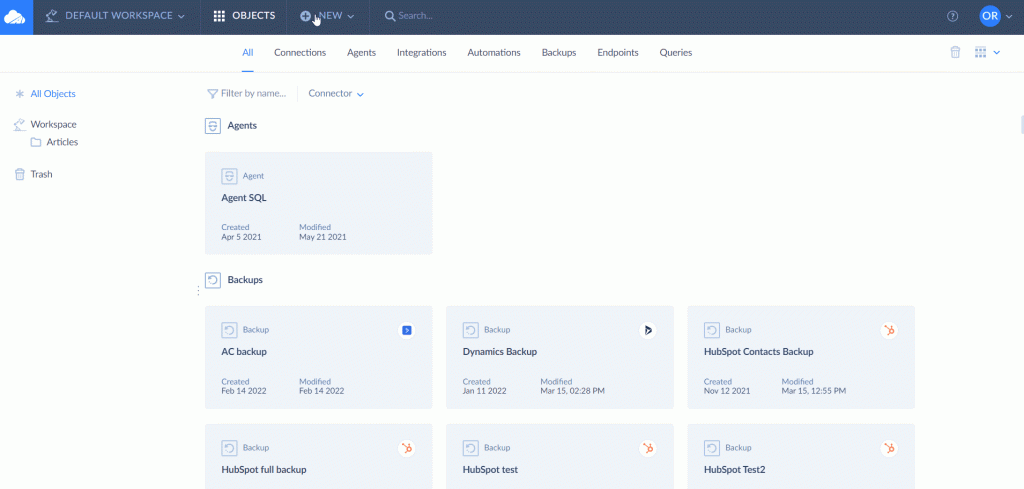 STEP 2 Add Integration Task
In the appeared window, you can configure the Integration Task.
On the Source Definition tab, select the Magento object you want to migrate.
Skyvia allows you to set filters if you need to limit the data selection.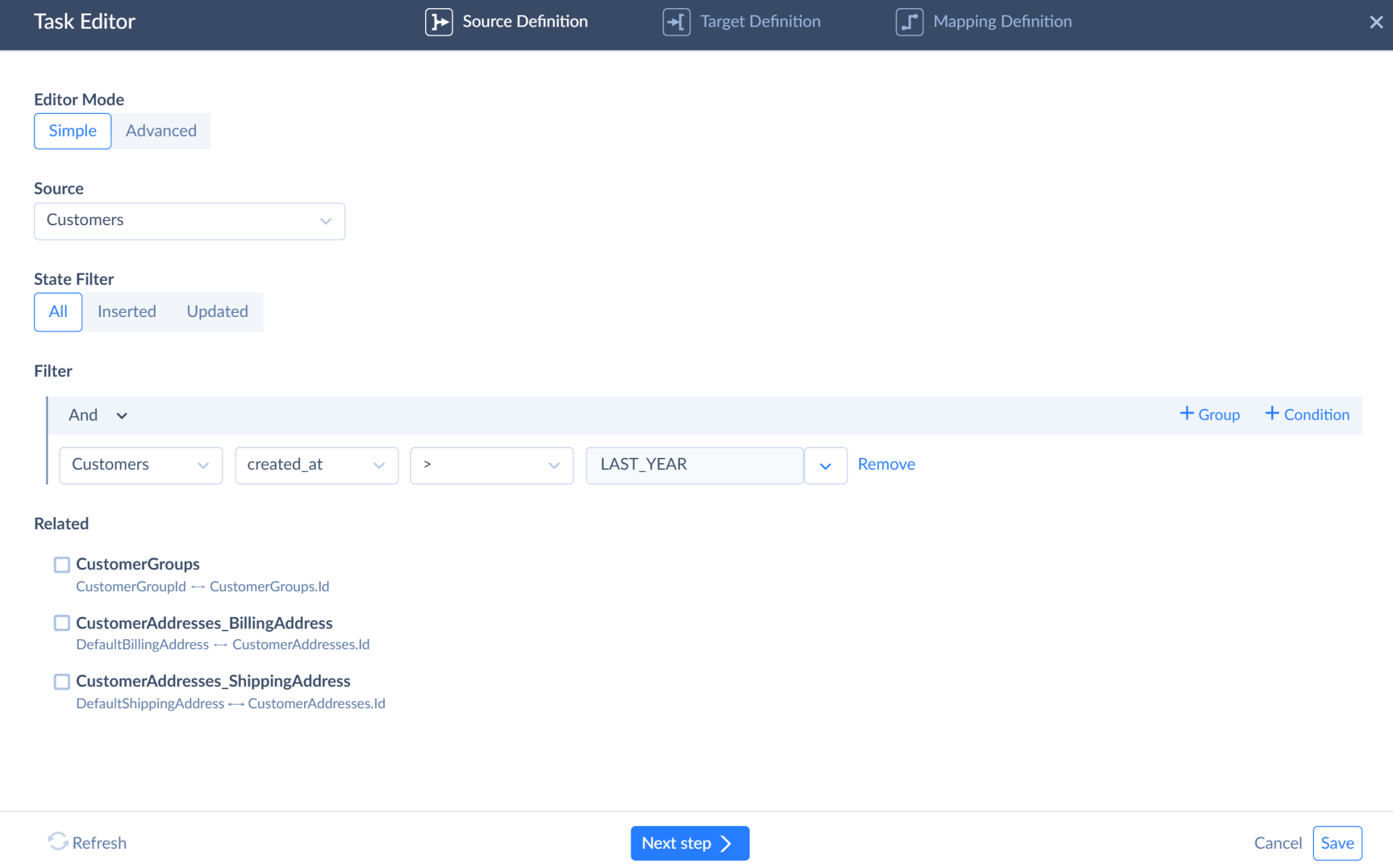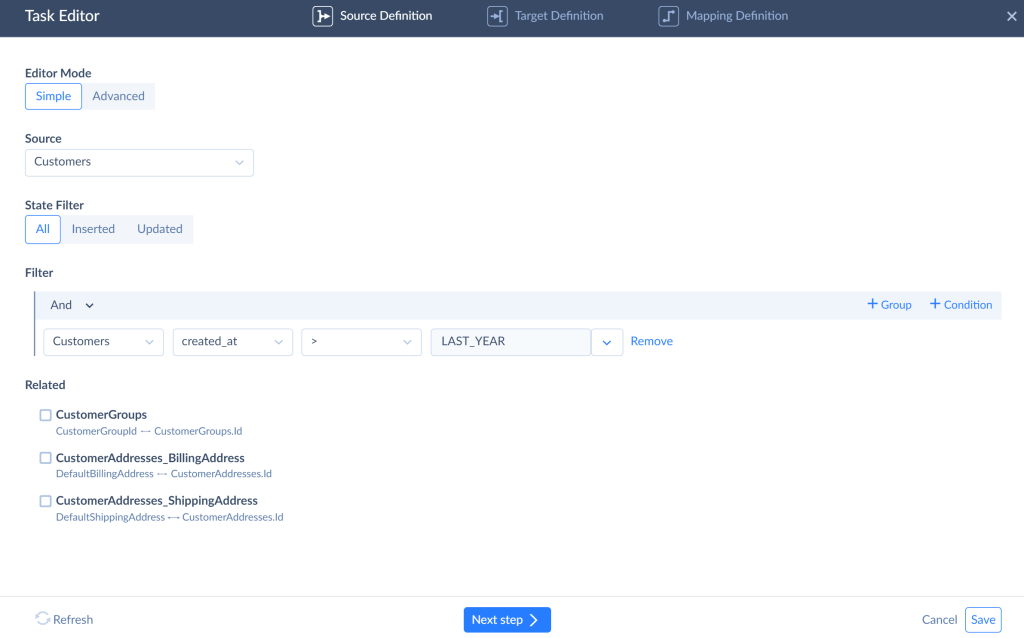 Select the target Shopify object and operation to perform on the Target Definition Tab.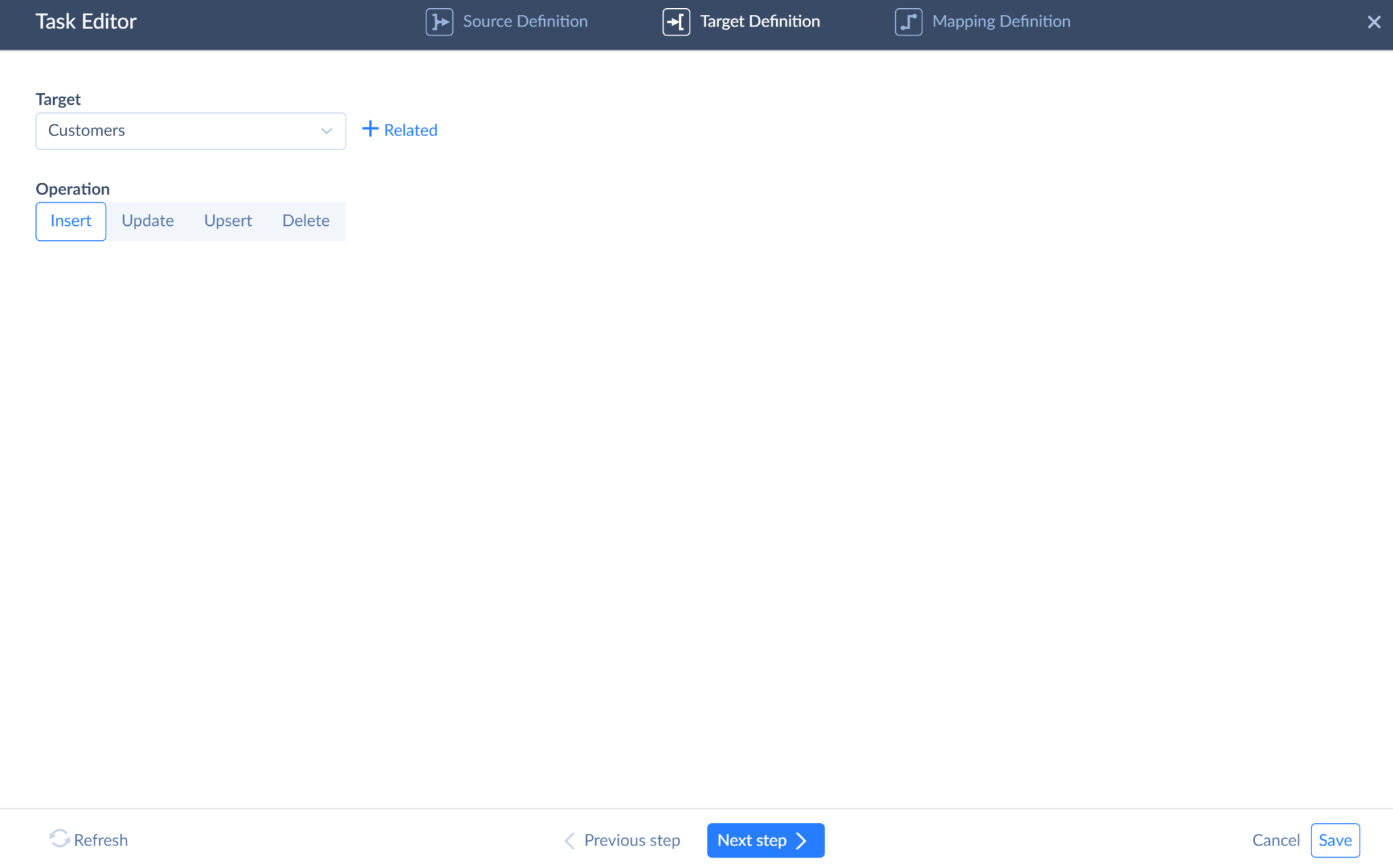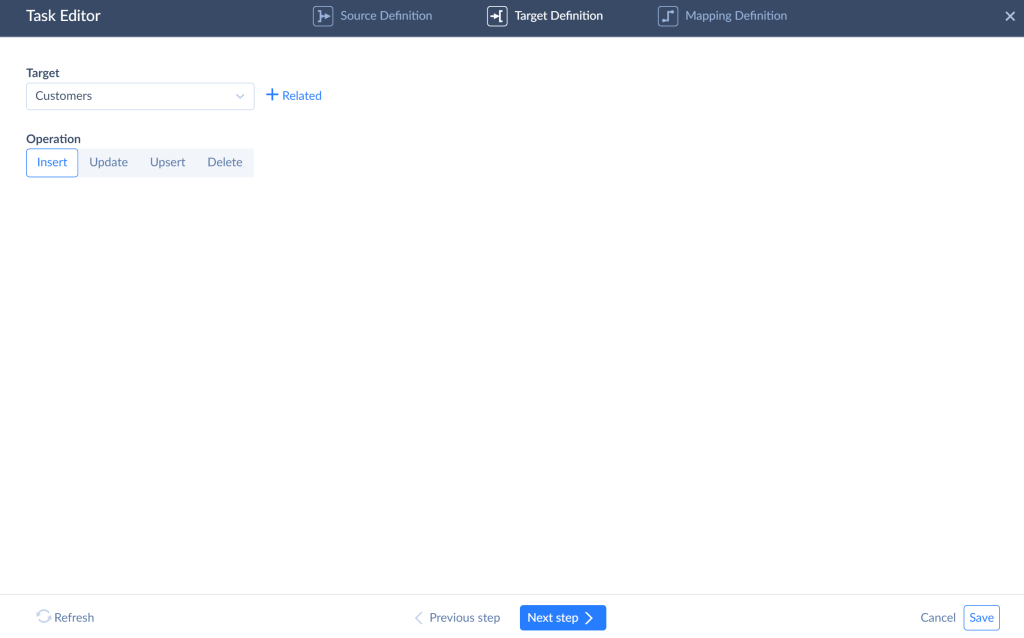 Magento and Shopify have different data structures. Thus you have to map the fields. You can do it on the Mapping Definition Tab. Skyvia supports several mapping types enabling the transformation of source data to be valid for a target.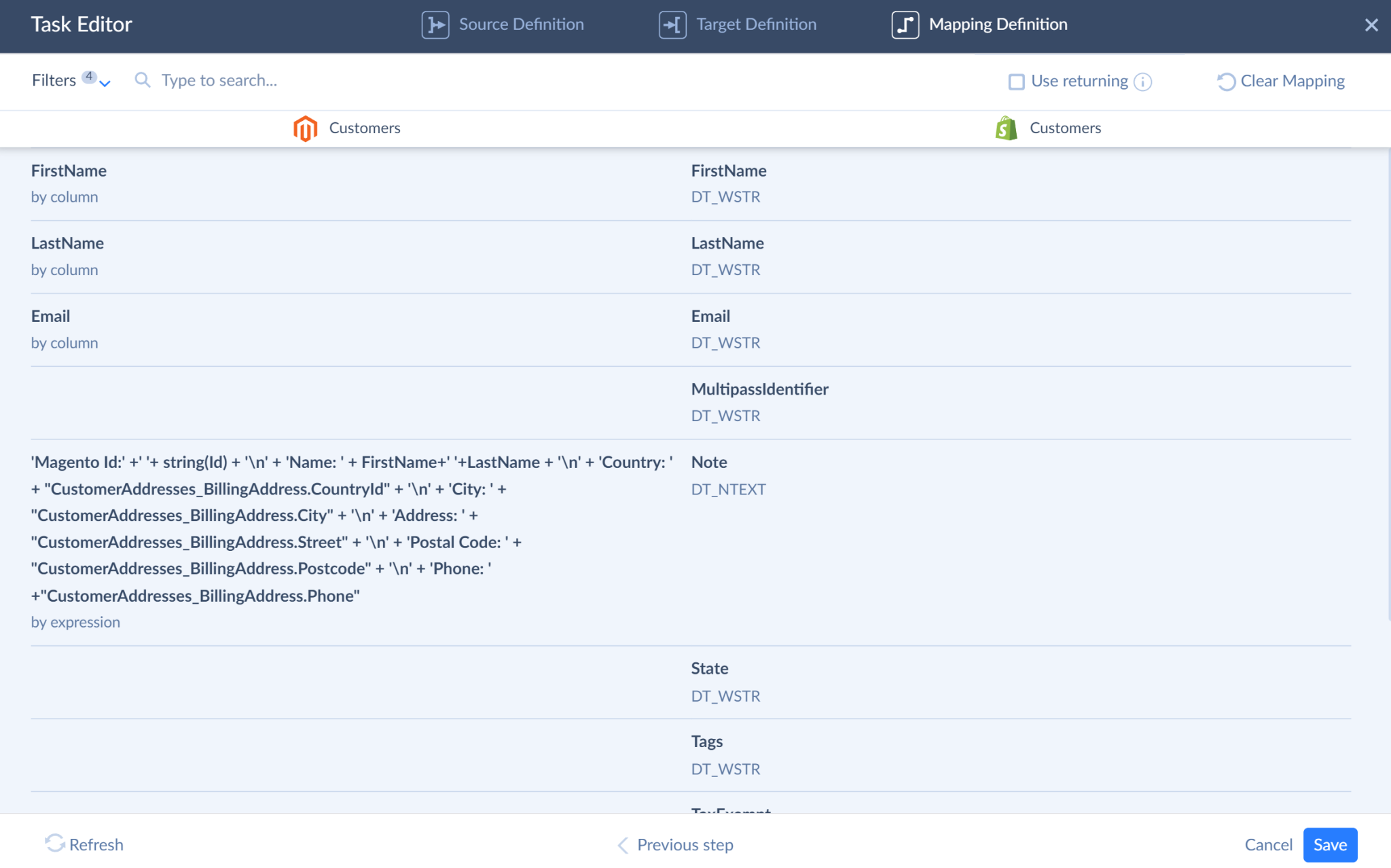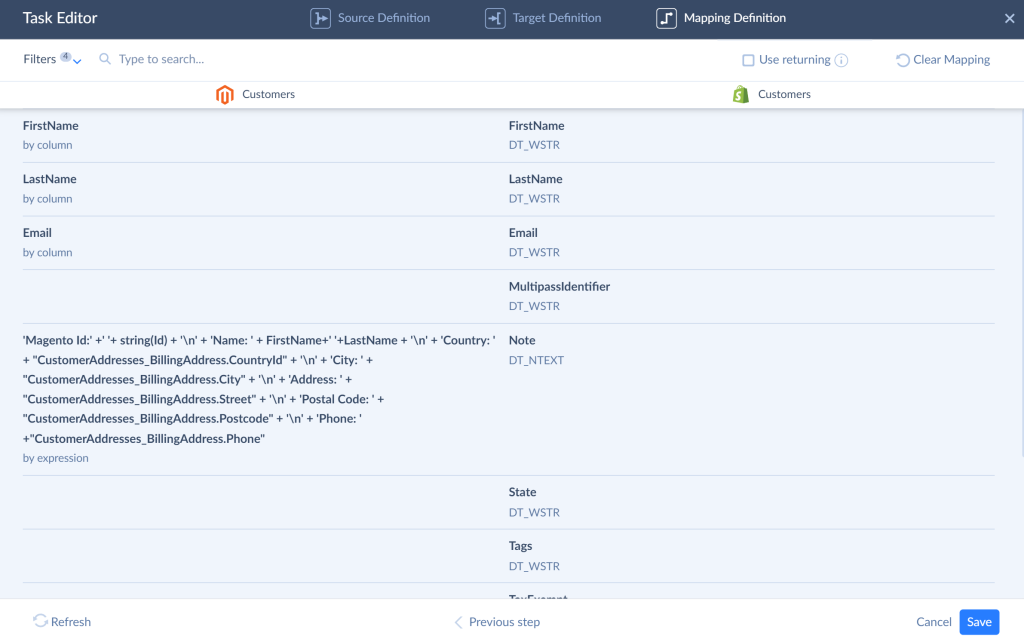 STEP 3 Run the Integration and Check its Results
When the mapping is ready, save the task. You can add multiple tasks to one integration, one task for one object.
After preparing the tasks, you can save the integration and launch it. When the run is completed, you can check its results on the Monitor and Log tabs of the Integration Editor. It shows the number of successfully imported records and failed records. You can click any run you want to check and see the error message for each failed record if needed.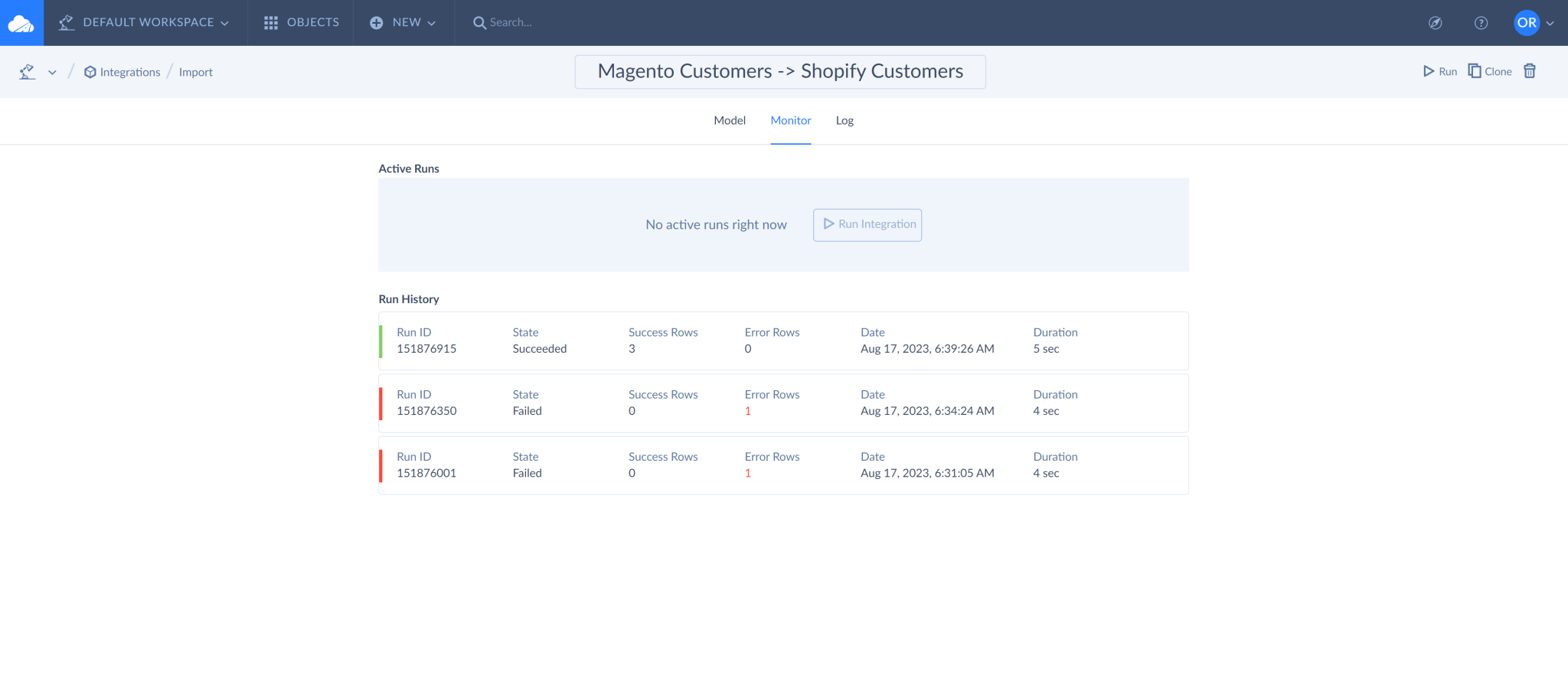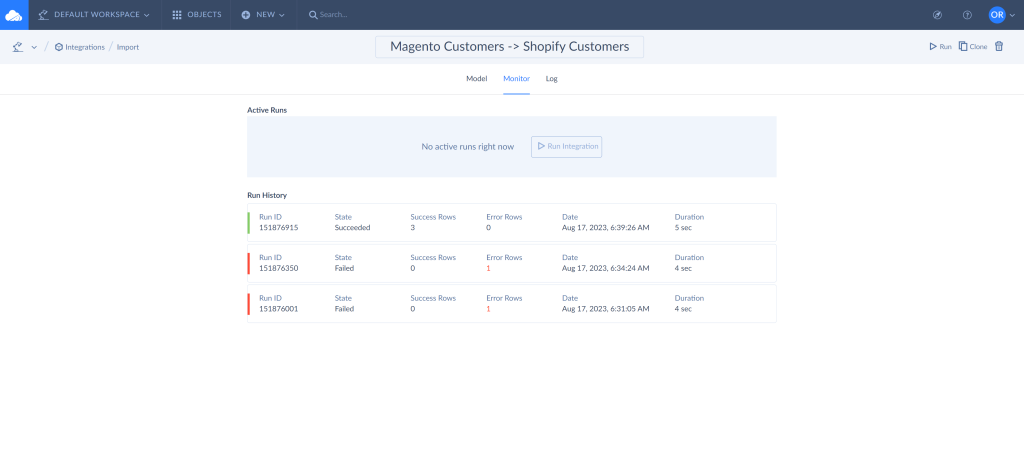 Comparing the Two Migration Methods
Only you decide which of the described methods is the best for your business. Each of them has its pros and cons.
Direct Migration Pros and Cons
Pros:
Simplicity
Cost-free (CSV migration)
Transparent
Cons:
Safety risks
Limited capabilities
Manual operations
Shopify migration apps may require additional costs
Skyvia Pros and Cons
Pros:
Automatic background process
Safety
You can migrate multiple objects at once
Speed
Cons:
The free subscription plan is quite limited. More advanced features require extra cost.
The learning curve may be steep at the beginning.
Сhoosing the Best Method for Your Business
If you are still confused about which method is best for your company, you can refer to the table below, where both of them are compared.
| | Direct Migration Method | Migration with Skyvia |
| --- | --- | --- |
| Objects available for migration | Advanced Pricing, Products, Customer Finances, Customers Main File, Customer Addresses, and Stock Sources. | All the objects are available via API: Carts, CartItems, Categories, Customers with addresses, SalesOrders and related, Products, and other related objects. |
| Format | Manual export from Magento to separate CSV files and manual import to Shopify or import via Shopify migration apps. | Direct connection to Magento and automatic background import to Shopify. Mapping settings allow for avoiding data structure mismatch. |
| Transformation opportunities | You can modify Magento files manually to make the data valid for Shopify. | Built-in mapping feature. |
| Time and resources for migration | Manual operations with files are time-consuming. If you use migration apps, you also need time and resources to install and manage the migration. | Minimum manual intervention, you just set the tasks, and Skyvia does all the work. |
| Safety | Downloading files to a local computer and manual operations with files, in general, are risky for potential leaks. | Skyvia is committed to security and focused on keeping your data and credentials safe. |
Conclusion
When migrating the online store from one e-commerce platform to another, the suitable methods and tools determine half the success.
You can migrate your Magento data manually by exporting Magento entities to separate CSV files and importing them to Shopify manually or using Shopify migrating apps. Or you can perform a no-code convenient Magento to Shopify migration with Skyvia.
The first method is relatively easy but time-consuming and limited by the number of objects and transformation opportunities. The second method is also easy but fast, safe, and convenient. It allows migrating objects with relations and transforming data to avoid data structure mismatch.
Don't be afraid of complicated migrations. Skyvia is here to save you from manual work and human errors.