Times of costly on-premises server infrastructures and gigabytes of data have passed. Digital transformation made data processing and storage more straightforward and cheaper. Even apps and data integration doesn't seem like a mission impossible anymore. Smooth automated integration of any incompatible app and data became a reality. Cloud integration platforms perform the main work today. Integration platforms (iPaaS) integrate applications, data, and operations and build flows between systems.
One of the iPaaS market leaders is Dell Boomi. Boomi is a robust, scalable, secure enterprise iPaaS offering cloud-based integration services. Boomi integrates cloud and on-premises data and apps in a visual environment using powerful mapping and transformation features.
However, Dell Boomi is one of many iPaaS options for users. In this article, we describe seven powerful Boomi competitors offering various integration solutions for businesses of different sizes:
Alternatives Comparison
Before we dive into the comparative analysis details, here's a relative chart that gives you a snapshot view of Fivetran alternatives. This value-added chart will help you get an overall idea of offerings from companies like Fivetran. Here's the comparison list of the ten ELT and ETL tools.
Dell Boomi Alternative
Comparison
Supported data sources
Focus
Skill level
Pricing
Skyvia
Boomi vs. Skyvia
160+
Data ingestion, ELT, ETL, reverse ETL, data sync, workflow automation.
No-code
From $15 monthly.
Free subscription and 14-day trial.
Mulesoft
Boomi vs. Mulesoft
250+
ETL, API Management
Low-code, platform learning required
Custom pricing model. 30-day trial.
Workato
coming soon
1000+
App/workflow automation
No-code
Pricing depends on features. Free limited subscription.
Celigo
Boomi vs. Celigo
200+
ELT, B2B integrations
Low-code
From $600 monthly.
Informatica
Boomi vs. Informatica
400+
Data Ingestion, ETL
Varies from low-code to high-code, depending on the product.
Custom pricing model, 30-day trial.
TIBCO
coming soon
200+
ETL, API Management
Low-code
From $400 monthly, a 30-day trial.
Oracle Integration Cloud
coming soon
100+
ETL/ ELT, API Management
Low-code
Custom pricing model calculated per hour. Free plan and 30-day trial.
Skyvia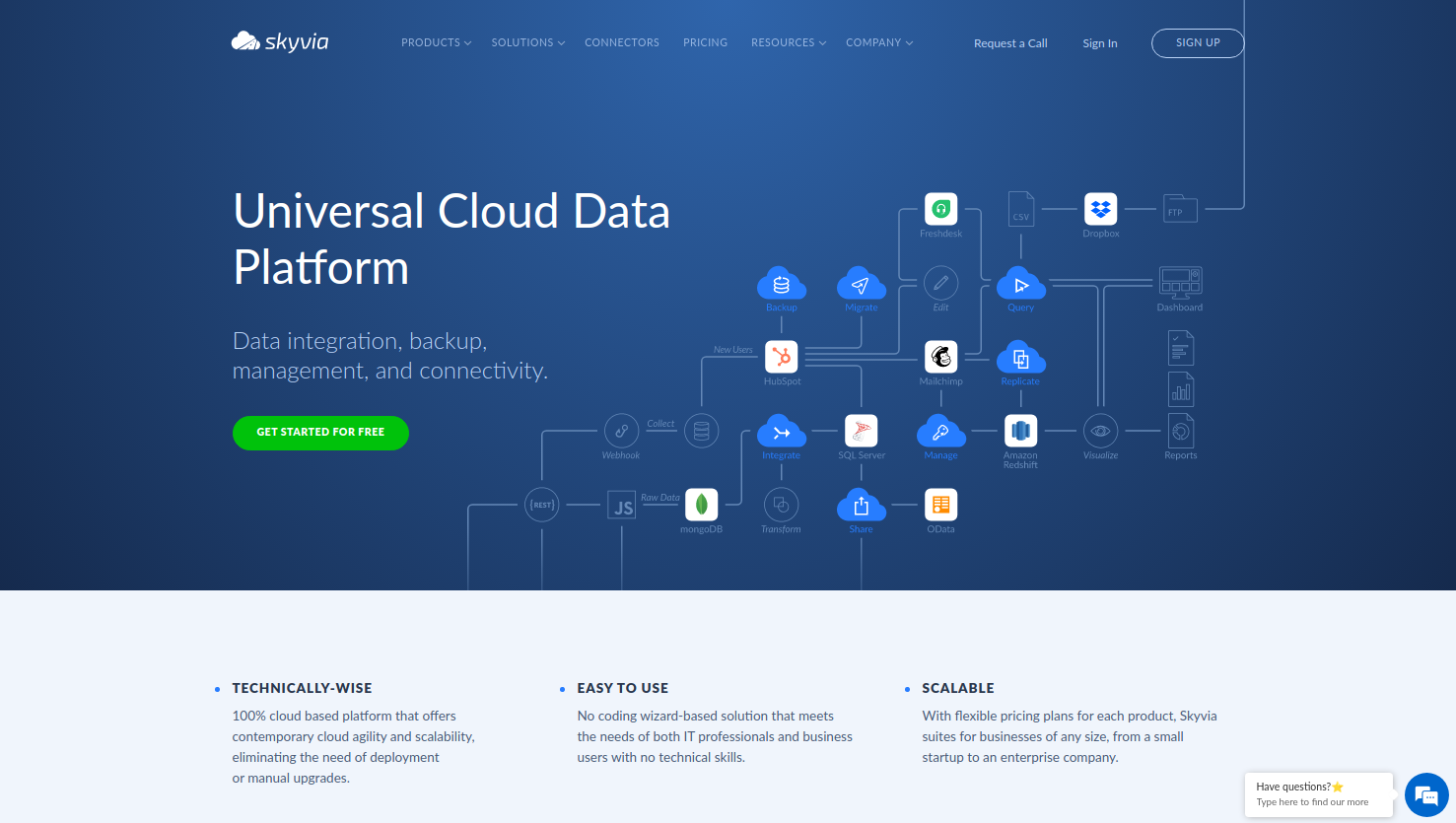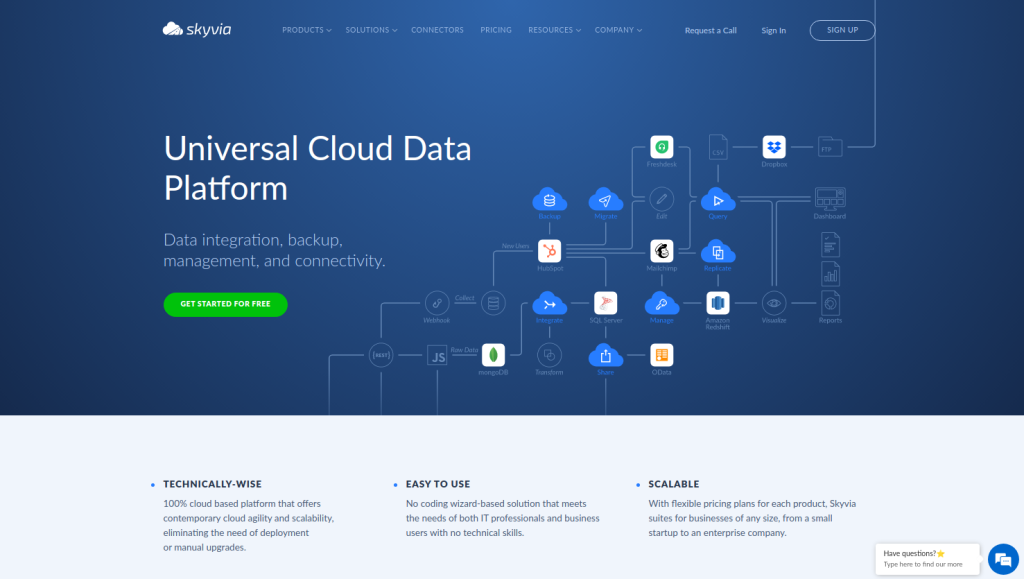 Skyvia is a no-code cloud service providing solutions for data sync (one-way and bi-directional), data integration (ETL, ELT, reverse ETL), automating workflows, cloud-to-cloud backup, data management with SQL, CSV import/export, and connectivity. A user-friendly interface and flexible pricing make Skyvia convenient for small or enterprise businesses.
Pros
Cloud. No resources are required. You don't need to install anything.
Easy to use. You can build integrations in Skyvia without coding using easy wizards and intuitive editors for different integrations.
Supported data sources. Skyvia supports connections to over 160 data sources, including cloud apps, on-premises and cloud databases, and storage services. The number of supported connectors increases regularly.
Mapping and transformation features. With Skyvia, you can integrate apps with different data structures and build complex flows with multiple sources and targets by applying complex transformations.
Cons
Supported data sources. Though Skyvia supports over 160 connectors, there are still many apps that need to be supported.
Free subscription is quite limited. You can only discover some existing integration and automation features on a free subscription.
Prices
The paid subscriptions start at $15 monthly and vary depending on features and the number of processed records.
For preliminary testing, you can use a free 14-day trial and a free plan.

Start syncing and managing your cloud data today with Skyvia. Get a free trial now and discover hassle-free data integration opportunities.

MuleSoft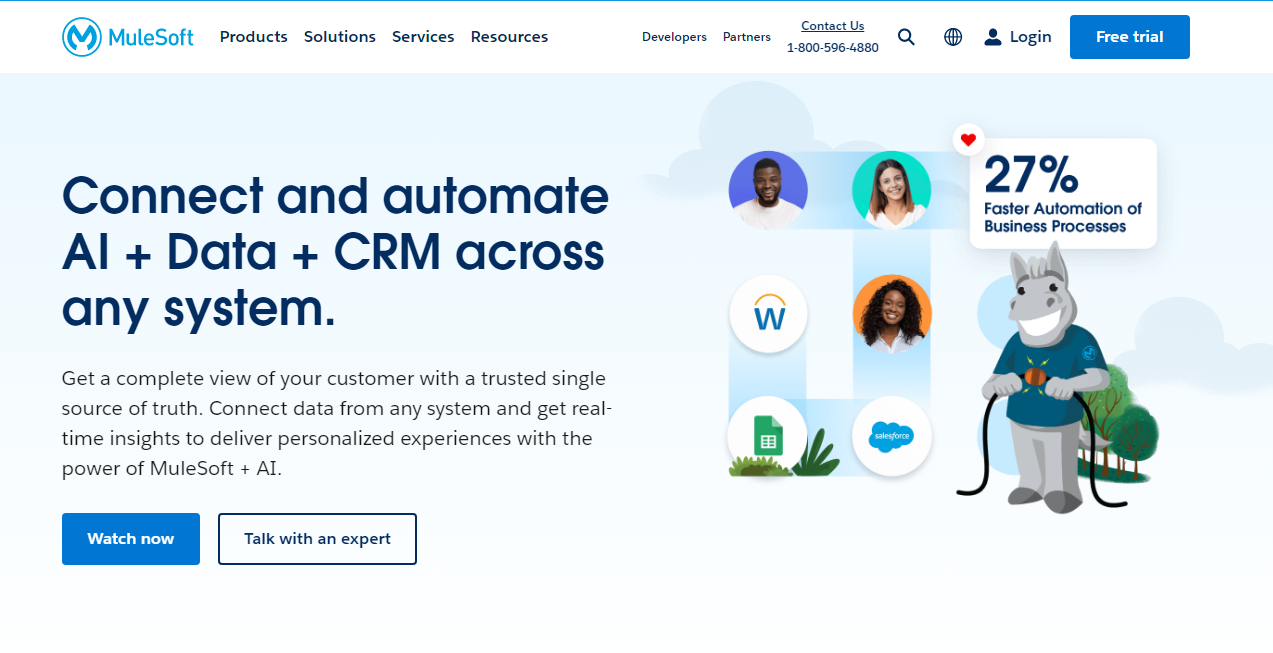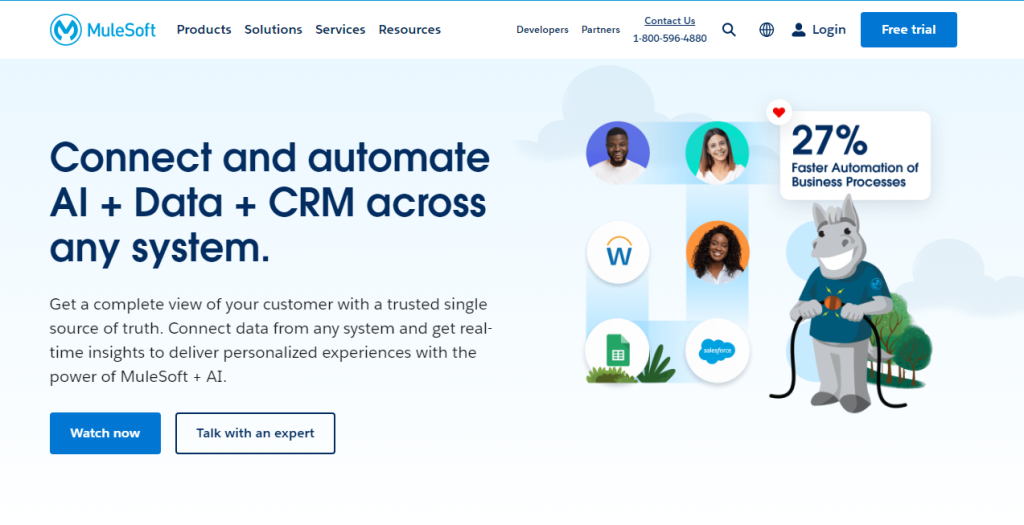 MuleSoft is a global integration platform combining iPaaS and RPA (robotic process automation) capabilities. Mulesoft offers robust integration (ETL, ELT), automation, workflow services, and API management for enterprises from all industries.
Pros
Comprehensive and flexible. Mulesoft integration architecture allows designing, building, testing, and managing APIs and integrations in the cloud or on-premises applications and services.
Supported data sources. Mulesoft supports over 140 connectors and offers pre-built integration templates saving time for learning and coding.
Strong Community. Mulesoft users formed a vast community where users share experiences and best practices.
Cons
Pricing. Mulesoft is quite expensive, which makes it unaffordable for small and middle-sized businesses.
Complexity. Platform flexibility and architecture make the platform complicated to manage and configure. Developers new to Mulesoft have to take learning and prepare to use the platform.
Pricing
Mulesoft has a complicated custom pricing system. Costs depend on various factors, such as integration project size, used tools and features, data volumes, and support levels.
There's a 30-day trial to discover the platform and its features.
Workato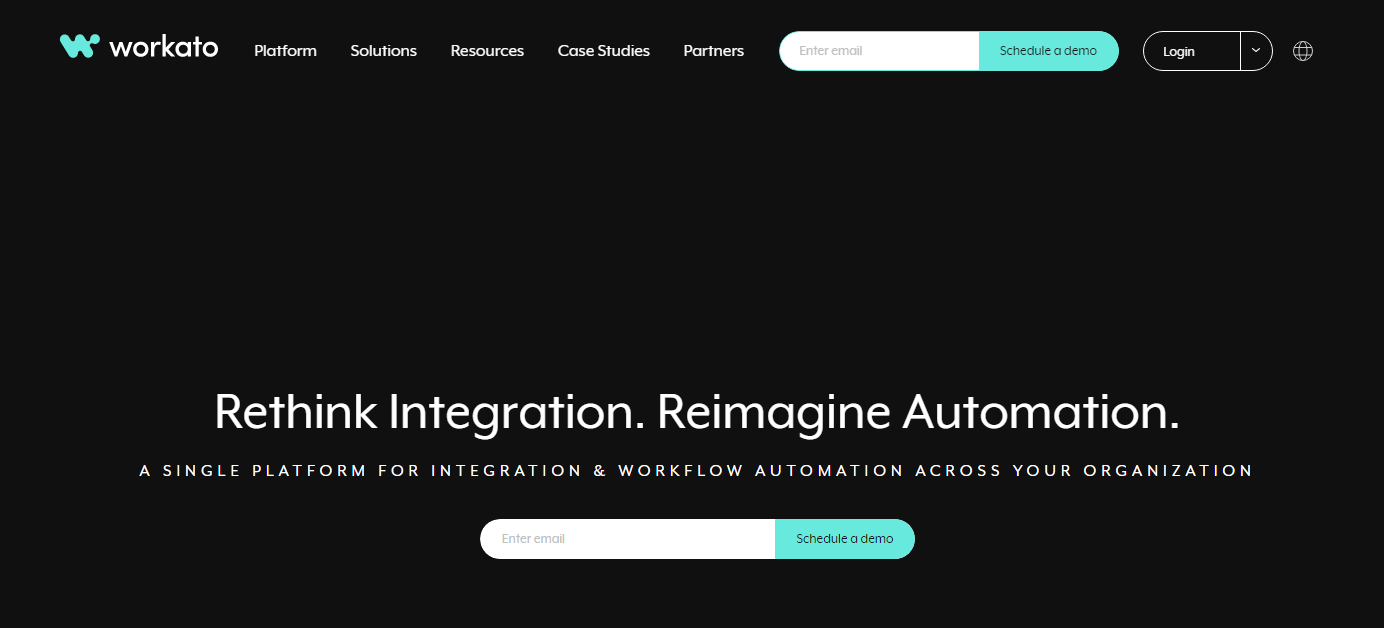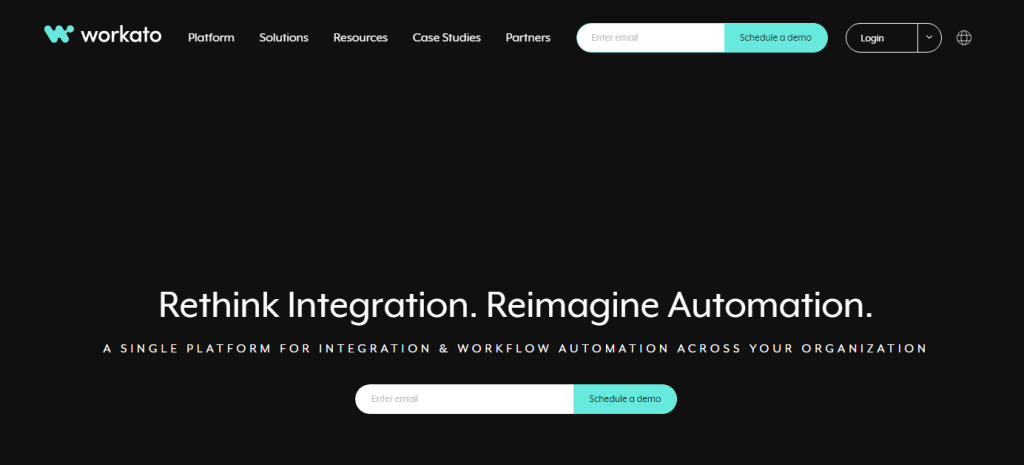 Workato is a no-code business workflow automation and data integration platform. Workato offers a single design for tech-savvy and citizen users and has flexible pricing making Workato convenient for mid-sized companies and enterprises.
Pros
Easy to use. The drag&drop interface makes Workato easy to use for anyone.
Supported data sources. Workato supports more than 1000 connectors making any kind of integration possible.
Visual builder and templates. Workato offers a visual automation builder for custom flows and a vast number of pre-built integration recipes, which allow you to implement various integration scenarios.
Cons
Performance. Difficulties with handling complex enterprise integrations and processing massive data volumes resulting in operations timeouts, making Workato not the best fit for big companies.
Steep learning curve. Pre-built integrations are limited and may only partially cover the user demand. To build integrations relevant to narrow business specifics, you must learn to use more complex features.
Cost. Costly for small businesses.
Pricing
Workato offers several subscription plans depending on the number of actions, team size, and type of support.
Workato offers a free subscription with minimum features available. Paid subscriptions vary depending on the list of available features and connectors.
Celigo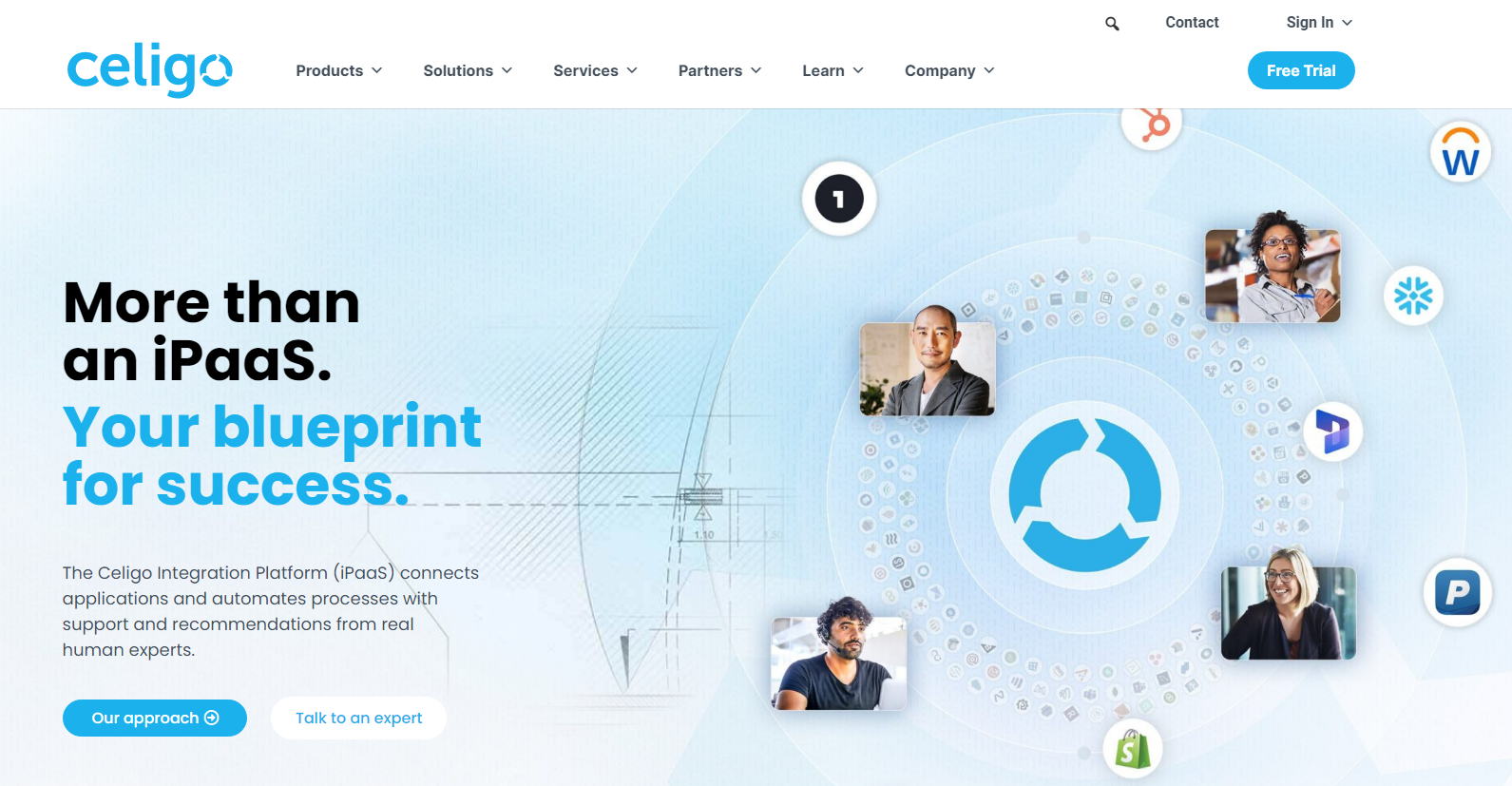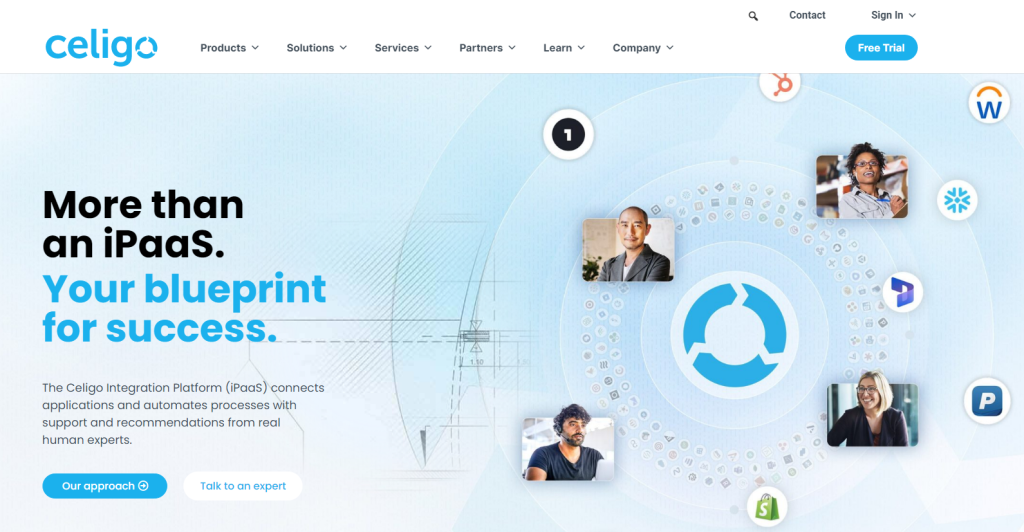 Celigo is a low-code iPaaS designed to connect applications and automate processes using robust mapping and transformation (ETL, Reverse ETL ) tools and eliminating manual involvement. With user-friendly guides and flexible user management, anyone can use and maintain Celigo Integration Apps.
Pros
Easy to use. Non-technical users can create and manage integrations from scratch with a friendly UI.
Visual builder and templates. Celigo offers preset integration templates for popular applications such as Salesforce, NetSuite, and Shopify. You can create custom integrations with a drag&drop interface.
Supported data sources. Celigo supports connection to nearly 200 data sources.
Cons
Cloud connectors only. Celigo supports connection to cloud apps. You cannot integrate on-premises databases with Celigo.
Complex customization. You should learn to configure more complex settings, parameters, and formatting in the flows and integrations.
Pricing
Paid plans start from $600 monthly and vary according to used features and the number of connectors, flows, support needs, and integration complexity.
Celigo offers a minimal free plan and a 30-day free trial.
Informatica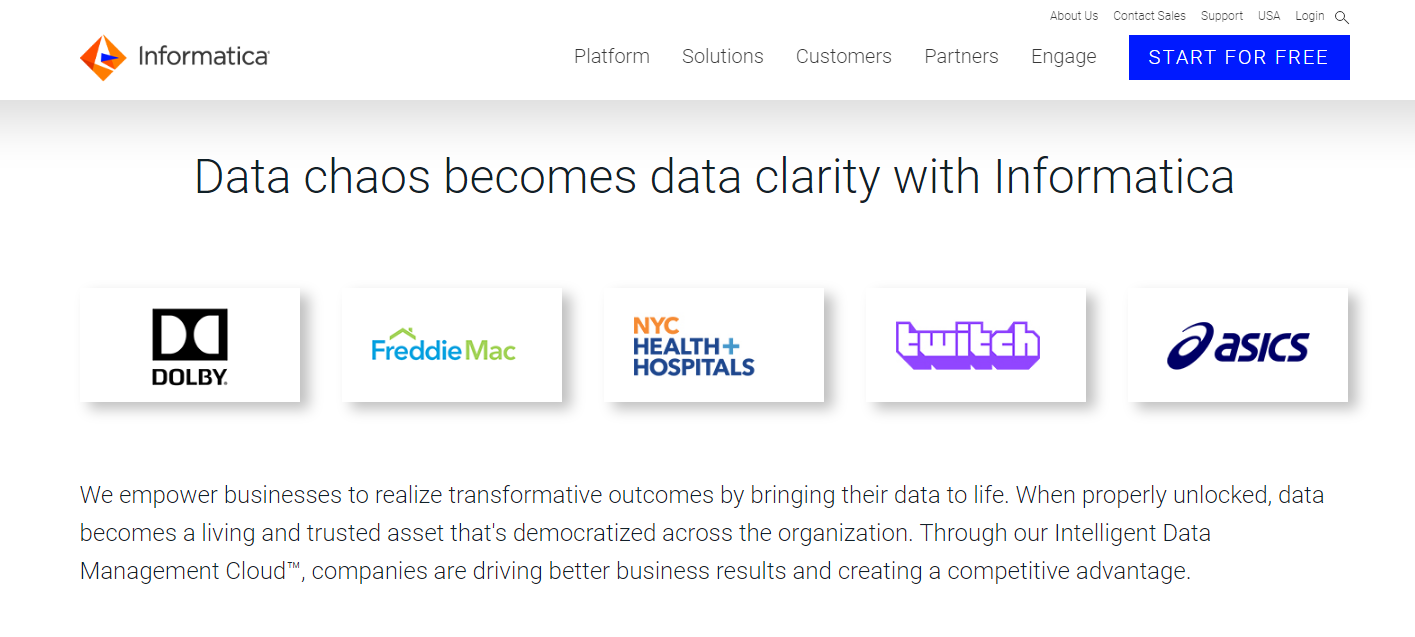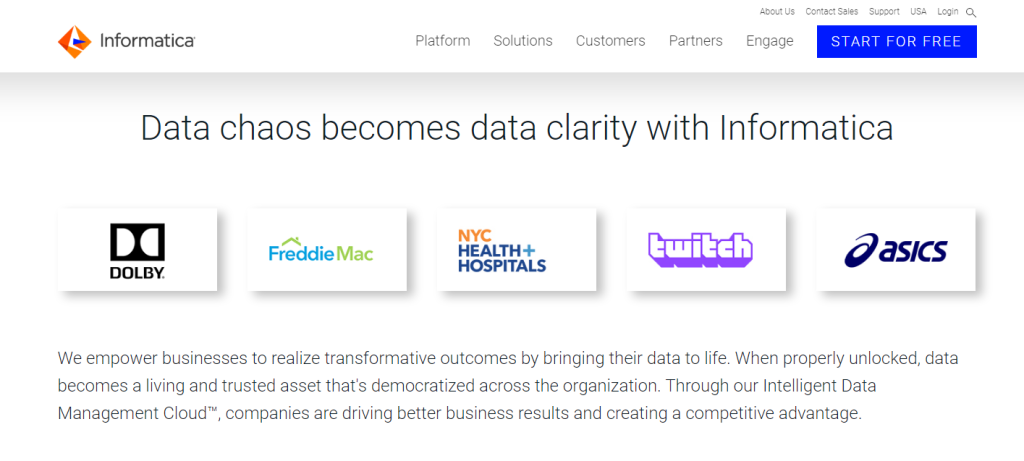 Informatica is a robust, comprehensive data management platform for enterprise businesses. It provides end-to-end data integration services with a broad set of ETL capabilities.
Pros
Scalability. Informatica can handle complex data integration tasks and process large volumes of data accurately and consistently.
Compatibility. Informatica supports connections to several hundreds of data sources of any type (databases, cloud data lakes, on-premises, and SaaS applications, data warehouses) and architecture (flat file, relational, or hierarchical, e.g., XML, JSON, Avro, or Parquet).
Cons
Complexity. Informatica is complex to learn. You may need specialized training to understand its features and functionalities fully.
Cost. Informatica is expensive, especially for small startups and businesses.
Resources demand. Informatica requires significant computing resources, including memory, storage, and processing power. Due to its complexity, Informatica needs to be managed by IT professionals, which can limit the ability of business users to use it effectively.
Pricing
Informatica has a complex customized pricing model. The solution, industry, available features, and data volume define specific pricing.
Informatica offers a free 30-day trial.
TIBCO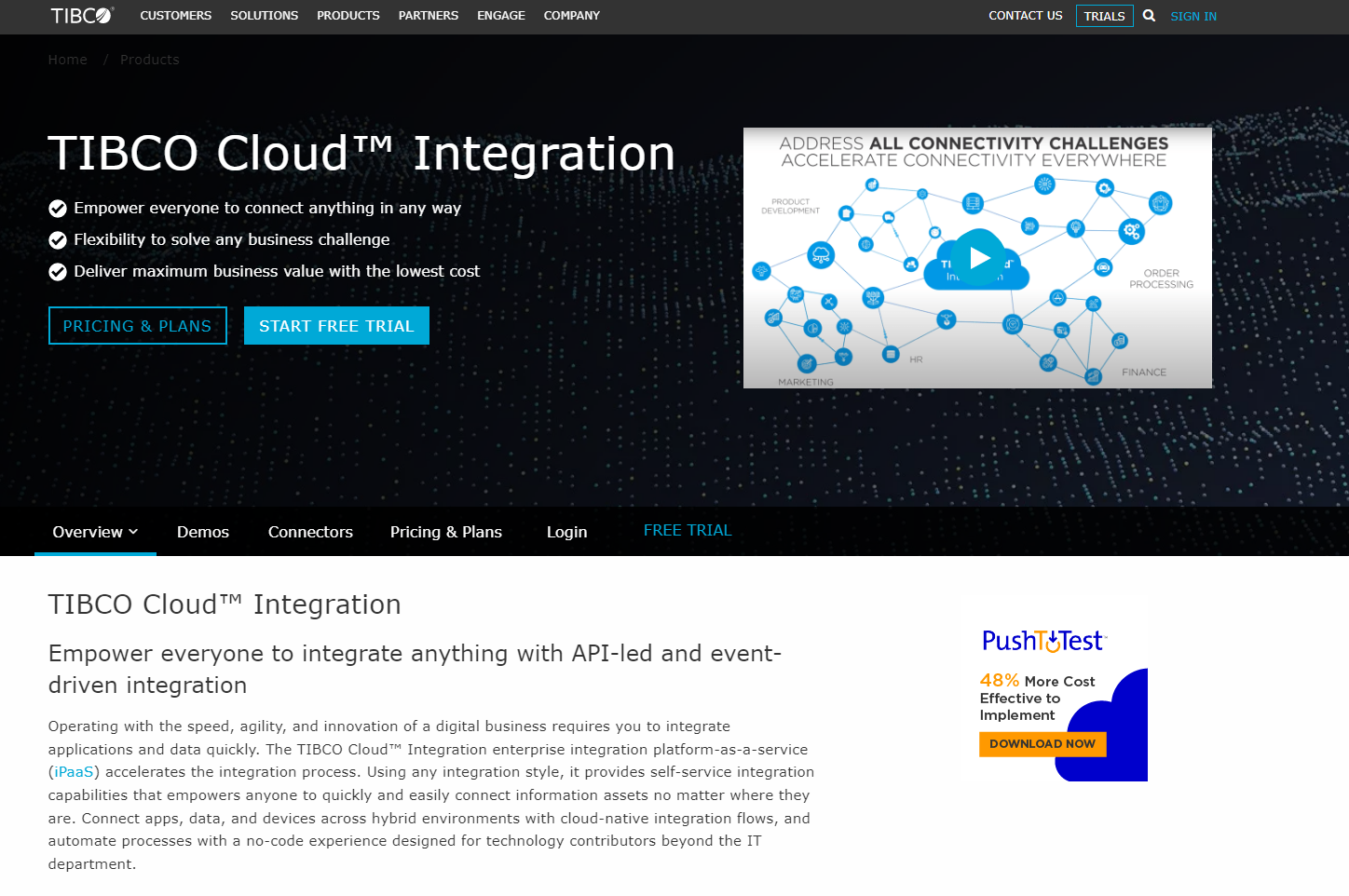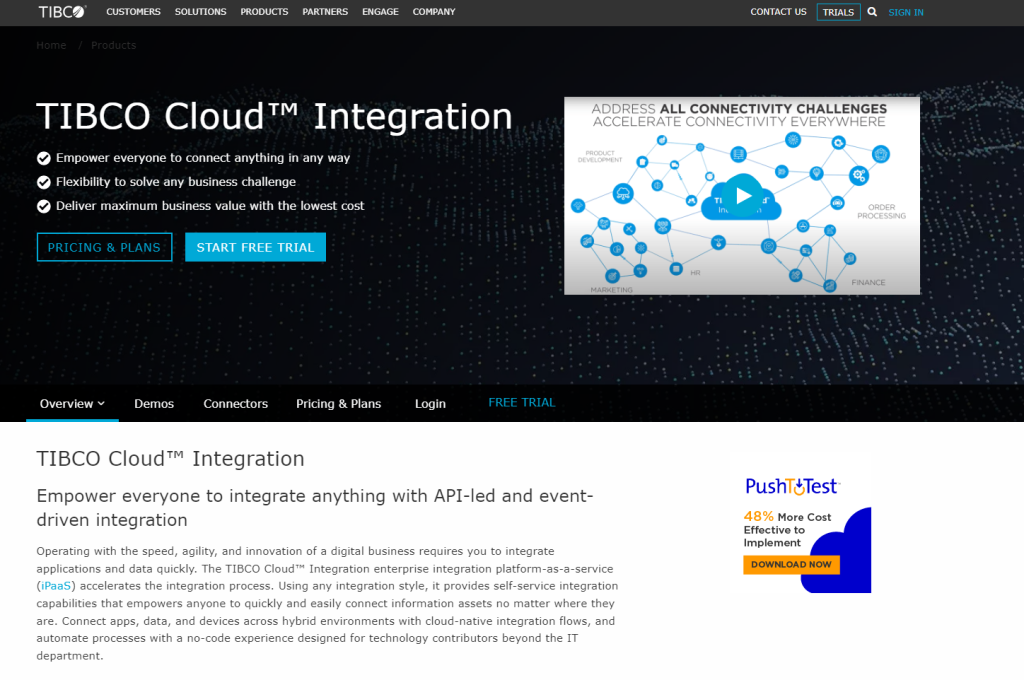 TIBCO is an extensive software platform providing various enterprise solutions for data integration, automation, analytics, event processing API management, and application development. TIBCO offers several data integration solutions for different integration objectives.
Pros
Scalability. With TIBCO, you can operate huge volumes of data and perform complex data integration tasks.
Supported data sources. TIBCO supports connections to 250+ cloud applications, platforms, and databases.
Compatibility. The variety of TIBCO data integration products, tools, and features makes it almighty for connecting incompatible apps and systems.
Cons
Resources demand. TIBCO integration services require significant computing resources, including memory, storage, and processing power.
Complexity. Although TIBCO claims that special skills are not required to leverage the platform, it still needs to be more straightforward. You need to learn to get acquainted with all data integration capabilities.
Pricing
TIBCO offers a flexible pricing model depending on the product and available features.
TIBCO Cloud Integration prices vary from $400 to $1500 and higher. Although TIBCO does not provide a free subscription, you can use a 30-day trial.
Oracle Integration Cloud


Oracle Cloud Infrastructure Integration Service is a low-code enterprise iPaaS ETL/ ELT solution designed to connect any data source to simplify business processes and centralize management.
Pros
Easy to use. Visual no-code tools enable smooth integration building.
Compatibility. Oracle supports over 100 connectors (adapters) to data sources of different types. Although the list is not as comprehensive as other Boomi competitors offer, there is a list of specific data sources unavailable in other iPaaS solutions.
Templates. Oracle Integration Service provides various pre-built integration scenarios.
Cons
Complexity. When it comes to customization, you should learn how to utilize the platform features and conduct mapping and transformation.
Supported data sources. The list of supported data sources is relatively short compared to other Boomi alternatives.
Pricing
Oracle Integration Service has a unique pricing per-hour billing model. Prices may vary depending on the used tools and features, and infrastructure.
Conclusion
There's a variety of iPaaS vendors in the digital market. Each solution has its focus and specifics. All of them may meet different customer needs. The number of supported connectors and features, required skills, and learning curve also vary. The decision of what platform to choose for your specific business needs is entirely yours.
But if you are looking for a no-code solution that offers maximum capabilities and requires minimum resources for a reasonable price, you should try Skyvia. Take the chance and register now.