The reality is flexible and changing every moment, so modern business has to check its changes to grow and develop. It would be almost impossible without analytical tools that help visualize where we are and what we really need.
Here are a few reasons why.
Decision-making based on the correct picture of your business realities.
Clear identification of business trends and patterns, including some hidden ones.
Business strategies adoption.
Customer targeting improvement.
Current operational efficiency enhancements.
Cost-saving.
Let's review the top 10 data analytical tools to help you choose the best solution for your business.
Table of Contents
Skyvia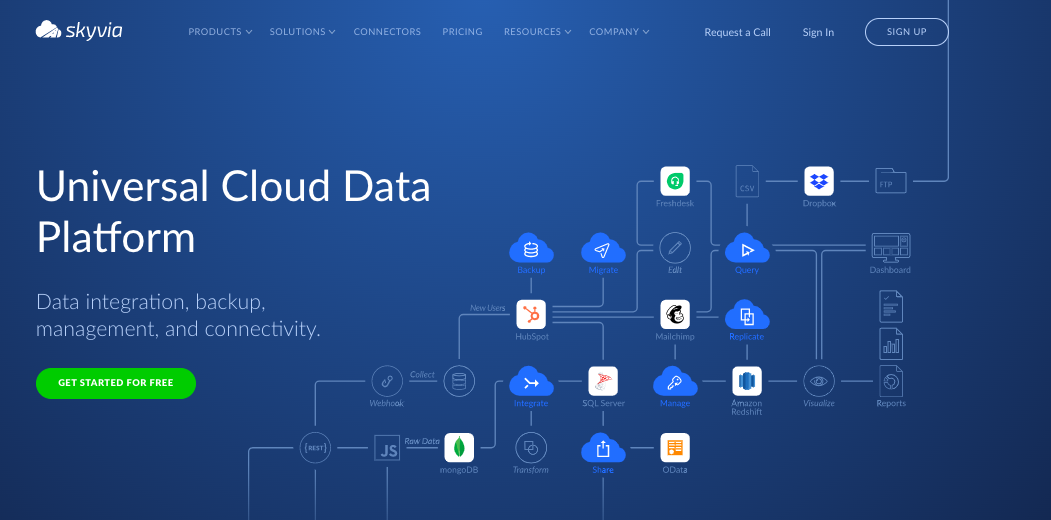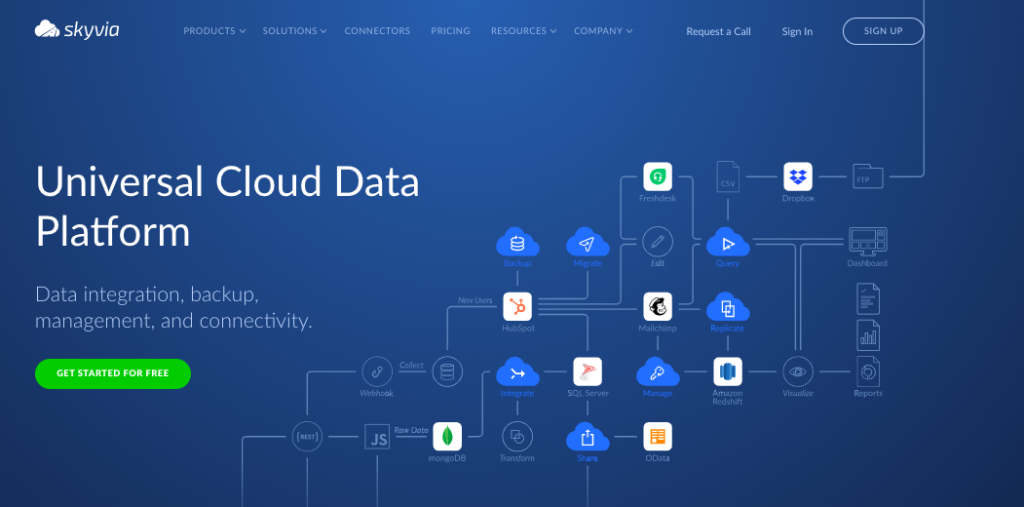 Skyvia is the perfect tool for data analytics presented in the market, and the first reason is its usability.
The solution is cloud-based ETL, ELT, and reverse ETL.
Skyvia supports 160+ connectors, including the most popular data warehouses like Amazon Redshift, Google BigQuery, and Snowflake.
The platform offers a no-code, intuitive, user-friendly GUI, allowing the transfer of data between different sources for further analysis.
The data import, migration, and loading processes are easy to set up and don't require the staff's additional technical knowledge.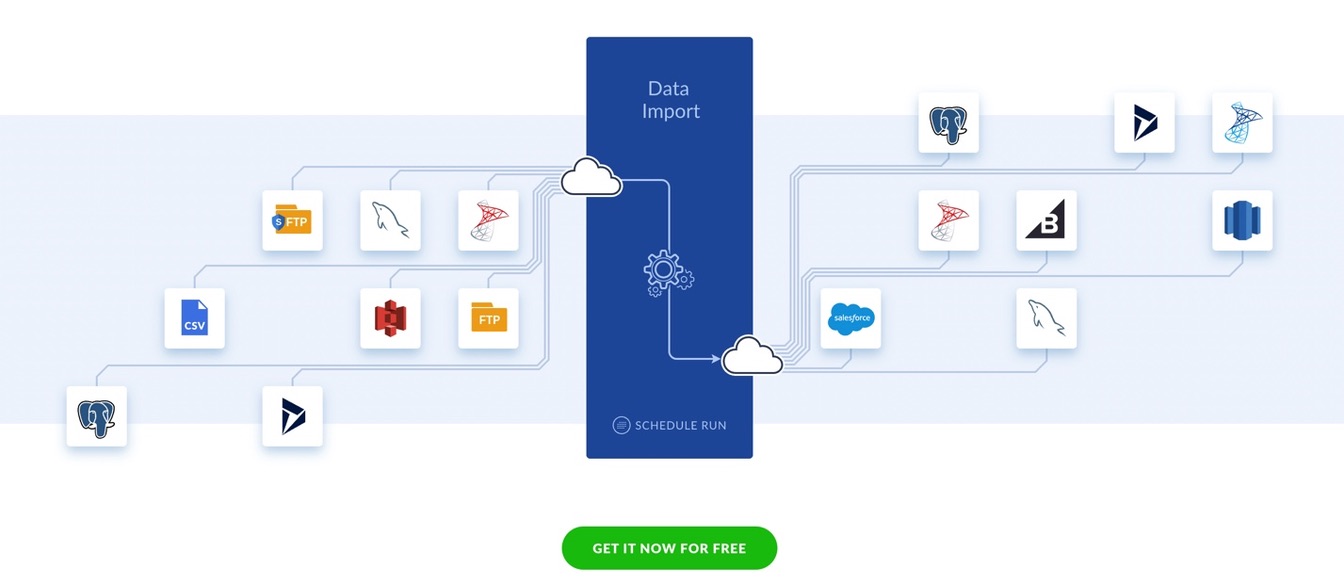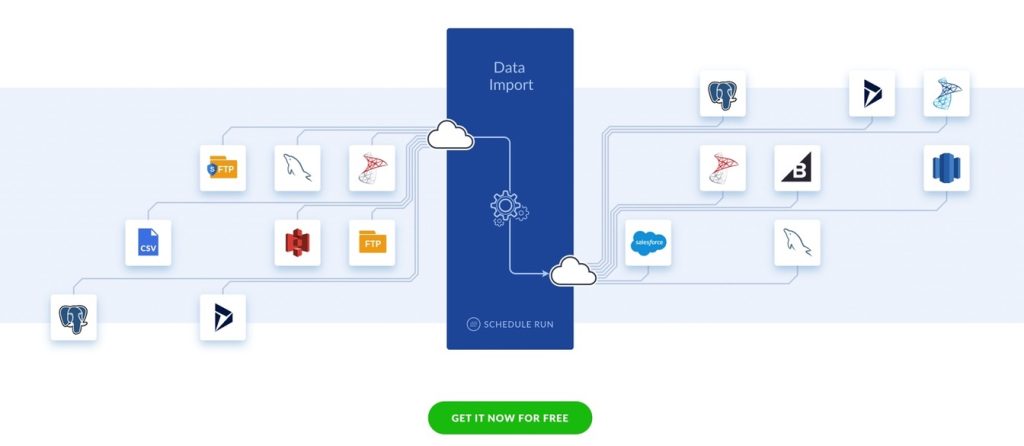 Key Features
Skyvia allows database/data warehouse replication with incremental updates.
In case you need to configure the analytics, for example, in some CRM, Skyvia allows downloading data from the data warehouse to third-party cloud applications – the reverse process of ETL.
The solution allows you to create real-time data using the OData endpoint (Skyvia Connect product). This endpoint can accept almost all BI tools and receive real-time data from the system through it.
You may also use Query, a tool that allows you to build SQL requests to data in a web browser and upload the result to CSV or through an add-on to Google Sheets / Excel.
The pricing is pretty convenient and includes the freemium plan and a set of payable options starting from $15 per month until the custom Enterprise plan.
You may try Skyvia in action immediately.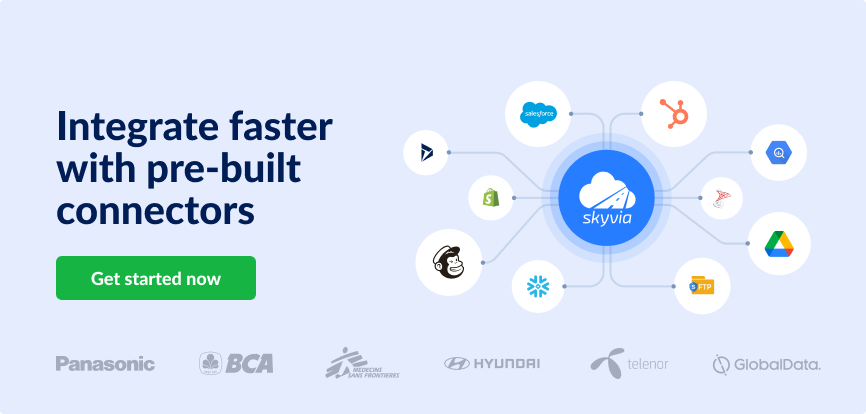 Microsoft Power BI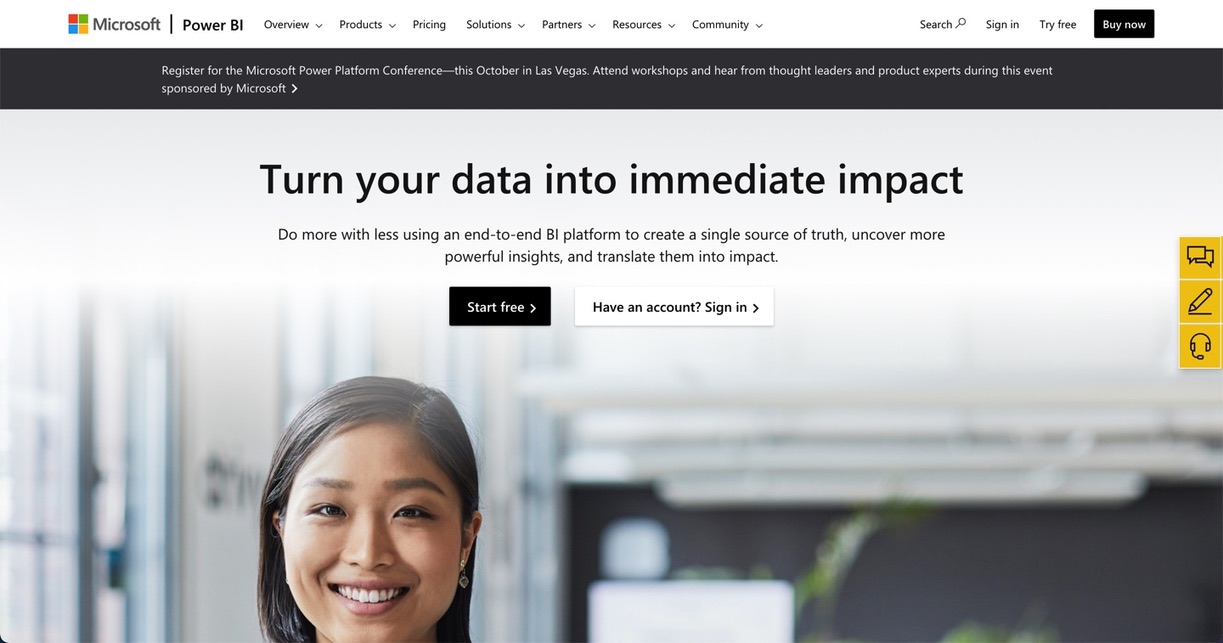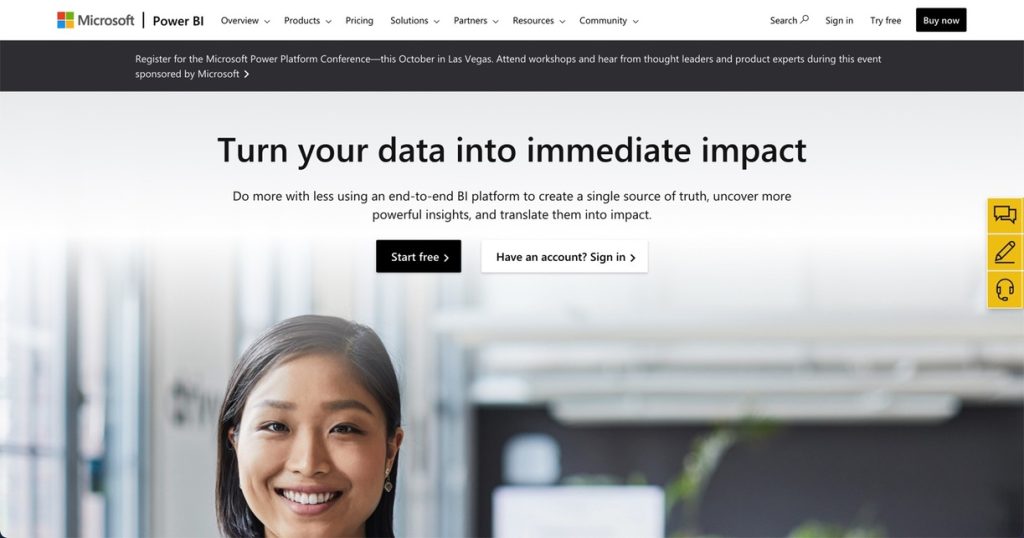 Microsoft Power BI is a popular platform for data analytics and visualization. Actually, it's the set of applications, services, and connectors that transforms your disparate data zoo into one unified clear view ready for analysis. But despite pretty good data visualization, connectivity, and regular updates, there are a few cons according to the solution's usability.
The UI is bulky enough and requires rigid formulas and Data Analytics Expressions (DAX) knowledge.
The free version is presented but has about 2 GB limitation.
Key Features
The solution provides pretty strong data connectivity (Excel, flat files, SQL server, and cloud sources like Google and Facebook analytics).
An ability to create visual reports and dashboards for further analytics.
The pricing range starts from $10 per user per month and may take $4995 per month, depending on the capacity. And you still may try a free trial.
Tableau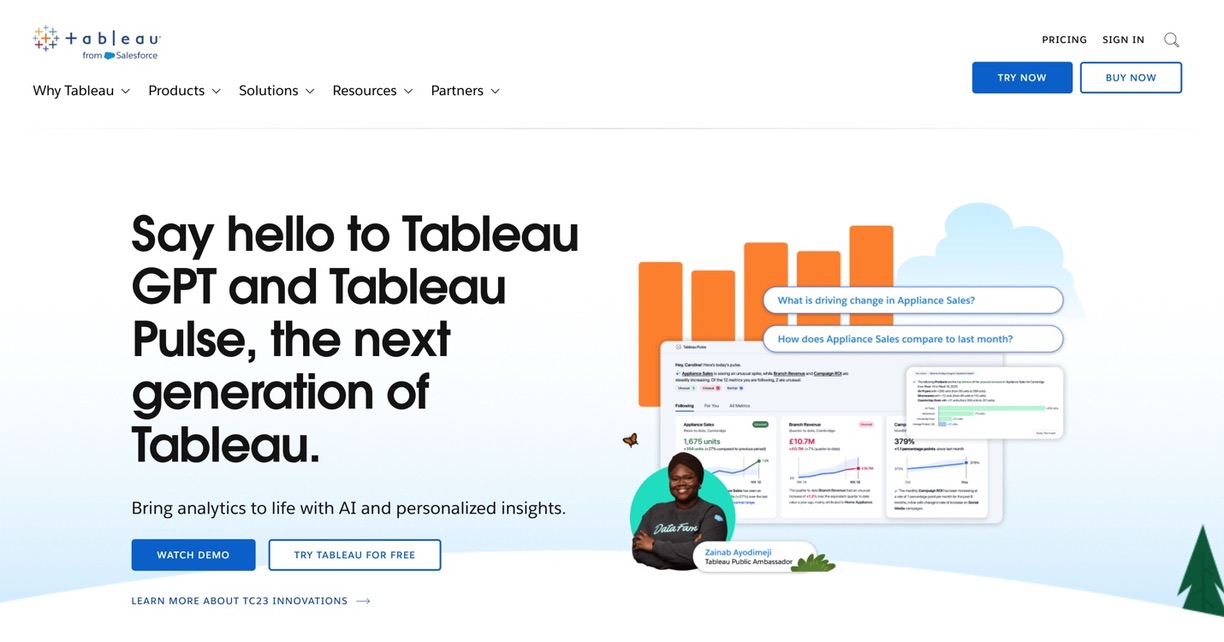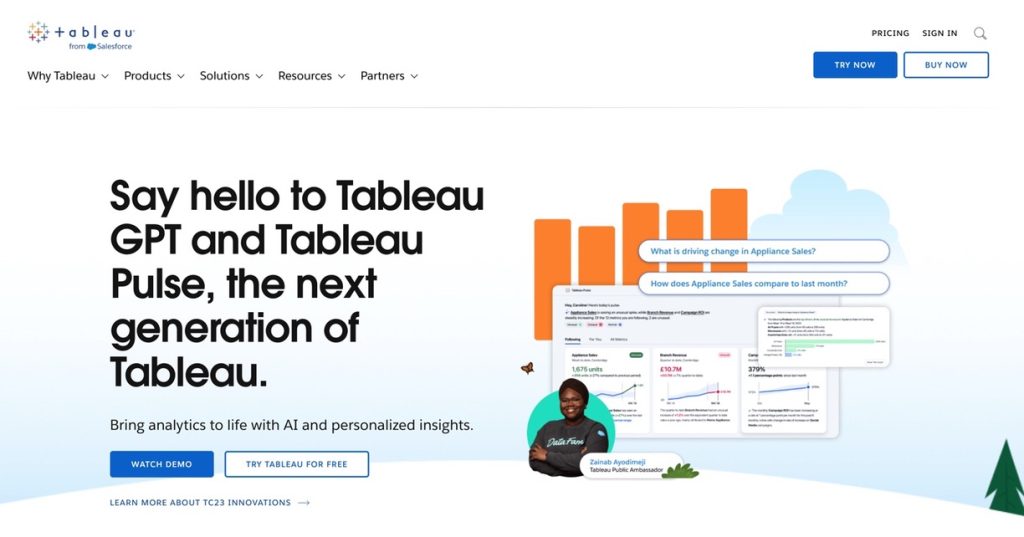 Tableau is a good choice if you're seeking a data visualization tool to create dashboards and worksheets for your perfect analytics. Let's check the reasons why.
It's speedy enough and interactive.
Visualization is clear.
Data source choice isn't poor (databases, spreadsheets, cloud services, etc.).
To talk about usability, you have to know Python or R to manipulate the data to import it to Tableau, which is inconvenient. The solution doesn't support the pre-processing data or some more complex custom calculations.
Key Features
Data transformation into a visual format for clear user understanding.
Real-time interactive dashboards help you to know what's really going on.
The price is complex and starts from $ 15 for the viewer and depends on your chosen plan. The more you need, the more you pay.
Qlik Sense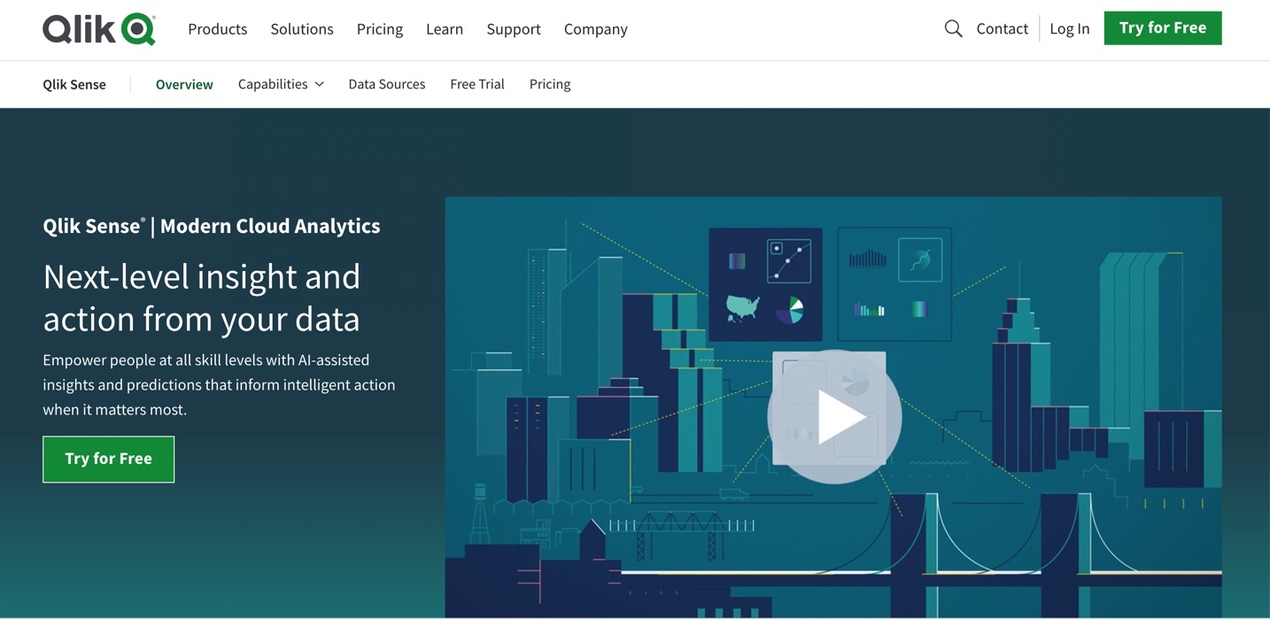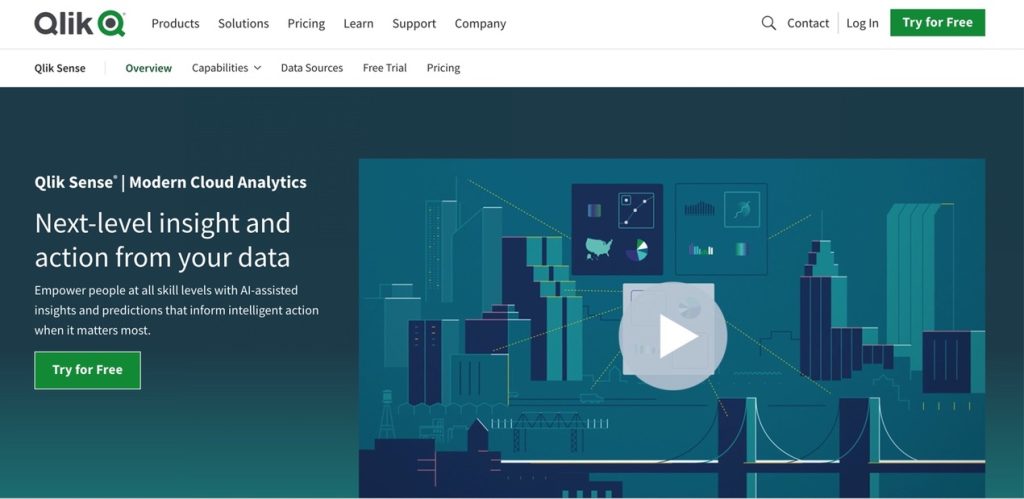 If your organization needs a solution that is intuitive for usage and robust in data analysis, look at Qlik Sense. The platform uses an associative analytics engine, and this approach differs a bit from other analytical tools presented in the market.
With Qlik, you may analyze data selected from a set of sources, like:
Cloud-based apps.
Databases.
Spreadsheets.
Key Features
The user interface is intuitive, so you don't need coding or additional technical knowledge to create visualizations and dashboards. But take into consideration that advanced features need strong technical skills.
An ability to find hidden insights and relationships with the help of an associative analysis engine.
AI solutions are available here to create diagrams, charts, associations, etc.
To talk about the pricing, it's pretty expensive, but you may start with a Business plan ($30 mo) or select the flexible Enterprise model, depending on your company's needs. You may also use the free trial.
Looker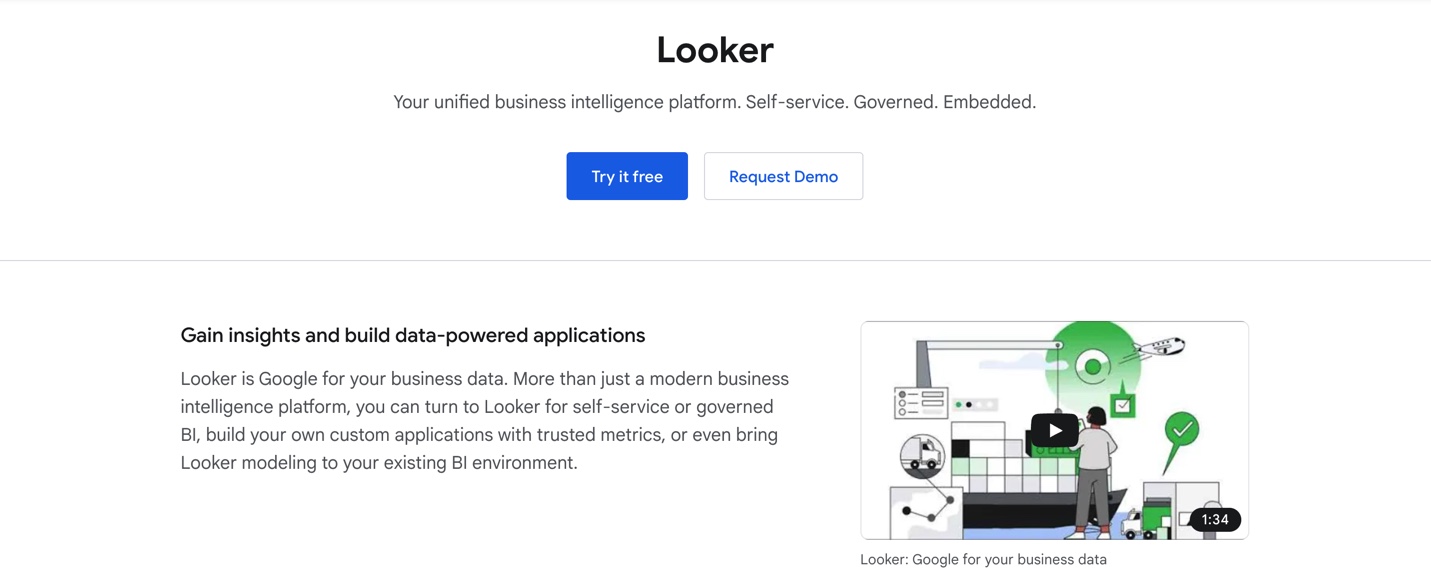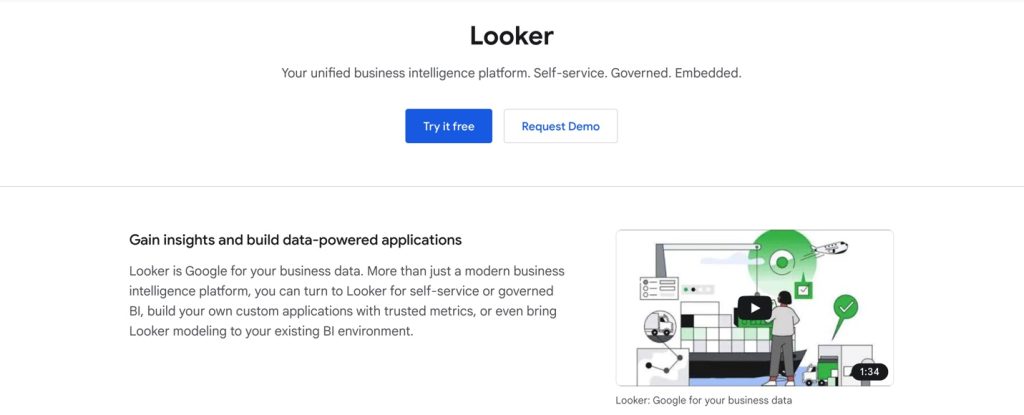 Looker is a nice choice for those seeking flexible BI data analytics solutions for different business scenarios that may process, analyze and visualize data in real time.
In other words, there is a set of a few products to raise your decision-making abilities depending on your purposes.
You can create your own app with appropriate metrics here or use the solution in your existing BI conditions.
You can work with it as a governed BI or a self-service.
But remember, specific customization options may be quite limited.
Key Features
With LookML, data modeling, and exploration functionality, you may describe various data parameters and relationships in your SQL DB. This option is helpful if it's necessary to analyze a large data set quickly.
The BI collaboration abilities, especially between different departments of the same company. In other words, multiple company employees may work simultaneously with the same data models, dashboards, etc.
Dashboards, reports, graphs, etc., are flexible and may be presented however needed.
You can automate the report distributions and set custom alerts here.
The free trial is available, so you can start with it or choose a pay-as-you-go pricing model.
Klipfolio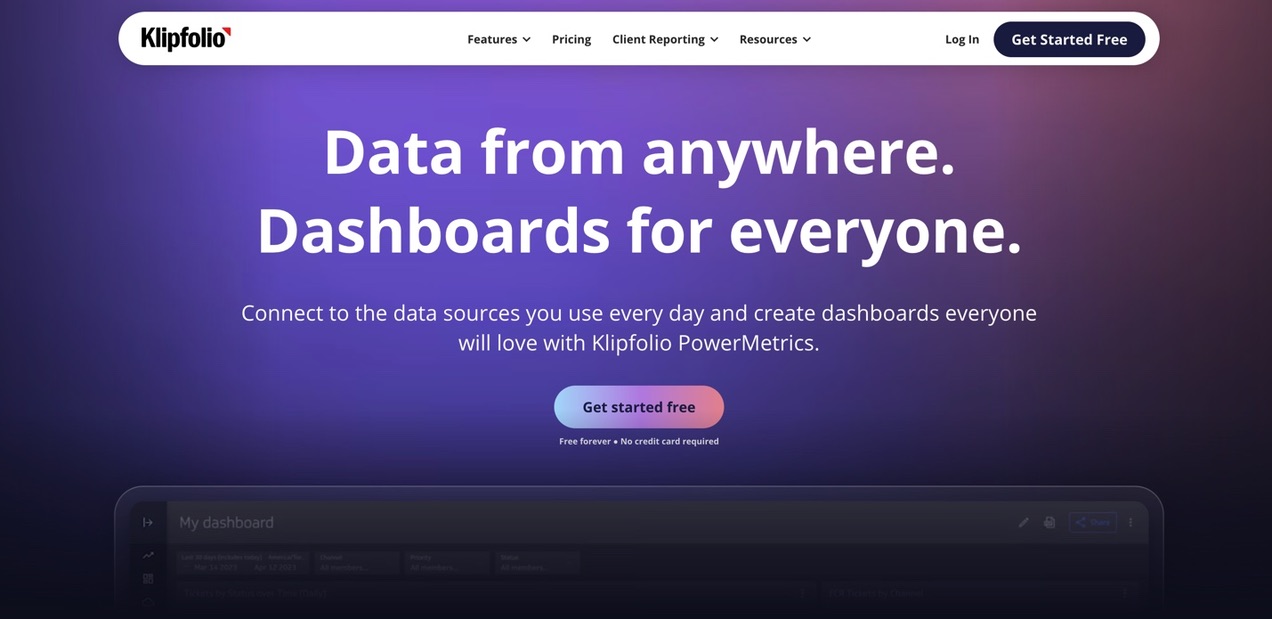 Another competitive data analytics tool is Klipfolio. Its best option is the ability to access data mutually. So all the team members can see the same view simultaneously and share and analyze the data collected from the pool of different sources and metrics.
Except for it, the solution is convenient and doesn't need any coding to work with.
Key Features
An ability to collect, monitor, and analyze data in the real-time mood to track KPI.
Here you can easily select the data sources and structure you wish and create any metrics because of the intuitive UI.
The solution is no-code or low-code, and pre-built templates are handy while dashboard creation to simplify the working process and save time.
But despite being no-code and easy to set up, the solution doesn't fit beginners and users with non-technical backgrounds. Customization options are also limited here.
The solution's price is flexible, and the range varies from free to business ($800 mo).
Zoho Analytics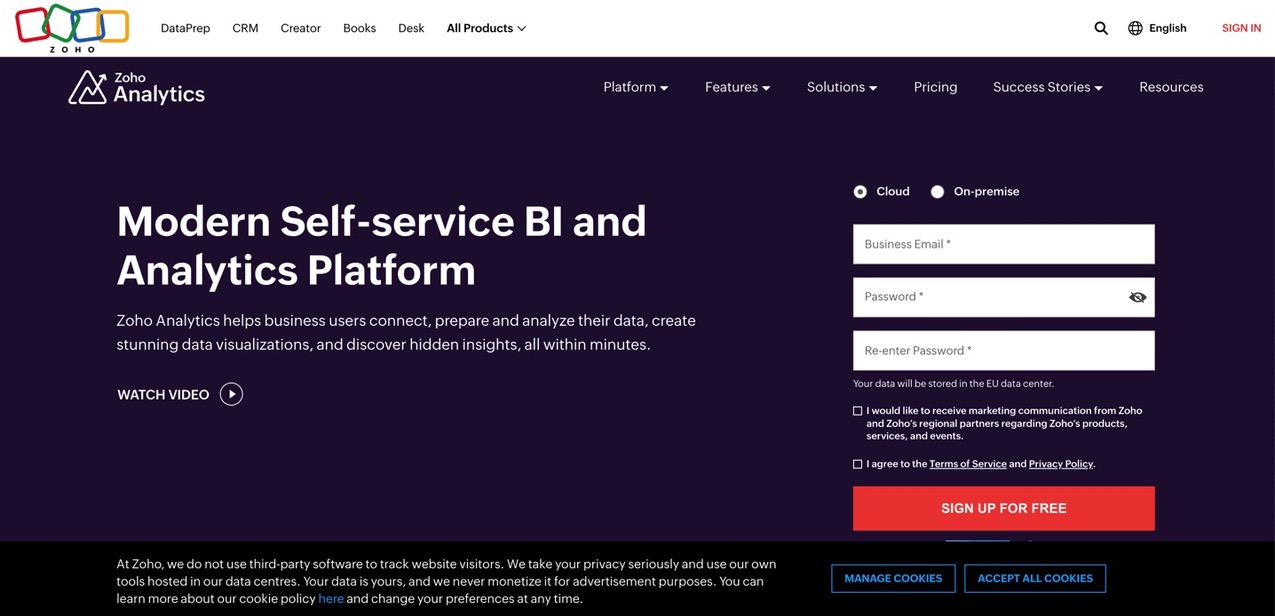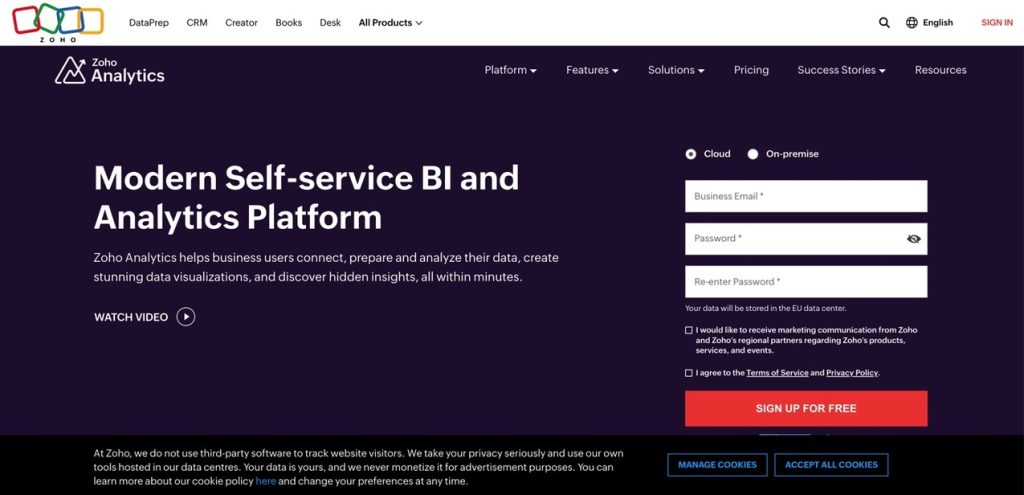 There are some hidden data insights in each business. You may even know about some of them, but you have to visualize the complete picture to understand what decision to make and what business strategy to use. Zoho Analytics is a substantial market competitor that helps search for hidden information quickly, visualize, prepare, and analyze it.
With Zoho Analytics, users can automatically combine data from multiple applications, define metrics that span data from multiple departments, and create reports and dashboards with those metrics. But on the advanced level, the visualization and customization features are restricted a bit.
Key Features
Data cleansing and preparing for analysis abilities based on AI solutions.
100+ pre-built reports and dashboards for Zoho Sprints activity data and Zoho Bigin sales data.
The solution easily integrates with other Zoho tools, like Zoho Creator, Zoho Projects, and Teamwork, or with external ones (Smartsheet and social media analytics tools) to share data for visualization and analysis.
You may compare the pricing that depends on cloud or on-premise selection.
The cloud option offers a 15-day free trial and ranges from basic to enterprise.
The on-premise provides you with the personal free version or offers the payable professional one. You may also select the 30-day free trial.
Domo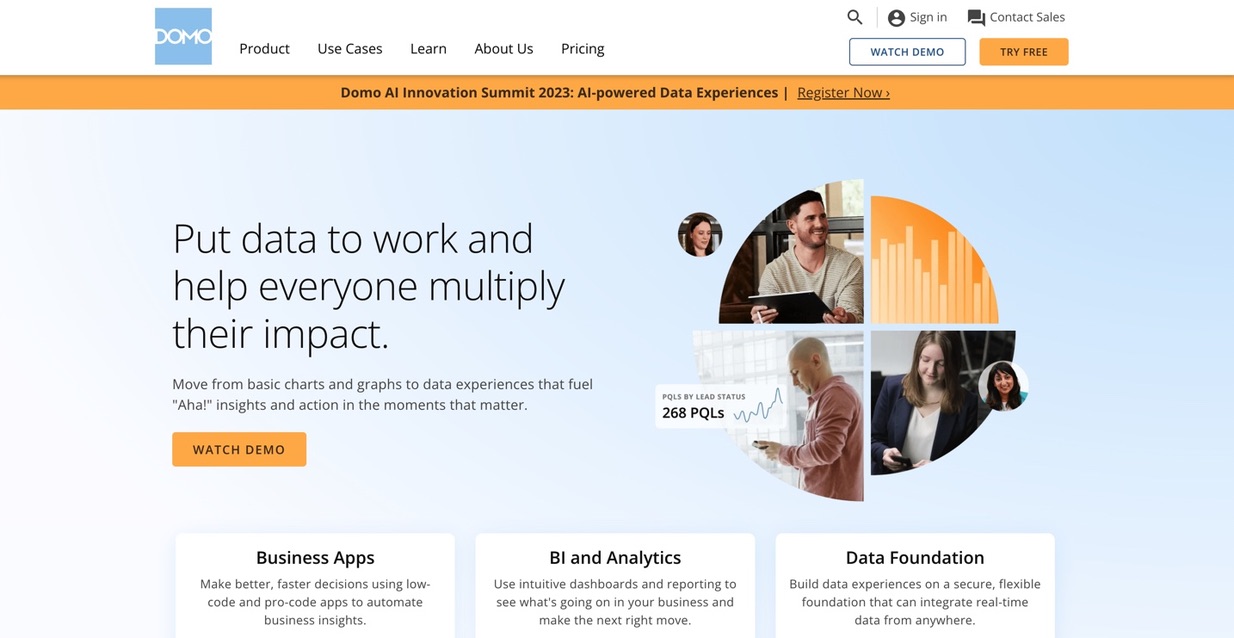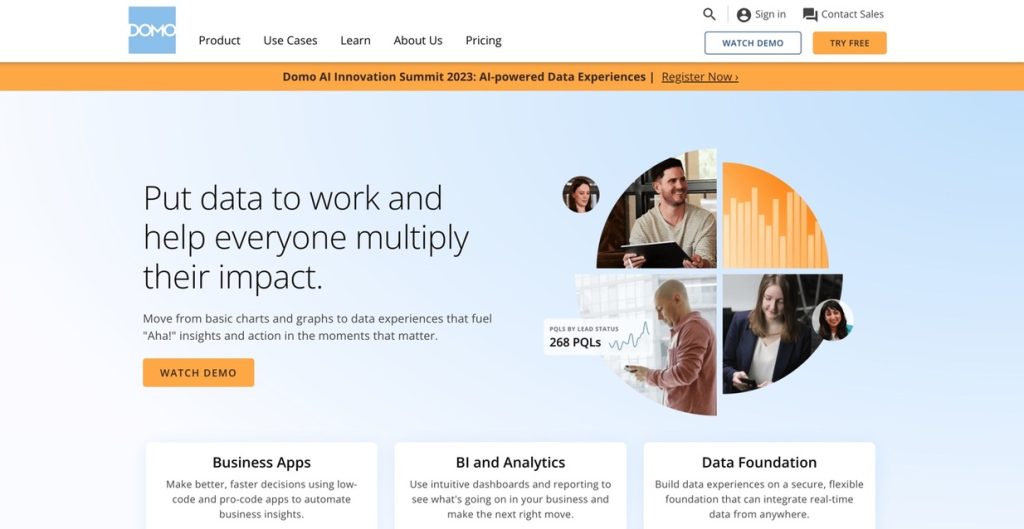 Domo is a self-service, BI, cloud-based data analytics platform where you can discover and analyze your data quickly and smoothly, even if you're not a technical expert. Here you may do a bit of data analytics' usual magic.
Key Features
With Domo, you may visualize your data and create reports to understand better where your business is going and growing.
Select data from your needed sources, automate real-time reports, and create predictive models to help your organization make a perfect decision for the next steps.
The custom options, unfortunately, are limited here, and the price may be a bit higher according to the solution's abilities. So, please contact the Domo Sailes team to check their pricing factors, or you may try the free trial to understand better how it goes.
RapidMiner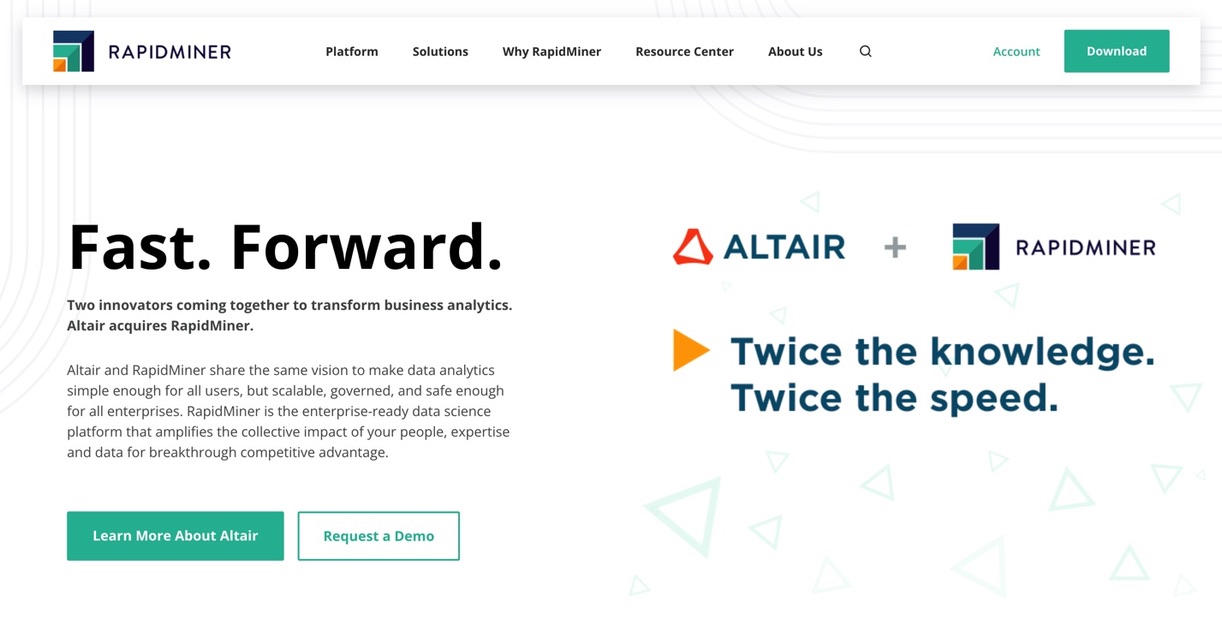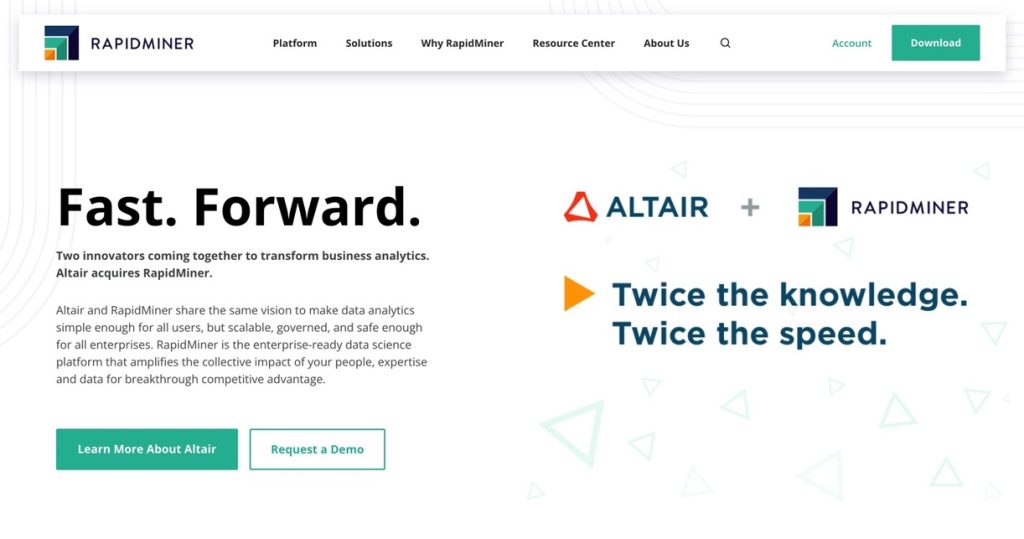 RapidMiner offers full automation for non-coding domain experts, an integrated JupyterLab environment for seasoned data scientists, and a visual drag-and-drop designer. RapidMiner's project-based framework helps to ensure that others can build off their work using visual workflows or automated data science. The possible drawbacks are the solution's complexity and customization options limit.
Key Features
The amount of data it can interpret.
Visual workflow designer.
ML and predictive analytics abilities.
Models deployment and monitoring.
There are no fixed pricing plans. Please connect here to create your own.
Apache Spark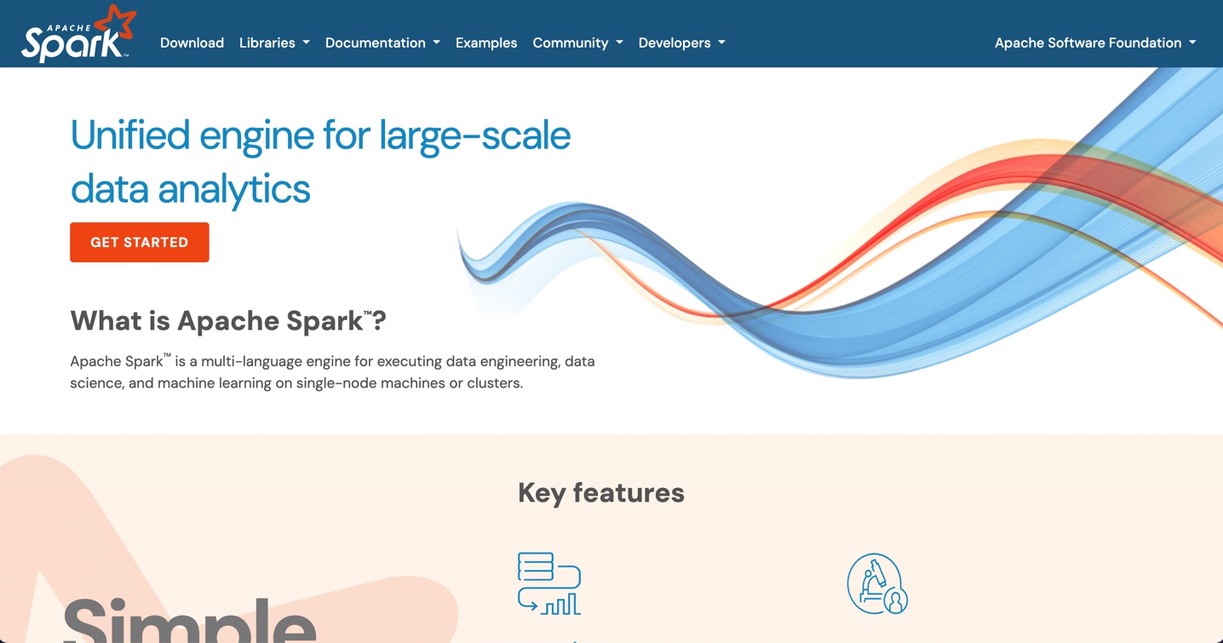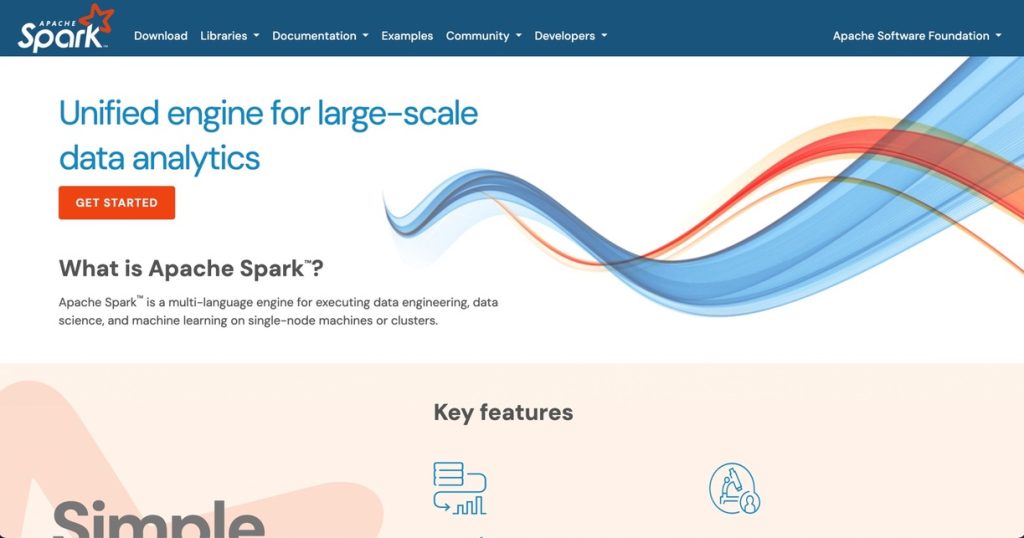 The Apache Spark team describes their platform in 4 words: simple, fast, scalable, and unified. There is only one open-source solution presented in this list. It's easy to install and set up and offers user-friendly APIs and libraries, so even non-technical users can work with it. But on the other side, it's complex in implementation and maintenance and is a memory eater for big datasets processing.
Key Features
Supported languages (Java, Scala, Python, and R).
In-memory data processing.
Fast large data volume processing.
Solutions comparison
The table below compares the most popular data analytics solutions by the most important criteria.
| Solution | Data Visualization | Ease of Use | Scalability | Data integration | Pricing |
| --- | --- | --- | --- | --- | --- |
| Skyvia | No | Yes | Yes | Yes | Volume-based and feature-based pricing. The Freemium model allows you to start with a free plan. |
| Microsoft Power BI | Yes | The software needs some technical expertise for usage. | The scalability depends on many factors (data complexity and size, number of users, etc.) | Yes | The pricing is volume-based. A free trial is available. |
| Tableau | Yes | Python or R language knowledge is required. | Yes | Yes | The pricing depends on your needs and includes a 14-day free trial. |
| Qlik Sense | Yes | The drag-and-drop interface is user-friendly. Advanced features need strong technical skills. | Yes | Yes | The price depends on the user's request. You may also use the free trial. |
| Looker | Yes | Doesn't fit for beginners and non-technical users. | Yes | Yes | The price is pay-as-you-go. Or use the free trial first. |
| Klipfolio | Yes | Doesn't fit for beginners and non-technical users. | Yes | Yes | The price depends on the set of metrics and includes a free model. |
| Zoho Analytics | Yes | Advanced features need strong technical skills. | Yes | Yes | The pricing is flexible and affects the cloud-based or on-premise versions. The cloud one offers a free trial. The on-premise one has a free pricing model. |
| Domo | Yes | Yes | Yes | Yes | The source system type, license number, data volume, and organization size affect pricing. A free trial is also available. |
| RapidMiner | Yes | The software is complex and needs advanced users to work with. | Yes | Yes | The pricing is customizable according to your business needs. There is no free version here. |
| Apache Spark | No | To work with it, you must be familiar with Java, Scala, Python, and R programming languages. | Yes | Yes | The open source solution. |