Implementing a strong data integration platform that works in tandem with an organization's CRM allows businesses to utilize existing data to the fullest extent for sales, customer support, and marketing while also providing data trends and modeling opportunities.
When data sources remain separate, there is a massive missed opportunity for uncovering actionable trends and providing a better customer experience — not to mention the tedious nature of manual data mapping. For example, if your ERP and CRM aren't connected, sales team members might have to wait for quarterly data reports on their contacts from the ERP, or they may not have access to that data at all.
The Skyvia Integration with HubSpot provides small to medium-sized agile teams with no-code, cloud-based data integration, backup, and storage that supercharges HubSpot data for strategic business applications.
User Bethan Wilkins has been able to use Skyvia and HubSpot to eliminate a time-consuming manual task — uploading CSV files from Dropbox to HubSpot daily. They comment that the integration has been "easy to configure and use", and they like that it's completely cloud-based.
Let's review the ways that business owners can leverage Skyvia's powerful data mapping tools to improve business operations, manage data more effectively, and make the most out of HubSpot data.
Table of contents
Optimal Data Integration with Skyvia
The Skyvia integration with HubSpot pulls together more than 80 data sources, creating solutions for data integration, while bringing together the best in data backup, querying, and filtering.
Skyvia works in tandem with HubSpot's leading CRM, marketing and sales software to create and improve automated workflows, while presenting visually queried data. Skyvia's HubSpot integration also pulls CRM contacts dispersed across various cloud platforms into one central location. Customers can update HubSpot contacts from a Google contact, or turn a HubSpot contact into a new Zoho CRM lead.
While Skyvia does not cater to any one specific division within an industry, enterprise positions responsible for data security, such as security officers, or Chief Technology Officers, benefit from the platform's efficient backup process of HubSpot account data.
Using Skyvia's visual, no-code product, customers with limited developer knowledge can set up complex data syncs between platforms — all it requires from customers is an understanding of data structure. It also provides cost-effective savings for small to medium-sized businesses seeking affordable solutions for pulling CRM data from other cloud platforms, while meeting IT needs and operating efficiently.
Benefits of Skyvia Integration with the HubSpot CRM
The Skyvia integration with HubSpot makes it easier for customers to keep their sales and operations teams small, taking the heavy developer lifting off of their plates.
Data workflows from popular cloud platforms like Slack, Mailchimp, and Shopify can be automated with a wide number of mapping capabilities available to suit any configured integration. The functional interface makes it easy to load and synchronize contacts into HubSpot, no matter the data structure.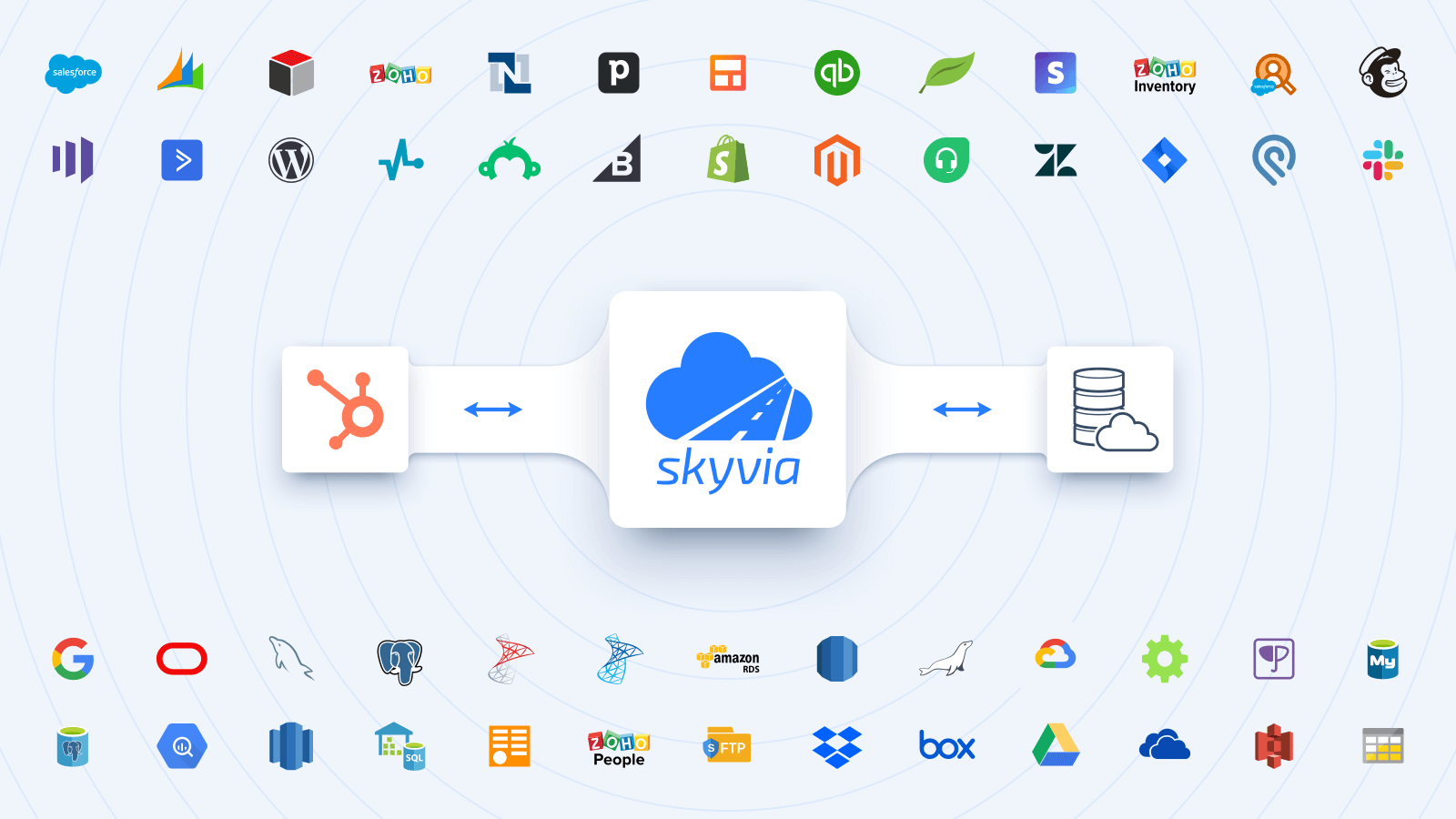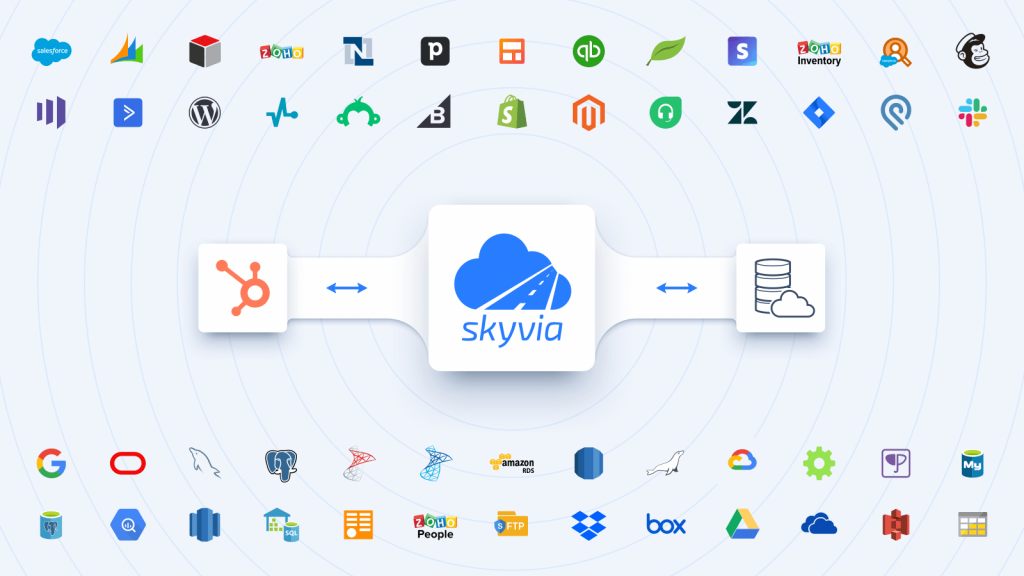 The visual Query Builder offers businesses custom report generating functionality, reflecting real-time data loaded to HubSpot from any number of cloud-based platforms. Skyvia allows customers to make data-driven decisions based on compiled report data, helping to reduce financial costs and meeting both short-term and long-term business goals.
Skyvia's convertibility feature also enhances data efficiency and shareability among team members, making it easy to transform report data into CSV or PDF format, or make data viewable in a standard web browser.
Additionally, users can create full or partial replicas of HubSpot data, regardless of storage location in databases or data warehouses.
3 Ways to Improve Data Management with Skyvia and HubSpot
Here's how CRM tools like the Skyvia Integration with HubSpot can help IT professionals and business users improve data workflows.
1. Increase Departmental Scope and Capability with a 360-Degree Customer View
Skyvia's seamless data integration provides each department with a 360-degree view of the customer that's aligned between teams — without silos or gaps in data.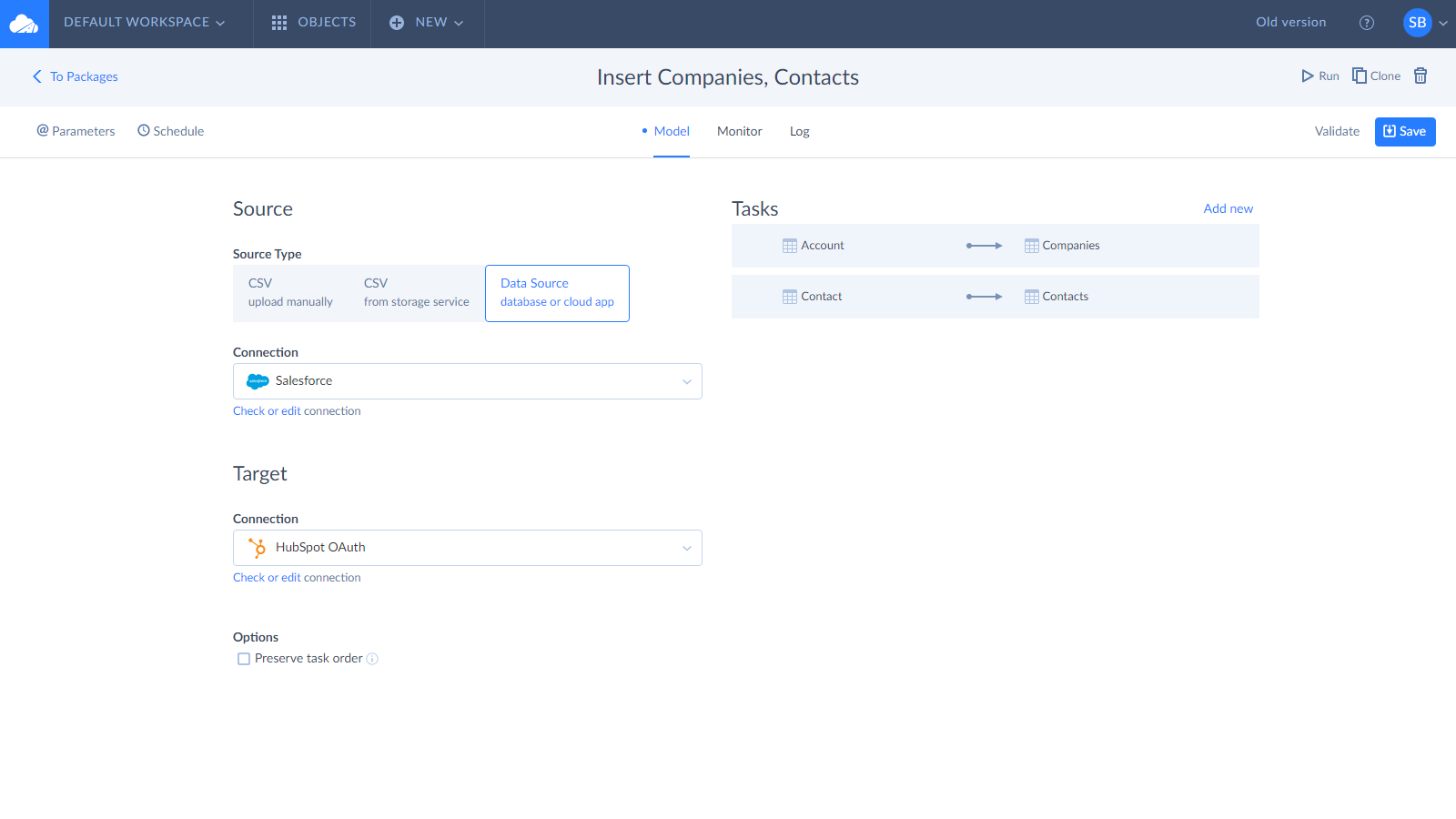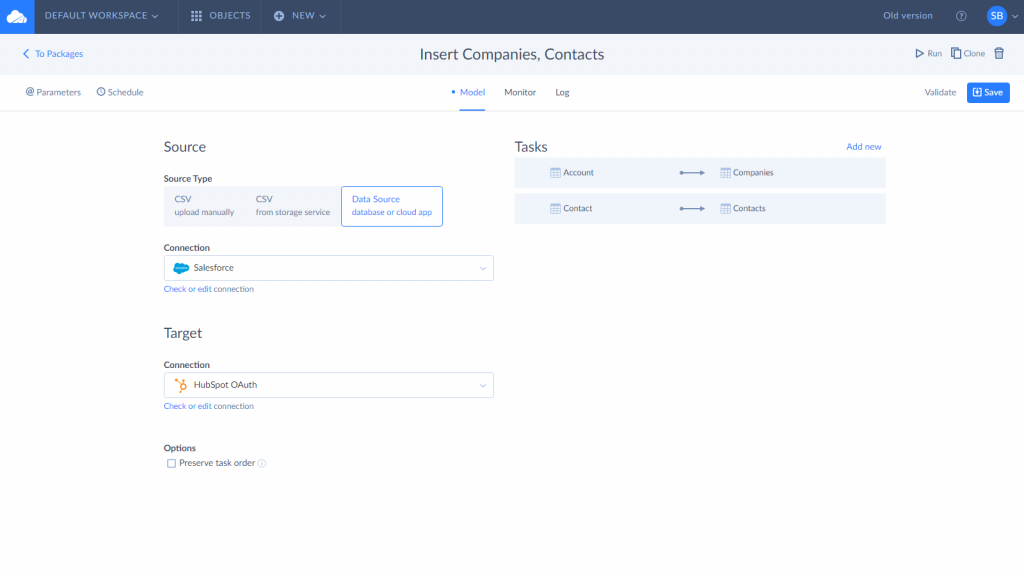 Increasing departmental scope also increases departmental capability. Sales teams and IT professionals have the opportunity to gain better insight into future business trends with access to a single system housing customer data.
Team members armed with increased knowledge of customers' wishes and needs are also better able to communicate. As a result, sales teams develop a greater understanding of current and potential customers.
Skyvia's support of CSV data sources allows for CSV data to be imported and exported from HubSpot into ERP platforms or other tools. This opens up the ability to score leads and customers, normalize data formats and connect tools that were previously disconnected, and improve customer communication.
2. Replicate and Automate Data and Build Data Models using Visual Data Warehousing
Skyvia's ability to replicate data from business systems and subsequently store it in a central data warehouse, leads to increased streamlining of business and customer information. The process of loading customer information to data warehouses is completed within minutes and automatically updates in real time. Users can save significant time and money which would otherwise be spent on hiring software developers or IT analysts to assist with loading data. In fact, the Professional Plan conducts automatic updates once every minute.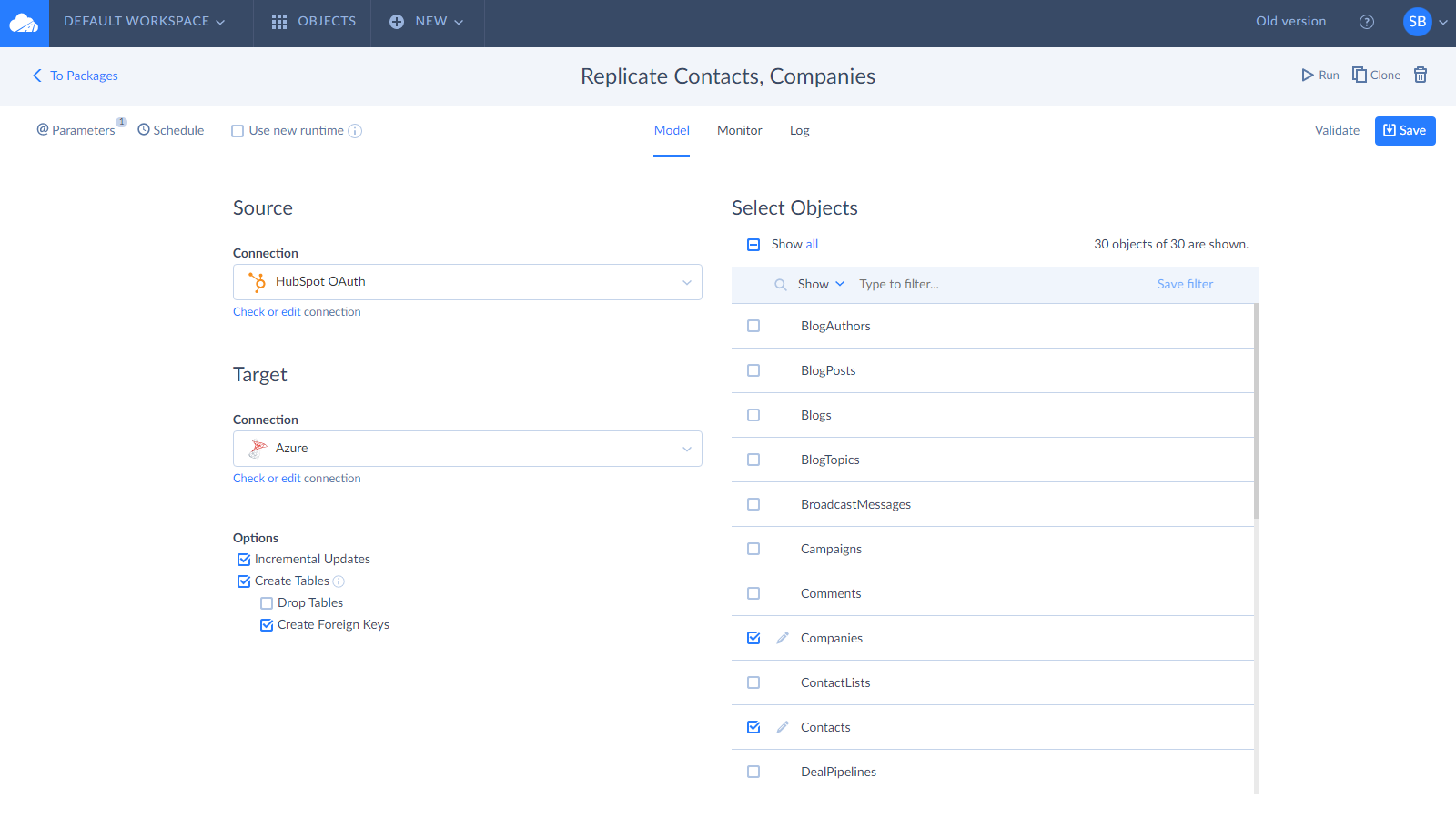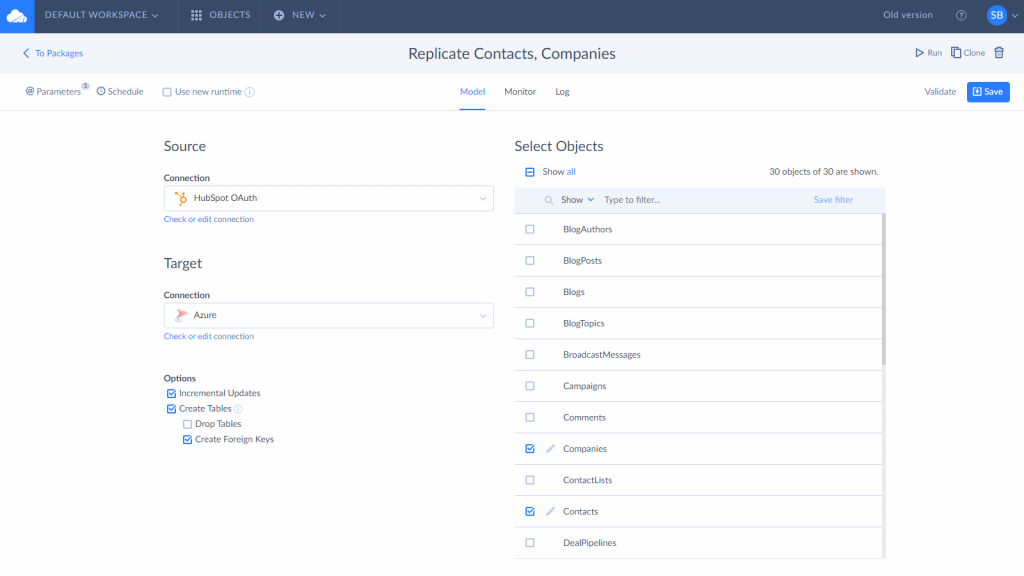 A central repository of data stored in a data warehouse allows businesses to build visual data models using the information stored, assisting in making future business decisions. Additionally, the data warehouse acts as a single source for all business analytics, further streamlining the data for reporting purposes. Business intelligence tools like PowerBI or Tableau can display the data visually to uncover actionable trends and patterns.
In addition, the stored data can be used for operational purposes. CRMs, support systems, and even the marketing department, are granted access to data-rich information on customer tracking, buying habits, and business processes, pertaining to their specific department.
3. Secure HubSpot Data with Regular Backups
Skyvia's backup feature gives businesses the peace of mind that their valuable CRM information has been saved if data goes missing or systems go awry.
The cloud data platform offers customers automatic daily backups, or anytime manual backups, featuring search and view functionality, alongside the ability to export backed up data. Data is stored in a secure Azure storage, with the restoration process completed in a single click.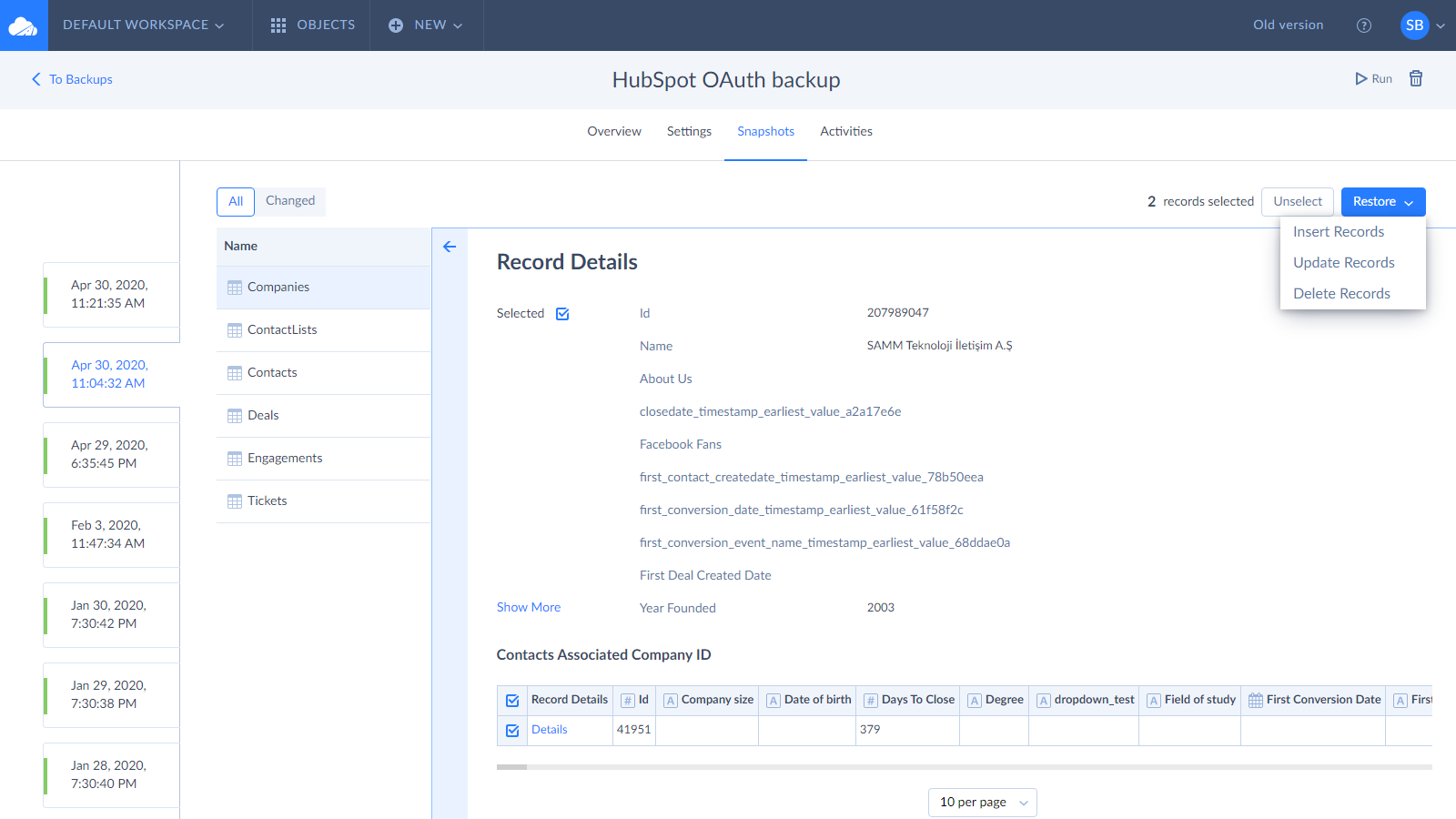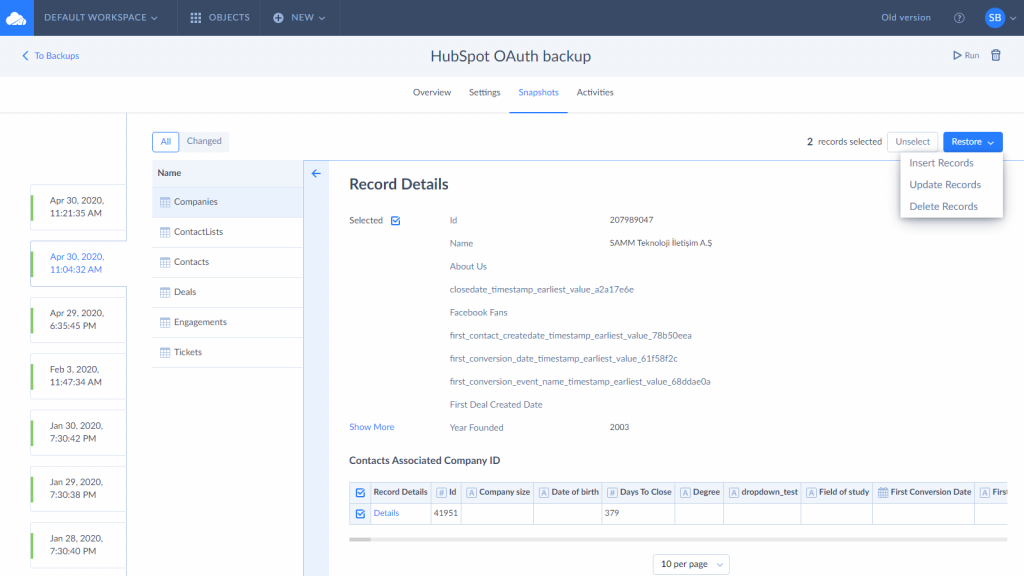 An imminent threat to data security always exists, whether it is a malicious attack or human interaction with the information. Skyvia's backup feature enhances data security systems currently in place for businesses, beneficial to both security officers, and the Chief Technology Officer of the company. Configuring a HubSpot data backup with Skyvia takes only minutes to do, and users can complete data restoration in a few simple clicks.
What Do Users Think of It?
Paul Jacques, a computer software professional and a user of the integration, says, "It works — and that's all you need to know in the short." Another user, Jo Prime, used the integration to migrate customer data into HubSpot. They add that the integration was "Excellent and a really easy interface. We like the big list of supported cloud connectors."
Higher education leader Melissa uses the integration to make the most of her HubSpot account. "Skyvia has become an essential tool within our organization, because it allows me to easily and consistently pull raw data files from HubSpot, a CRM tool that we use for tracking our interactions with faculty, graduate students, and staff. I rely on Skyvia to produce highly important reports, including our CTL's annual report."
With both HubSpot and Skyvia's wonderful support teams ready to help, the data possibilities are within reach for organizations large and small, no matter the extent of a user's technical expertise.
An increasingly connected world emphasizes the importance of maintaining business data, preparing for future incoming data and associated trends. This also includes revamping data security processes with organizations, prioritizing heightened protection against cyber attacks. Skyvia's Integration with HubSpot offers this and more, in addition to giving business owners peace of mind that their data is in good hands.