If you want to align your sales and marketing teams and maximize sales opportunities, you need to learn how to sync data reliably between Marketo and Salesforce services. Effective integration of a CRM and marketing platform makes it easier to find qualified leads as well as makes the overall process of closing deals faster and simpler.
If you are looking for an easy-to-use solution to integrate Salesforce and Marketo data, look no further. This guide walks you through the process of how to create Marketo and Salesforce integration using Skyvia within three easy steps.
Table of Contents
What is Adobe Marketo Engage?
Marketo is a product of Adobe, a cloud lead management and marketing solution. According to Gartner, Marketo has been considered the best marketing automation system for corporate use for nearly a decade.
On top of that, it has analytics automation features, customer acquisition cost, advertising budget calculation, price analytic tools, and tools for cross-channel engagement (A/B testing and dynamic content across multiple channels). Since the platform was designed to target qualified leads and look for new opportunities to attract traffic to websites (e.g., analytics for dynamic look-a-like audiences), it owns a well-deserved title as one of the most famous and popular marketing platforms.
Key features
Offers AI-driven solutions such as audience segmentation.
Creates and scales automated marketing campaigns across multiple digital channels that engage customers in a personalized way without support from IT.
Enriches customer profiles with intent and behavior data.
Requires Marketo Certification Exam as it's a complex professional tool. The Marketo certification is valid for two years after passing the exam.
What is Salesforce?
Salesforce is the most popular CRM for any type of business, providing customizable CRM functionality based on the demands of the business. It's powerful and easy to scale, which makes it ideal for businesses of all sizes. The service has a comprehensive set of features that offer an extensive view of all customer interactions. In addition, it offers a full marketing cloud that includes all marketing channels, such as email, mobile, social media, and the web, in one place.
Key features
Salesforce AppExchange marketplace. A set of open-source codes makes it possible to integrate thousands of custom-built business solutions.
Opportunity Management. Get a holistic picture of all key information for sale, including the stage, products, and other important details.
Account management. The service tracks all customer interactions (via email, chat, and phone) for future reference.
Easy-to-use interface. It has a drag-and-drop feature to automate business processes visually.
How to Connect Marketo and Salesforce Properly and Prevent Problems
Before setting up a Marketo to Salesforce synchronization, it's essential to understand how the data schema is structured within each tool. The main challenge here is that every Salesforce and Marketo instance is different. They're built from the ground up, using custom objects and fields, and letting businesses tailor their software according to their unique business needs.
That's why while exporting and importing records between services, thoroughly check each field to ensure that your data is mapped correctly and doesn't get lost.
Useful tip! A Sandbox environment in Salesforce is a great option for testing the newly created integration. A Sandbox is like a clean room where you can test data transformations without affecting real data.
Benefits of Integration Marketo with Salesforce
The purpose of CRM is to track and manage all kinds of leads and customers, while marketing automation tools allow for automated marketing campaigns, measurement, and retargeting of customers who left the website. The Marketo Salesforce connector can be a huge time-saver for sales and marketing managers as they ultimately track unalike tasks for different purposes.
Note! Among the most popular objects for synchronization are Leads, Users, Accounts, Contacts, and Opportunities. More details can be found in the Default Salesforce Field Mapping.
Key advantages include:
Enriching data. By matching up all the available data in the company's systems, marketing and sales teams keep leads, accounts, and other data up-to-date across the sales funnel. As a result, teams can also maximize their potential and create value for their customers.
Multi-channel attribution. Marketing and sales teams usually impact people's buying decisions in various ways and multiple times. The combined sales and marketing data can determine exactly what efforts acquired a customer and predict the cost of attracting customers in the future.
Improved collaboration. The integration makes it easier for sales and marketing teams to share information throughout the customer lifecycle. For example, good marketing allows salespeople to focus on the most promising customer segments. At the same time, the information from the sales team can direct marketing activities.
Better budget planning. Sales and marketing programs cost money, and without proper analytics, it's impossible to know which strategies are effective and which are not. So, integration provides the capability for marketers to measure how their strategies impact ROI.
Overall, the Marketo integration with Salesforce CRM helps companies to close the circle of sales and allows marketers to measure whether their strategies are improving the customer's experience and driving revenue.
How to Set Up Salesforce and Marketo Synchronization
Marketo offers native integration with Salesforce with its Marketo Sales Insight app that can be downloaded from the Salesforce AppExchange.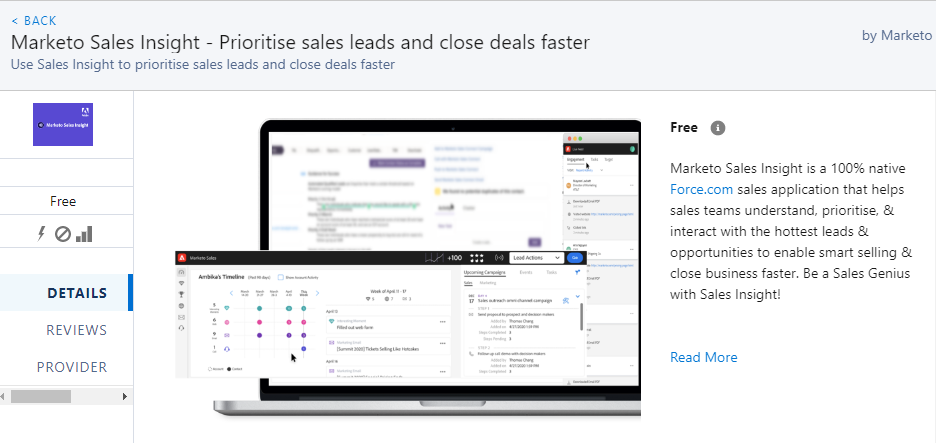 For installation, you have to log in your Salesforce credentials and choose the way of installation. Then, verify that Marketo Sales Insight is in the Installed Packages and start setup. After that, you should check the status of the objects for all of the Marketo Sales Insight items.
However, if you want to create a custom field that can show up in both Salesforce and Marketo, you must first create it in Salesforce and not the other way around. Salesforce always has priority in this integration.
Note: Find more installation details in the documentation here.
Though installation steps are easy, this method has its limitations. Among the problems that can be mentioned are the following:
If you have a specific package with Salesforce and the API calls are over the limit, Salesforce and Marketo sync won't work.
There's no data synchronization for a discharge done and forgotten.
Salesforce and Marketo Integration Using Skyvia
Skyvia is the fastest way to get results from your data, as it offers a wide range of data solutions that are easy to use. The service is a cloud-based platform that integrates with local and cloud-based services and applications, so you can build ETL, ELT, and reverse ETL solutions. It also provides a range of capabilities, from data analysis to data science and visualization.
The service meets the essential needs of a business in today's digital world:
Easily set up, integrate, and maintain.
Scalable and flexible (capable of meeting any load and providing flexible pricing).
With Skyvia, you can also build and manage complex integration scenarios with many sources by applying Data Flow and Control Flow features. With all of the automation features in Skyvia, you can receive fully automated and trouble-free data processes.
Key Skyvia advantages
The platform provides rich functionality and more opportunities to implement complex integrations. The service implements more complex logic, applying parallel processing, error interception, etc.
The interface is user-friendly and convenient. Business users can configure data flows visually as there's a no-code wizard available.
Skyvia's approach has an advantage when it comes to debugging workflows. Since it's a visual tool, users can observe the execution of the task in real-time, monitor the data count, and have detailed information about the errors.
The service offers template scenarios with pre-made connectors for cloud-based, on-premise, or hybrid ecosystems.
No deployment and installation are needed as the service is cloud-based and browser-based.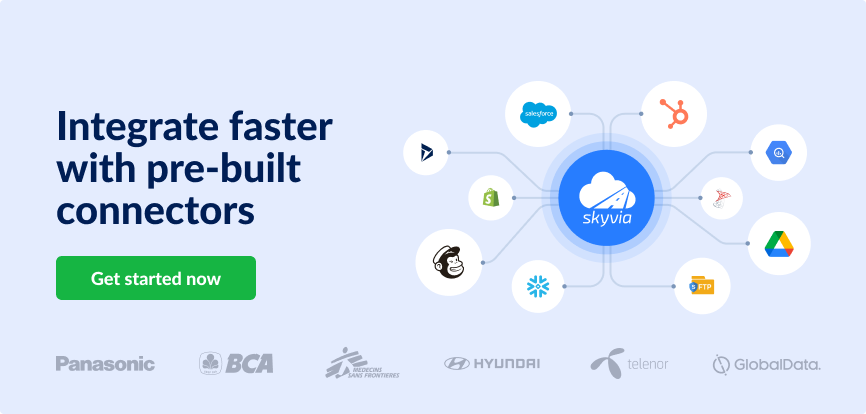 In this article, we show how to easily and quickly configure automated data integration (as a periodic update) between Marketo and Salesforce with the help of Skyvia. Since the Skyvia platform is very flexible and has many capabilities, we demonstrate two possible scenarios for data integration.
Business case description
As companies are interested in prioritizing and closing more deals, they must learn how to interact with the hottest sales leads and opportunities. Merging data from both marketing and sales teams gives businesses the foresight to see who is ready for a call or an email from them.
Before implementing integration scenarios: establish connections between the two services and Skyvia.
Note! You must create a Skyvia account if you don't have one yet. You can also try Skyvia with a free trial version.
First, you need to create connections between Salesforce and Skyvia as well as between Marketo and Skyvia. Sign in with Skyvia and click +NEW in the top menu, then click the Connection button on the left menu.

Select the service you want to connect on the opened page: Salesforce or Marketo.
Note! The default name for a new connection is always Untitled, so don't forget to rename it to prevent misunderstandings.
Sign in with the chosen service, enter credentials for your account, and create a connection. In the screenshot below, you can see an example of a Salesforce connection.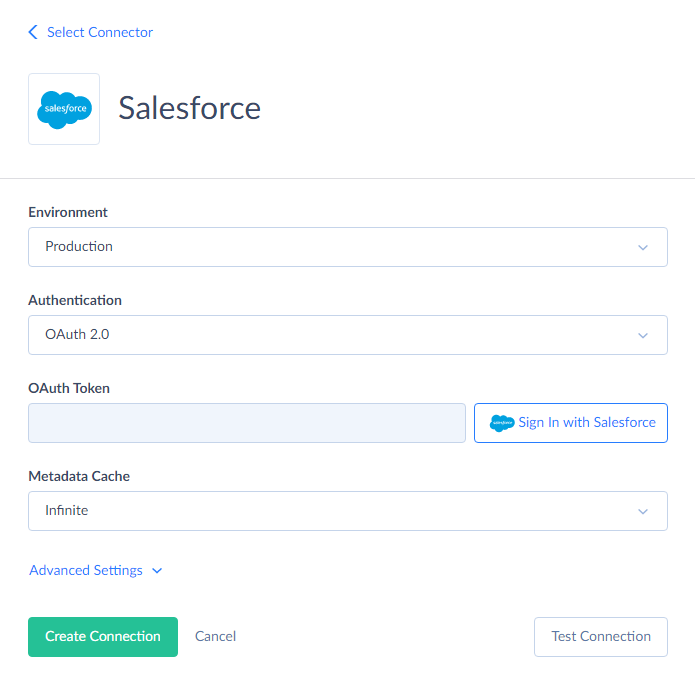 Note! More details on setting up Salesforce and Marketo connections can be found within Skyvia documentation.
Setting up Skyvia Import scenario for data integration
This simple scenario is created for data integrations between two data sources. For example, in this case, we import Leads and Opportunities from Marketo to Salesforce and back.
Click +NEW in the top menu and select Import scenario in the Integration category. In the opened window, you can find the detailed instructions on the right and the workspace with Source and Target data flows on the left.
Select the data connections (those created in the step above).
Define the Source Type and apply additional options if needed.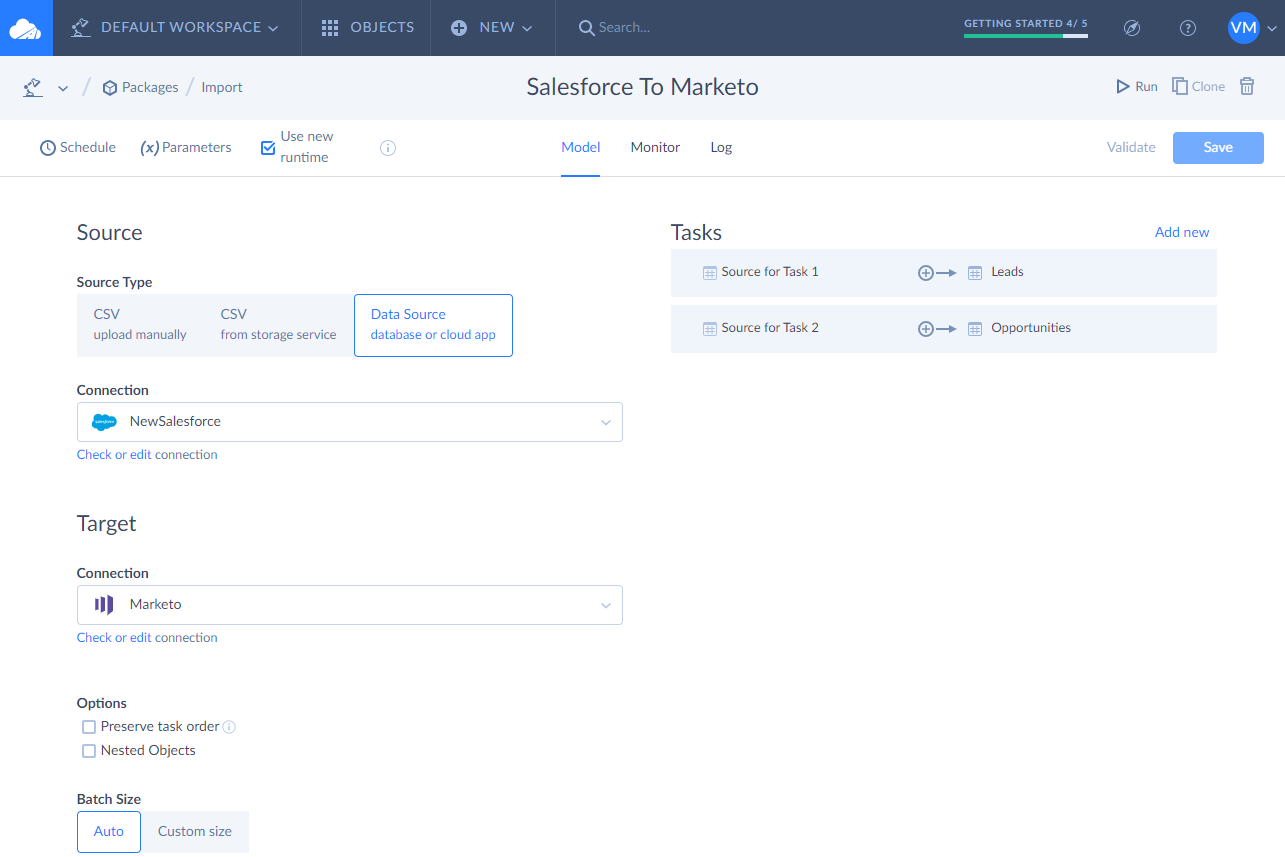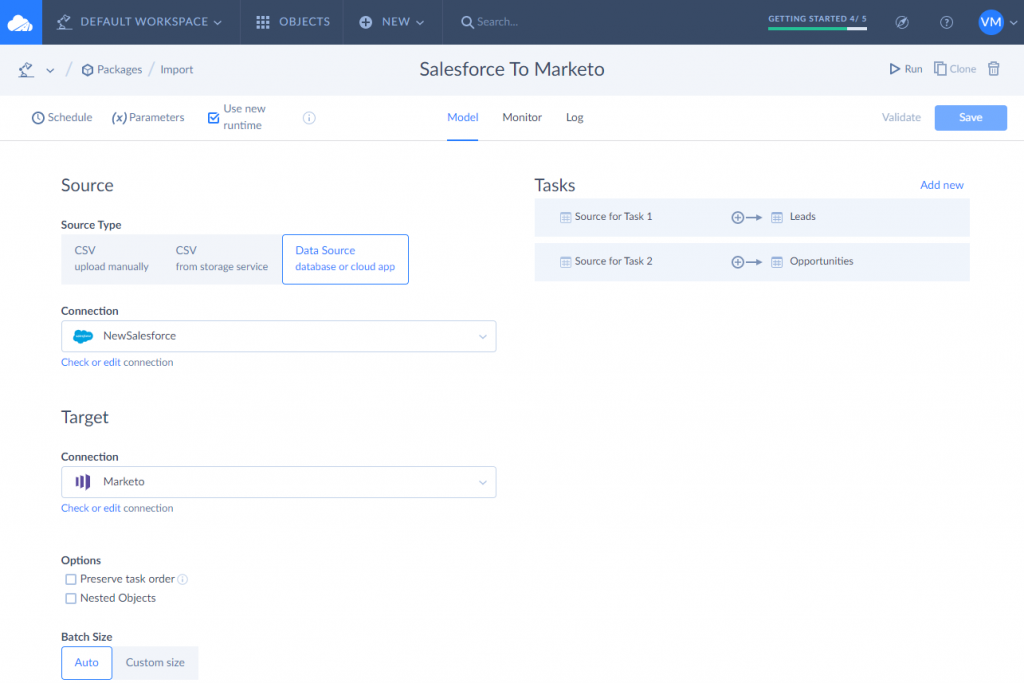 4. Use the Add new button on the right to create a new data import task.
5. Specify Source settings. Select source file, cloud app object, or database table/view to import data from, and, if necessary, configure data filtering. Alternatively, you can select the Execute Command or Execute Query action to query data (in advanced mode).
6. Specify Target settings. Select the target object (table) or multiple objects (tables) to import data to and the operation to apply when loading data.
7. Configure mapping of target columns to source columns, expressions, constants, lookups, etc.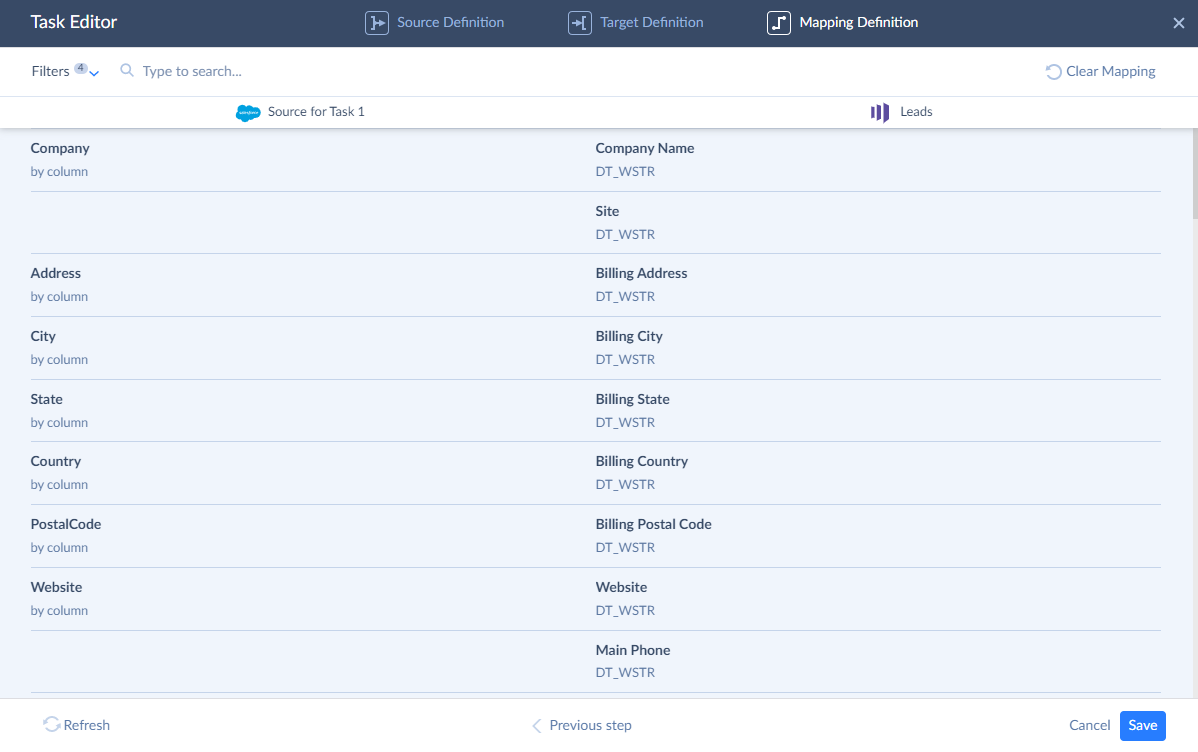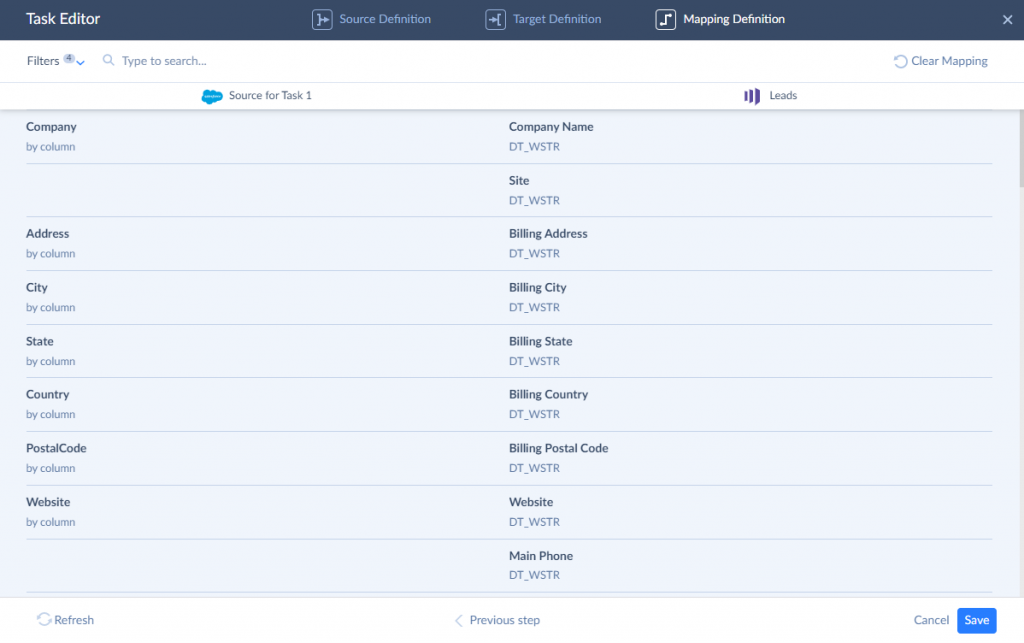 Before saving your Import package, you can also schedule it for automatic execution.
After completing all the Import package settings, click the Create button. Now you can run this package and get your data integrated.
Important! There are difficulties when migrating Opportunity, Companies, and other tables from Marketo. As they cannot be obtained by a list, they should only be obtained by a specific key (externalOpportunityId, marketoGUID, externalCompanyId, externalSalesPersonId, etc.).

Advantages of the Import integration scenario
The Import integration scenario works best for companies that don't need to update data very often and when it's possible to select the required amount of data for migration using filters. However, updating data is impossible as it's a simple downloading process.


Setting up Skyvia Data Flow scenario for data integration
This flexible scenario is created for complex data integrations. Being an easy-to-use no-coding tool, Data Flow helps to manage all data integration and transformation requirements in a single unified location. Here we demonstrate how to synchronize Leads and Opportunities tables between Marketo and Salesforce.
Note! When you open Data Flow for the first time, it will offer you the Fast Guide to the main features, which is very useful for newcomers.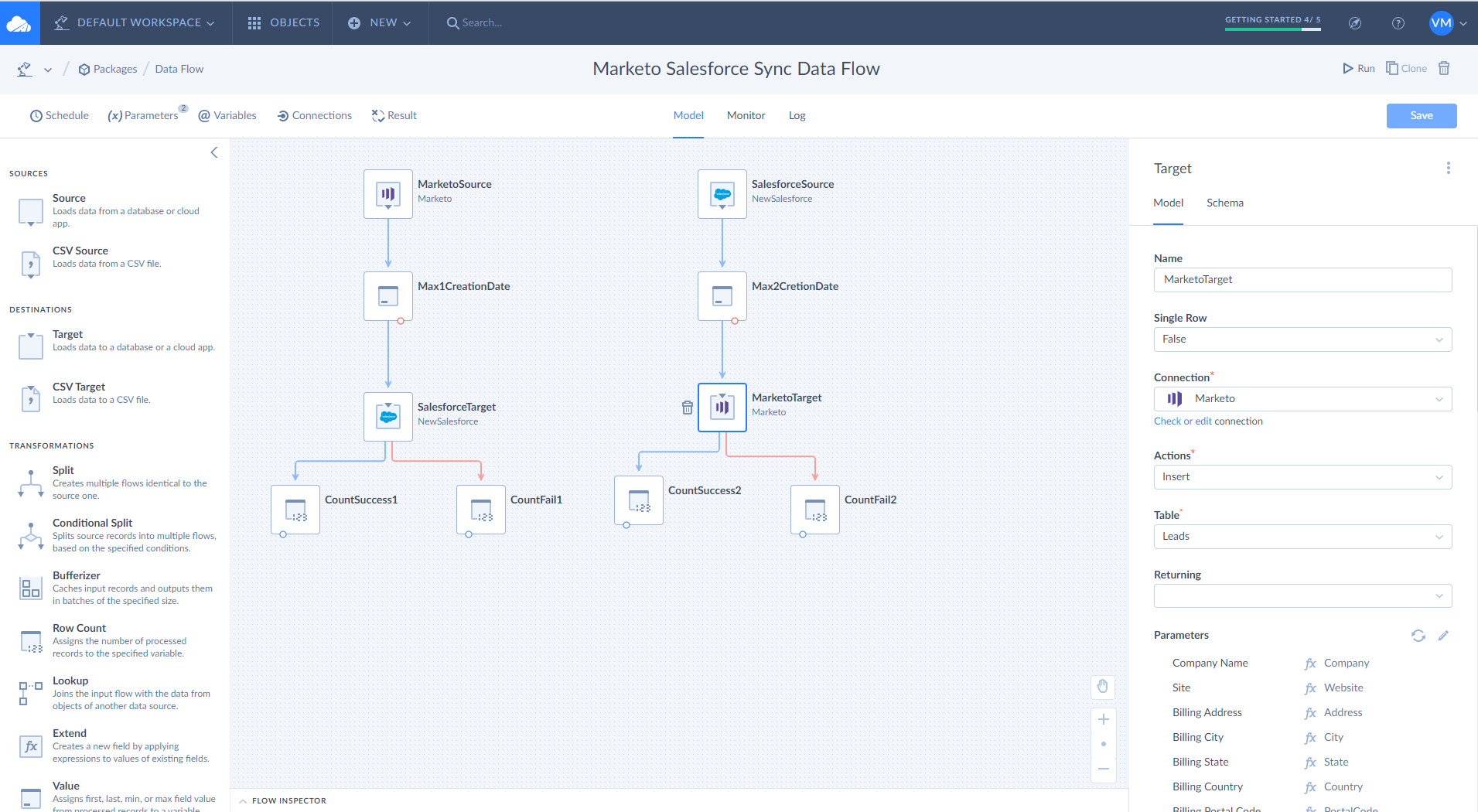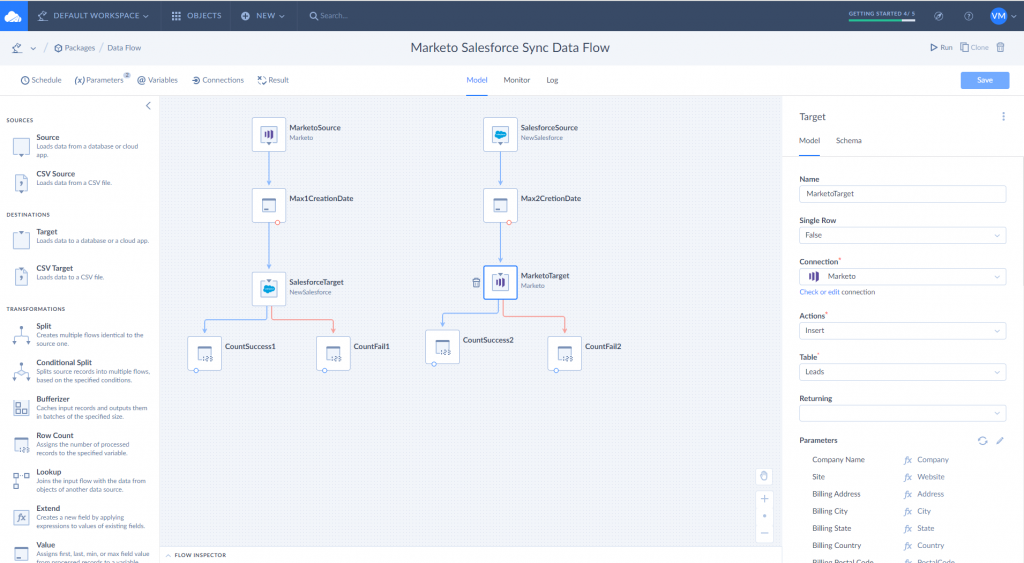 Create parameters and variables that describe the various objects within data integration. The parameters New1Data and New2Date transfer the date the data was last updated.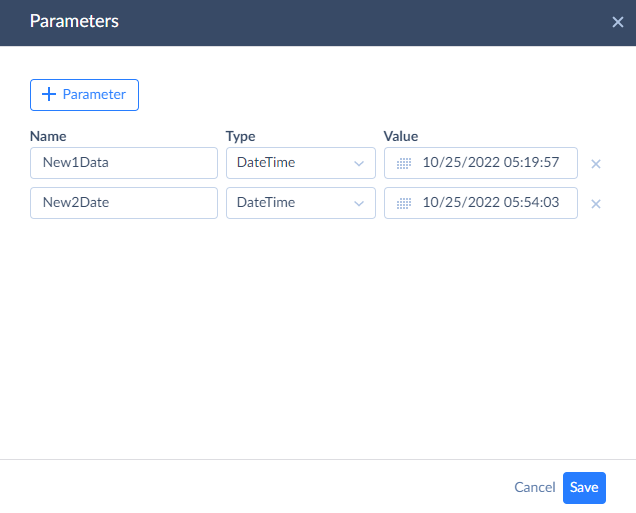 2. Create two variables to record successful and failed uploads, as Data Flow doesn't automatically count successfully loaded rows.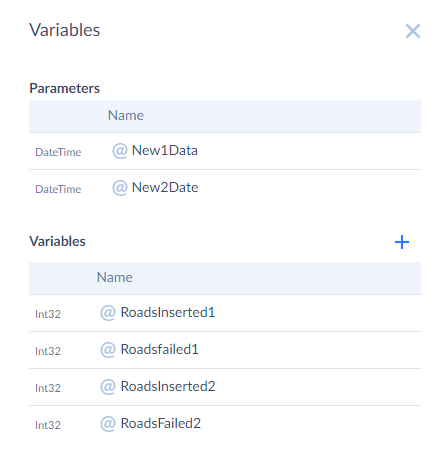 3. Select the pre-built data sources: Salesforce and Marketo.
4. Configure the Source and Target connector accordingly. You can make a query or execute a command with both connectors. In our example, we run the command within the Source connector.
Note! We can check if the data source is running with a test.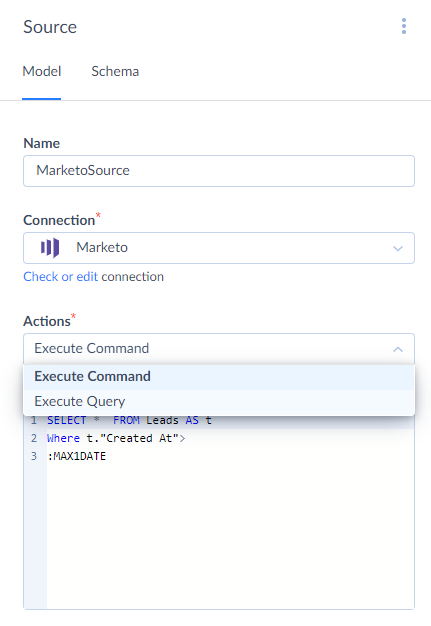 5. Select Maxdate (an internal variable that stores the maximum date for further data updates).
6. Set up the Target connector settings: select the Insert operation and work with the Leads table. In the Mapping Editor, we see the list of properties/attributes that can be merged.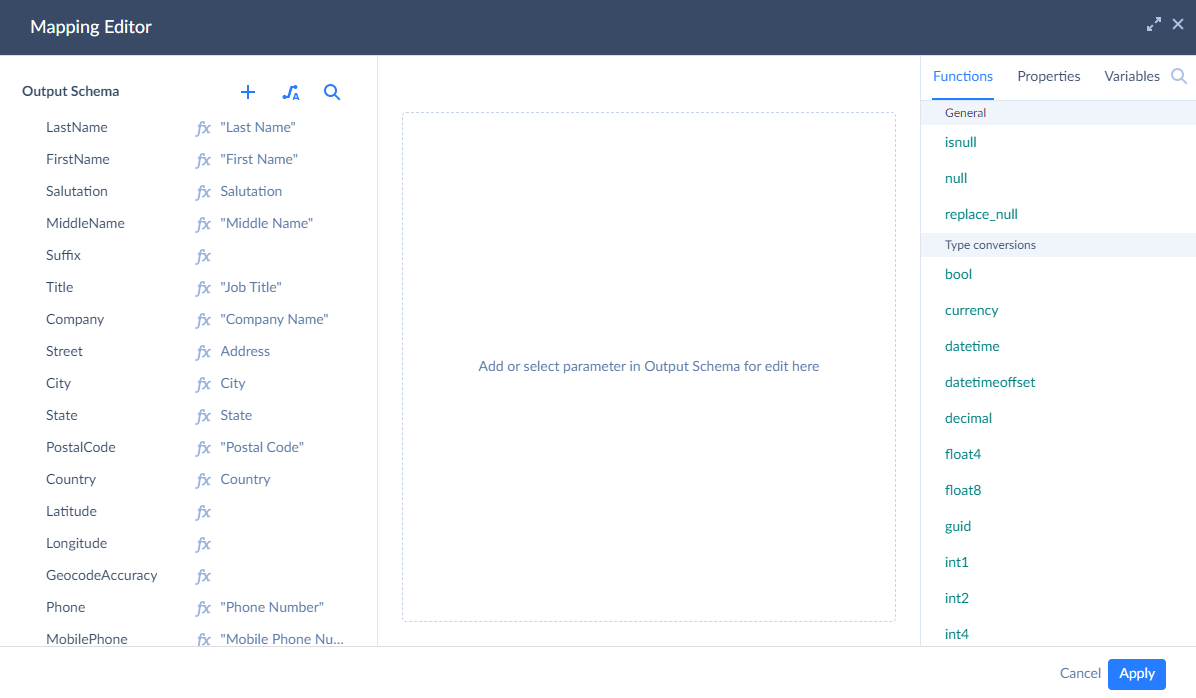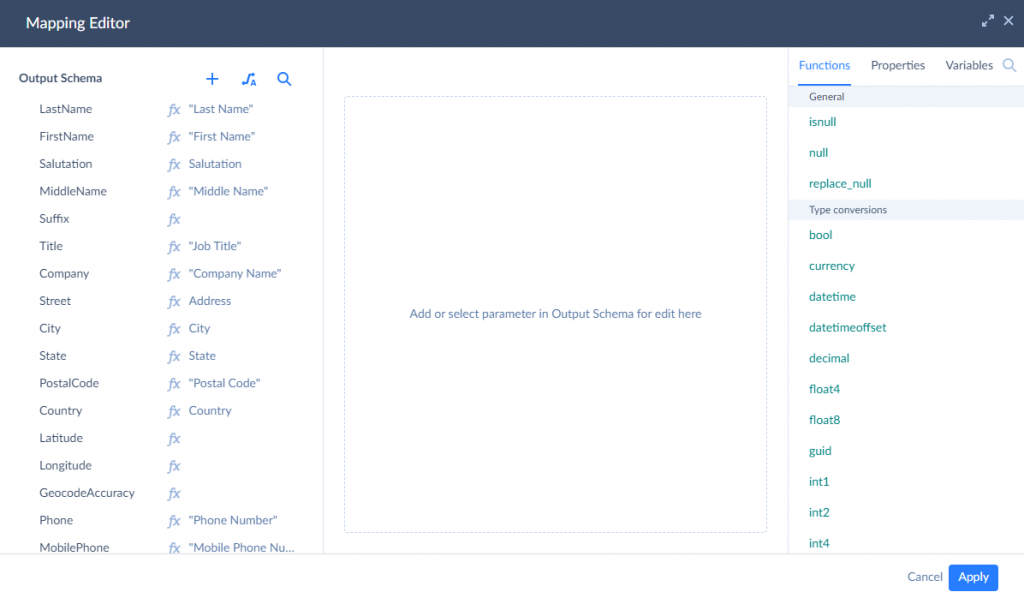 7. Set up the Result settings. Specifying what we consider a successful number and the number of unsuccessful rows is necessary.
8. Save the integration and run the integration package.
Advantages of the Data Flow scenario
The Data Flow integration scenario works best for companies that need constant and regular data updates with complex logic. For example, companies with various customer acquisition programs, etc.
Summary
Marketo and Salesforce integration provides businesses with a deeper understanding of the performance of every marketing and sales activity. Thanks to this vital integration, getting better results and making the sales team more effective is possible.
In this Marketo Salesforce integration guide, we show two ways of integrating data between Salesforce and Marketo: native integration and seamless integration by Skyvia, with a real-life example of solving business cases.
More articles about Salesforce integrations for Sales and Marketing Teams