We think faster and analyze better if we see what we do. That's especially important for business because a wrong decision based on incorrect data will lead to huge losses and significantly reduce the chances of breaking out into the market leaders.
So, we need ETL and BI tools for gathering and visualizing data and, thus, speeding up decision-making.
Like Tableau, for instance. Not still familiar with it? Let's see what it can do and review the set of ETL tools working with it.
Note: If you'd like to be more familiar with ETL tools in the market and their usability, go here to compare and find the perfect fit. You may also review the top list of ETL tools in 2023.
Table of Contents
Tableau Prep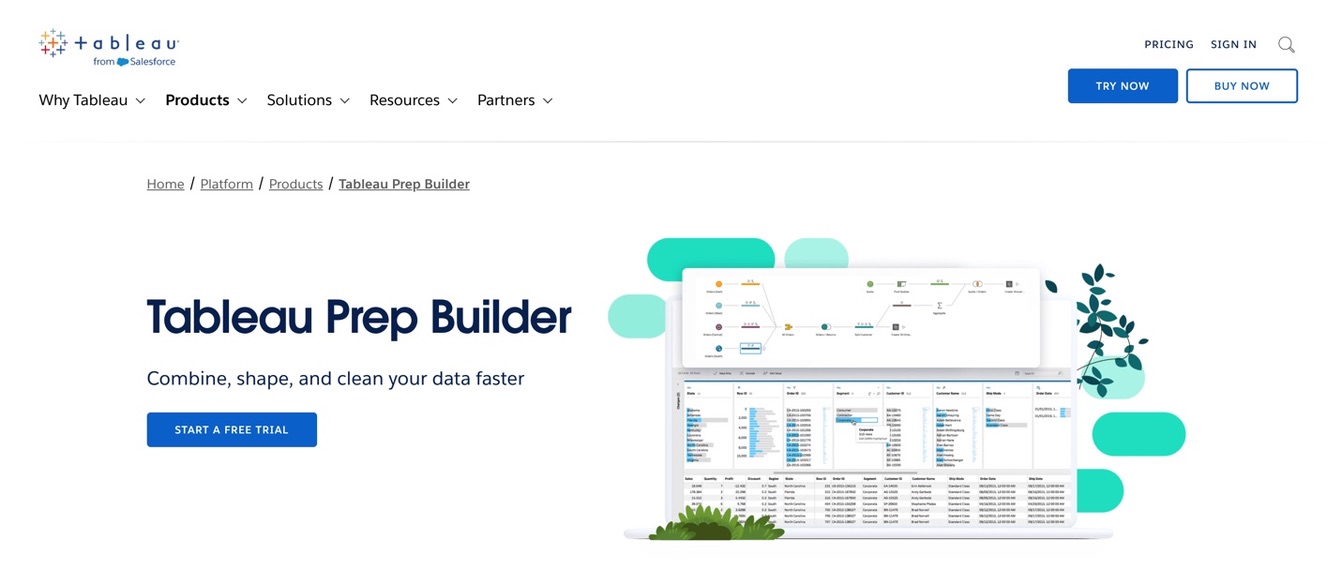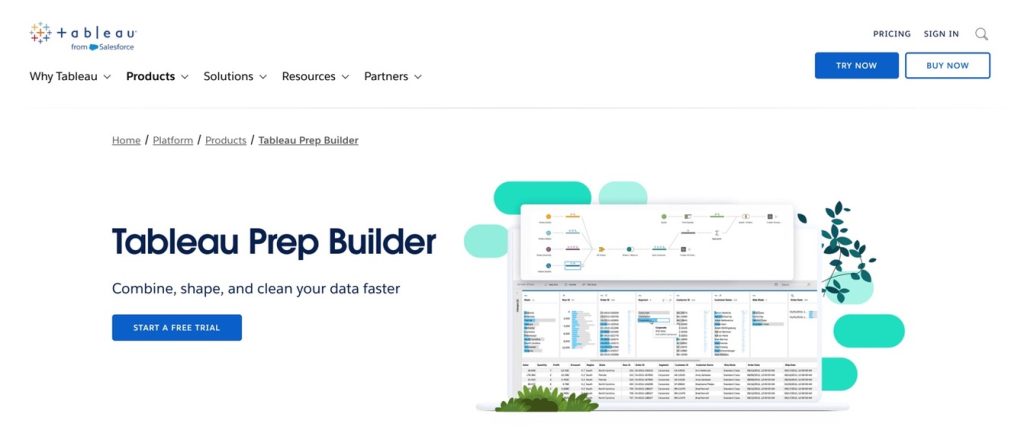 Tableau is one of the best visual tools in the data integration and processing market. But let's go backstage a bit. Tableau helps to optimize the data quality by cleaning, reshaping, and combining it. Why do we need it? For receiving the optimal format for further analysis, of course.
So, in the end, we can breathe; the data is correct, accurate, and reliable.
To talk about the ETL tools used here, let's look at Tableau Prep Builder. So what can it do?
Data extraction from various sources.
Data transformation into a common usable format.
Load data to Tableau for analysis and visualization.
The tool is pretty good at helping streamline the data preparation workflow and enhance the overall effectiveness of Tableau visualizations.
Pros
The intuitive and easy-to-use UI.
Wide range of data sources selections like databases, spreadsheets, cloud services, and a bit more.
Manual impact avoiding.
Centralized data management.
Cons
Data size and performance limitations.
Customization options limit.
Pricing
They're starting from 70$ per user per month, but the model depends on your needs.
So, what about the competitors in this data marathon? Let's run with a few of them and find the winner. What about Skyvia as the first runner?
Skyvia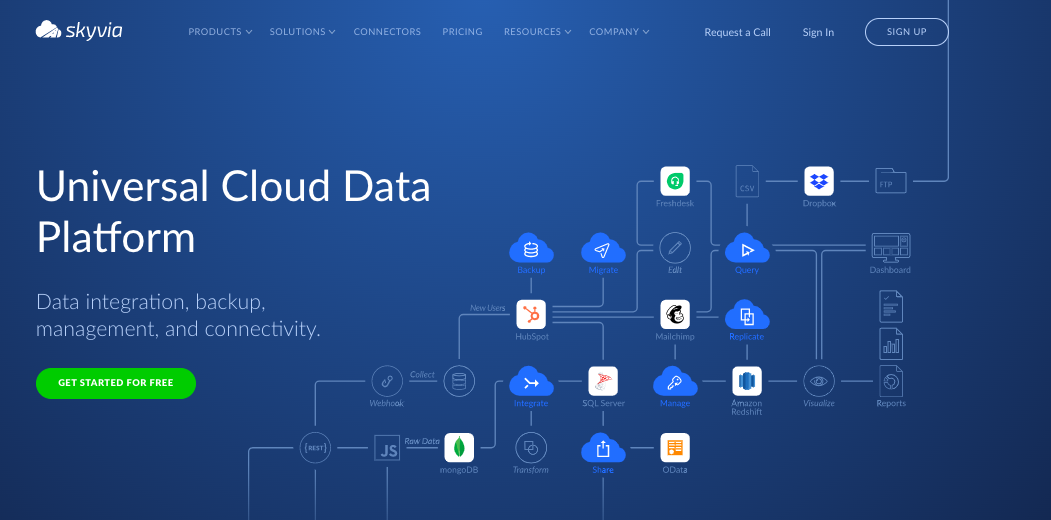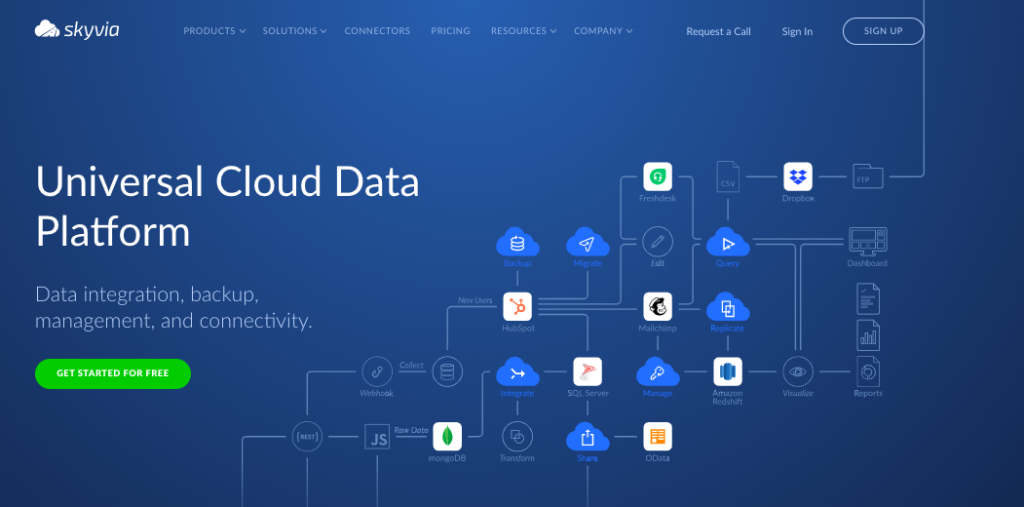 If to talk about Skyvia, the first word explaining this app is Convenience. Skyvia is a cloud-based, no-code SaaS solution, providing 160+ connectors and supporting ELT, ETL, and reversing ETL scenarios. Skyvia provides several data scenarios for Tableau:
Data replication to the data warehouse of choice that can be connected natively to Tableau later on.
Data connectivity via OData (read more on how to connect Tableau to an OData data source in the documentation).
The platform is the perfect choice for users preferring simple but high-quality approaches and user-friendly apps.
Pros
The platform is cloud-based, so you just have to open it in your browser to start.
The solution is no-code and easy to use.
You may select from a wide range (160+) of sources, like cloud sources, databases, and warehouses.
Strong data safety and security abilities.
Convenient pricing, including the free plan.
Cons
User docs with video sections would be helpful.
Pricing
The range of the pricing plans is flexible enough and suits any business size.
You can also start Skyvia right now for free.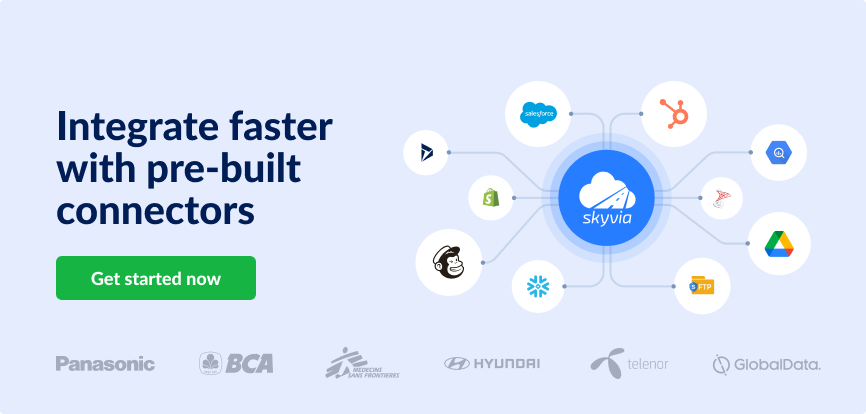 Hevo Data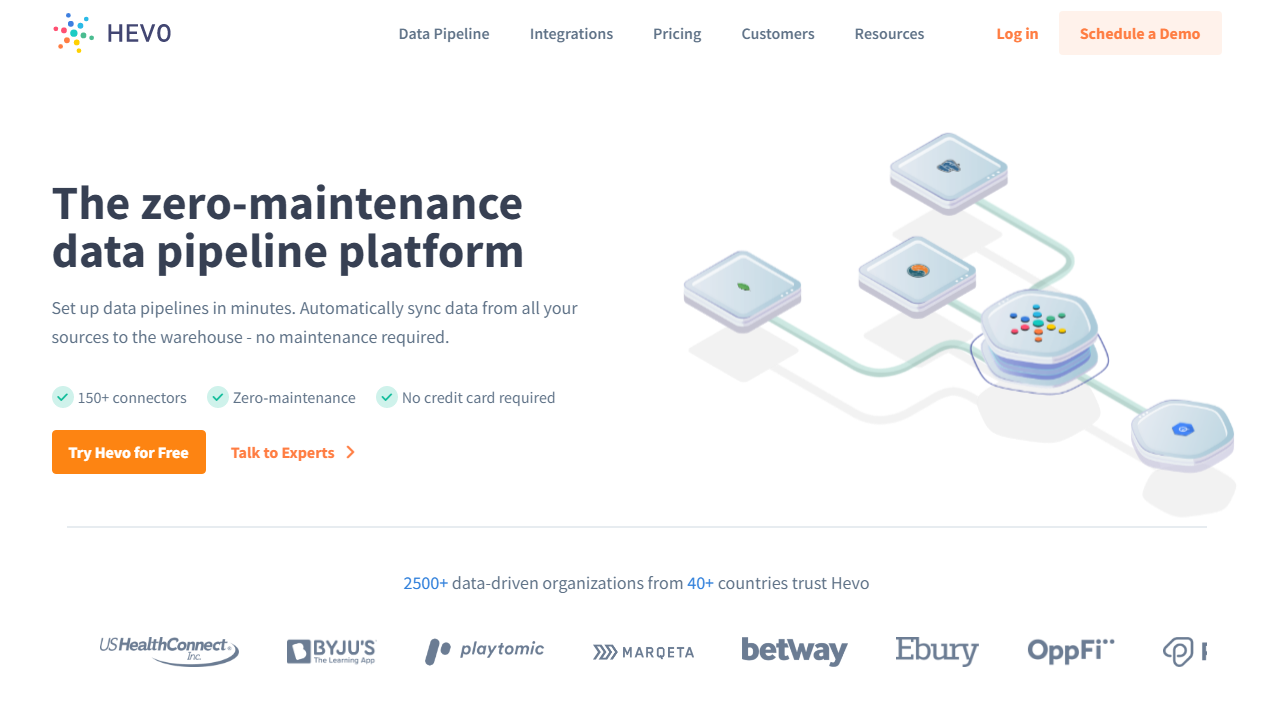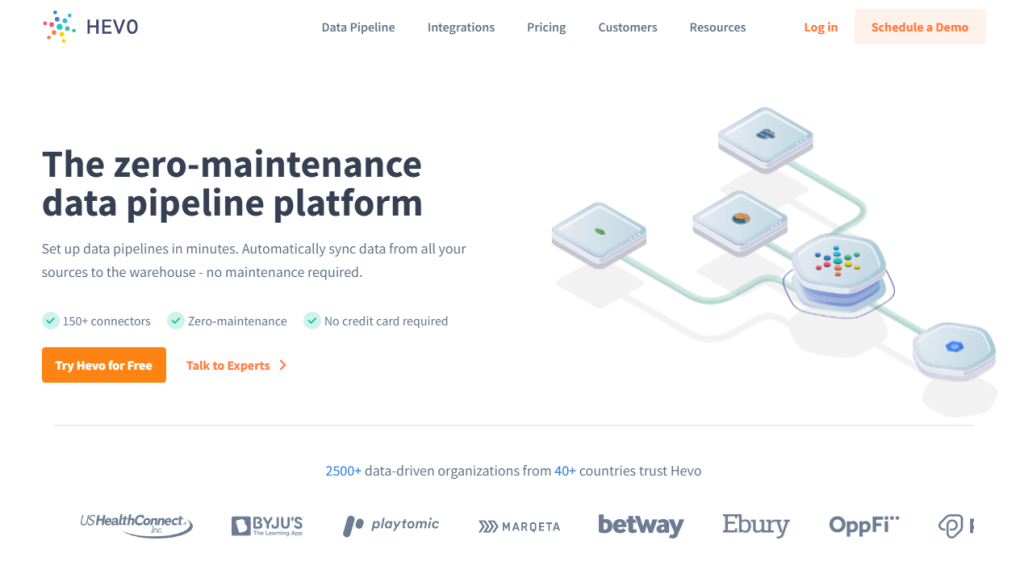 Another ETL, ELT, and reverse ETL platform is Hevo Data. It's also no-code, cloud-based, and user-friendly, but the number of connectors here is quite less — just 150+ compared to Skyvia. There are two products offered for users here:
Hevo Pipeline (ETL, ELT).
Hevo Activate (reverse ETL).
Pros
Solution's simplicity (no additional training required).
Regular tasks maintenance is not needed.
The technical support is qualified and works 24/7.
Near real-time data synchronization is available.
Cons
You have to be familiar with Python to transform the data.
The complex data transformation abilities are limited.
Luck of features for data quality management.
Pricing
The Hevo pricing model starts with the free plan and includes the Starter ($ 239 per user per month) and Business (the custom model, based on your needs and budget).
Integrate.io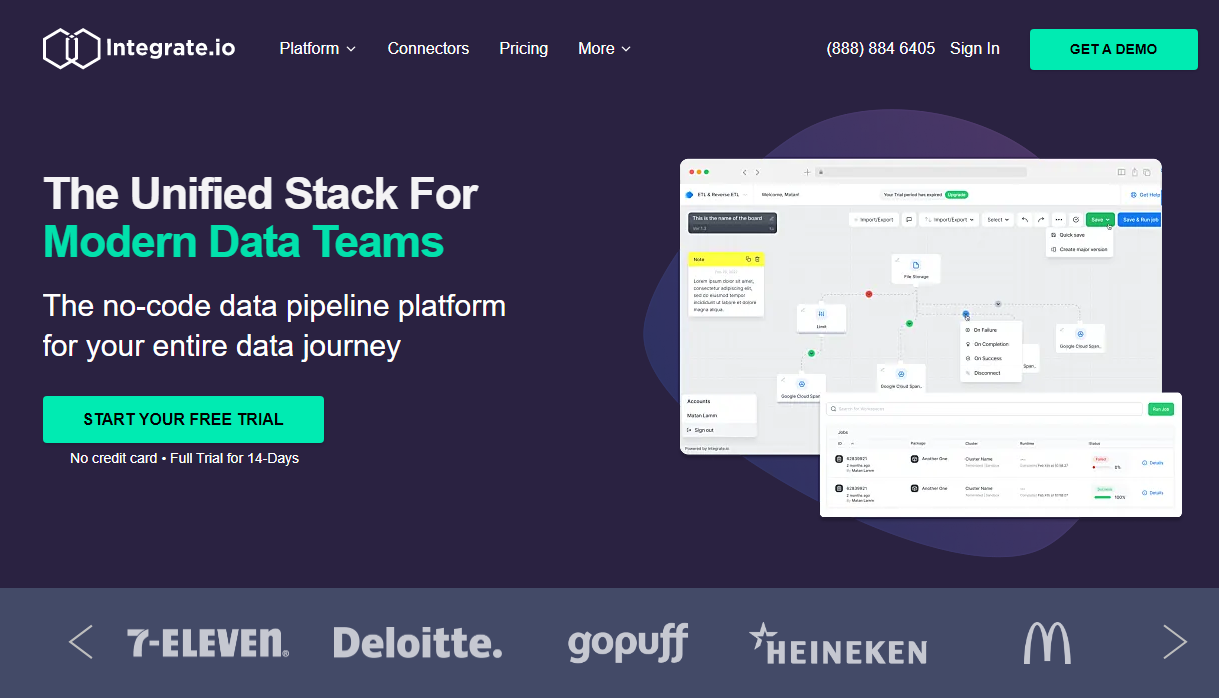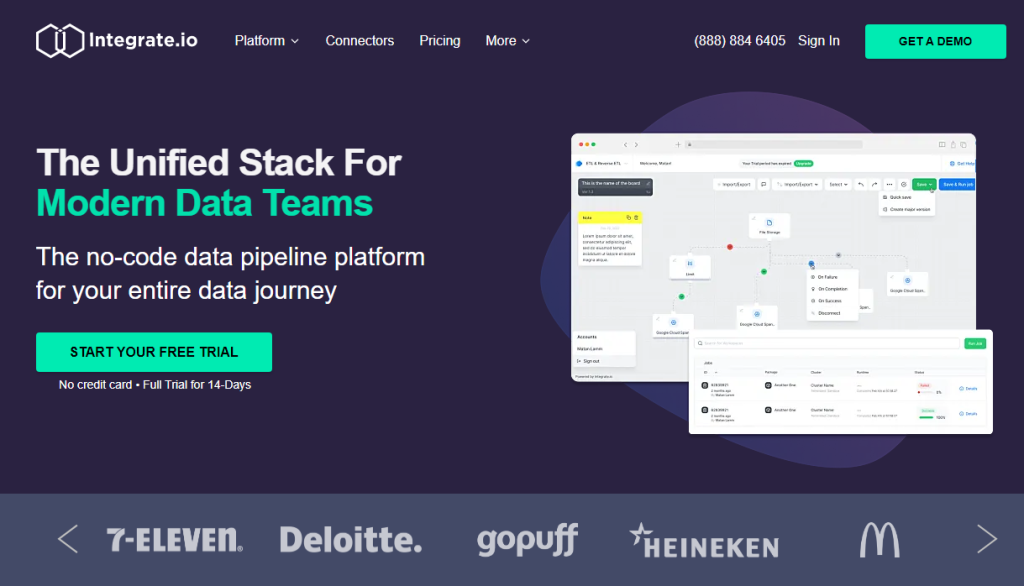 The next pretty strong web-based ETL, ELT, and reverse ETL platform is Integrate.io. It's focused on CDC and API management and provides users with low-code or no-code data pipelines. The intuitive drag-and-drop interface allows reviewing your data in graphical diagrams. You just have to drag appropriate items, like sources, destinations, etc., and connect them.
Like Hevo Data, the platform also provides about 150+ connectors, which is still less than Skyvia offers.
Pros
User-friendly tool with a pretty good visual interface.
The platform offers a wide choice of sources for integration, including SaaS and cloud apps.
Cons
Real-time data synchronization is impossible here.
The price is high enough despite having two weeks free trial.
If the job fails, it might be challenging to debug it.
Pricing
The pricing plans are quite expensive. For instance, ETL/Reverse ETL begins at $15,000/year. And ELT/CDC will start at $199/month. But you may start with a 14-day free trial.
Talend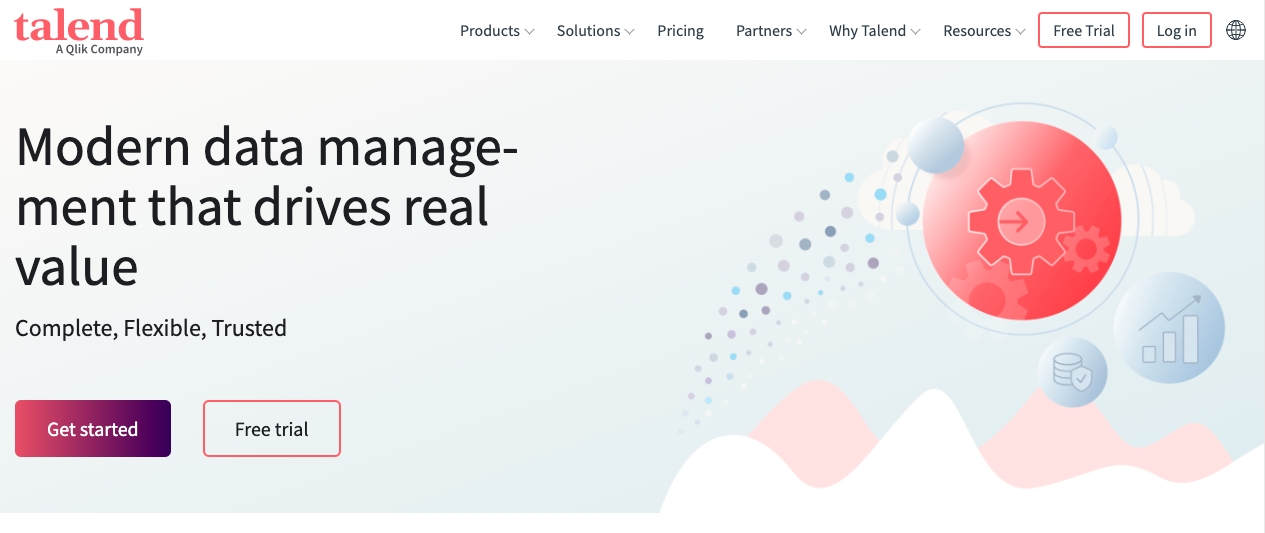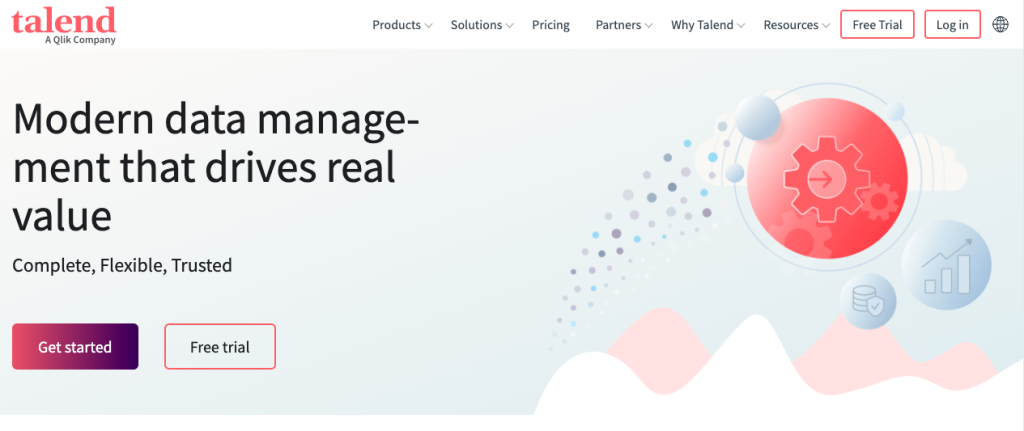 If your business is seeking some data integration platform providing both cloud and on-premise integration solutions, you may look at Talend. There is a choice between Talend Open Studio (open source) and Talend Data Fabric (the low-code solution unifying data integration, quality, and management).
The UI might be a bit complicated for non-technical users, but the drag-and-drop, pre-built templates, and about 1000 different sources and components are provided here. You can also add custom connectors with Talend Component Kit.
Pros
The impressive number of connectors (1000)!
An ability to use the open-source solution.
Browser-based GUI to design the pipeline.
Cons
A bit complicated pricing model.
You have to use Python to extend your abilities here.
Pricing
The pricing model is subscription-based, and you need to contact sales to select a suitable subscription. They also offer a 14-day free trial for the cloud, or you may use Talend Open Studio for free.
Top 4 considerations criteria for top 5 ETL tools
Let's visually compare the top 5 ETL tools analyzed in this article and select the most competitive one.
Criterion
Tableau
Skyvia
Hevo Data
Integrate.io
Talend
Focus
ETL tool for BI
Data ingestion, ELT, ETL, reverse ETL, data sync, workflow automation
Data Ingestion, ETL, Reverse ETL
ETL, ELT, and Reverse ETL
Data integration and management
Skill level
No-code and user-friendly tool
No-code and easy to use wizard
No code solution
Low-code, no-code solutions
Low-code environment
Connectors
About 100 native connectors
160+
150+
150+
1000
Pricing
Volume-based and feature-based pricing.
Starts from 70$ per user per month.
Volume-based and feature-based pricing. Freemium model allows you to start with a free plan
Event-based pricing
ETL/Reverse ETL: Starts at $15,000/year.
ELT/CDC: Starts at $199/month.
14-day free trial
Subscription-based pricing.
14-day free trial for cloud.
Free Talend Open Studio
The best-balanced solution
So, despite these data integration platforms' being pretty similar in their offers, tools, and useability in various integration scenarios, Skyvia keeps the best balance between simplicity, competitive pricing, and high quality.
Join Skyvia now — view the product tour.