By the VMR report, the Data Integration Market's value was about USD 10.44 billion in 2021, and it tends to grow at a CAGR of 12.8% from 2023 to 2030 to reach USD 30.88 billion.
This evaluation calls about the data orchestration needed to support your services, big data, and historical data. And that's how we end up with ETL tools. (Read more about ETL vs ELT difference here).
For Oracle, ETL tools have elements and benefits that make them ideal for managing and transforming data within specifically Oracle environment. We're talking about such critical aspects as extracting data from multiple sources, transforming it using complex business rules, and loading data into Oracle databases or data warehouses. Overall, the business pains to be solved include:
Avoiding errors and discrepancies by reducing the need for hand-coding.
Spotting duplicates and inconsistencies to ensure the data quality with data accuracy testing.
Reaching compliance and regulatory standards by providing more precise data analysis.
Boosting ROI in the long run generation by saving time, effort, and resources.
This article provides an overview of Oracle's best extract, transform, and load (ETL) tools presented on the market in 2023. The list is based on their features, reviews, and popularity among users, focusing on usability and Oracle compatibility:
Best 9 ETL Tools for Oracle
Skyvia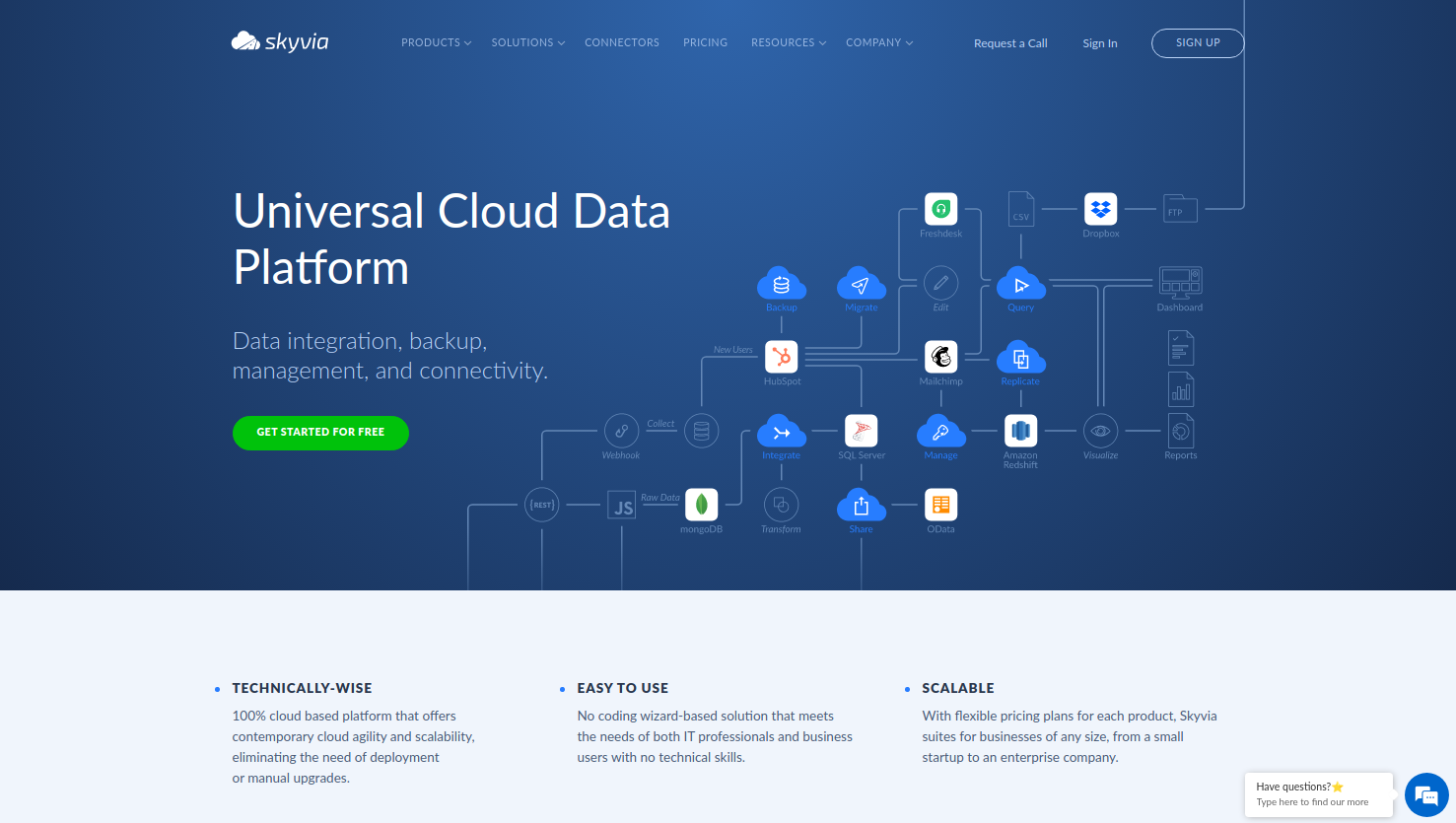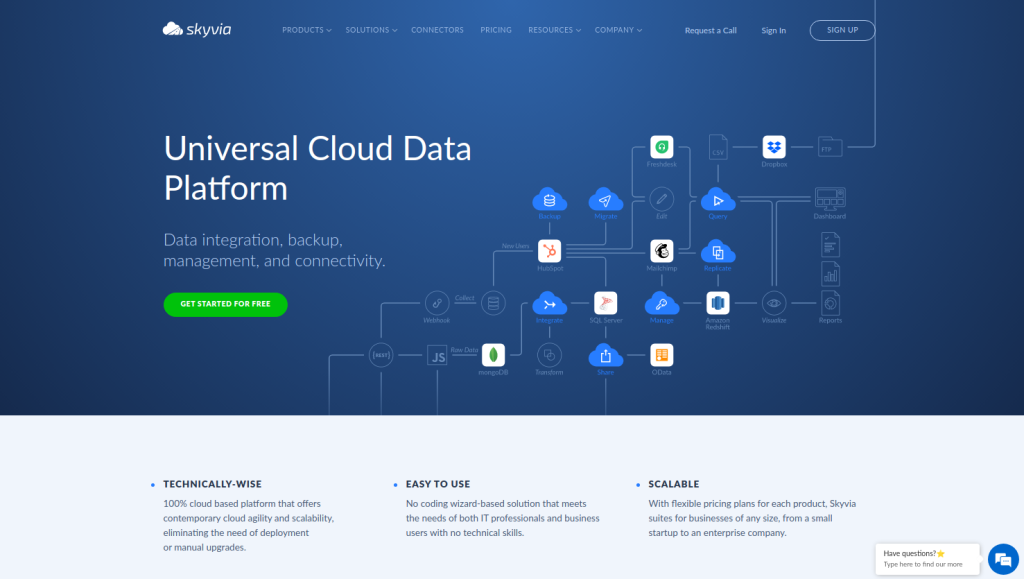 The efficient data integration procedure, easy-to-use interface, and cloud-based nature of Skyvia make it a strong choice among companies seeking ways to handle their data ecosystem. The platform grant users the possibility to perform different integration scenarios with the Oracle database, including ETL and Reverse ETL, ELT, two ways data sync, workflow automation, etc.
Key benefits
No code platform — an ideal choice for companies that don't have ready IT teams or data engineers.
Simple to set up and easy to manage data pipeline. The platform offers pre-built connectors to over 160+ data sources, making it convenient for users who want to efficiently aggregate and push data to data warehouses, CRMs, and other cloud-based applications.
Support for various data integration capabilities, including ETL, ELT, reverse ETL, and bi-directional data synchronization, guaranteeing that data is accurate and up-to-date across multiple platforms and making it a versatile tool for data handling.
Advanced data mapping and transformation capabilities. Users can map fields between sources/destinations and transform data using various functions, expressions, and formulas. This ensures that data is correctly formatted and optimized for its intended use.
Support of data replication and backup. It allows for arranging consistent and up-to-date information across multiple systems.
Potential downsides
The sources' selection ability is a bit cut, just 160+.
Pricing
Skyvia offers cost-effective pricing plans, including the version for free. Click here for more detail.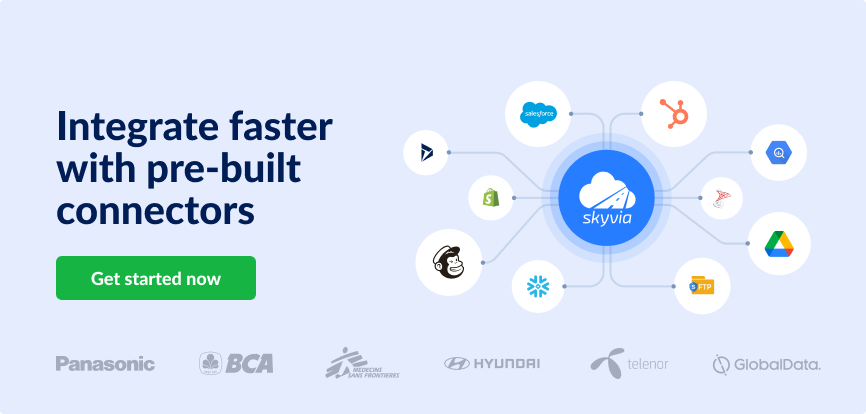 Hevo data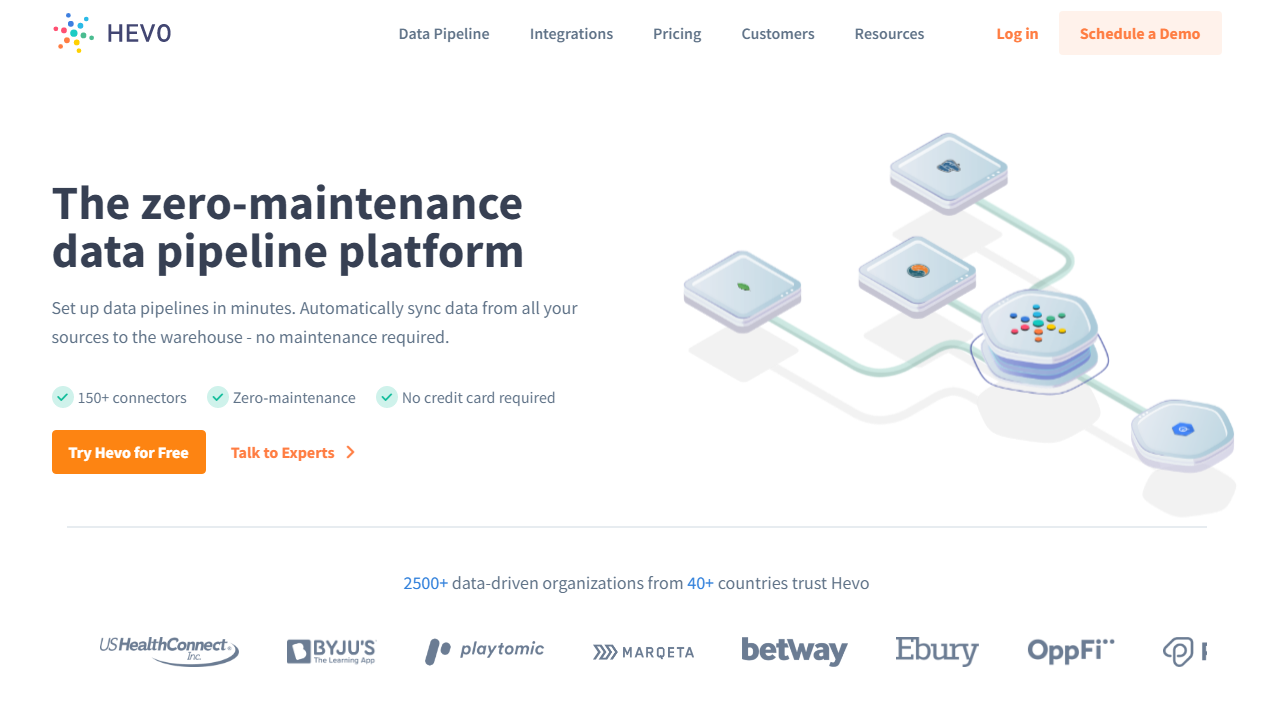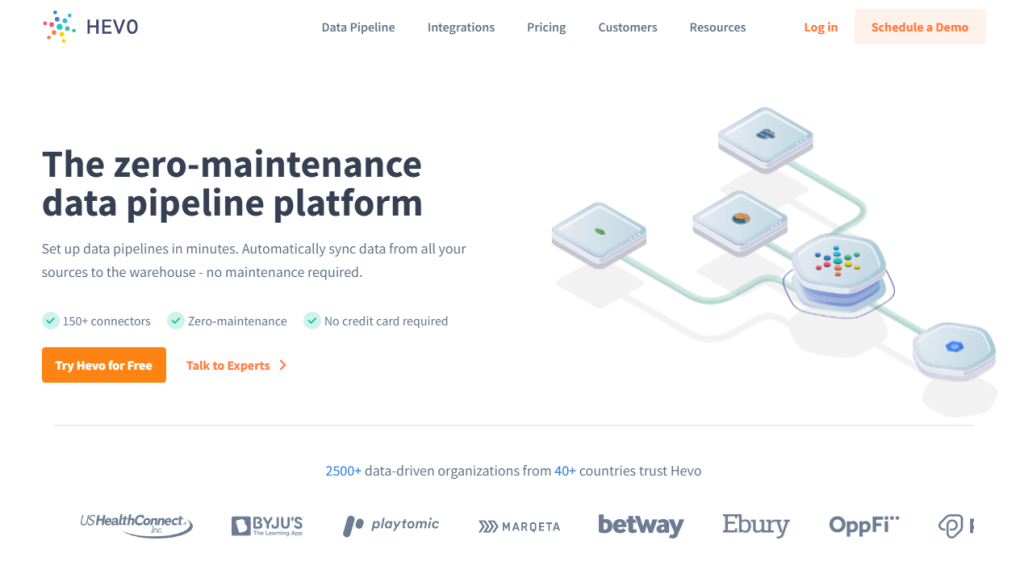 Hevo Data is a no-code data pipeline platform that helps businesses integrate data from multiple sources into their warehouse in near real-time.
Key benefits
Real-time data replication from Oracle and streaming to the target destination, ensuring that data is always up-to-date and available for analysis.
Support of 150+ ready-to-use integrations across databases, SaaS applications, cloud storage, SDKs, and streaming services, making it a versatile tool for data integration and management.
Zero-downtime scaling, autonomous data guard, Oracle database in-memory, machine learning capabilities for DWH, and analytics technologies.
Bi-directional data pipeline that allows businesses to move data in and out of Oracle.
Potential downsides
Pricing (can be pretty steep for businesses with more extensive data integration needs).
The user interface is less intuitive than other integration tools.
Pricing
Free, 14-day trial with a set of paid plans. Click here for more detail.
See our comparison chart: Skyvia vs Hevo
AWS Glue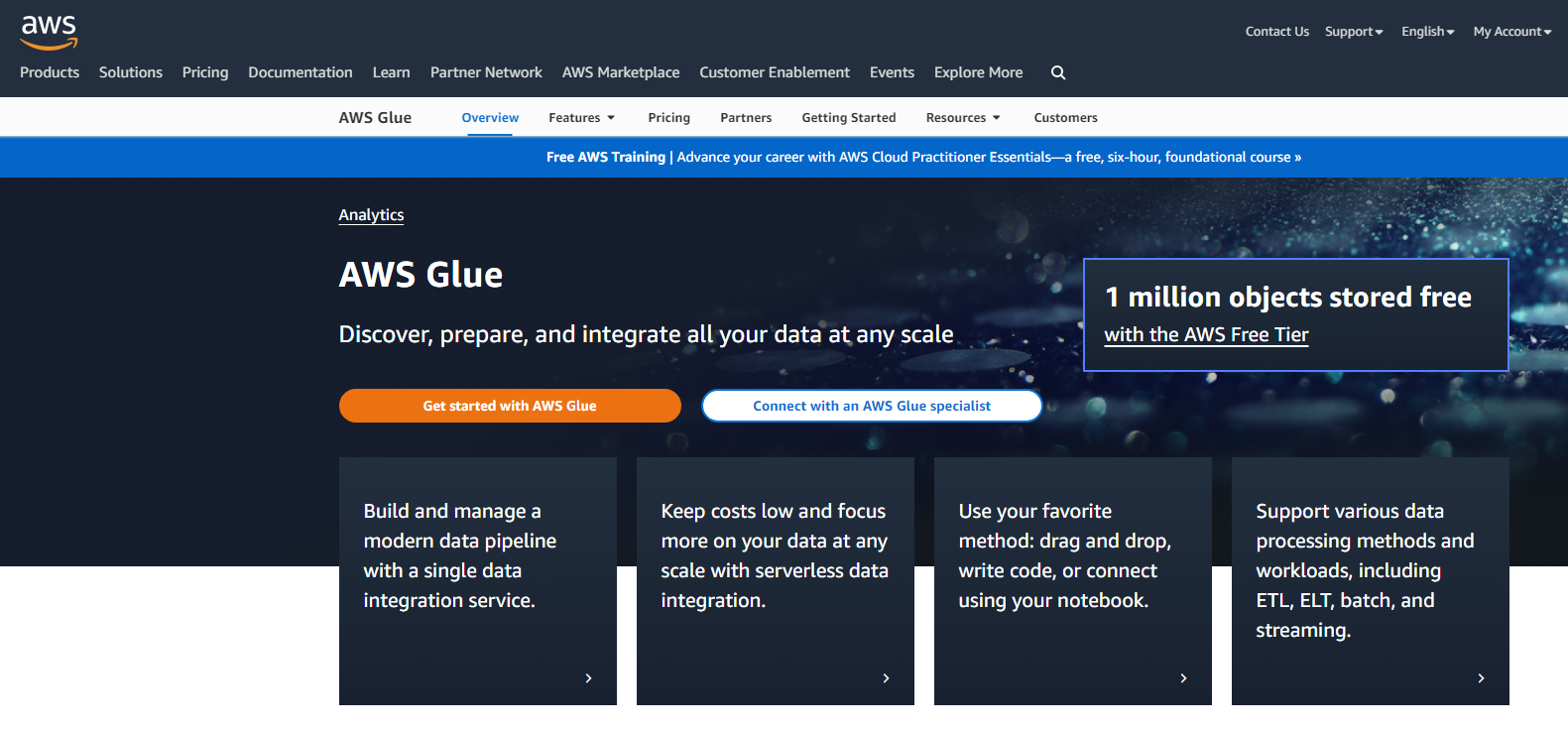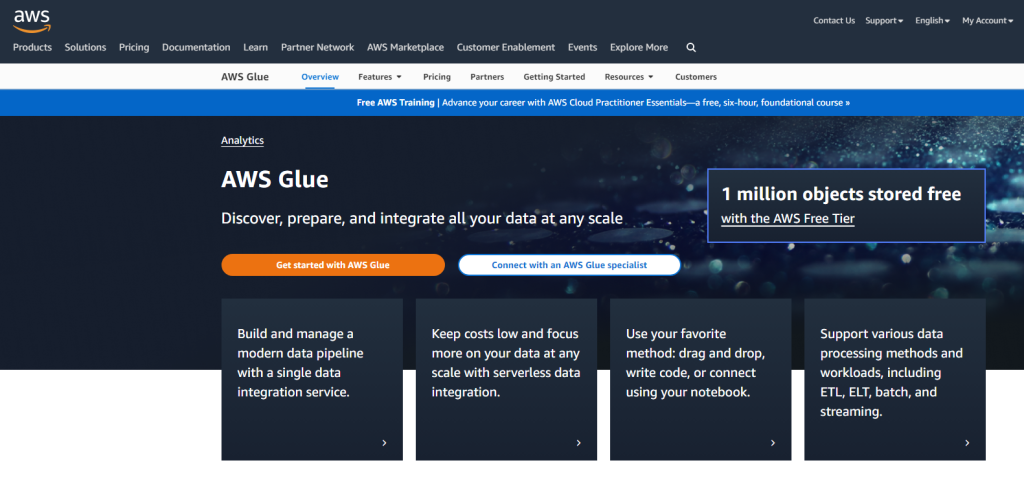 AWS Glue is a serverless data integration service that simplifies discovering, preparing, integrating, and modernizing ETL processes.
Key benefits
The tool allows to easily prepare and load data for analytics without any infrastructure management.
Handles provisioning, configuration, and scaling of the resources required to run ETL jobs on a fully managed, scale-out Apache Spark environment.
Potential downsides
Limited support for Oracle features.
Possible performance issues for large datasets.
Cost considerations for the long-term usage (an hourly rate, billed by the second, for crawlers and ETL jobs).
Pricing
Users pay for the services they work with. There are no long-term contracts or termination fees. There's also an AWS free Tier that includes:
Set of free services.
Set of short-term free services.
12 months of free services.
Click here for more detail.
See our comparison chart: Skyvia vs AWS Glue
Oracle Data Integrator


Oracle Data Integrator (ODI) seamlessly integrates with Oracle Database, being the native ETL solution.
Key benefits
ODI provides a unified solution for efficiently transforming large volumes of data and processing events in real-time. This automation saves time and reduces the risk of human error, ensuring that data is accurately integrated and transformed.
The real-time monitoring and error handling capabilities provide easy-to-identify and resolve issues quickly for efficient data management.
Potential downsides
Compatibility problems with legacy systems can result in additional costs and complexity during implementation.
Integrating data from multiple sources can increase the risk of data security breaches.
Complexibility and high expenses (while the tool provides a fast method to bulk load data into the Oracle reporting database and access data transformation capabilities, it can also require significant investment in time, resources, and expertise to implement effectively).
Pricing
Flexible and depends on the resources used and time spent. There's an appropriate calculator to help count the services' prices. Click here for more detail.
Informatica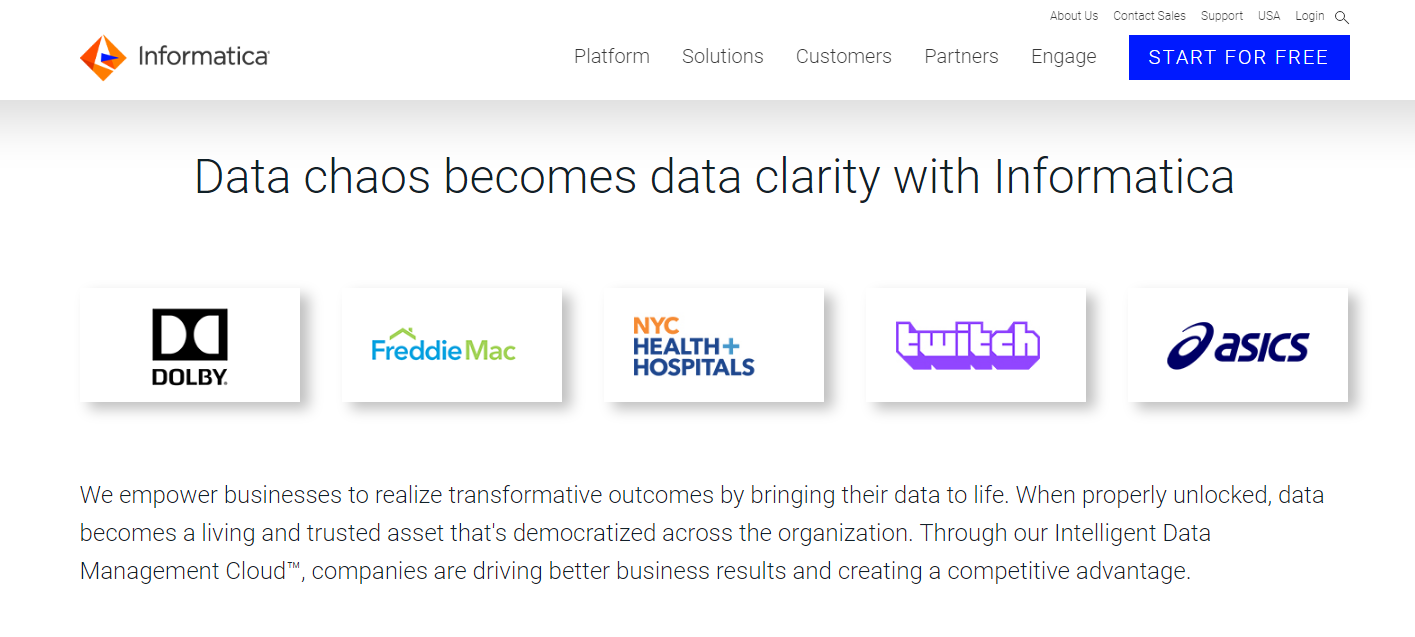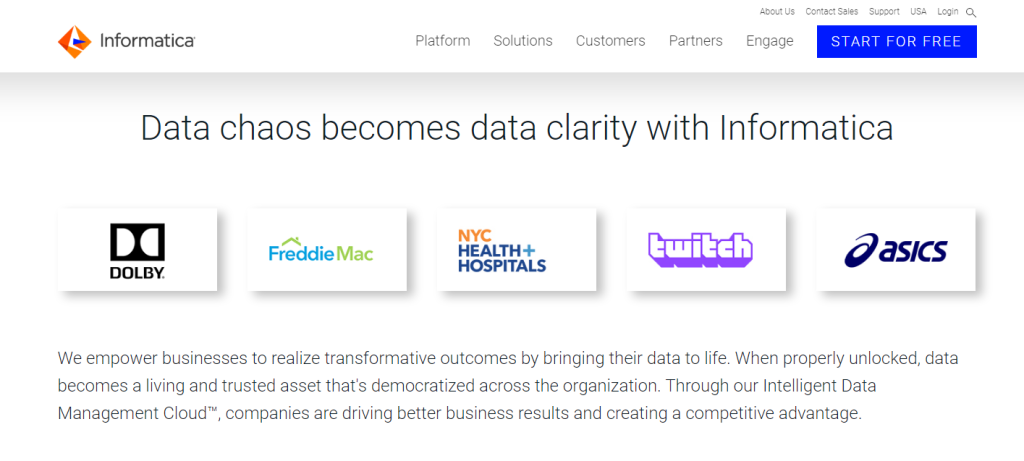 Informatica Power Center software allows to execute transformation tasks using an Autonomous Database, which improves data performance by utilizing Spark clusters and auto-tuning.
Key benefits
Advanced pushdown optimization enables cloud data integration and ELT, improving productivity and optimizing the performance of integration tasks.
Clean, governed data for Oracle, with the ability to ingest, integrate (ETL/ELT), and catalog it.
Enhanced data security and governance help reduce data breach risk and simplify regulatory compliance.
Potential downsides
Compatibility issues with other tools and systems.
The high cost of implementation and maintenance.
The tool's complexity.
Pricing
It offers a free trial: the monthly subscription is flexible and depends on business requests. Click here for more detail.
See our comparison chart: Skyvia vs Informatica
Apache Airflow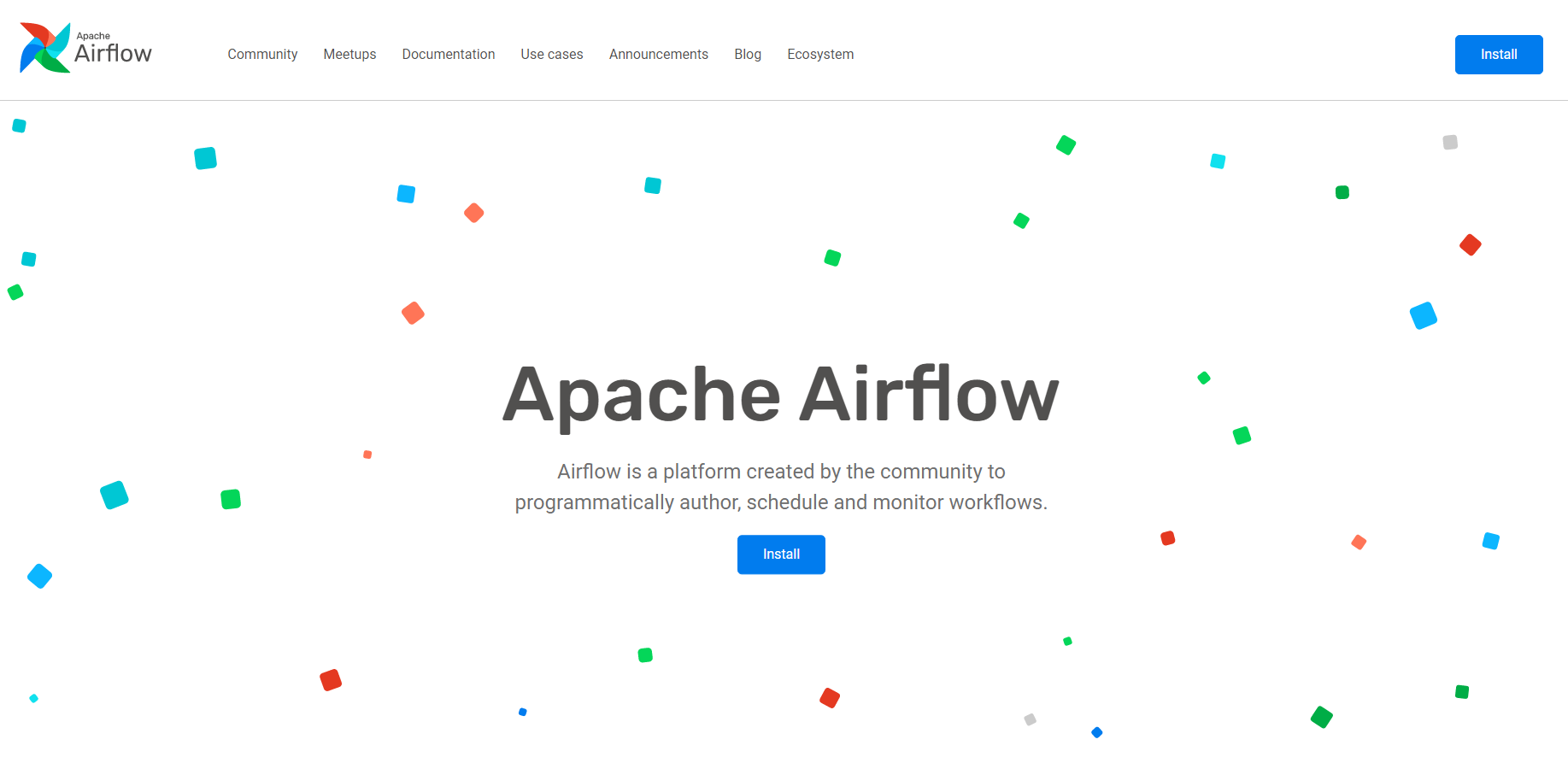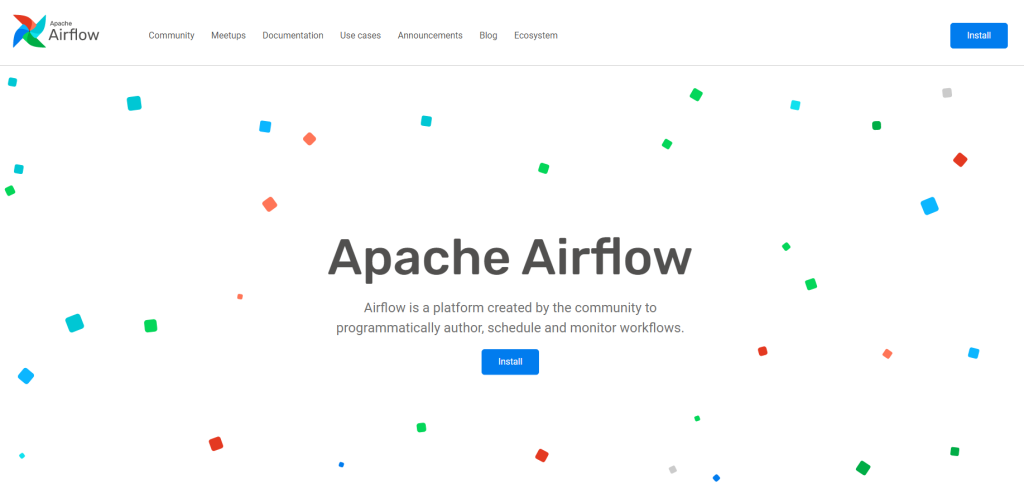 Apache Airflow is an open-source Python-based workflow orchestrator that can handle large volumes of data and be easily scaled up or down based on the company's needs.
Key benefits
The customizable and extensible platform for building data pipelines enables data scientists to share and reuse features across different models and ensures consistency and accuracy in feature engineering.
Multiple open-source tools for checking data quality from a DAG to improve quality and consistency in Oracle data pipelines.
A single platform for developing, deploying, monitoring, and managing data pipelines; an intuitive user interface; plug-and-play possibilities.
Apache Airflow is a flexible and scalable solution for Oracle data processing since it's simple to combine with other tools and technologies.
Potential downsides
The complexity of configuration and setup required to use Airflow with Oracle with the lack of appropriate documentation.
Resource intensiveness and scalability concerns (Airflow requires significant resources to run, which can lead to performance issues when working with large datasets. At the same time, scaling Airflow for larger workloads can be difficult and may require significant investment in hardware and infrastructure).
Limited support for Oracle-specific features and functionality: Airflow may not support all of the database's unique features and capabilities. So, it can limit the usefulness of Airflow for businesses that rely heavily on Oracle-specific functionality.
Pricing
The solution is free and open-sourced.
IBM Infosphere Datastage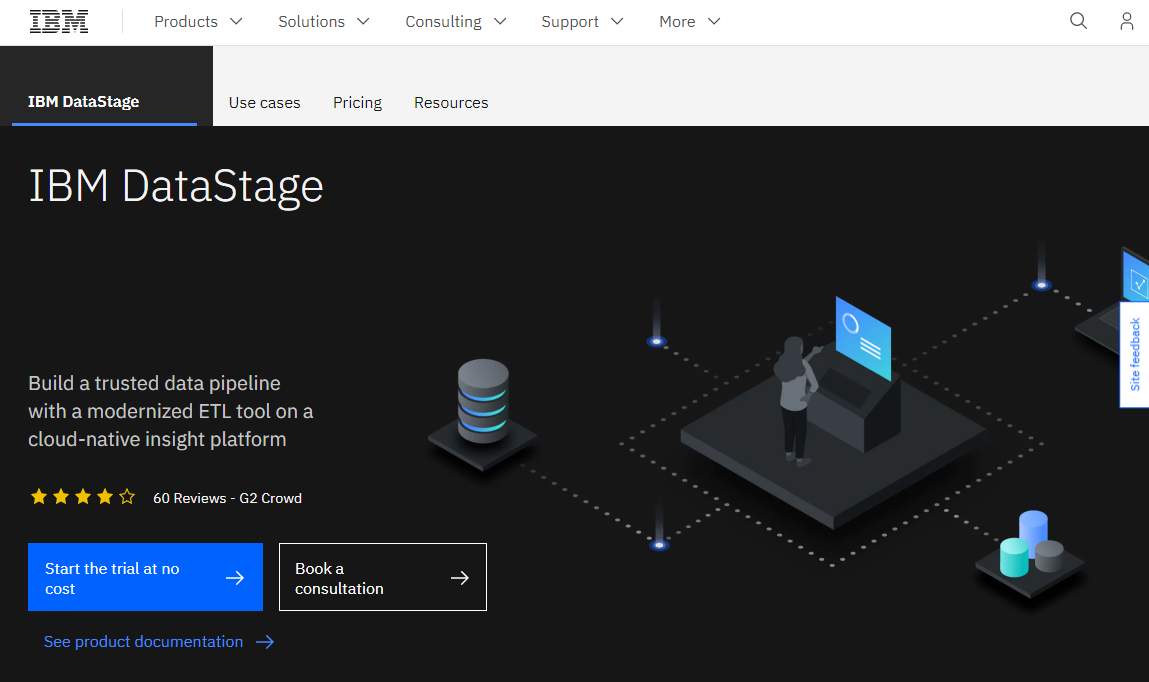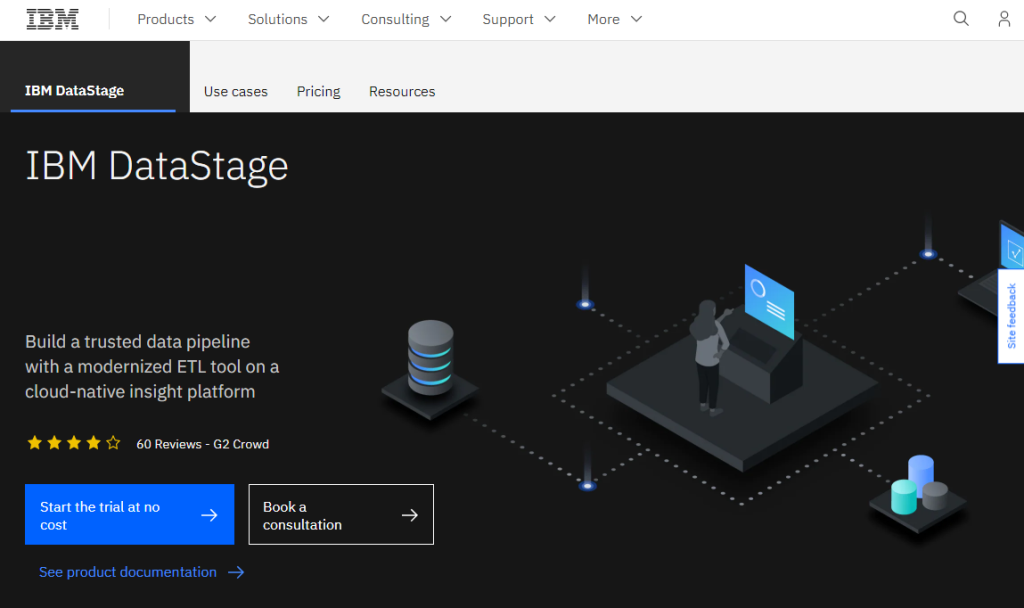 Users of the IBM Infosphere Datastage ETL tool may create, develop, and execute data-moving and -transforming tasks. It's connected to Oracle databases, so that's an excellent option for companies whose data management requirements depend mainly on Oracle.
Key benefits
User-friendly UI with a range of connectivity options.
An ability to work with various patterns, including extract, transform, and load (ETL) and extract, load, and transform (ELT).
A high scalability level.
Potential downsides
The compatibility issues with Oracle, like:

Compatibility issues with older versions of Oracle databases and data sources while upgrading to a new version of Oracle (users may need to configure the Oracle database compatibility level to 18.1.0 or lower to continue using the IIDR Replication Engine for Oracle).
Migrating from the Oracle OCI stage to the Oracle Connector stage using the Migration Tool may cause the freezing of the Datastage.

It may be complicated to optimize the performance of IBM InfoSphere DataStage tasks; such requires additional knowledge and resources.
The additional expenses for maintenance and licensing.
The extra resources, such as Docker containers, may be required to connect to different data sources, including Hive, Oracle, and SQL Server.
Pricing
The trial version is ready to use for free. Users can also select a paid plan with a flexible set of options. Click here for more detail.
Talend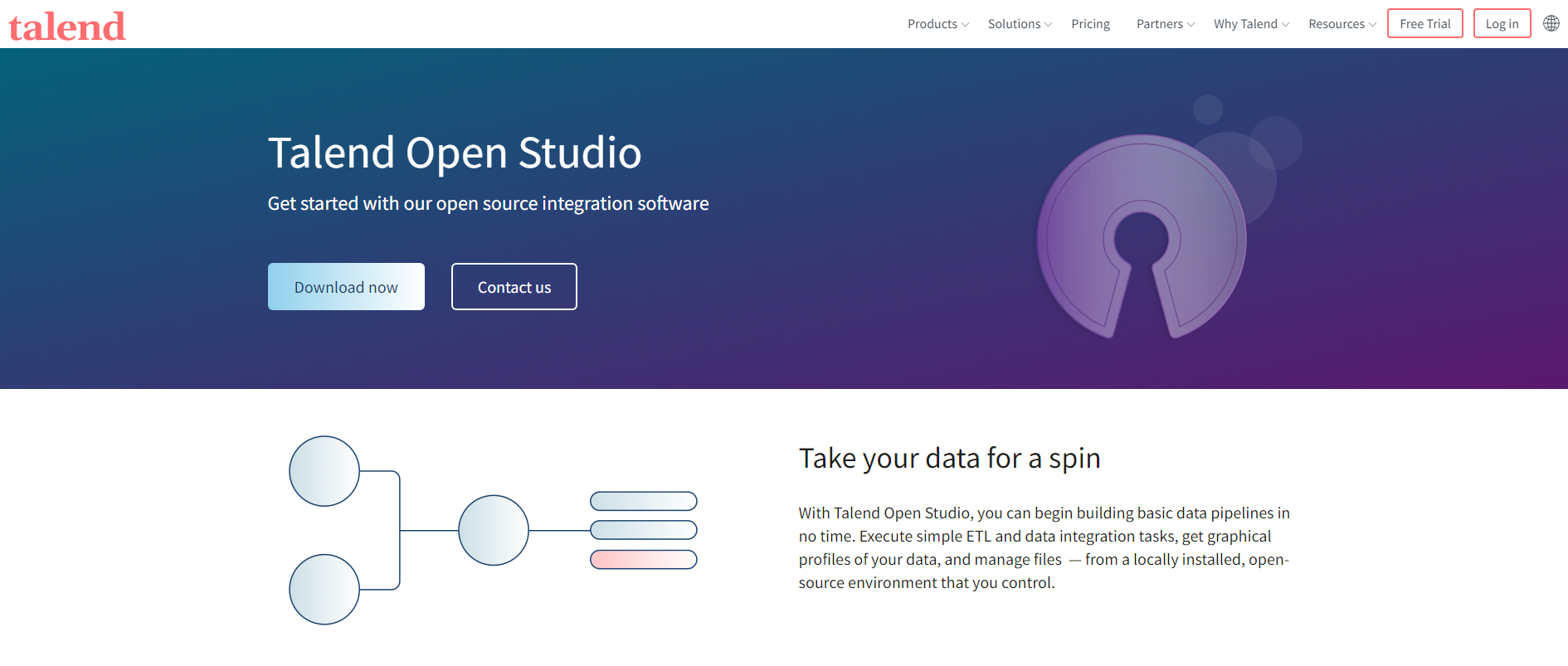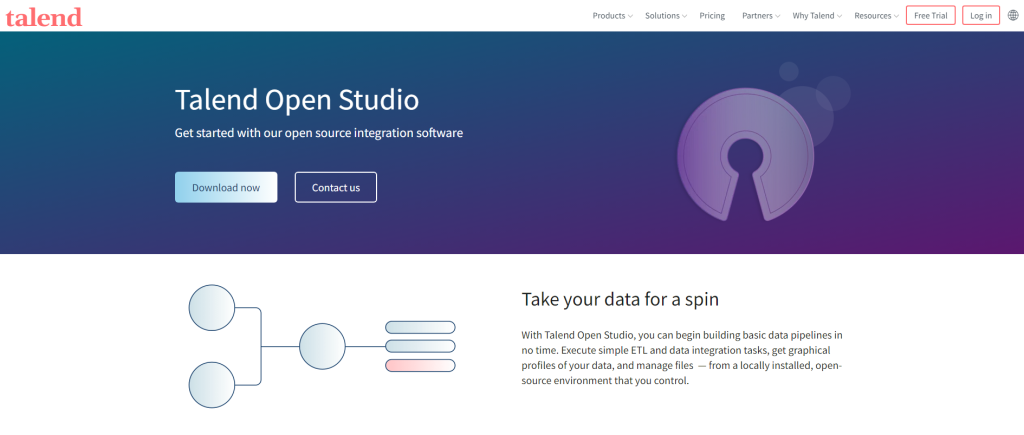 Talend Open Studio is an open-source solution created to streamline the data integration and management process for all skill levels of users. It can manage both job configuration and target execution, which makes this tool an excellent option for orchestrating your entire ETL pipeline.
Key benefits
The feature monitoring and advanced scheduling provides seamless real-time data integration into dashboards.
Easy management of various ETL tasks and self-service data preparation capabilities simplify things.
Integration with 1,000 components and connectors.
Can normalize numerous dissimilar data sets collected from various sources before successfully migrating the information into multiple target systems.
The functionality provides shortened integration development times from weeks/months down to just days/hours while increasing efficacy and reducing expenses.
The service includes graphical profiles of the data for simplified comprehension and analysis.
Potential downsides
The solution is complicated technically.
Challenging to debug and possible issues with custom coding.
It's limited to support of the legacy and not standard systems.
Processing and data integration may take a longer time for massive datasets.
Pricing
The solution is free and open-sourced.
See our comparison chart: Skyvia vs Talend.
Hadoop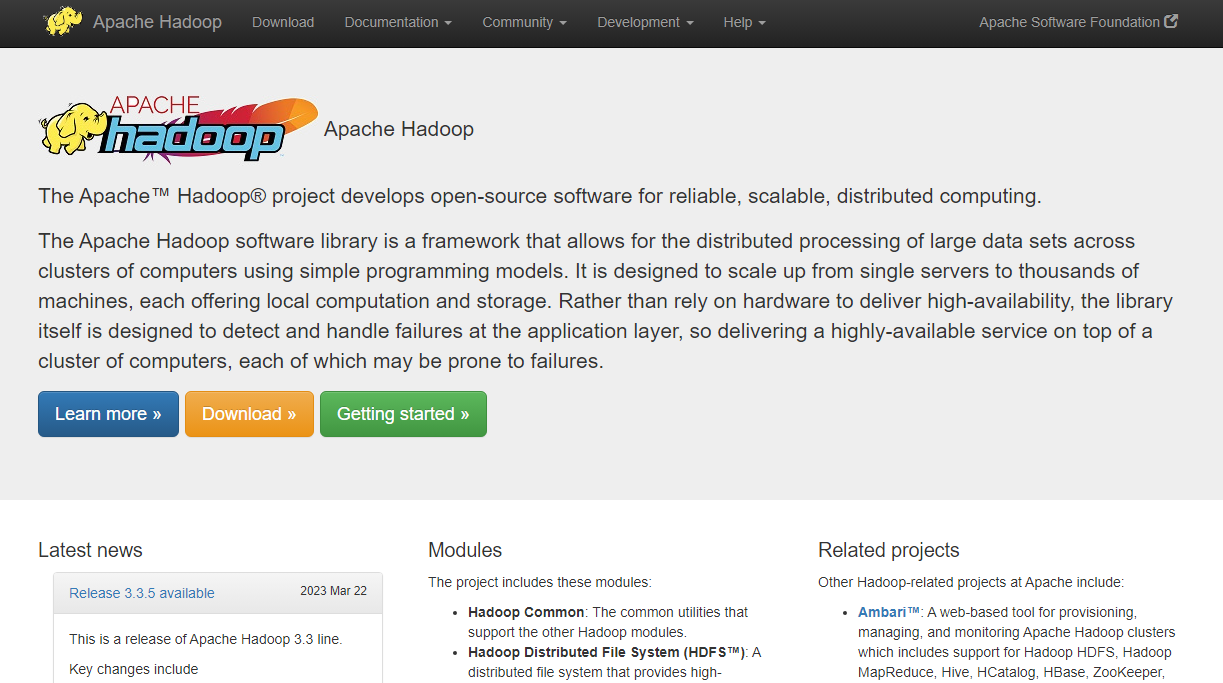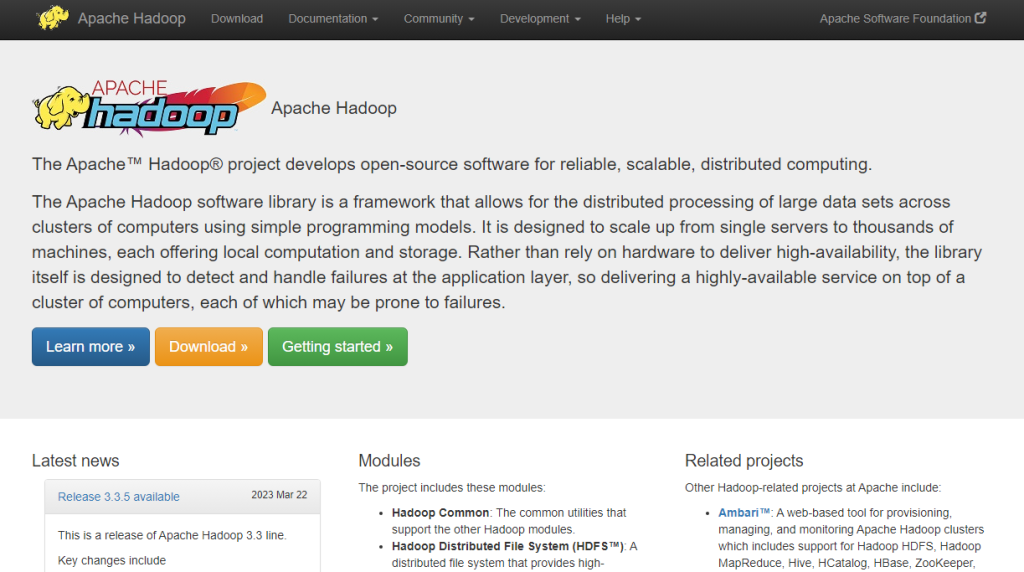 Hadoop's storage approach uses a dispensed record gadget that maps facts anywhere on a cluster. Hadoop ETL's ability to retain raw data helps to analyze the business's current point and the path to the future.
Key benefits
This tool accelerates Exadata, which supports operating systems, CPU memory, and hard drives and manages many databases, including DWH and online transaction processing (OLTP).
A platform combines many Oracle cloud services, allowing for seamless data mobility and uniform governance.
Data cleansing, enrichment, and transformation are carried out inside the DWH due to the ELT data pipeline, which saves time and resources.
Potential downsides
Compatibility problems between various Oracle database versions might hurt. These might cause delays in installation and additional expenses associated with their resolution since Oracle databases and SQL Server applications operate differently in some areas.
Costs and effort spent on user education might increase due to the complexity of deployment and maintenance.
Inaccurate judgments and consequences may result from potential security risks and issues such as database risks or incomplete or inaccurate data.
Pricing
The solution is free and open-sourced.
ETL tools' key considerations
Compatibility
Integrating current data sources and warehouses with new data destinations should be easy. For businesses, it's best to choose an ETL solution that can manage a variety of data sources and destinations, both structured and unstructured.
Data replication
Companies may simplify operations to increase productivity. In this case, by using flexible scheduling solutions for data replication that can be tailored to meet specific business demands.
Scalability and performance
Real-time data processing is possible with scalable and quick settings to serve contemporary digital applications. Still, these platforms must retain optimal levels of performance and speed while managing massive amounts of data.
Ease of use and customization
ETL solutions should have an intuitive user interface and capabilities allowing users to personalize and automate their data integration processes. They tend to be powerful but easy for non-technical users.
Keep in balance
It would be best to balance between simplicity of use, adaptability, and compatibility with the team's existing skill set. So, carefully consider your company's data integration requirements and priorities before selecting the optimal ETL technology.
Conclusion
Nowadays, various ETL tools exist in the market, like cloud-based, open-source, or enterprise solutions. Each is good enough or perfect, depending on what is vital for your business. So, selecting the ideal ETL tool requires careful consideration of several factors, including:
In determining which tool to implement in your system, you must evaluate its flexibility and scalability based on how much data needs processing across integrated platforms.
Accurate and timely delivery of data depends on the service level agreement (SLA) that an ETL tool offers.
For an ETL tool to be suitable for the requirements of your organization, it must possess certain vital features like scheduling the replication of information at varied intervals, being able to work with disparate file formats (including unstructured ones), and carrying out automated workflow without requiring human direction.
One should look into acquiring the top-tier ETL tools for Oracle to improve choices made by key stakeholders at every level in an enterprise based on all-inclusive facts gathered from vast data sets. So, Skyvia is the perfect software to use in such cases.
Let's see why:
The transparency of the UI makes it easy for all levels of technical ability.
The software's ability to handle complex enterprise-level requirements related to seamless data transition through robust integration and backup options makes it the perfect choice.
Eliminating expensive hardware and software installations is one of the primary benefits that cloud-based solution offers in terms of cost reduction and increased flexibility.
The pricing model offers scalability, allowing you to respond effectively to changing conditions.
Skyvia's browser is SQL tool based, and its Query provides easy access to data from databases and cloud applications, allowing one to retrieve and analyze it quickly and efficiently.
See Skyvia in action — schedule a demo.