Introduction
Dropbox Salesforce integration facilitates data exchange between these two software platforms. Users can increase business efficiency by having access to Dropbox while working in Salesforce. Consequently, users can work effectively in Salesforce and easily access important files directly from Dropbox. On the other hand, files that are uploaded in Salesforce will be synced to Dropbox storage.
Dropbox Salesforce integration can be performed with the Dropbox for Salesforce Application which is native to the Salesforce AppExchange. However, the Dropbox for Salesforce Application does have some limitations, including slow upload times, limited tech support, and basic functionality. Another approach to this integration is available with the Skyvia data integration platform.
Skyvia data integration platform allows users to integrate CSV data from Dropbox with Salesforce quickly. Salesforce administrators can easily set up mapping between Dropbox and Salesforce and schedule automatic data loading. With Skyvia's Dropbox to Salesforce integration approach, administrators can perform data enrichment and make business processes more efficient.
Table of contents
What is Salesforce?
Salesforce is a cloud-based customer relationship management platform that dominates the CRM market. The Salesforce user interface is easy to customize and configure to best suit your company's specific needs. From managing marketing and sales to facilitating customer service, Salesforce makes it easy for organizations to attract and retain customers.
Salesforce also makes it simple to solve customer problems and facilitate communication between roles and teams. What's more, Salesforce provides native business intelligence services. For example, Salesforce users can easily generate important reports and create helpful data visualizations like charts and graphs. In addition, Salesforce can integrate with 3rd party applications like Dropbox.
What is Dropbox?
Dropbox provides file-sharing and cloud service storage solutions for thousands of customers worldwide. With Dropbox, users can store all kinds of files on the cloud. This allows users to access files from various devices as long as they have an internet connection. Dropbox also performs regular backups to selected folders and syncs all changes to the cloud. 
Moreover, Dropbox offers productivity tools that make it easier for teams to work together on shared projects. Users can collaborate on shared documents and see a recent-activity view of all changes. What's more, shared files can be protected via various levels of security. Anything can be recovered from a Dropbox account for up to 30 days. Finally, it's possible to integrate Dropbox with other business applications like Salesforce.
Why Do You Need Dropbox Salesforce Integration?
Dropbox Salesforce integration makes it possible to access, manage, and share Dropbox content directly from Salesforce. Users no longer have to switch between Salesforce and Dropbox to access or upload pictures, files, or documents. Instead, users can quickly retrieve the correct information from Dropbox while working in Salesforce.
For example, users can easily add Dropbox files to Salesforce opportunities. Users can also share Dropbox files with other team members from the opportunity record. What's more, users can even access Dropbox content directly from support case records. This consequently results in a more efficient sales execution.
Method 1: How to Use Dropbox for Salesforce Application
To use the Dropbox for Salesforce Application method, you must follow a three-step process described below. It's important to note that a Dropbox Business Plan paid subscription is required to set up the Dropbox for Salesforce Application.
Step 1. Install Dropbox Package for Salesforce
First, you must install the Dropbox for Salesforce Application which can be found on the Salesforce AppExchange. Login to your Salesforce account and access this link to find the Dropbox for Salesforce Application. Then, click the green button that says Get It Now as shown in the screenshot below.


Following the first step, a page will open asking where you want to install the package.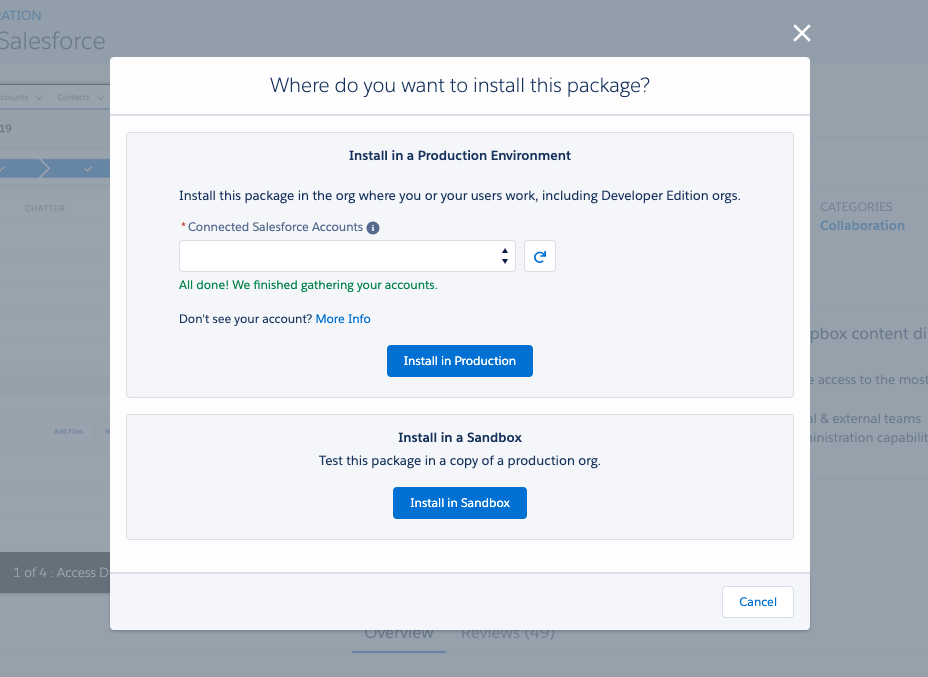 If you install the package in the Production Environment, you can get access to all end-users. If you install the package in a Sandbox, you can first test the package in a copy of your production org. Choose which option best suits your needs, and then click the button that says Confirm and Install. At that point, you will be redirected to the Salesforce login page to continue the installation.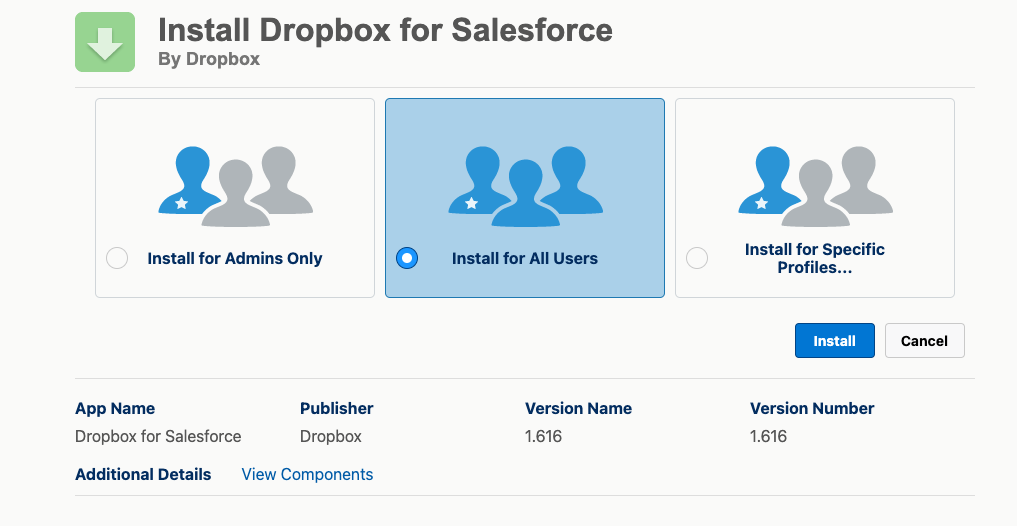 Next, click on the Install button to continue with the installation process.
Step 2. Set Up Salesforce to Dropbox Connection
After installing the Dropbox for Salesforce Application, you need to configure the settings. First, log in to your Salesforce Account and click the Salesforce App Launcher. 

Search for Dropbox in the Salesforce App Launcher. Then, click on the Dropbox icon.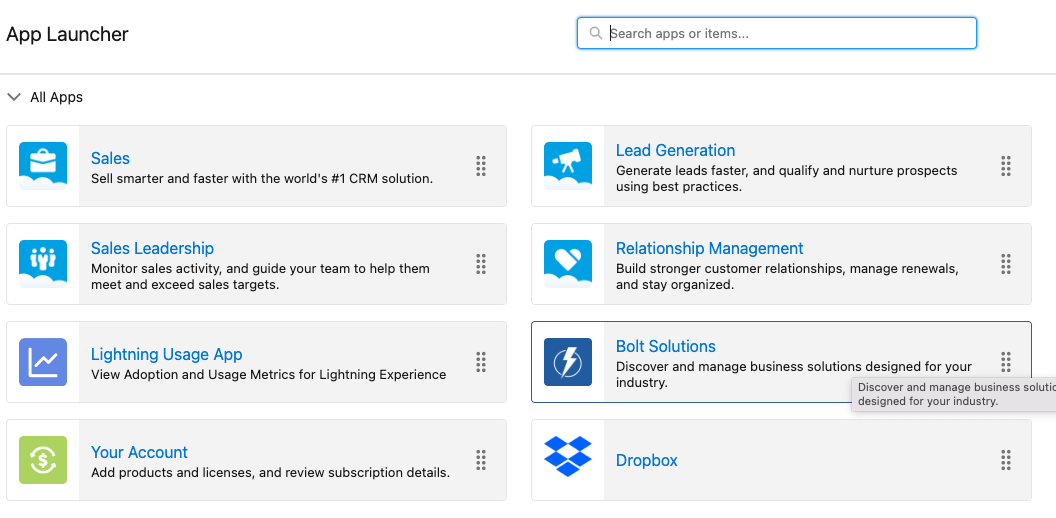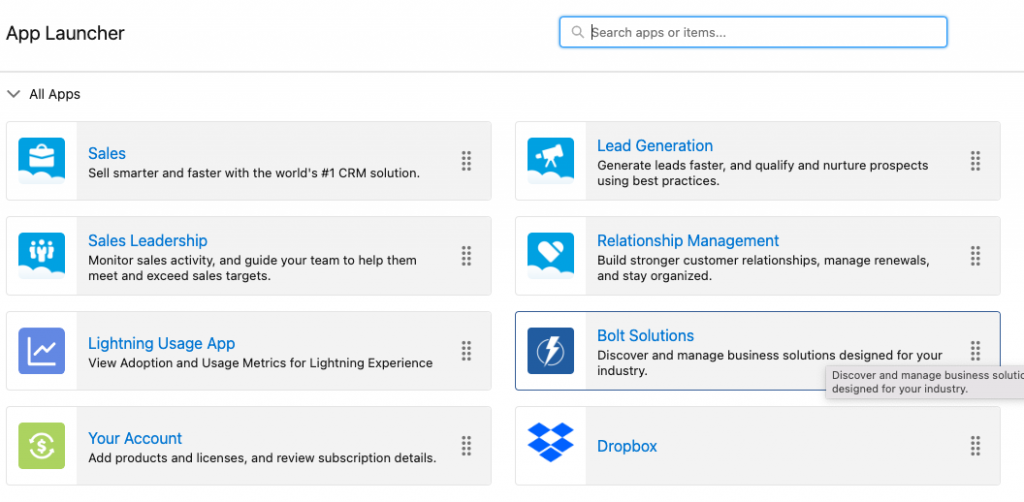 From this screen, click Connect to Dropbox and then click Continue. Next, log in to Dropbox; remember, you must have Dropbox for Business to proceed with this step.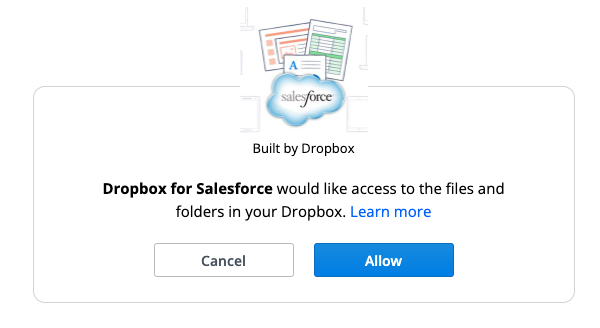 At this point, Dropbox for Salesforce will request access to the files and folders in your Dropbox. Click Allow. You must then create a Remote Site Setting in your org before you can configure Dropbox for Salesforce. Click the Create Remote Site Setting button to create it.

Next, you must сonfigure page layout by selecting the Update Page Layouts button. As a result, all Account, Contact, Case, and Lead objects will now contain the Dropbox component on their page layout.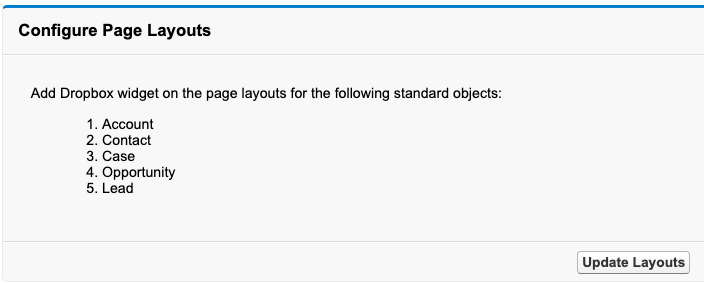 Step 3. Share Dropbox Folders with Salesforce
To complete the installation process of the Dropbox for Salesforce Application, you must confirm that your folder is shared with Salesforce. To do this, navigate to an Account, Contact, Case, Opportunity, or Lead on your Salesforce Dashboard. Then, access the Dropbox component and click Add Files. Upload a test file. At this point, if you have correctly installed the Dropbox for Salesforce Application, the test file should be created in your Dropbox account.

There are some notable limitations to the Dropbox for Salesforce Application:
Users note that the application is buggy and clunky, with slow upload times.
Multiple users complain about the lack of tech support when finding solutions for bugs and error messages.
All Dropbox files must be saved under a new Salesforce Documents folder rather than linking a record to a specific folder already in Dropbox.
The application only works for Leads, Accounts, Contacts, Opportunities, and Cases.
The Dropbox for Salesforce Application is only useful for very basic integration tasks.
Method 2: Dropbox and Salesforce Integration Using Skyvia
Skyvia is a comprehensive Software as a Service (SaaS) no-coding platform that solves diverse data-related tasks: data integration (ETL, ELT, reverse ETL), workflow management and automation, cloud sources data backup, and API endpoints management. Skyvia connects to various data sources via their custom interfaces and provides a unified web API for their data.
This method is different from the native one. Skyvia supports the integration of Salesforce and Dropbox in both directions, meaning that you may use the Dropbox files either as a source or as a target.
With Skyvia, you can:
Upload CSV file data to any available Salesforce object and extract Salesforce data to a CSV file and place this file in any folder in Dropbox.
Decide what Salesforce object to integrate and what scenario to implement. Skyvia helps to make it fast and easy.
Avoid additional installations – all you need is a web browser.
Try any paid Skyvia subscription with a two-week trial. You don't need any premium subscriptions to use this method.
Below we show two examples of data integration scenarios using Skyvia. The first scenario shows how to import the list of products from CSV files stored in Dropbox into the Salesforce Product2 table. Another scenario is the Salesforce data export into a CSV file in Dropbox. Check the below steps to perform simple Import and Export integrations with Skyvia.
Important! Before you start implementing your use case, you must be registered in Skyvia.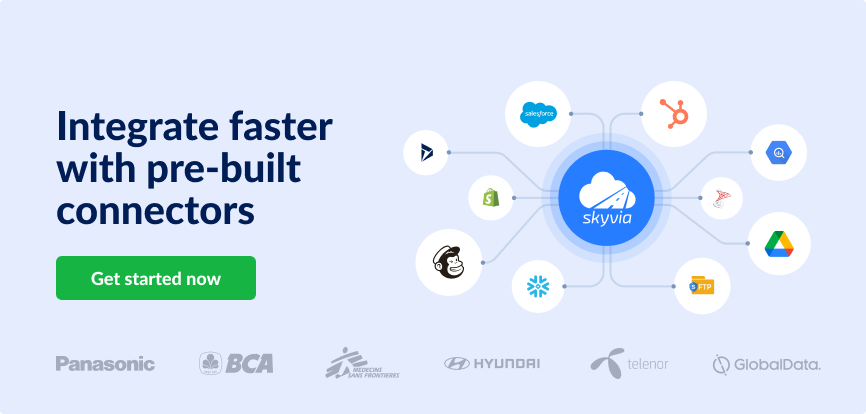 Create Connections
Login to Skyvia and create the connections to Salesforce and Dropbox.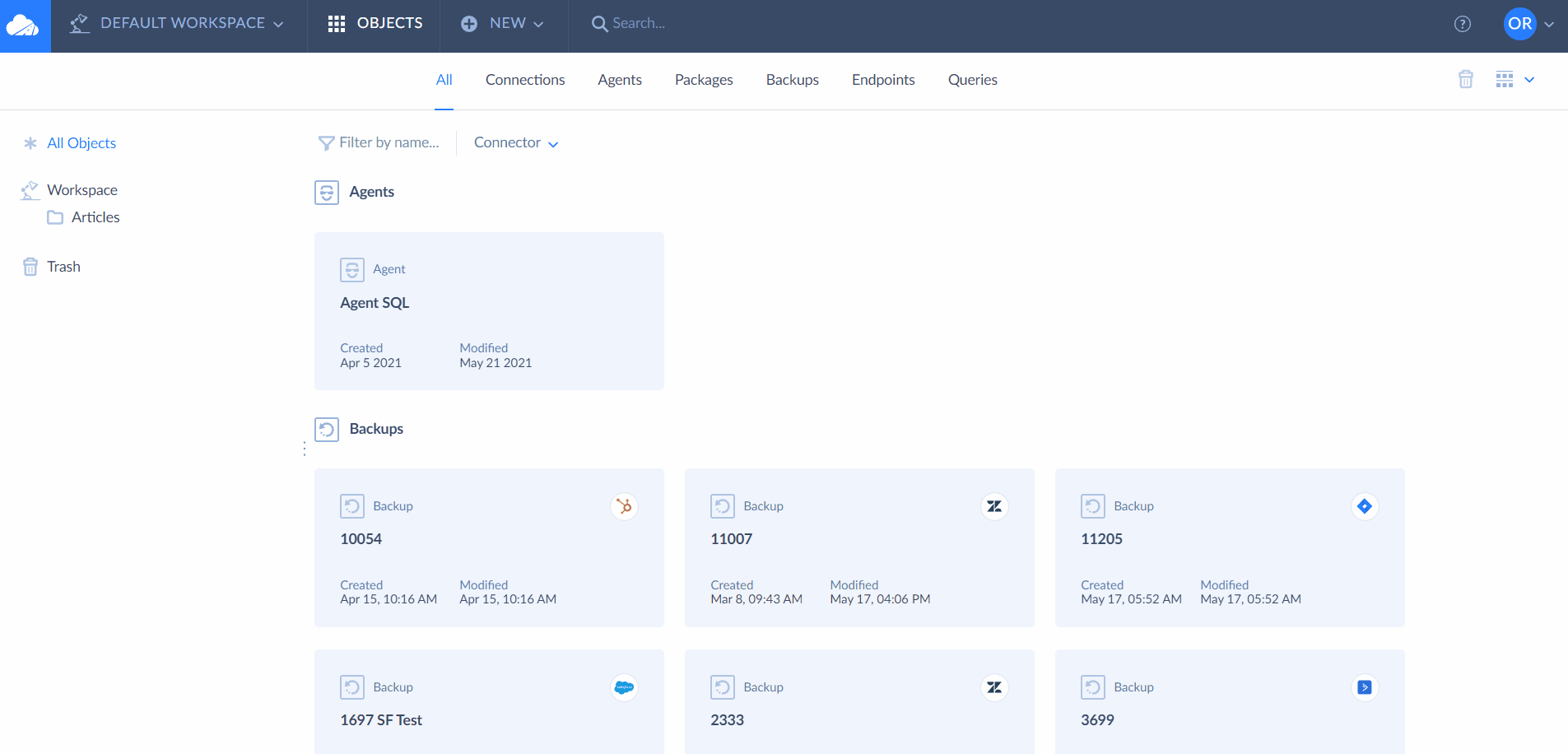 Create the Import Data Integration
In Skyvia, click +NEW and select Import.
Click CSV from storage service and choose your Dropbox connection as a Source.
Select Salesforce connection as a Target and enable other available package options optionally.
Click Add new to create the package task.
On the Source definition tab, set the CSV mode. In our case, we select the Single File mode.
Select the needed CSV file in the CSV Path box and optionally adjust the CSV options.
On the Target Definition tab, select the target Salesforce object and click on the needed operation. We select the Insert operation.


On the Mapping Definition tab assign the column mapping. The columns with the matching names are mapped automatically. We leave the default mapping as it is.
You can optionally set the automatic package launch by schedule.
Save the package and run it. You can check the package results on the Monitor and Log tabs.
Create the Export Data Integration
In Skyvia, click +NEW and select Export.
Select Salesforce from the dropdown list as a Source.
Click CSV to storage service and choose Dropbox as a Target.
Specify the folder to place the file in and adjust the package options if needed. We leave the default values for this scenario.
Click Add New to create the package task.
Select the Editor Mode. In our case, we use the Simple one. The Advanced Editor Mode is more convenient when you need to perform a complicated custom command or run a report.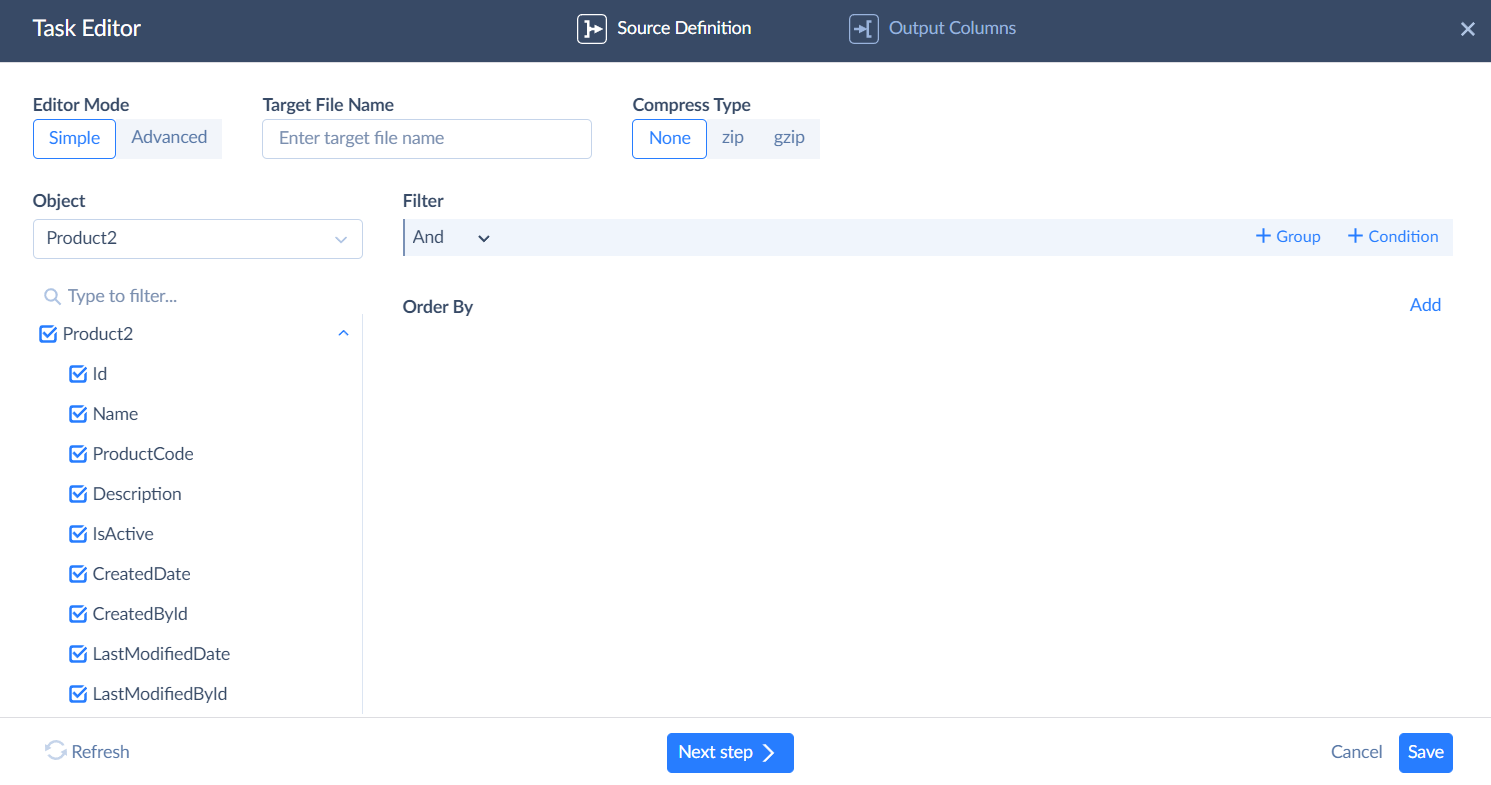 Select the source table to export data. We use Product2 in our example. You can uncheck the unnecessary fields and use filters if needed.
On the Output Columns tab, you can rename the output columns and adjust the order of the columns.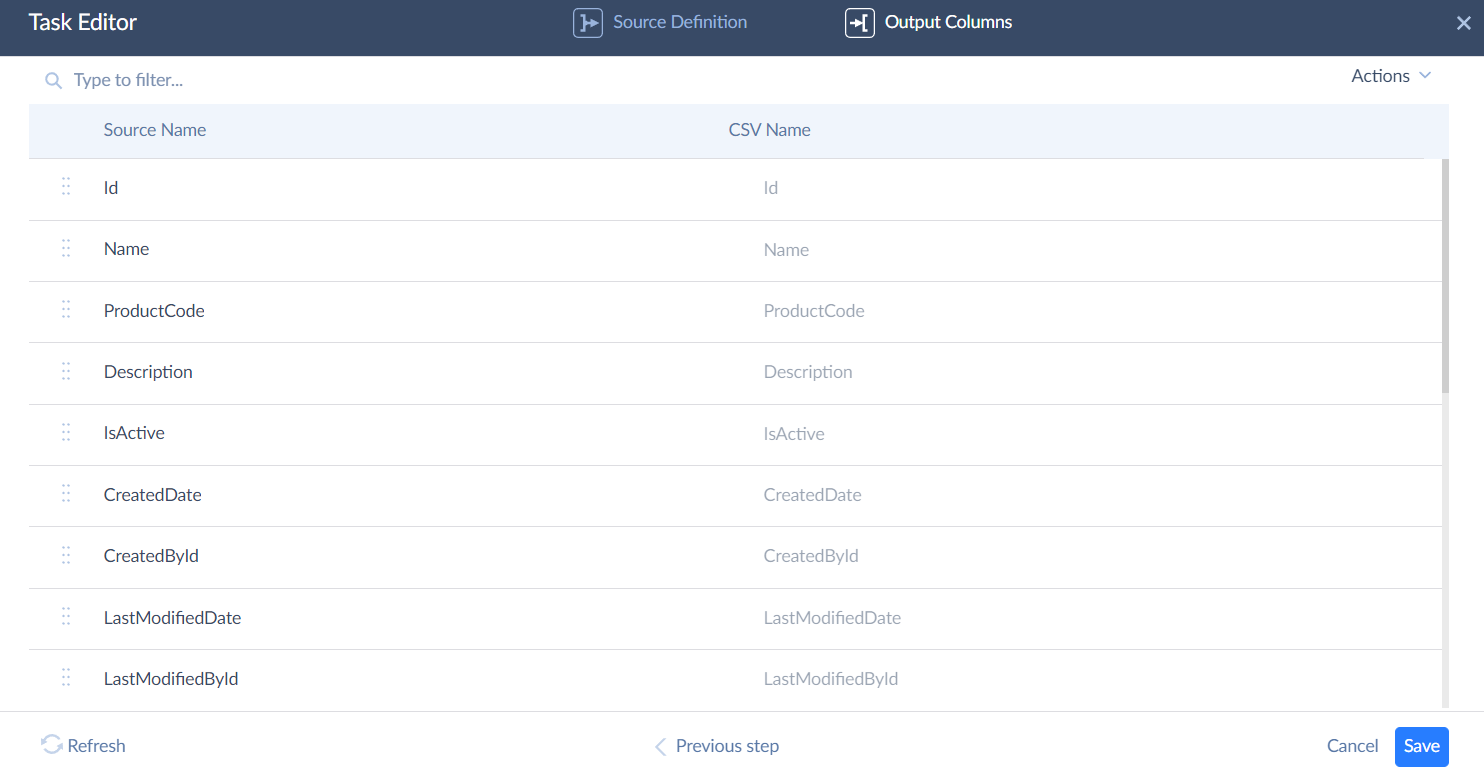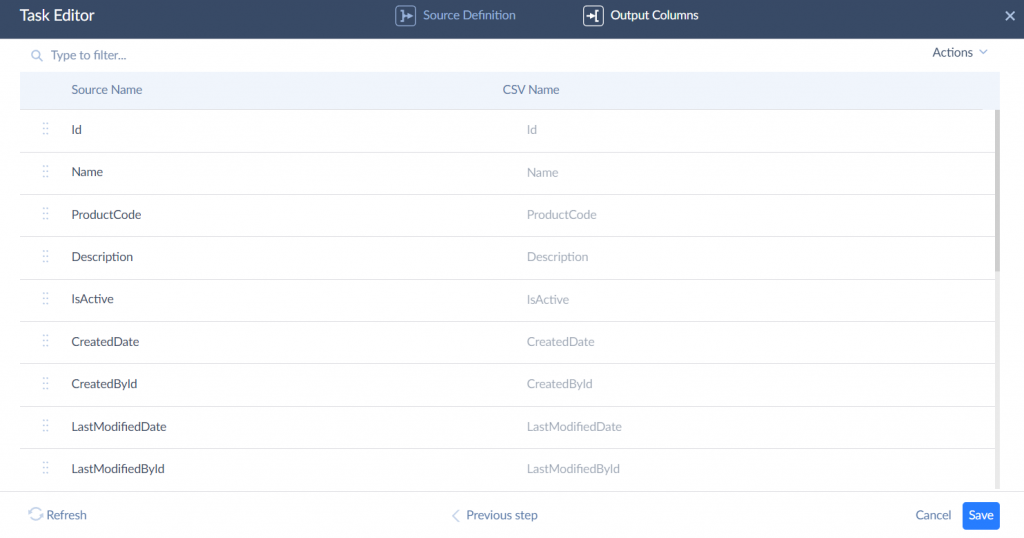 Save the task and package and proceed to run the package. Check the package results on the Monitor and Log tabs.
Summary
Dropbox and Salesforce integration makes it easy to access Dropbox files directly from Salesforce. As a result, this integration has the potential to simplify business processes by magnitudes. Companies can access the Dropbox component directly from Salesforce Leads, Accounts, Contacts, Opportunities, and Cases. Files can be stored and synced between Dropbox and Salesforce, making it easier for teams to collaborate.
It's possible to integrate Dropbox and Salesforce via the Dropbox Salesforce Application on the AppExchange. However, this method does have a variety of limitations. From lack of tech support to basic integration functionality, these limitations can easily be avoided using Skyvia Dropbox and Salesforce Integration. What's more, Skyvia makes it possible to connect other services and applications by setting up a full-fledged data exchange.