Are you on the hunt for Informatica competitors and alternatives? Then, you're in the right place.
Informatica is a data integration platform that's been around since 1993, and over 5000 enterprise customers love it, such as Dolby and Twitch. Its maturity in the market may make it a strong contender for your consideration.
Informatica also looks good on paper, boasting a friendly interface for both cloud and on-premise settings. It also comes equipped with an AI-powered recommendation engine called Claire AI. It assists with data mapping, quality, and transformation.
However, the reviews on the platform are mixed. And you should be aware that you need a work email to register, which you may find restricting. While there's a free option available, you may notice that it has limited support and features. Whereas customers find the paid versions sort of pricey.
There are many alternative integration tools aside from Informatica. Whether you're turned off by the price, features you don't need, or limits on the free version, there are plenty of other tools for you. So, let's check out which of these suits your needs.
Table of Contents
Informatica Competitors and Alternatives Compared
Before proceeding, let's look at your options in the following table.
Integration Tool
Focus
Connectors
User Interface
Support
Pricing
Skyvia
ETL, ELT,
data ingestion,
workflow automation
160+
No code drag-and-drop
Email, chat,
forum, documentation
Free,
Paid plans
Fivetran
ELT,
Data ingestion
300+
Simple web interface
Email,
Support portal,
documentation
Free,
Paid plans
AWS Glue
ELT, ETL,
Reverse ETL, Streaming
JDBC-compatible connectors and Amazon ecosystem connectors.
Simple web interface
AWS Support Center
Paid plans
Talend
Data integration and management platform
1000+
Graphical,
drag-and-drop
Online ticketing,
community,
documentation
Free,
Paid plans
Integrate.io
ELT, ETL, Reverse ETL
150+
Graphical,
drag-and-drop
Email, chat,
phone, Zoom,
documentation
Paid plans
Alteryx
ETL, Data Prep
80+
Graphical,
drag-and-drop
Email, phone, community, documentation
Paid plans
Stitch
ETL
140+
Simple web interface
Chat, Support portal, community, documentation
Paid plans
Pentaho
ETL, streaming data
40+
Graphical
Email, phone
Support portal,
documentation
Free,
Paid plans
SAP HANA Cloud
DBaaS, Replication, ETL
Major databases, ODBC-compatible, REST and SOAP
Graphical,
drag-and-drop
Support portal, phone, chat, community, documentation
90-day free,
Paid plans
Boomi
Data integration, ETL, workflow automation
240+
Graphical
Email, phone, chat, documentation
Paid plans
Now that you have some idea about Informatica's competitors let's explore the power of each.
Skyvia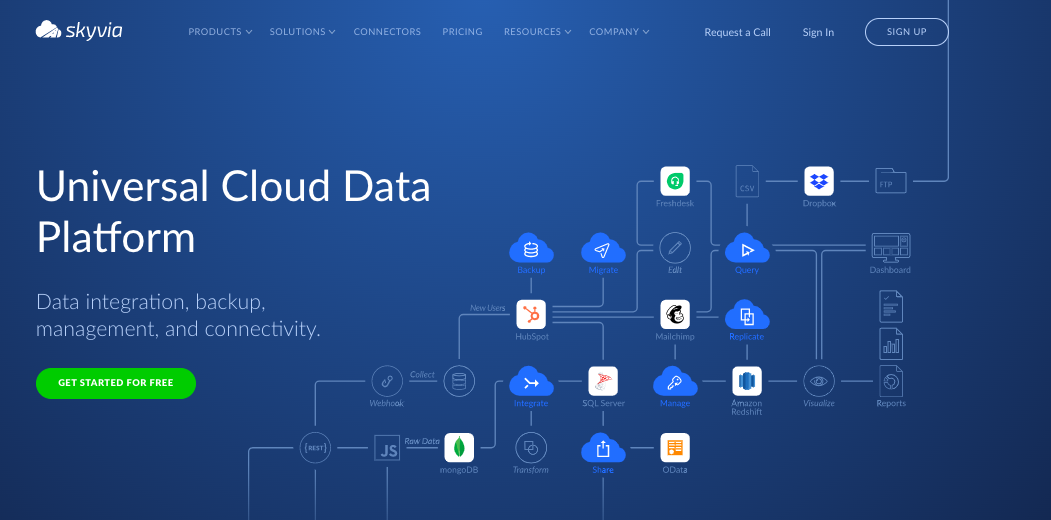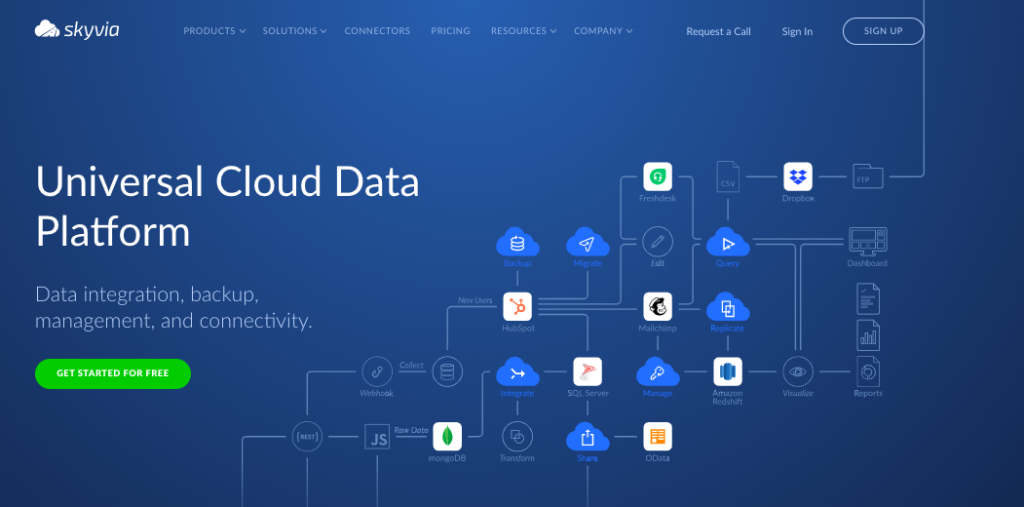 Skyvia is a fantastic data integration tool with no code needed. Devart launched this product in 2014 for cloud data integration and backup. Skyvia also has thousands of free users, and over 2000 customers pay for it. Some of them are big names like Hyundai and General Electric.
Pros
Known for its ease of use and easy adoption. See G2 Crowd user reviews.
With 160+ stable connections.
Drag-and-drop components in a pipeline design canvas, including transformations.
No coding is required, meaning its implementation is easy for both technical and business users.
Freemium tier using all connectors.
The Azure ecosystem security certifications (HIPAA, GDPR, PCI DSS, ISO 27001, and SOC 2).
Cons
Pricing
Skyvia offers a free plan and a 14-day trial for the paid plans. There are no sale commitments. You can upgrade or downgrade at any time.
Check out a detailed price comparison here for more information.
Fivetran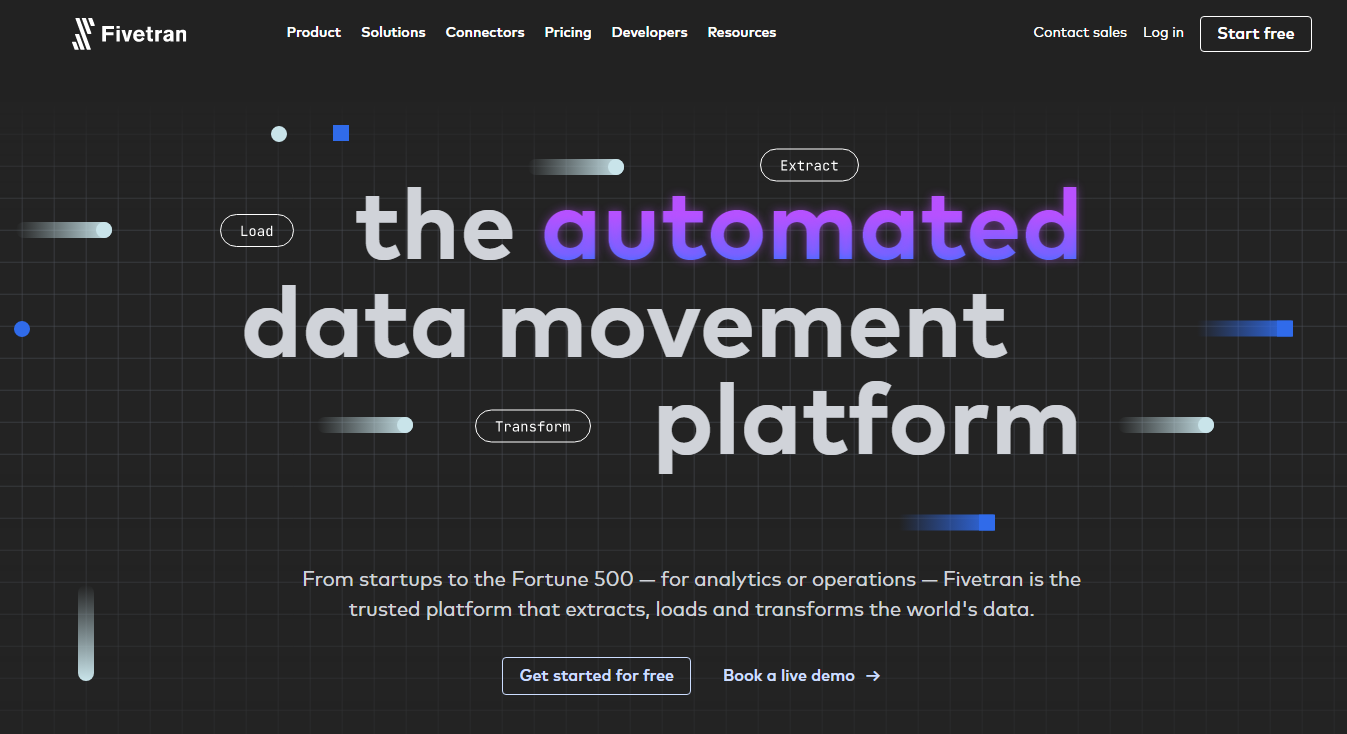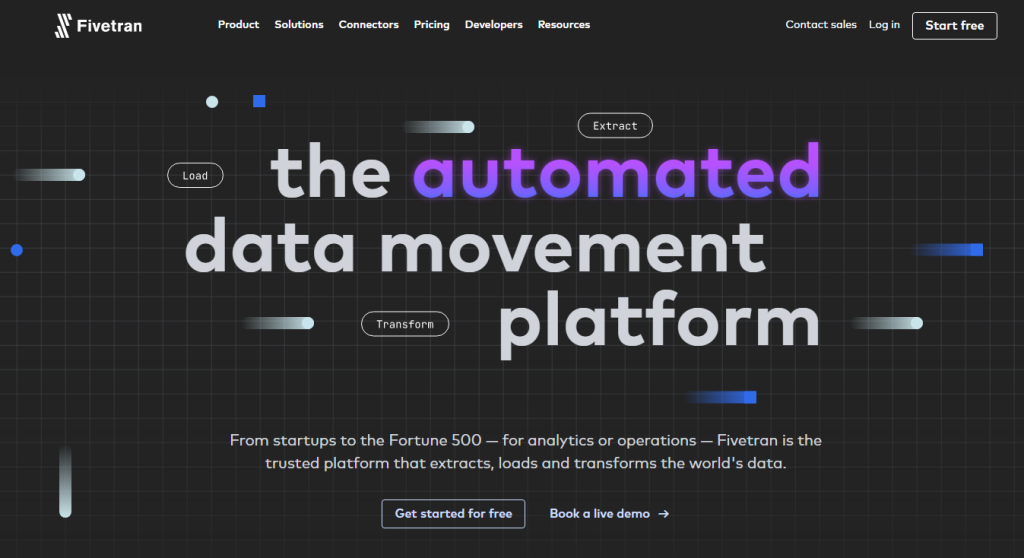 Fivetran is another Informatica alternative that supports data ingestion and ELT. It started in 2013, and now it has 2500+ customers worldwide. Lufthansa, Morgan Stanley, and more trust Fivetran for their data integration needs.
Pros
A big list of 300+ connectors.
Pre-built and QuickStart data models.
Low-code solutions.
Free tier for 500,000 monthly active rows.
Cons
Complex transformations need dbt and SQL coding.
Least security for the Free and Starter plan.
Some connectors are not free.
Mixed reviews on customer support.
Pricing
Fivetran has a free tier for 500,000 monthly active rows (MAR). Paid plans follow volume-based pricing with a 14-day free trial.
AWS Glue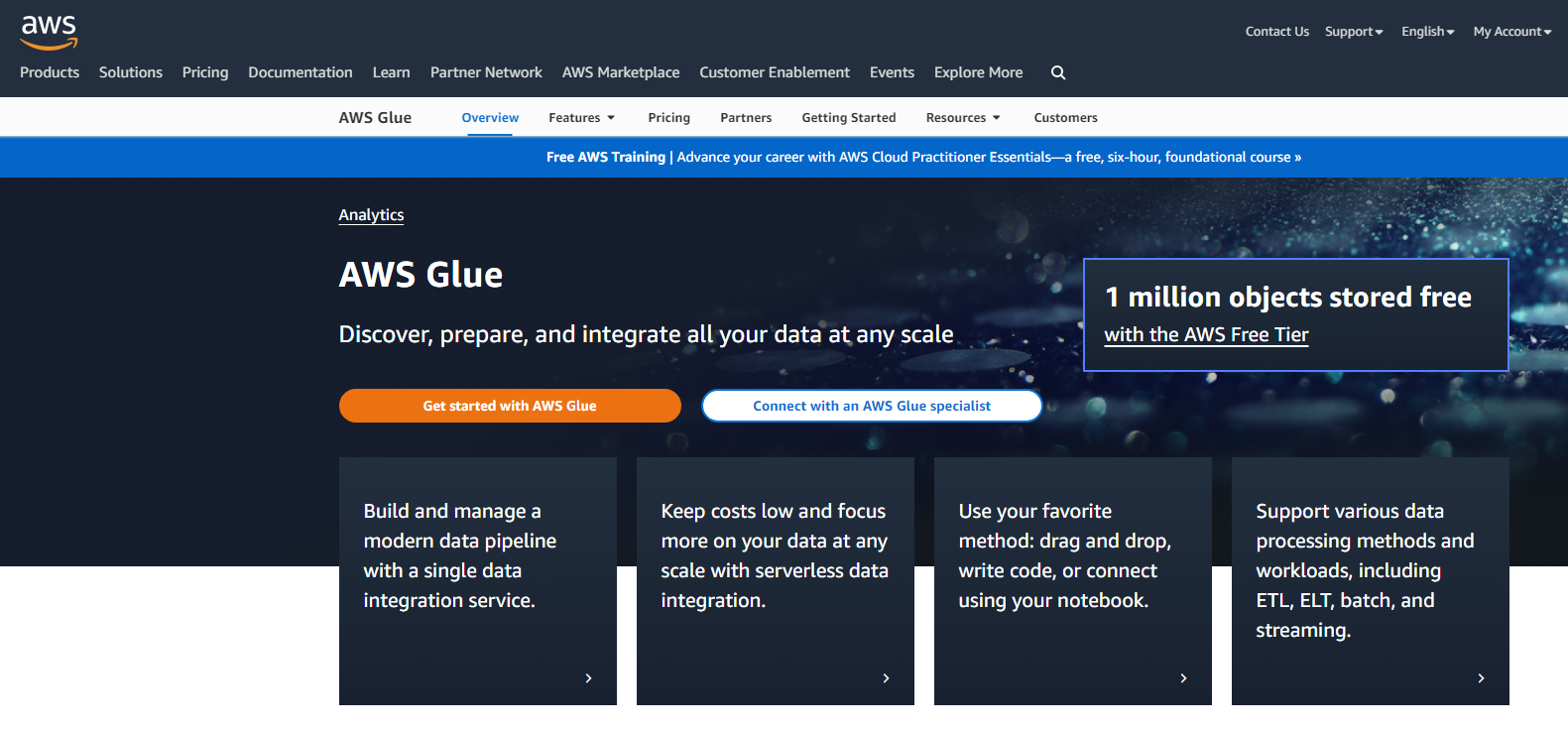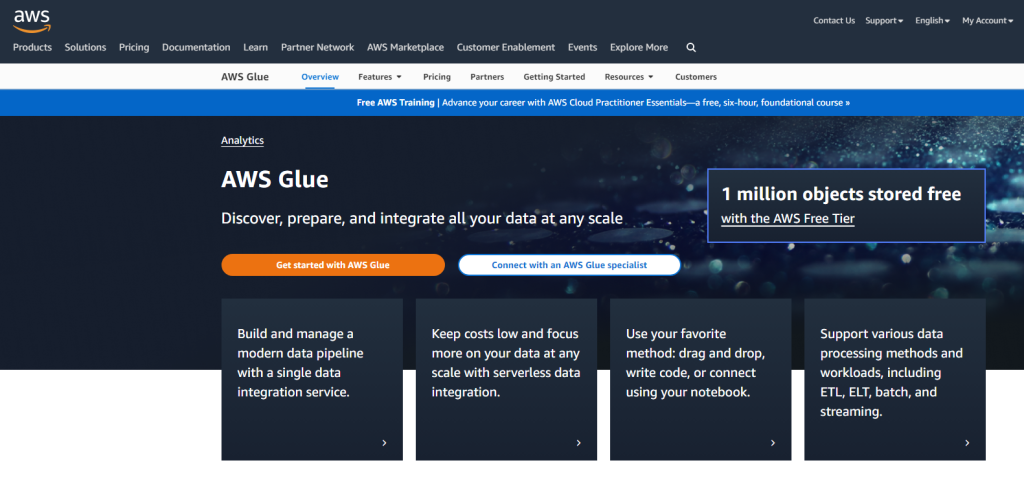 AWS Glue is a data integration tool from Amazon. Aside from ETL, ELT, and replication, it also supports batch and stream processing.
Pros
Seamless integration with other AWS products.
Low-code, no-code solutions.
Built-in security from Amazon Web Services.
Cons
Complex integrations may need coding.
Pricing
With AWS Glue, you pay only for what you use with no upfront costs or commitments. It also has AWS Glue 1 Million, where you can do 1 million requests/month.
Talend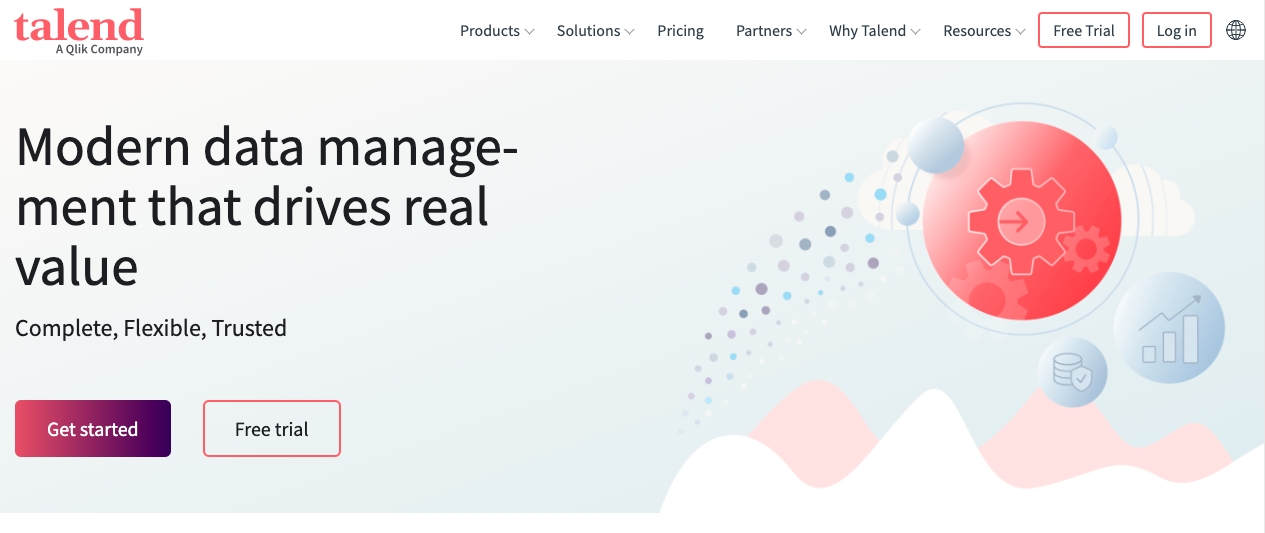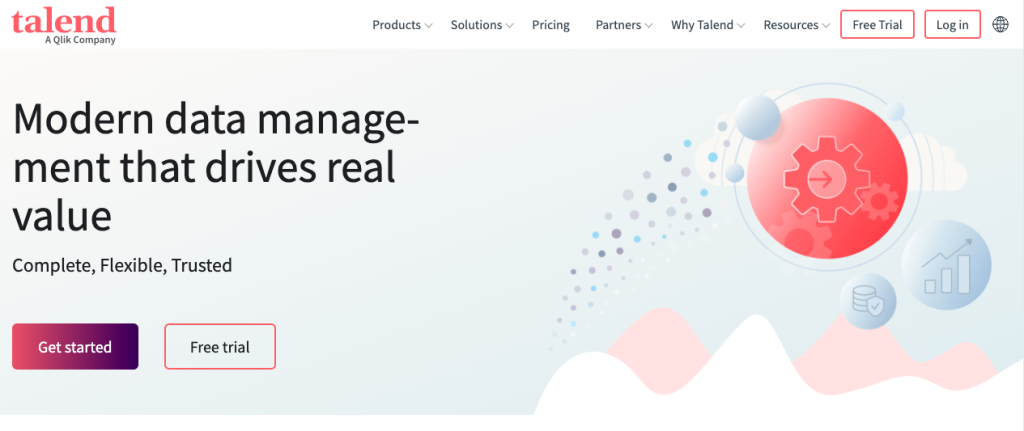 Talend is a data platform that offers cloud and on-premise data integration solutions. The company launched in 2005. And it serves thousands of customers, including Toyota, eBay, and more.
Talend has an open-source solution called Talend Open Studio. And a full-featured tool called Talend Data Fabric.
Pros
Has the most number of connectors in the list: 1000+.
With open-source and commercial offerings.
Drag-and-drop graphical user interface.
Free Talend Open Studio.
Cons
Limited data integration features for Talend Open Studio.
Pricey commercial offering.
Pricing
Talend offers a free desktop integration tool called Talend Open Studio.
Meanwhile, the commercial offering is volume-based pricing with a free 14-day trial.
Integrate.io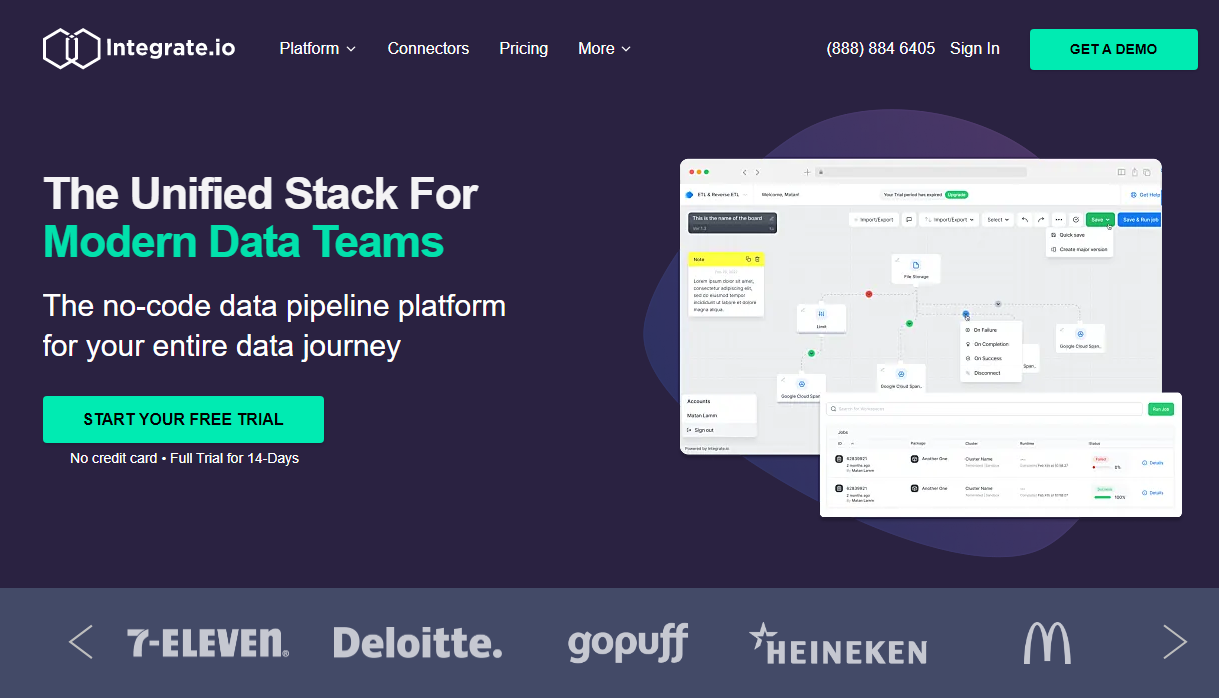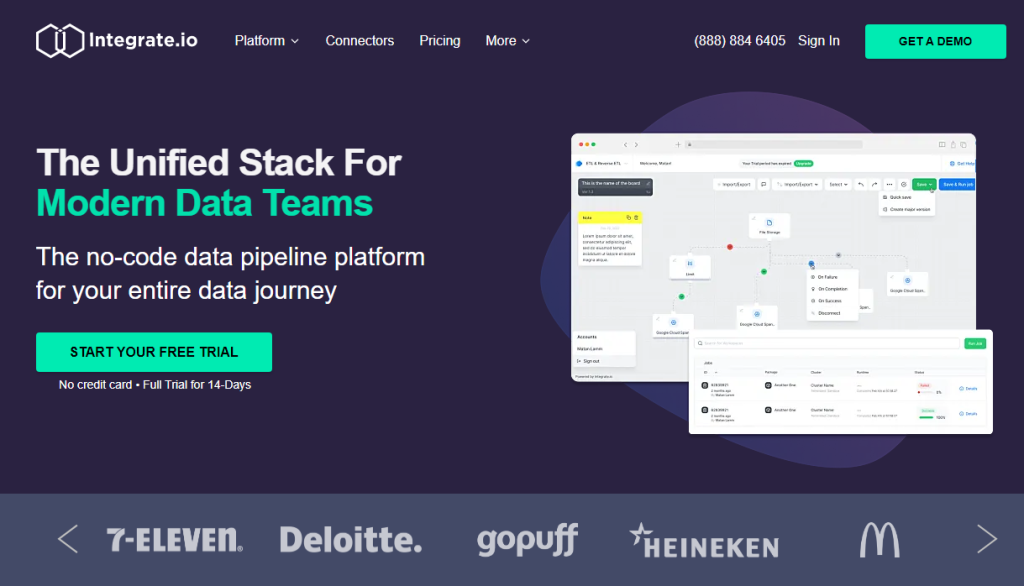 Integrate.io is a SaaS data platform that launched in 2021. It is a combination of products merged over the years since 2012. This includes xPlenty, FlyData, Intermix.io, and DreamFactory. They have hundreds of customers from different sectors.
Pros
150+ connectors.
Drag-and-drop user interface.
Low-code and no-code solutions.
Create your own REST APIs for your data sources.
220 data transformation components.
Cons
You can only use 2 connectors for ETL. Pay extra for more connectors.
No free plan but with a 14-day free trial.
Pricey.
Pricing
Integrate.io has separate pricing for ETL and ELT.
There are 3 pricing plans for ETL based on features and a fixed number of 2 connectors. Pay an extra annual fee for more connectors.
Meanwhile, ELT pricing is volume-based with an unlimited number of connectors.
Alteryx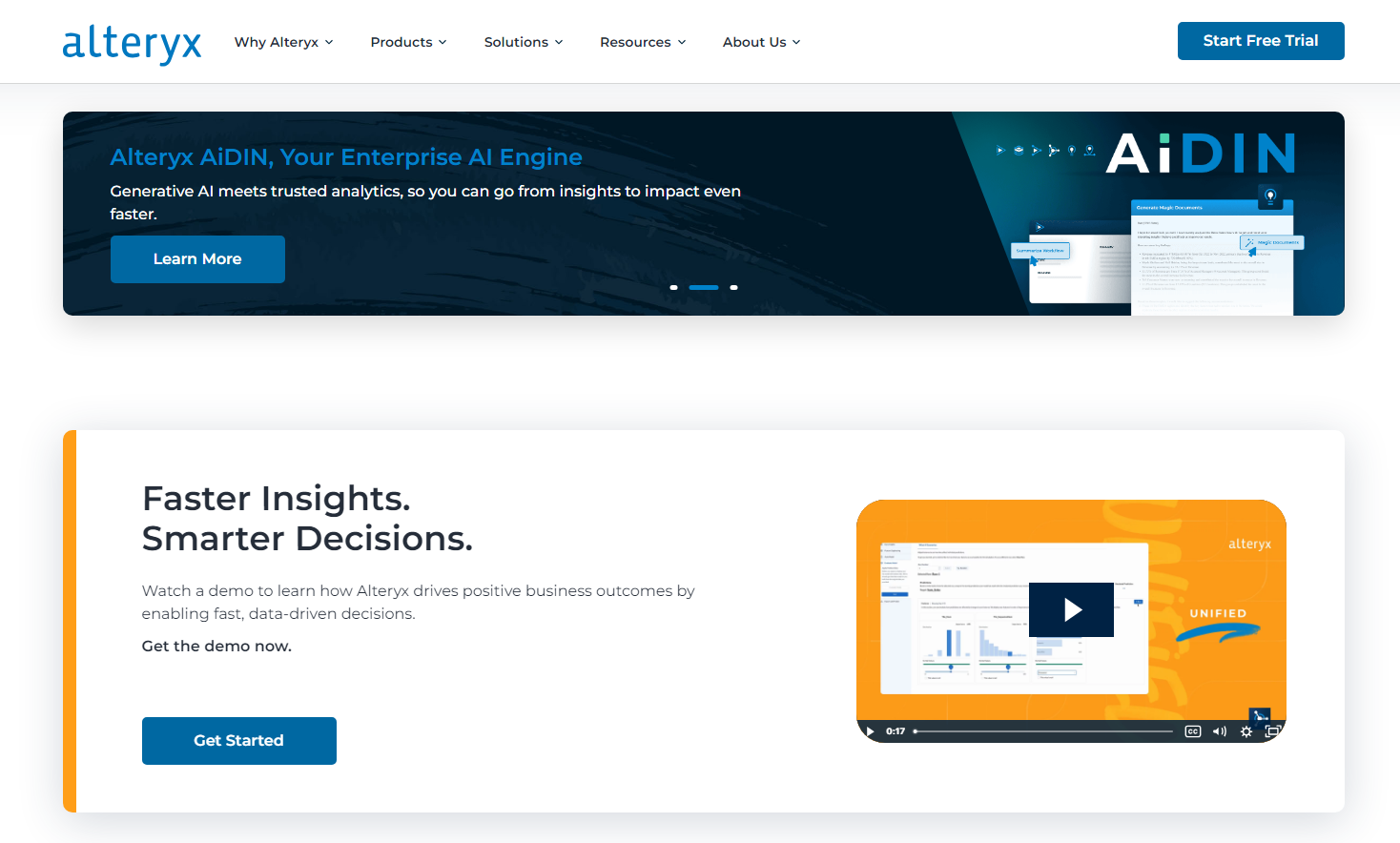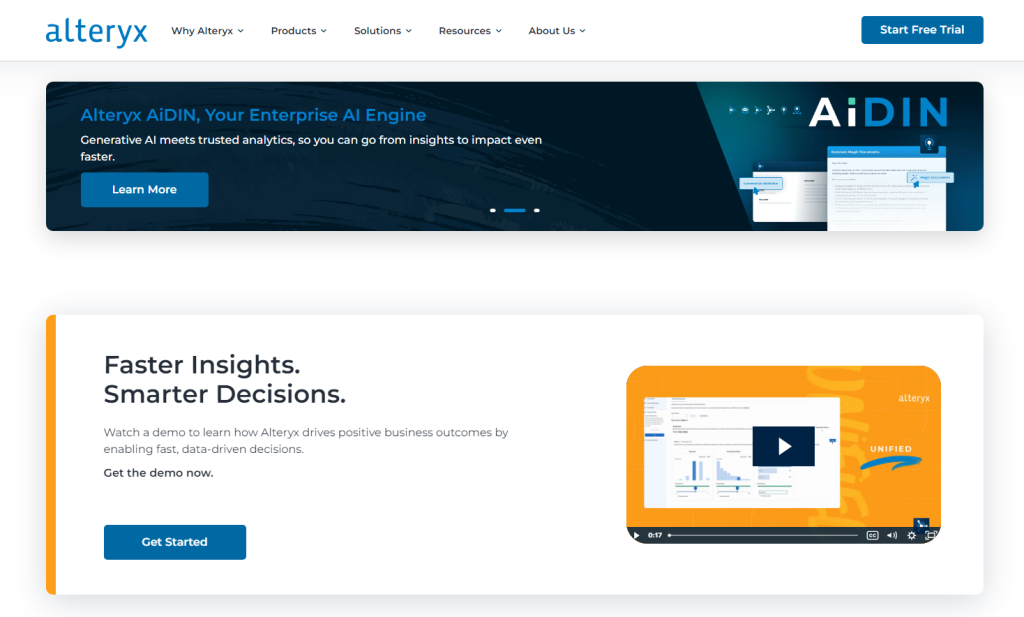 Alteryx Designer claims to be an all-in-one tool. The tool covers data preparation to analytics and reporting. Coding is optional but needed in complex scenarios.
It has 2 editions: Designer Desktop that works on Windows only. And Designer Cloud that is cross-platform.
Pros
Drag-and-drop user interface.
80+ connectors.
Low-code and no-code solutions.
With Machine Learning and predictive analytics.
Cons
Separate platform fee for new customers of Alteryx Designer Cloud.
May need to code in Python on certain complex scenarios.
Pricey, according to some reviews.
Pricing
Alteryx offers a free trial of an unspecified period for both Designer Desktop and Cloud. You need to contact their Sales to get a quote.
Stitch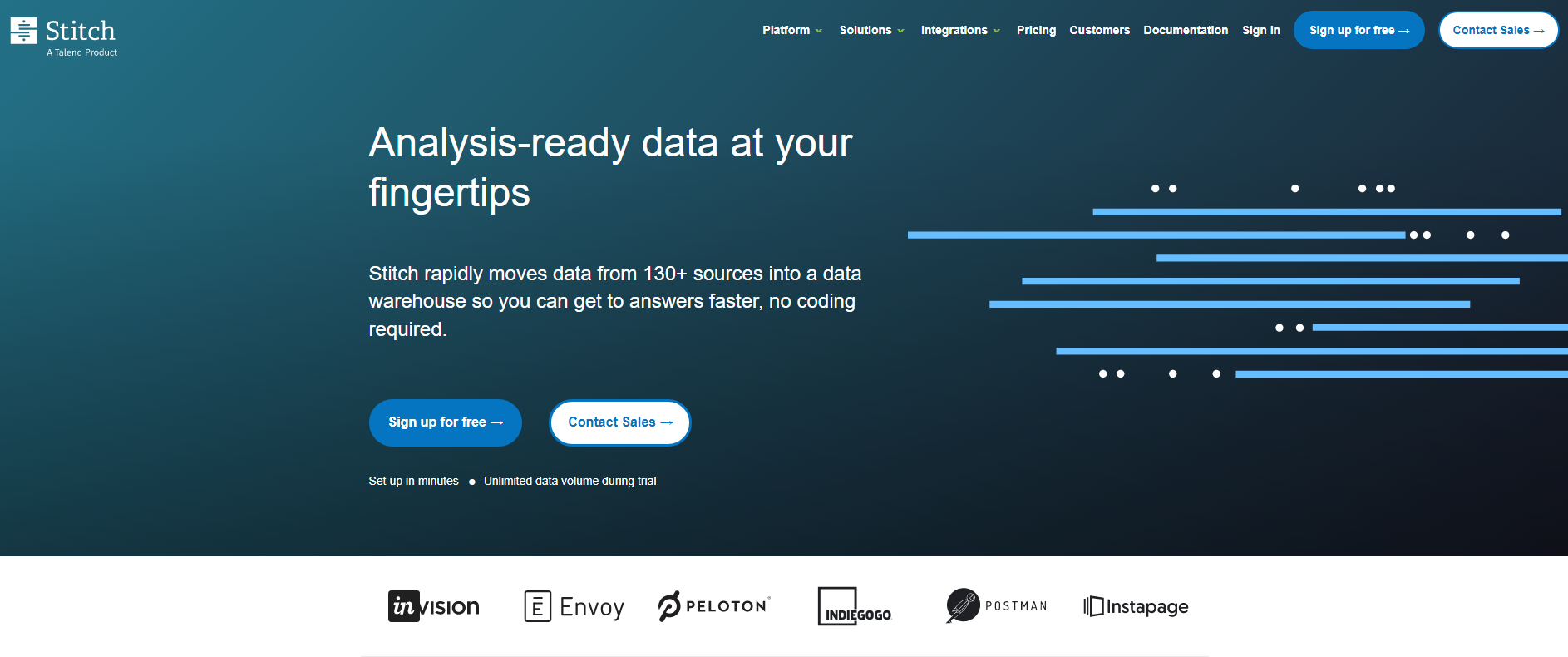 Stitch is a cloud-first, open-source ETL tool. It started in 2016. And today, it has 3000+ customers who trust them. Talend acquired them in 2018. And in May 2023, Qlik acquired Talend.
Pros
140+ connectors.
Simple web interface.
Extend the functionality with Singer ETL.
Integrate with Talend transformations.
Cons
No free plan.
The lowest tier allows 1 destination only.
Some reviewers feel customer support needs improvement.
Pricey for small companies.
Pricing
Stitch has 3 pricing tiers with a 14-day free trial. Each tier differs in the number of sources and destinations. Support level, security, and more improve as you go to higher plans.
Pentaho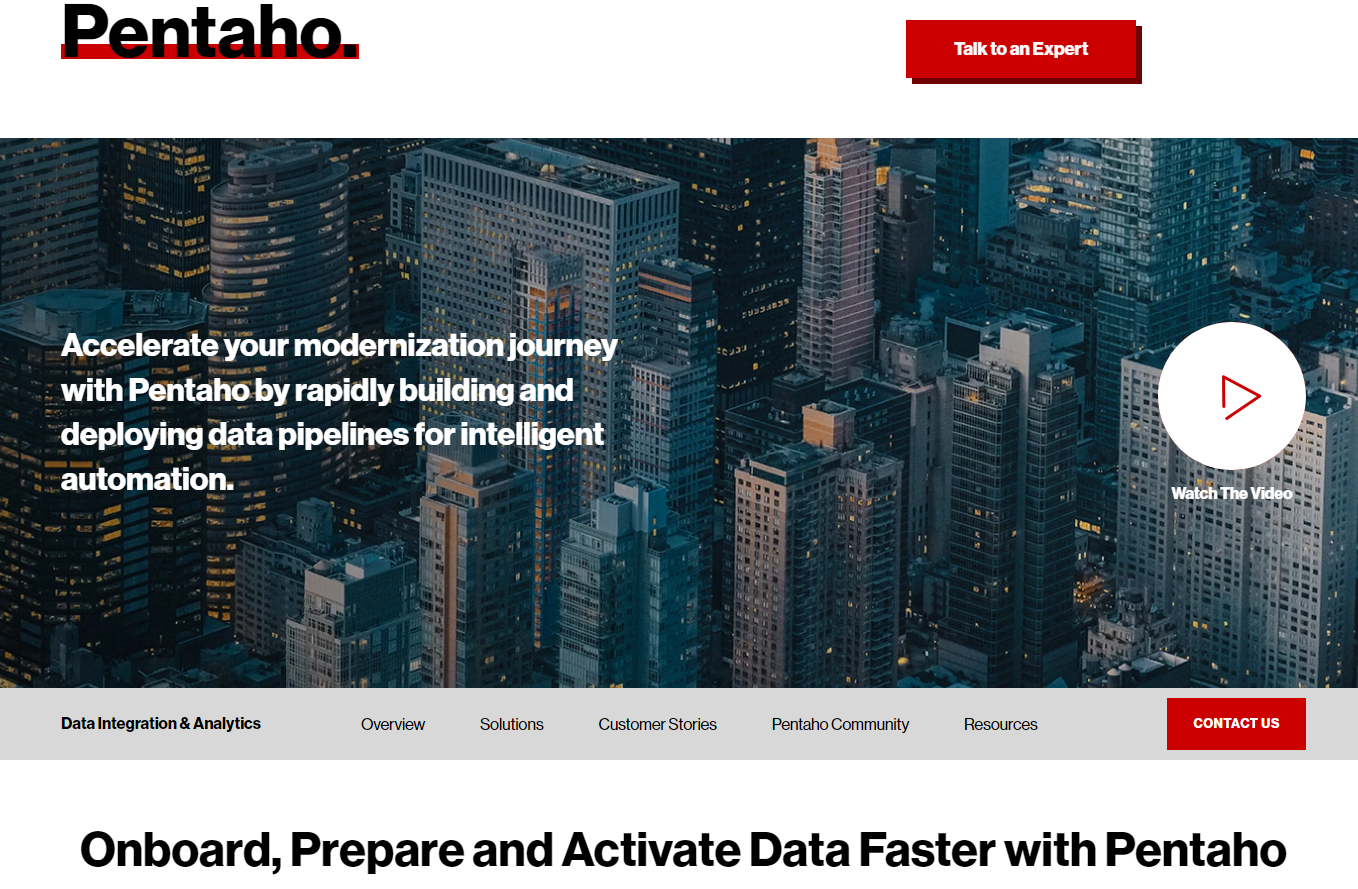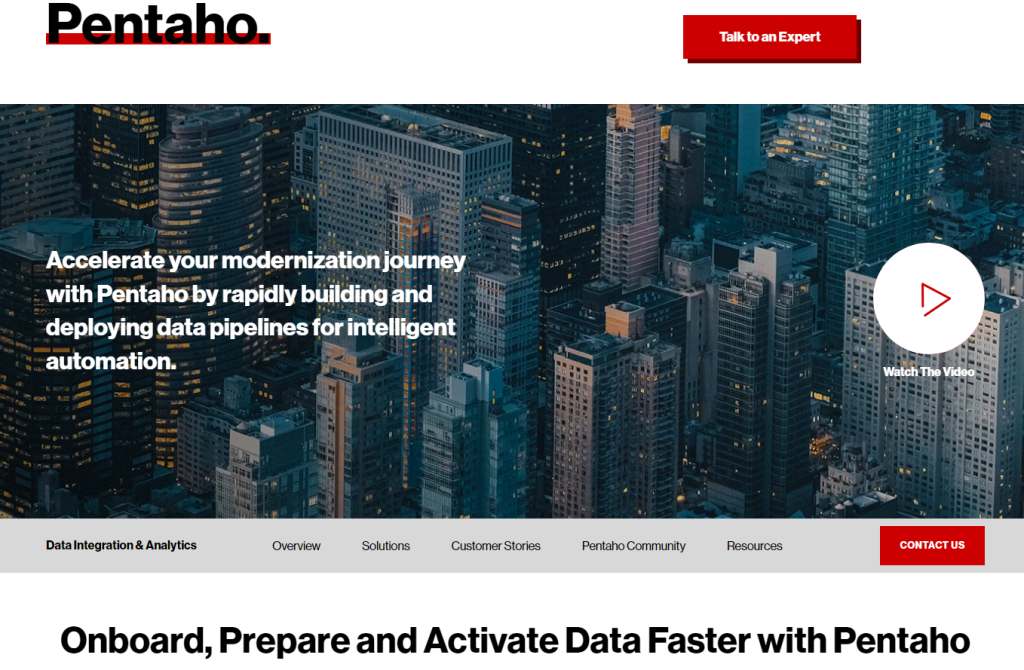 Pentaho Data Integration is an ETL tool with both open-source and commercial offerings. Launched by Hitachi Vantara in 2004, and now serves thousands of customers worldwide.
Pros
Simple graphical user interface.
Low-code, no-code solutions.
Supports Hadoop and Spark big data scenarios.
Community Edition is free and open-source.
Cons
Only 68% recommend this tool in Gartner Peer Insights.
Only 40+ connectors, but maybe enough for some scenarios.
Limited features for Community Edition.
Pricing
Try the Community Edition for free but with limited features. You can also try the Enterprise Edition with a 30-day free trial. Contact their Sales for a quote.
SAP HANA Cloud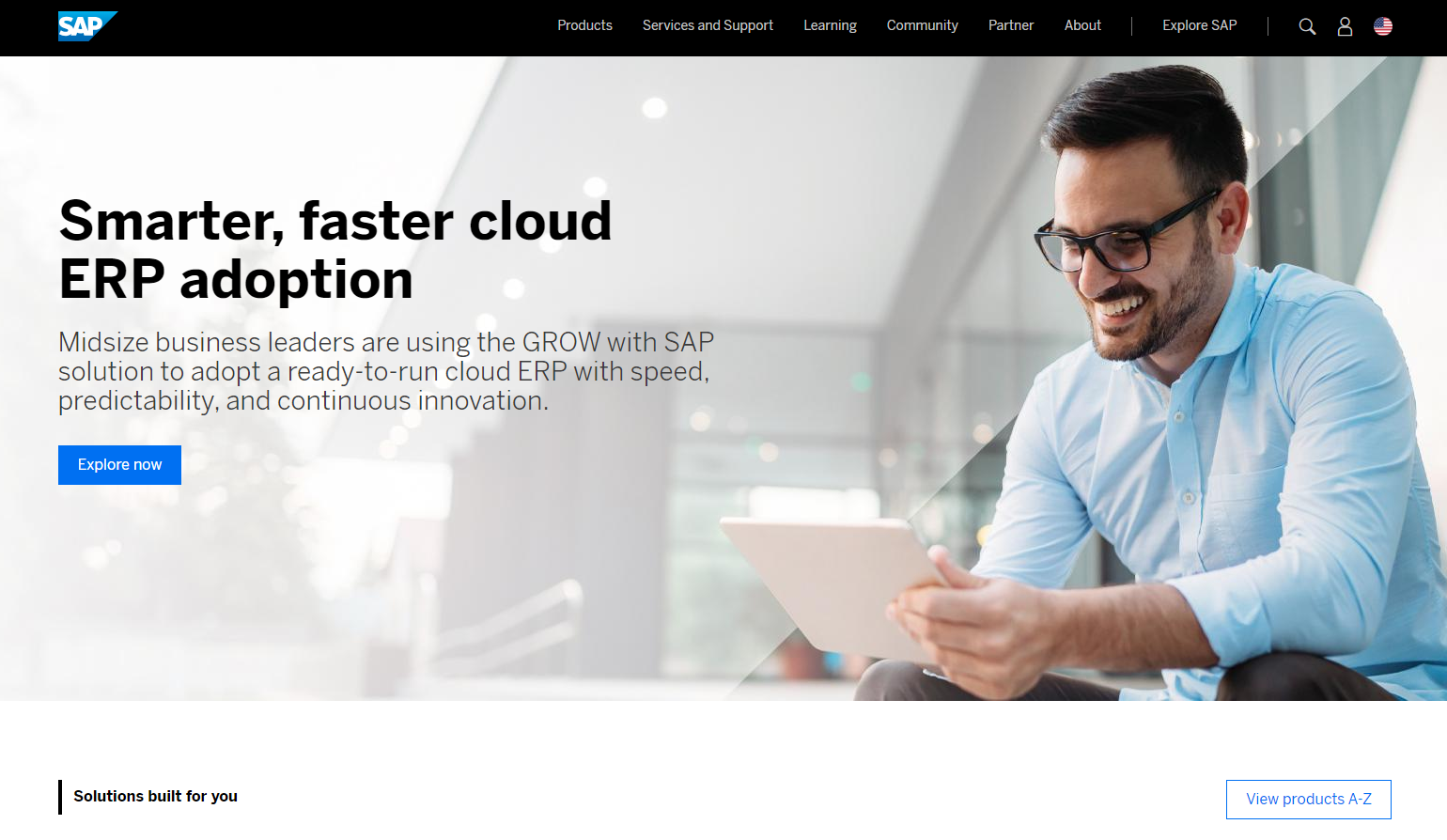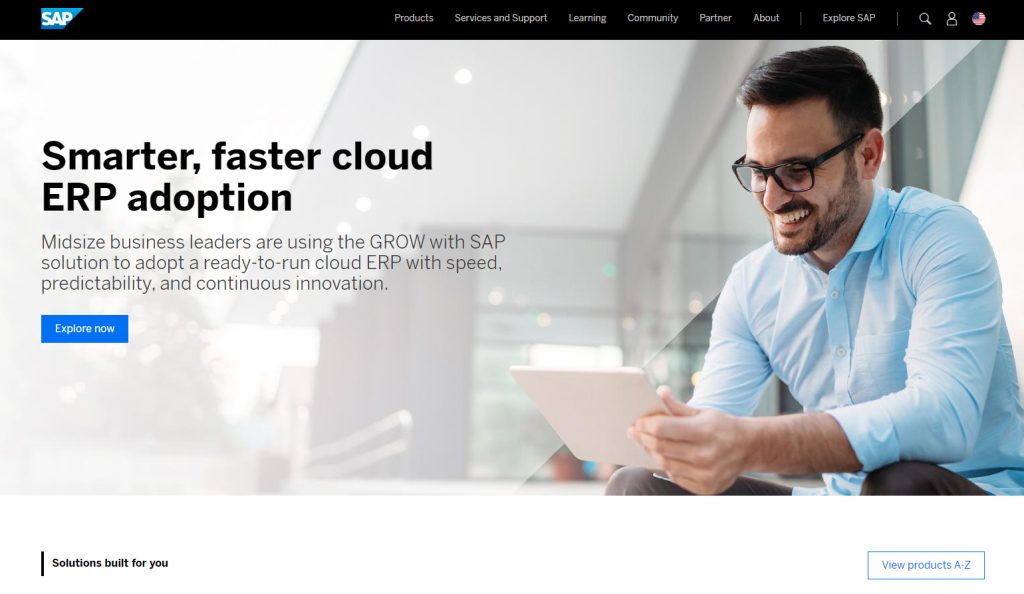 SAP HANA Cloud is a Database as a Service (DBaaS) with data integration features. It uses SAP Data Services to integrate various data sources into SAP HANA Database.
Pros
In-memory technology for faster data processing.
Real-time analytics.
Machine Learning feature.
Seamless integration to other SAP products.
Cons
Complex setup and deployment.
High price.
Steep learning curve.
Pricing
SAP HANA Cloud has a free tier with community support only and up to 90 days. Pricing for paid tiers is consumption-based. And they also offer trial accounts intended for personal exploration. Visit the SAP Discovery Center for more information.
Boomi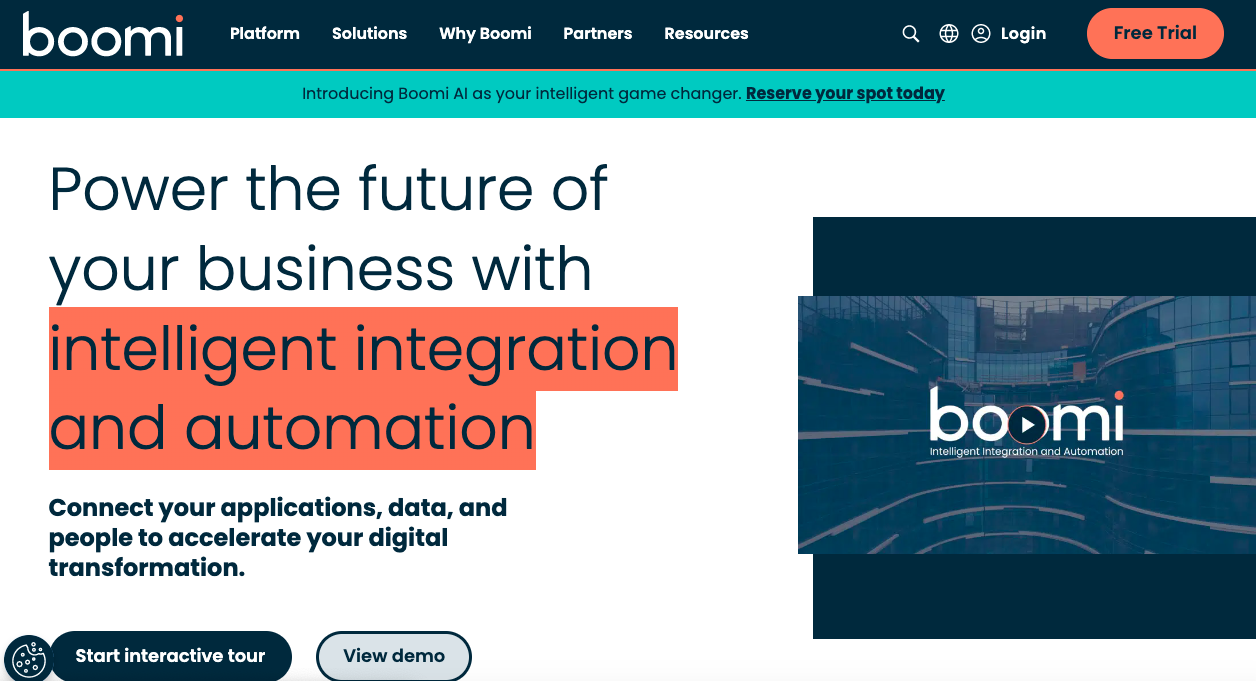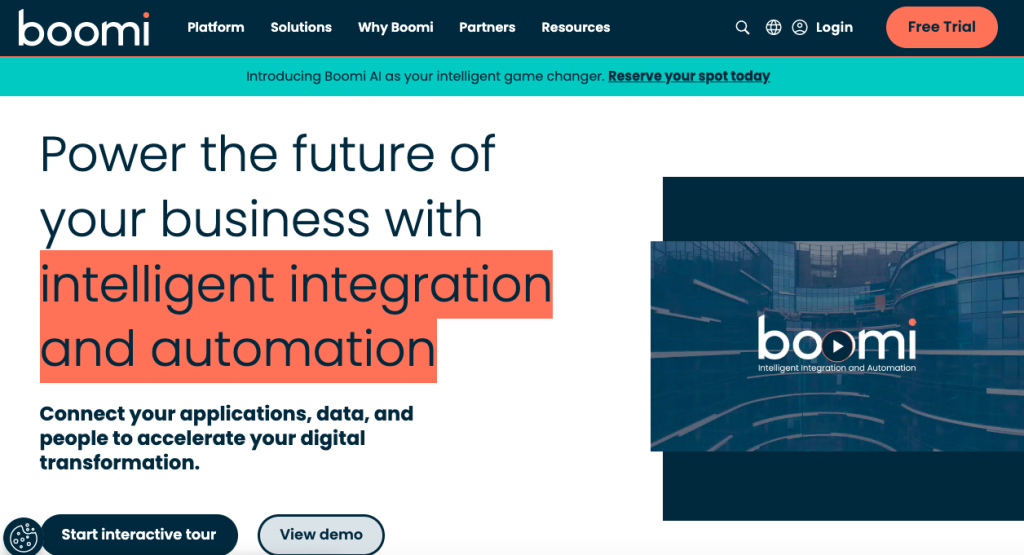 Boomi AtomSphere is an iPaaS, or Integration Platform as a Service. It can integrate cloud and on-premise data sources without coding. It also supports real-time data integration.
Pros
240+ connectors
Low-code solutions
Pre-built transformations
Mostly positive feedback on the user interface
Cons
Phone and chat support are not available for the Standard paid plan.
Scheduling of pipelines is not possible during the 30-day free trial.
Pricing
Pricing depends on the number of connectors, workflow, and other factors. You can do a 30-day free trial before switching to a paid plan. Contracts are annual.
Conclusion
We brought you 10 Informatica competitors and alternatives in this article. They all have varied features and pricing, so remember to try their free tiers or avail of the free trials.
Of all the Informatica competitors, Skyvia has the highest rating for both G2 and Gartner Peer Insights. Check out the comparison table again. You can try it out first and see why reviewers rated it as it is. Register today and start working immediately.