With the rise of the internet, industries have expanded their ways to generate and consume more data. Data can be consumed from a wide array of sources, such as blogs, websites, sensors, videos, databases, social media platforms, etc. This humongous data volume needs to be organized to be useful for analysis and further processes.
There are certain tools that help in the extraction of data from all such platforms, and in this article, we review some of the top 10 data extraction tools.


Table of Contents
What is Data Extraction?
Businesses worldwide leverage their operational data to increase efficiency and optimize their processes. In order to do that, there's a constant need to analyze the data being generated in a way that can be interpreted well by the management. Well, all these might sound familiar, but things get more challenging in practice.
Given the volume of data that organizations generate in today's world, it's simply not feasible to analyze data as it's generated. A traditional process known as ETL (Extract, Transform, and Load) needs to be put in place so that this data can be extracted from source systems, transformed as per the business definitions, and then loaded into a centralized database or data warehouse that is separate from the operational database.
Data Extraction is the first part of the entire process of ETL, where data from various sources like files, databases, web APIs, CRM tools, etc., are extracted and fetched. The data in such source databases may be structured, semi-structured, or even unstructured. Data Extraction aims to establish a connection with the source systems, read data from them, and store it in a staging area.
Types of Data Extraction
Although Data Extraction can be of multiple types depending on the source system, based on the data structures available, it can be primarily classified into two categories.
Structured Data – Data obtained from various databases where the schema is pre-defined can be classified as structured data. In such a data format, the structure and data types are clearly defined, and there isn't not much to do with the preparation phase as the source data is clean enough for further processing.
Unstructured Data – With the rise of Big Data technologies, the volume of unstructured data has increased. Data generated by machines, application logs, web frameworks, etc., that don't have a fixed schema fall under this category. There is no particular framework to handle such unstructured data. Special processes need to be implemented in the data extraction phase to clean up this data and make it ready for further processing.
When you start extracting data from the source system for the first time, you must get all the data from the beginning. This is known as the initial load and is quite expensive, depending on the volume of data in the source system.
Once the initial load is completed, based on the business requirements, an additional process is defined that extracts only the changed data from the source system instead of extracting it from the beginning.
This process is known as incremental load as it keeps track of the data already extracted, and hence only the changed or new data is extracted. This keeps the process lightweight and less expensive to maintain.
Benefits of using Data Extraction Tools
While it's easy to start extracting data from source databases, building and maintaining such a system requires too much effort and technical expertise. Also, when the number of source systems and different data structures increases, it's advisable to use a Data Extraction tool that is already available rather than reinventing the wheel again.
Some of the benefits of using data extraction tools are as follows.
Common Data Connectors – Data extraction tools already have connectors available for the most common data sources. You can set up your source connection with a few simple clicks and start extracting data.
Infrastructure and setup – Running and maintaining a data extraction process requires computing and memory. Depending on the volume of the data, it's a good idea to use existing data extraction tools as they can be easily scaled up or down.
Ease of use – Since these are mostly cloud-based drag-and-drop tools, they can be used by non-technical and business users as well.
Now that you have some idea about data extraction tools let's look at some of the most popular cloud-based data extraction tools.
Comparison and Tool Selection Criteria
The best possible tool doesn't exist; therefore, it's always a good idea to research the market for tools that suit most of your needs. In order to gain better insights into some of the top 10 data extraction tools, the following comparison and tool selection criteria were chosen.
| | | | |
| --- | --- | --- | --- |
| | Free Plan | Pricing (USD) | Deployment |
| Skyvia | Free plan available | Basic: 15/mo | Cloud |
| Import.io | 14-day Free Trial | NA | Cloud |
| Hevo Data | Free plan available | Starter: 239/mo | Cloud |
| Octoparse | Free plan available | Standard: 89/mo | Cloud & MacOS |
| ParseHub | Free plan available | Standard: 189/mo | Cloud & Desktop |
| MailParser | Free plan available | Professional: 33.95/mo | Cloud |
| DocParser | 21-day Free Trial | Starter: 32.50/mo | Cloud |
| Outwit Hub | Free version available | NA | Desktop |
| Mozenda | Free Trial available | NA | Cloud |
| Table Capture | Free | NA | Browser Extension |
List of top 10 Data Extraction Tools
In this section, let's take a look at each of the above-mentioned tools in some detail.
Skyvia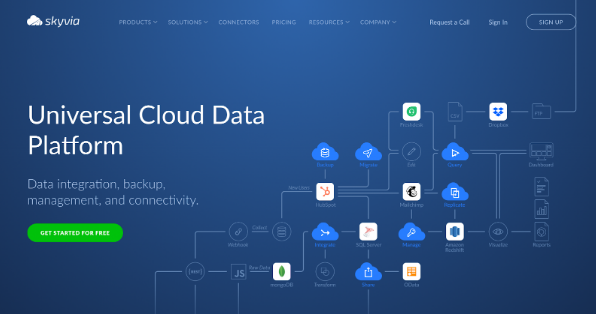 Skyvia is one of the leading data integration providers in modern days, covering all possible integration scenarios: ETL, ELT, reverse ETL, data synch, CSV data loading automation, and building advanced data pipelines with complex business logic. With its universal no-code cloud data platform, Skyvia provides a powerful data extraction web interface that is very easy to set up and use. There are a lot of source collectors, including SaaS applications from which data can be extracted and fetched.
Skyvia is a one-stop-shop for all business analytics needs starting from data extraction and transformation and then loading it into one of the popular data warehouses like Redshift or BigQuery.
Skyvia provides a Free plan to get started, with some limitations on the number of records that can be processed. However, with paid plans such as the Basic or Standard, many options are possible. They also offer a Business and Enterprise plan for heavy usage.
Key Features:
Integrated Data Extraction platform.
Web-based interface for setting up connections.
Provides rich features such as backup and data management.
Import.io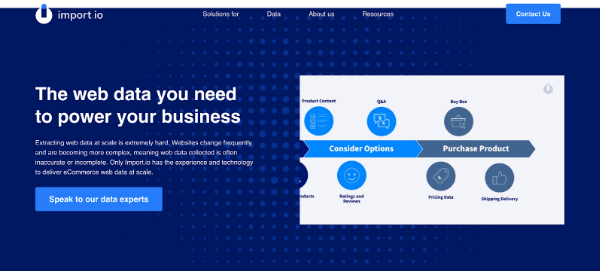 Import.io is a web-based data extraction tool that allows users to extract or scrape data from various websites to a CSV or Excel file. The interface is intuitive, making it a great candidate for non-technical people to use it.
Data on websites can be structured or unstructured, therefore, it has specified algorithms that can convert the unstructured data into a structured schema and make it ready for use.
They offer a free trial of the product so that anyone can use it for a specified amount of time before purchasing it.
Key Features:
Data extraction from online retailers and brands.
Product sentiment analysis.
Scheduled data collection service.
Hevo Data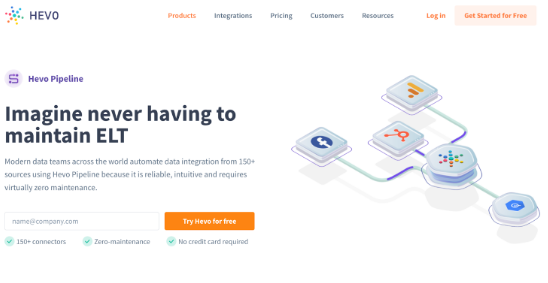 Hevo Data is an end-to-end cloud-based data pipeline platform allowing users to extract data from the most popular data sources, including SaaS applications and databases. Hevo Data comes with two popular products – Hevo Pipeline for data extraction and Hevo Activate for reverse ETL.
Hevo Pipeline provides an easy-to-use interface to connect to source systems and start extracting data. It has connections to the most common data sources, including Google BigQuery, AWS Redshift, Databricks, etc. Additionally, Hevo Data allows users to monitor their data pipelines so that the root causes can be easily detected and mitigated in case of any issues.
There's a free tier available that allows users to begin processing up to 1 million records. Later, you can migrate to any of the usage-based plans if required.
Key Features:
No-code platform.
In-depth documentation.
More than 150+ data source connectors.
Observability and monitoring.
OctoParse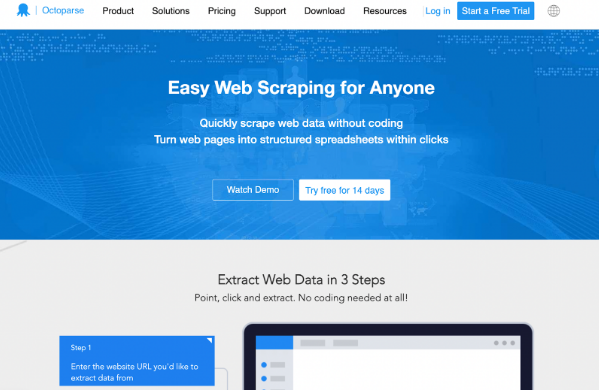 Octoparse is a modern SaaS application that allows users to extract and scrape web data. It has rich algorithms that allow easy navigation and extraction of structured and unstructured data from multiple online platforms. With a well-designed user interface, Octoparse is suitable for technical as well as non-technical folks.
Octoparse provides a forever Free plan that allows users to run 10 tasks at maximum with an upper capping of 10,000 data rows per export. Other plans include Standard, Professional, and Enterprise for heavy usage.
Key Features:
Easy to use web interface.
Scrape data based on a schedule.
Automatic IP rotation to prevent being blocked.
ParseHub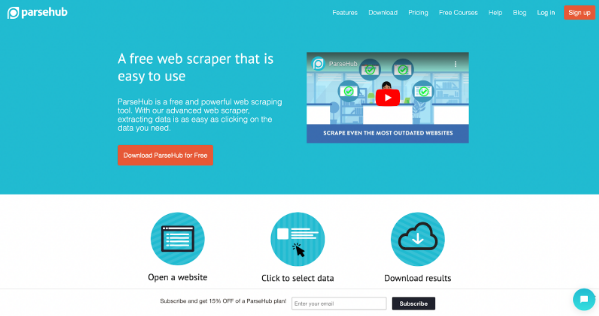 ParseHub is a free web scrapper that offers power web data extraction with the help of a few clicks. In addition to that, it also allows users to convert websites into a spreadsheet or API for the next extractions.
ParseHub has several pricing models from which users can choose. In the Free plan, users can extract around 200 pages in less than an hour.
Key Features:
Easy one-click web data extraction.
Data extraction on a schedule.
Deliver data to Dropbox or Amazon S3.
Mailparser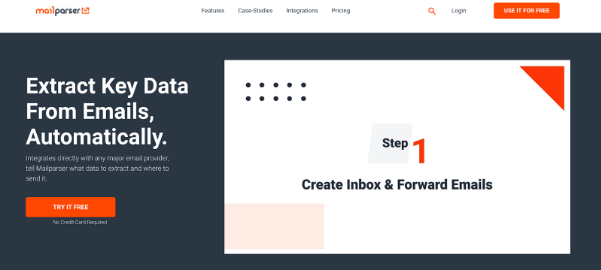 As the name suggests, MailParser is a powerful email parsing tool that helps to extract meaningful data from email messages.
There is a Free plan available which allows users to extract 30 emails per month from 10 different email inboxes. However, with Professional or Business plans, there are many more options to explore.
Key Features:
Extract and parse email messages.
Deliver data to Google Sheets, Excel, Slack, etc.
Over 1500 integrations are available via Zapier.
DocParser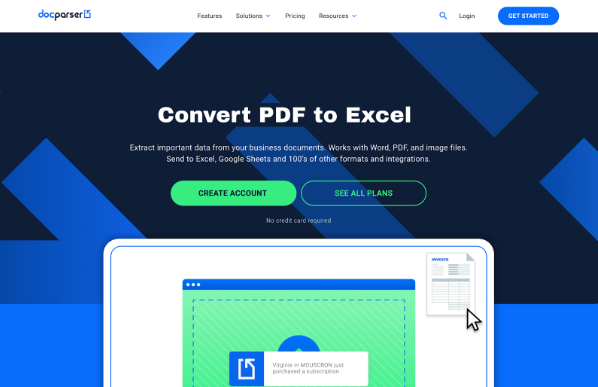 DocParser is a popular document extraction tool that parses textual data from documents and delivers it in Excel or JSON format. It allows seamless integration with cloud services from where documents can be extracted. You can also train DocParser to extract only the valuable data, leaving out the rest. Integrations with other platforms are available via Zapier, Workato, etc.
You can try DocParser for free for 21 days and then switch to one of the paid plans. For beginners, there is a Starter plan, followed by Professional, Business, and Enterprise plans.
Key Features:
Extract data from documents.
Deliver data to cloud services as Excel or JSON.
Integration with multiple platforms via Zapier.
Outwit Hub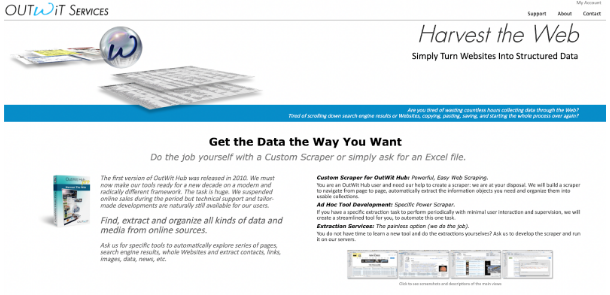 Outwit Hub is a free, lightweight, yet powerful web collection engine using which users can collect data from websites and online media services. Data such as news, social media posts, and contact information can be collected and exported via various channels such as CSV, Excel, HTML, etc. It provides a well-intuitive user interface for non-technical users.
Key Features:
The free version is light and powerful.
Can extract a wide variety of data from different sources.
Tailor-made web scrapper is available at a custom price.
Mozenda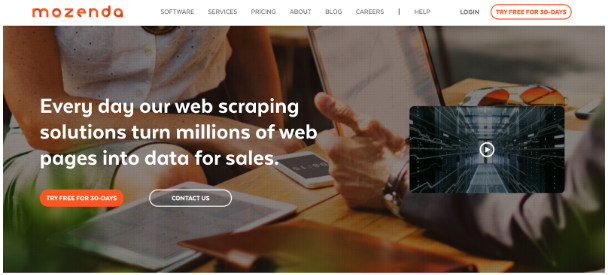 Mozenda is an online web data extraction tool that allows users to scrape data from multiple websites and PDF files. It offers a SaaS platform to extract and integrate data with a full-scale BI ecosystem.
Mozenda comes with an easy-to-use interface that provides interesting business intelligence functionalities such as market sentiment analysis, competitive price generation, and some other major data analysis.
It offers a Trial package that allows unlimited robots to extract data with 1 concurrent process for up to 1.5 hours. This can be a good starting point for users to evaluate the tool. For more extensive usage, there are Standard, Corporate, and Enterprise packages available.
Key Features:
Extract web data from multiple websites and PDF documents.
Price extraction from online e-commerce stores.
Provide various kinds of business analysis for better market growth.
Table Capture
Table Capture is a browser plugin available on all major browsers like Chrome, Firefox, Safari, Edge, etc. You can simply download the plugin extension and add it to your browser.
Table Capture provides the ability to copy any sort of tabular data from websites and allow to paste them into a spreadsheet. Under the hood, Table Capture uses native HTML elements like <TABLE> and <DIV> to extract data and helps add it to a spreadsheet.
There is a free version and a pro version available.
Key Features:
Copy tabular data to spreadsheets.
Copy multiple tables in a batch.
Create Google Sheets from HTML tables.
Summary
As you can see, there are lots of different services providing various ways of data extracting. Depending on your business requirements and needs, these tools offer diverse methods of data-related processes. Since the Skyvia platform provides more advanced integration features, we highly recommend trying it for connecting your business data from anywhere.